Davidee
Void Walker
Join Date:

7/12/2011

Posts:

1,503

Member Details
Legendary Beasts Alpha
REQUIRES FORGE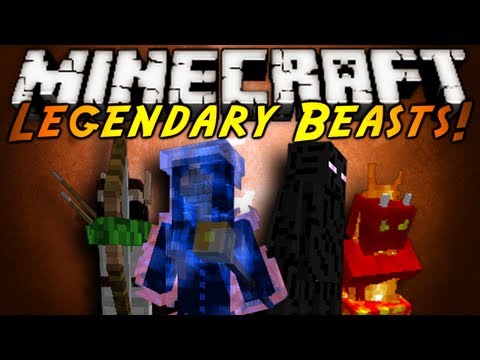 Thumbnail by
SkyDoesMinecraft
Coded by: Davidee

Models/Textures by: Toddie1234

Textures by: pelindolok
Feeling

Generous? All donations accepted!
Information
This mod adds new Legendary Beasts to the game

If the Structures option is enabled, beast temples will spawn

When the player gets close to a temple, its beast will spawn

All beasts drop Sacred Eyes, which can be used to find the nearest active temple, if there is one

If you have any ideas for new beasts, post them

Currently there are only 5 beasts

Fire Demon

Mobs too close to it will "burn"
Entities that touch it will take damage equal to that of lava
Arrows don't do so well against him
Drops a Fire Staff (try right-clicking)

Ender Lord

Teleporting is his specialty
Switches places with you if he takes indirect entity damage (i.e. arrow) - and you take the damage instead
He likes to teleport directly behind the player
Pro tip : Do not let him into lava
Drops an Ender Staff (try right-clicking)

Lightning Spirit

Spawns in his temple(blue cloud found in the sky)
Spawns lightning every so often
Spawns powered Creepers every so often
Can only be damaged from explosive/punching
When in water (water block/rain), he will spawn creepers and lightning twice as often
Can't knock him back
Drops a Lightning Staff (try right-clicking)

Elf Hunter

Spawns in his temple

​Fires arrows and poison arrows

Can only be damaged by arrows
He will randomly run at you
Drops an amazing Enchanted Bow
Sometimes he will drop a Poison Blow Gun

Snow Beast

Spawns in his temple

Throws some ice-cold snowballs at you

Runs after you - attempts to maul you

Breaks blocks around him when angry

Does not like fire/lava - makes him angry

Drops an Ice Staff (try right-clicking)
Videos
Thanks for all of the spotlights! Here are the most popular!
If you know of any more spotlights, be sure to post them!
I
mages
Ender Lord with Full Health (Alpha 1.0.3)
Lightning Spirit and his minions (power creepers) on his Temple.
Elf Hunter in combat
Snow Beast in his Temple
As of Alpha 1.3.2.5, now with Spawn Eggs!
Download:
Previous Versions:
​Alpha 1.3.2.5 for Minecraft 1.3.2:

Here
Installation
For windows :
Go to your minecraft .jar (Go to run -> (type in) %appdata% -> .minecraft -> bin -> minecraft.jar (or locate your minecraft_server.jar)

If desired, backup your saves.

Open the minecraft.jar (or server jar), extract the Forge files into there if you don't have them already

Place the .zip file in the "mods" folder, found in your minecraft (or server) directory.
TERMS AND CONDITIONS
Quote from

0. USED TERMS

MOD - modification, plugin, a piece of software that interfaces with the Minecraft client to extend, add, change or remove original capabilities.

MOJANG - Mojang AB

OWNER - Davidee, Original author of the MOD. Under the copyright terms accepted when purchasing Minecraft (

http://www.minecraft.net/copyright.jsp

) the OWNER has full rights over their MOD despite use of MOJANG code.

USER - End user of the mod, person installing the mod.

1. LIABILITY

THIS MOD IS PROVIDED 'AS IS' WITH NO WARRANTIES, IMPLIED OR OTHERWISE. THE OWNER OF THIS MOD TAKES NO RESPONSIBILITY FOR ANY DAMAGES INCURRED FROM THE USE OF THIS MOD. THIS MOD ALTERS FUNDAMENTAL PARTS OF THE MINECRAFT GAME, PARTS OF MINECRAFT MAY NOT WORK WITH THIS MOD INSTALLED. ALL DAMAGES CAUSED FROM THE USE OR MISUSE OF THIS MOD FALL ON THE USER.

2. USE

Use of this MOD to be installed, manually or automatically, is given to the USER without restriction.

3. REDISTRIBUTION

This MOD may only be distributed where uploaded, mirrored, or otherwise linked to by the OWNER solely. All mirrors of this mod must have advance written permission from the OWNER. ANY attempts to make money off of this MOD (selling, selling modified versions, adfly, sharecash, etc.) are STRICTLY FORBIDDEN, and the OWNER may claim damages or take other action to rectify the situation.

4. DERIVATIVE WORKS/MODIFICATION

This mod is provided freely and may be decompiled and modified for private use, either with a decompiler or a bytecode editor. Public distribution of modified versions of this MOD require advance written permission of the OWNER and may be subject to certain terms.

5. MODPACKS

This MOD can be freely put into a modpack (collection of minecraft mods) without the need for explicit permission by the OWNER if the given modpack is freely provided to the public OR private group. If the modpack creator does indeed profit from the modpack, explicit permission is required to place this MOD into the modpack.
[represent]
Last edited by
Davidee
: Sep 23, 2013