IHacked55
Zombie Killer
Join Date:

8/13/2012

Posts:

166

Member Details
I am updating and developing this mod because who doesn't like a cake mod?
This mod add 10 new cakes to Minecraft. Creeper Cake, Slime Cake, Mud Cake, Chocolate Cake, Ender Cake, Fish Cake, Diamond Cake, Redstone Cake, Apple Cake, and Mushroom Cake. The mod is still in construction, and there will be added more cakes to the mod soon.
This mod is also made for bad*** drunk people
.
By: SkyDoesMinecraft (Epicness :3)
By: TheW0A0S
By: Mega_Neno_07
By: Creep3rToasT
By: nomnom54
By: beckymegan
By: MrColeAwesome343
By: Ixinon
By: Phobic_Bus
Recipe List:
Chocolate Cake:
Creeper Cake:
Slime Cake:
Mushroom Cake:
Mud Cake:
Ender Cake:
Fish Cake:
Redstone Cake:
P.S Redstone Cake can be used as a power source
Apple Cake: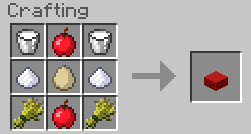 Diamond Cake:
Download here:
Extra Cake mod v1.2.0
Installation Guide:
FAQ:
======
Q:
How do i install?
A:
The program will run the installer in just 1 click
======
Note: Forge is Required.
Downloaded:
50:
✓
100:
✓
200:
✓
500:
✓
1000:
✓
(OMG !!!!!!!!!!!!! THANK YOU GUYS FOR THE SUPPORT!
)
3000:
X
5000:
X
10000:
X
Change Log:
9-1-2012
- Extra Cake Mod v1.1.4 Released With Diamond Cake and many more potions effects
8-26-2012
- Extra Cake Mod v1.1.3 Released With Forge And Redstone Cake
8-14-2012
- Extra Cake Mod v1.1.2 Released
8-13-2012
- Extra Cake Mod v1.1.1 Released
8-13-2012
- Extra Cake Mod v1.1.0 Released And Updated To 1.3.1.
30-10-2011
- Extra Cake Mod v1.0 Released.
Known Bugs:
No bugs right now.
To do:

The creeper cake should use gunpowder instead of sugar - Idea: Blagob
The ender cake should use ender pearls instead of sugar
Mushroom cake has nausea effect - Xandico
SMP - Bendonnelly1
Ultimate Cake - AsassinTuc
Cookie Cake - imbehindyou

Credit
:
Wayvern12 Of Minecraftia
- Textures
Ephyxia
- Potion Effect
TheSoulGamerz
- Updating to Forge/1.3.2
imbehindyou
- Supporter/Fan And Cake Idea Guy
If you have any bug reports, problems with installing, questions or suggestions feel free to leave a reply or PM me.
P.S Made by Guide :hurr: