b0b349
Coal Miner
Join Date:

2/17/2011

Posts:

137

Minecraft:

b0b349

Member Details
This mod adds Better Items to the game. This is still a work in progress but I am almost done with it. It is coming out really nice. Please respond if you read this post, I love to see what people think about it. This is my first mod, so if there are any bugs please tell me. This mod is amazing with the Better Farming Mod by the way.
This Mod requires Risugamis Modloader
I only ask one thing of you. Please Comment, It keeps the post alive.
This is the chart for the Handles
You will also notice the Stone Torches. At the moment only accessible by crafting table.
Wood Grip: Normal
Stone Grip: durability +40 efficiency - 1 enchantability +1
Gold Grip: durability +15 efficienct +4 enchantability +3
Iron Grip: durability +200 efficiency normal enchantability +2
Diamond Grip: durability +400 efficiency +1 enchantability +1
Blaze Grip: durability +600 efficiency +6 enchantability +4
Lapiz Redstone tools very fast! only 100 uses though.
(Lapiz Redstone tools use Lapiz blocks and redstone Ingots)
Here are some Videos
Crafting Recipies
Here is the basic Crafting Recipe For Trimmed Armor
Here are the Basic Crafting Recipes for all the Tools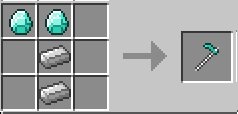 Here is the Crafting Recipe For the Cobblestone Torch (keep in mind that the cobblestone torch does not provide as much light as a torch, you only receive two, and is only craftable on a crafting table.)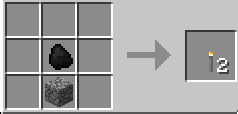 To make Redstone Ingot. Fill all squares with Redstone.
I am now at over 65 Items!
Download Client :
here
Download Server:
here
Download Server Files:
he
re
Download CobbleTorch:
here
(for conflict purposes)
How to Use The server. Put in folder, double click!
Any Suggestions?
Post it in the Comments.
Last edited by
b0b349
: Aug 13, 2012