jkelley2
Tree Puncher
Location:

Join Date:

1/12/2012

Posts:

34

Minecraft:

jkelley2

Member Details
This mod adds more uses for the copper and tin added by other mods that use forges ore dictionary such as redpower and industrial craft. It adds tools and armour made from each material.
The tools made of copper can be used 192 times. The tools made from tin can be used the same as number of times as iron, both types of tools can mine all the same things that iron tools can.
I have also added armour made of copper and tin, copper armor is in between leather and iron armor and tin armor is the same as iron armor.
If you have any questions comments or concerns message me a
[email protected]
or on skype jkelley93. If you wish to use my mod for anything other than single player just drop me a line first!!!
Crafting Recipes:
Swordqz
Axe
Shovel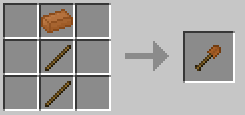 Pickaxe
Hoe
Time Changer Item(if you have a texture you would like me to take a look at pm me and ill get back to you)
Tin Sword
Tin Shovel
Tin Pickaxe
Tin Hoe
Tin Axe
Download
Old Download
Planned Features:
Edit: Planning massive expanision of the mod if you wish to work with me please send me a pm and what you would like to contribute. Thank You