EgoBurn

Zombie Killer
Join Date:

5/27/2012

Posts:

192

Member Details
Looking for modder to take over PovertyCraft!!!
Hi everyone! It's been a while since I've last posted. As you have all probably realised by now, PovertyCraft has been abandoned. This is due to a number of personal reasons which I won't go into. However, I would like pass this mod to another modder in the hopes that it gets revived once more. So allow me to go through a few points.
1.
I would like to apologise to any of you who I've let down by abandoning this mod. I know that there were many people who were disappointed to not see any updates come out for this, and to not hear a word from myself since I had decided to go quiet on the matter. At the very least, I should have notified everyone of my decision. For that, I'm sorry.
2.
If you are a modder and you are interested in taking over this project, please PM me. I'll get in touch with you as soon as I can, depending on how busy I am.
3.
I am only accepting modders that have worked on at least 1 Minecraft mod, and extra credit goes to those who've modded without dependencies. I will be somewhat picky about this. The reason why is because PovertyCraft cannot be placed entirely on a dependency. The mod makes changes to Minecraft's core functionality in a way that no current mod dependency can handle (as far as I know). There are three ways it does this:
It overrides existing mining functionality.
It overrides block drops, as well as checks the currently held tool when deciding what to drop.
It changes all containers to allow for added selling functionality.
If you can find a dependency that allows you to do all three of these things, then feel free to use it. Otherwise, it will have to be written the old-fashioned way. So it's a little bit more complex than your standard Forge mod.
4.
If you do want to take over this mod, I will need to discuss a lot of finer details with you. There are a lot of points that I will need to go over so that you understand what my intentions were with this mod. I'm not simply just palming this off; I want to ensure that all future versions of this mod are consistent with current versions and that all changes and updates will "feel" like PovertyCraft.
So, once again, if you're interested just PM me and we'll talk.


==========


Welcome to PovertyCraft! That's right, PovertyCraft: the mod where you start broke and work your backside off to pay for your crappy dirt house!

The idea is rather simple: work, sell, buy, more work, more sell, more buy, etc. Instead of harvesting everything you desire, you buy it. But how do you buy things? With money, of course! And there is only one way to make money: sell! Take everything you've worked your tired little mouse finger off to acquire and sell it for a measly price! How fun is that?!?!?

For now, selling can be done from within your inventory, and for those of you who make it big, you can purchase a workbench that expands your selling capacity, resulting in bigger turnover!


Ebay? Pfft! Screw that! I'll sell to my imagination!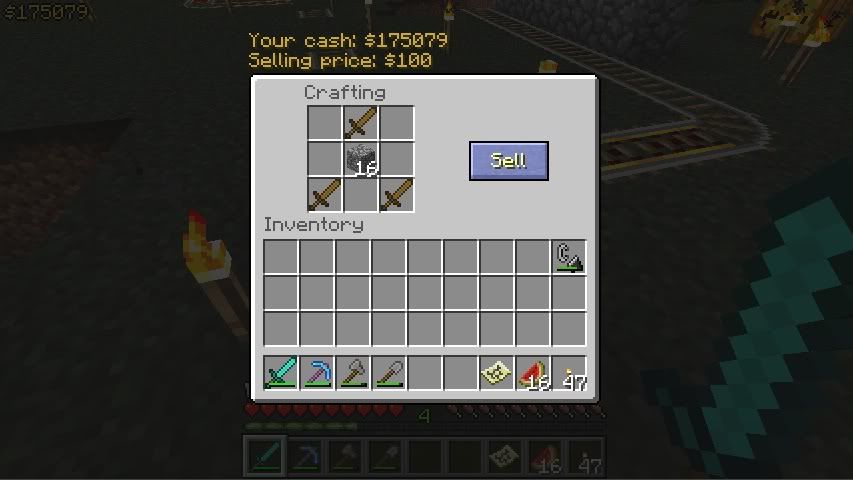 And THIS is my TRUE FORM!!!
"But mista Ego sir, were do I buys my stuffs from?" you may be asking. Well, worry no more, lad, because a Standard Home-edition Object Purchaser has been retrofitted into the cranium of every unfortunate cuboid who enters PovertyCraftia. Or in lay-man's terms, press the R key to open your very own shop!


With plenty of categories to choose from!
And now with extra cowbell!

Anyway, I think it's about time I broke character

. It's all straight forward, but here are just a few little things to note:


Compatibility and Dependencies (read all of this!)

First off, if you get an error report at runtime and I ask you "have you read the dependencies section or FAQ?" and you say no, I will not help you. I won't bother to repeat something that I've already written in big, bold letters so please make sure you read this section first, the FAQ if you have another problem and then ask me if none of them helped you out. If your problem is legitimate, I'll help you out as soon as I see your post / get a chance to respond!
aif.class
aig.class
aqm.class
aqu.class
et.class
gv.class
pc.class
pi.class
um.class
PovertyCraft is known to be incompatible with the following mods:
If you find another mod that it's not compatible with, please tell me so I can post it here





On to the more detailed information...

Version:
Beta 1.3.1 - Drop it like it's hot!
In response to the overwhelming complaints about not receiving enough for your efforts, many environs have been inspected and it was found that some were defective. These environs were promptly fixed so that all peasants may continue working. Now continue working!

Features:
MOST BLOCKS CANNOT BE MINED **EFFICIENTLY** WITHOUT USING THE CORRECT TOOL!
No, it's not brokedened! If you don't know what the correct tool is, either play around until you do or look that block up on the Minecraft wiki. Well, at least some things will break without tools now... slowly. Painfully slowly. In fact, you should probably just buy the correct tool. It'll save a lot of time. Just saying.


YOU GENERALLY NEED TO BUY IT!
The whole point is to buy things from the shop. Even obtaining items like iron ingots are completely useless (except for the sole purpose of selling them)


YOUR VERY OWN SHOP!
Buying stuff could never be easier! Just hit the R key and you'll open up the shop. How convenient is that?


CHOOSE YOUR CATEGORY!
While there are many items to buy from the shop, these can be easily sorted by selecting a filter. Some items will even have multiple filters, allowing you to get your items right when you need them.


SELL! SELL! SELL!
To make money you have to sell what you produce. This can be done through the inventory, or if you have the money you can purchase a crafting table.


MORE ITEMS TO SELL = MORE PROFIT!
If you sell more items at a time, you will get more for them all!


PIMP MY TOOL!
Fortune has been given the buff that it deserves! Almost everything will drop more or more frequently when using fortune! Or you can join silk touch in the other corner and delicately pluck those blocks out of the world...


A BIT OF VARIETY NEVER HURTS!
Some items will give you a larger profit, while others help to increase the price of others. Furthermore, selling entire stacks gives a little boost of it's own, so spam that selling table!


NO CRAFTING ALLOWED...
That's right, no crafting allowed. If you want it, you buy it!


...BUT EVERYTHING ELSE IS A-OKAY!
Smelting, cooking, enchanting and brewing are all still part of the game, and in PovertyCraft they are more important than ever!


LAKITU HAS YOUR BACK!
Death is good business for cloud monsters, apparantly... but not for you! Dying causes you to lose a percentage of your money depending on difficulty, so try not to take a swim in lava!


BE AS CREATIVE AS YOU WANT!
Creative mode is unaffected by PovertyCraft! Feel free to make me a pixel-art Nyan Cat. I'll give you plenty of diamonds for it!


CHALLENGE ACCEPTED!
PovertyCraft is designed to be a challenge. It may not be the most difficult thing, but it has it's moments . Don't complain because you can't win at it!


SHOW US YOU TI-- ACHIEVEMENTS!
(u c wat i did thur?) Some things are damned expensive in PovertyCraft. Show us how pimped out your world is by plastering them in the most inappropriate places!


99% RAINBOW FREE!
But packed with the cheesy mod goodness that we all know and love

And, finally, some videos for the lazy

Here's a video by FMIGaming. It covers a lot of the key points of PovertyCraft.


Here's also a video from haighyorkie, explaining installation and some of the less seen features of PovertyCraft (at the end of the video).




So now that that's finally over, here is your mod:

[1.3.2]beta 1.3.1 with ModLoader patch



Version History
FAQ!!!!
Every time I try to run your mod, I get a black screen / massive error report! Help!
First, make sure you deleted the META-INF file. If it still isn't working, you will need to re-download the bin folder. Next, make sure you installed ModLoader BEFORE you installed PovertyCraft. Ff not, or you believe another mod is causing the problem, delete the entire bin folder (or just rename it if you have other working mods ) and run the Minecraft launcher again to re-download the entire bin folder. Then re-install the mods you want. Simple!

I get (insert issue here) problem with the rendering / images / textures / something seeable. What's going on?
There is a 99% chance that it's that piece of crap lwjgl doing it. I know because I've had many of these problems. Just reinstall lwjgl by going into the \bin folder and deleting lwjgl.jar. Then run the launcher and it will re-download it for you.

Why did you call it povertyCRAFT when there's no crafting?
It's irony at it's finest!

I can't mine some things? What's going on?
That's actually how the mod works. You need the correct tool to mine anything. Please read the entire forum post (up until the download) to learn about how it all works!

How do I install your mod?
You'll need to install the long way as this mod edits core Minecraft classes.
On Windows: Start -> search for "%appdata% -> roaming -> .minecraft -> bin -> open the minecraft.jar file with an archiving program like winrar -> delete META-INF -> drag and drop editted classes (from PovertyCraft) into that.
I don't know how this works for Apple, so you're on your own there
Make sure that ModLoader has been installed first

And finally, on to the more technical stuffs:

PovertyCraft attempts to
Introduce a currency system
Provide means of obtaining blocks and items in it's own unique way
Work with Minecraft and not rewrite the whole thing
Provide a challenge
Be awesome (of course!)
Planned features (I hope you brought snacks; we're going to be here a while!)
Note: grey = implemented;
strikethrough
= ain't gonna happen!
Revamped selling system - everything will have it's own multiplier as opposed to multipliers being based upon the stacks.
More workbenches - inventory will start with just 2 slots and you expand all the way to 36 slots (potentially selling your entire inventory!)
More categories for the shop
Shop "level" which increases when you purchase a higher level workbench. This will also result in a price increase!
Tokens which give huge multipliers... and enemies can drop them too!
Ovens - making cooking a trade!
Wheat-Grinder - okay, I'm still thinking of a name for it. It's a powered block which grinds wheat into flour!
Windmill - the same as a Wheat-Grinder except it requires no power, but works better at higher altitudes and cannot have any blocks in front of it (it will even auto-detect the best direction and turn that way!)
Converter - put useless items in, get cool tokens out! (When your investment matures, of course)
Trophies - to improve the efficiency of Converters! (Bigger name = more customers!)
A way to sell experience! I'm thinking a new block, which can be effected by trophies!
Trophies affect crafting tables! This causes them to generate more profit for selling.
Trophies affect everything! This is addressing the final point in this list.
A more expensive but guaranteed method of enchanting. Ex. 15 levels of experience give you efficieny II. Essentially, you pay for a single enchantment with your experience - risk free!
More tool materials, which give more functionality. These will be added in later shop levels (i.e. shop levels have to be added first)
Refinery - a more efficient way of smelting ores. I may even make it so that you can refine ores further!
Power Plower - yes, that will be it's name :P. A machine that works for you! Place it down, set it up, give it some fuel and away it goes! It will plow all your fields for you and even place seeds, allowing for more productive farming!
Harvester - a machine that works for you! removes any wheat, tall grass, flowers, pumpkins, melons and cocoa plants (in the future) in the region you specify, collect their drops and place them in the chest you specify!
Lumberjack - another machine which works for you. This one mines all trees from top to bottom and places drops in the specified chest with the specified region.
Forester - and yet another machine that works for you! Plants saplings in a grid formation. Can be set to only activate when the tree density in an area decreases to a certain amount.
Fertiliser - using bonemeal, it can fertilise any blocks you specifiy, provided they are grass, long grass, growing seeds or saplings.
Mining Drill - drills in any single direction and extracts all of the ores it finds. It will also extract stone, dirt and other simple blocks, but in lesser amounts. When it's full or is running low on power, it will behave like other machines and drop off resources / recharge.
Transporter - a machine which uses rails to pick up resources from one chest and take them to another. It doesn't have it's own storage space, and instead uses minecarts with chests. It can move a little when not on rails, but only enough to work and recharge.
Redstone Crystal - basically, a battery for all machines. It can be recharged!
Redstone Radiator - a small platform which machines can stand on to recharge any crystals they are using for fuel. Crystals can also be placed in here by the player to recharge manually, which will be required for it's first use.

Items drop broken forms of themselves! - This is going to be the biggest part of this mod: Instead of getting, say, wood blocks for chopping down a tree, you will get "logs" which cannot be used but can return a small profit!

Most blocks will have a chance to drop a block or item, whether that be itself or something related (ex. planks drop some sticks!).

A method of seperating PovertyCraft from your current minecraft.jar - I'm thinking of running an installer which produces a new minecraft.jar with the altered file and then makes an edit to the title screen (you click a button and it switches jars!). This should be compatible with ModLoader mods as I don't believe ModLoader edits that class. I'll have to double-check this!

Dafuq is joo tinking, EgoMista? MODLOADER COMPATIBILITY FTW!
Seperation of PovertyCraft saves and your current saves. Of course, I will
M04r rainbows!
Known bugs
Noticed that some blocks which drop multiple items at a time can sometimes crash the game. I'm certain I ironed these out, but in case I didn't please post on this thread or PM me. I don't need an error report since I already know what's causing the problem. Just tell me what block you tried to break and I'll take it from there.
The sell button shades itself now. I swear, I didn't do anything to it! I literally copied the code over from beta 1.2.2!
Mousing over shop items doesn't highlight. Had to remove this because it wasn't working, but I will be implementing it soon!
Hesitant to say this, but the clock and compass dials can be seen and are correct in the shop, meaning you can get the time and direction to spawn just by openning up the shop.
Copyright stuff (only bad people need to read this

)
This document is Copyright ©(2012) and is the intellectual
property of the author. Do not redistribute this mod without my written permission. Any edits made to this mod must credit me, the creator (known as "EgoBurn").
Last edited by
EgoBurn
: Apr 26, 2015