The_Holy_Frenchman
Carpenter
Location:

The Deep Pits of Hell!

Join Date:

4/28/2012

Posts:

57

Member Details
Coming soon!
P.S. After I finish of those objectives, I'm going to re-edit the main post,
Or here:
Here are photos containing all the items, recipes and smelting that you will find in the Addon mod!
Here are photos for the Wasteland Mod Addon,
http://imgur.com/a/AocXP
Hey everyone,
Hey everyone,
Server IP: mc.twamd.com
Server forum: twamd.forumotion.com
And so is the SMP version.
If
ANYONE
has some cool ruins which you think should be added to the mod (either in the main or the BETA patch) then PM me the download (IF you are the creator) or send me the link (if you now some cool ruins).
Best if they are in Schematics form, otherwise HIGH chance (90%/80%) that I won't include it(UNLESS they are pretty KICK-ASS!!).
Stuff that last bit, because of the MAGIC OF SPC(Single Player Commands), JUST SEND ME THE AWESOME FALLOUT/POST-APOCALYPTIC DOWNLOADS!!!
Basically this mod is an edit to the original terrain generation. It generates a fallout/wasteland/apocalypse themed map. This includes:
-No more grass.
All of the grass blocks in the world are replaced with dirt, all the tall grass has turned into dead shrubs. Shrubs now also grow on dirt. Yes, this means no more passive mobs spawn. I'm looking into ways for you to get the passive mob loot. Maybe through dungeons?
-Changes to trees.
Trees have a much lower spawn rate. If a tree does spawn it is more likely to be a big tree then a little tree, and it will have no leaves at all(Unless its at an Oasis, see below). See how long your wood supplies last when you can't grow trees.
-No pumpkins, reeds, or flowers.
Pretty self-explanatory. They don't spawn anymore.
-No oceans.
No more giant oceans of water for unlimited water supplies. You can however get water from little springs (moving water).
-Changed sky color.
The sky is now a darker red-ish color.
-Randomised Oasis! <--- Probably doesn't spawn!
They say that you must bear the worst of the storm to find the eye. These Oasis are located in deserts, and are small 4x4 squares of grass with a tree, water, and some randomised tall grass and flowers. Use these to help you survive!
-New ruined houses
Now there is a random chance of a ruined house spawning in the world. Think of it as a dungeon with less loot and no spawner. These are completely random and contain things to help you survive.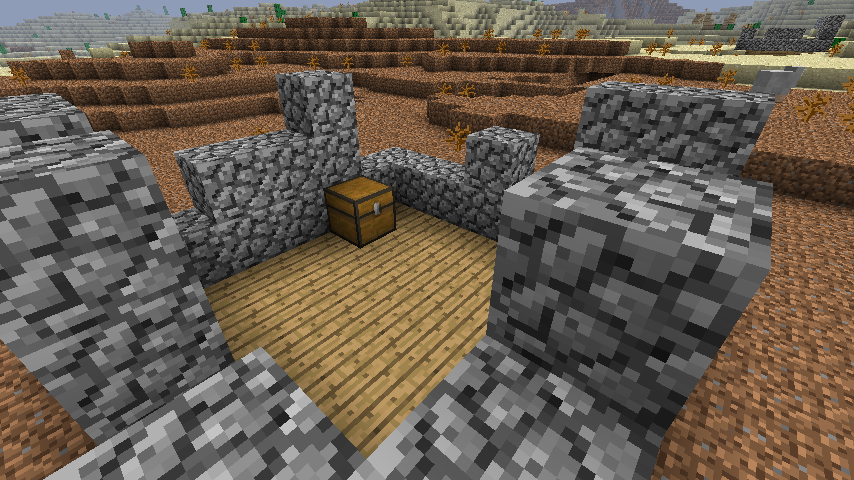 -Modified dungeons <--- Apparently not modified!
Dungeons have been modified to act more like fallout shelters. Things like
saplings
, buckets of water, and planks have been added to the chests. There are also naturally occuring
beds
inside next to the spawner. (*Underlined things represent items that you can't get anywhere else*)
-------
Trailer for the mod(Special thanks to KDStudios)
-----
Highly Recommended Texture Packs to go along with Mod(I agree with these texture packs):
Last Days -
www.minecraftforum.net/topic/1059319-32x-125-last-days-51000-downloadsv5/
Old Texture packs:
VERY IMPORTANT!!!
USING MCPATCHER INFORMATION:
This mod seems to not be compatible with MCPatcher, so BE WARNED!!
This mod seems to actually be compatible with MCPatcher, so RELAX!!
Proof:
Single-Player
These ones are for the OPTIONAL wasteland generation.
The zip version is for MCPatcher. If it doesn't work, try installing it manually (AFTER you've patched minecraft).
Multi-Player Download:
Coming soon!
This download is ONLY required for the server.jar!
Older Downloads
Rar version:
OLDER DOWNLOADS
Firstly, it is required that the normal wasteland mod works before going through this one, then:
1. Make a backup of your current minecraft.jar AND worlds!
This is imperative, do NOT forget to backup your JAR AND WORLDS!
(In a separate folder of course!)
2. Drag and drop the files from the zip/rar into your minecraft.jar!
3. Beware of the CHARGED CREEPERS and hurl those explosives as if they are on FIRE!
Wasteland mod version 1.3.1 seems to not work when you put the zip version into the mods folder....
Installing:
Surival Singleplayer (If you install it, with a clean jar, and it doesn't work,
switch steps 4 and 5
):
1. Navigate to your .minecraft folder. For me its at: c:\users\<myusername>\AppData\Roaming\.minecraft.
2. Open up your bin folder.
3. Open up the minecraft.jar using a program like winrar.
4. Drag the .class files inside of the Wasteland folder into your minecraft.jar
5. Install Mod-loader.
6. Delete the META-INF folder inside the minecraft.jar
7. Launch Minecraft and start a new world(or use an old one if you want all new chunks that are generated to be wasteland).
Installing with MCPATCHER(IF it doesn't work the first time):
1. FRESH JAR!!!
2. Patch it with MCPatcher.
3. Go into the minecraft.jar, NOT the minecraft-1.2.5.jar ("minecraft-1.2.5.jar" or whatever is created by MCPatcher).
4. When you have gotten to the original minecraft.jar install modloader AND then WASTELAND MOD.
5. IT WORKS!!!
6. If it doesn't work.... YOUR DOING IT WRONG AGAIN!!!
Installation video in SPANISH:
Multi-Player
Installing:
Firstly, Both the server and the client must have
ModloaderMP
for Minecraft 1.2.5,
The client needs
Modloader
as well as
ModloaderMP
,
To install
Modloader
and
ModloaderMP
on your normal minecraft.jar (because if you don't install it then you can't connect to the server),
you just have to drag and drop, standard procedure.
Then you need to:
1. Make SURE you have
ModloaderMp
(
server side
) on your server.jar(If you don't know where that is, I will explain further down below).
2. Make Sure the client side (people joining your server) also has Modloader and
ModloaderMp
(
client side
).
3. drag and drop the WASTELAND SERVER 1.2.5 class files into the minecraft server jar.
4. Then you start the server and HAVE fun!
5. (OPTIONAL BUT RECOMMENDED)Install the normal mod (wasteland for Single Player) into the clients normal jar, and make sure it works. This can stop things like other biomes or whatever from spawning.
The Client MIGHT have to have the normal wasteland mod(SSP) installed or else buggy things like, snowy biomes being spawned or stuff like that might happen.
If you are not sure how to open the minecraft_server.jar, It is a separate download,
One that is not included in either the normal minecraft, or the server.exe.
You have to go
here
, download the "minecraft_server.jar",
Then you have to set it up!
Here's a good tutorial
!
The Server version may be a bit buggy, and that's because I can't really test it out thoroughly.
-----
Compatibility:
Not compatible with the Biospheres mod as far as I know.
Not compatible with forge.
Not compatible with millenaire (this is a guess, though).
Compatible with (this is ME with what I currently use):
ModLoader
ModLoaderMP
TMI
SPC
Others (haven't tested out myself but they should work):
THIRST MOD (pretty good addition to the fallout feel!)
Modloader
ModloaderMP
Forge (there is ALOT of controversy on forge not working, I recommend NOT using this mod with forge and waiting for the NEXT update/patch which will make "Wasteland" a generation option)
Wasteland (OBVIOUSLY!)
Buildcraft
Industrialcraft
Redpower
Laser mod
crafting guide
ropes+
Optifine
Herobrine
Weeping angels
trapcraft
useful seeds
timber!
father toast special mobs
airship
matmos environmental sound
All worlds generated with this mod will work with vanilla minecraft, however if you explore outside of the already generated area all the land will follow regular land generation.
If that doesn't happen, CONGRATULATIONS!!!!
Old Downloads:
Banners: Put this banner in your signature if you want to help spread the word of the mod(Thanks to KDStudios for making it)
if it doesn't work, jut change the colour to black and then it will work!!
Changelog:
0.8
--
-Added Graves
-Added new building type
-Added random rubble piles
-Changed spawn rates for Oasis.
0.7
--
-More ruins updates(second layer of walls can randomly be glass, basement traps, chests in basement)
-Random Oasis(4x4 squares of grass with a tree)
0.6
--
-Added random fire
-Added Random ruin edits(basements, flooded basements, random fence addons)
0.5.5
--
-Added random ruins.
-Added water sources near cactii
0.5 (first version)
--
-Changed grass to dirt
-Removed leaves
-Changed dungeons
-Remove tall grass, flowers, water, etc.
-----
Trailers and Videos: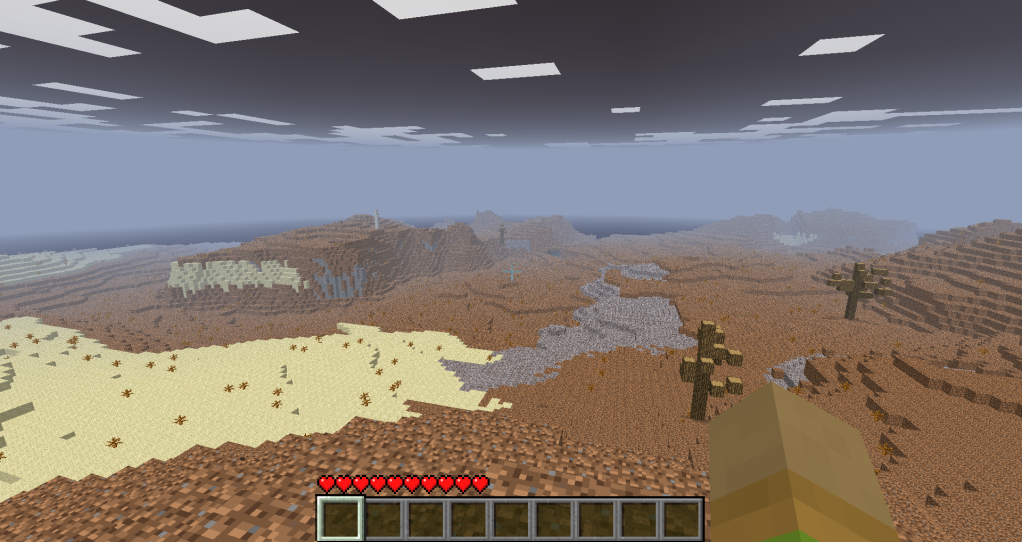 Legal:
Upcoming Updates:
More Structures, ones that are well liked from the Addon!
These are for the Addon:
Working Emu Model
More structures!
Vaults
More Mobs!
More Survivors, different categories!
And in the far, far future, maybe even post-apocalyptic villages?
Like..... Ottomon Encampments?
If you have any suggestion or info on bugs, please feel free to tell me.