DarkArtemisFowl
Gold Miner
Join Date:

9/13/2011

Posts:

402

Minecraft:

DarkArtemisFowl

Xbox:

Dimensionist

Member Details
[1.2.5] Beer & Wine Mod [v1.2_01]
You heard right, Beer and Wine's back and the same as ever with DarkArtemisFowl.
The original Beer & Wine mod was made by the semifamous modder Stewiecraft, who also made TrapCraft amongst other mods. I loved Beer and Wine because of its original look and ideas behind it. I've seen more beer mods, but none as good as this. After repeatedly bugging Stewiecraft (Apologies, Stewiecraft
), I obtained the sourcecode for v1.0, on Minecraft 1.1. I then updated to 1.2.5 with a few minor changes, and a WHOLE lot of edits to make this mod 1.2.5 compatible.
Thank you Stewiecraft.
It will also be ported to Multiplayer again soon, don't worry...
Now to introduce the original thread's description, since I fail at those:
This mod adds several new recipes, items and blocks all revolving around beer and it's creation. It takes about 5 beers to get you drunk at which point the camera movement switches to smooth. Beer heals 1 heart and if you are drunk can increase your health past the maximum up to 5 extra hearts (they don't actually show on the ui).
Beer information:
Barley is your choice of grain to use in your beer. You plant and grow it in the same way as wheat and it requires the same conditions. Barley seeds are obtained from wild barley that spawns in newly generated chunks juts like tall grass.
Harvested barley can also be used to obtain more seeds.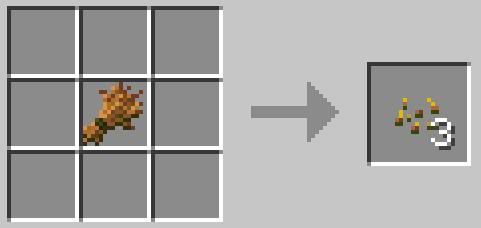 To make something refreshing out of the barley you have grown you will need a barrel which can be crafted from planks and a couple iron bars.
When placed, the barrel can be interacted with in a similar fashion to a furnace. Simply place the necessary ingredients inside it to begin the fermenting process - which takes a little while - and it will yield a bucket of beer!
Obviously you can't drink your beer from a bucket, so I guess you will need to make yourself something to drink from.
With your freshly fermented bucket of beer and your newly minted mugs you are ready to pour yourself some refreshing drinks! Beer itself heals one heart (not hunger).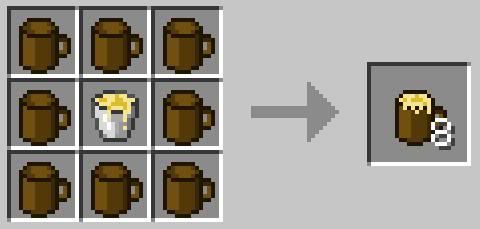 Wine information:
You can't grow something from nothing so go harvest yourself some vines and get the seeds out of them.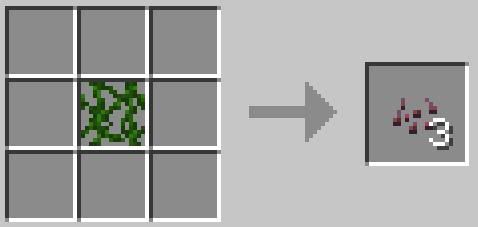 Grape vines need something to grow up so you are going to need to make yourself some wooden trellises (supports).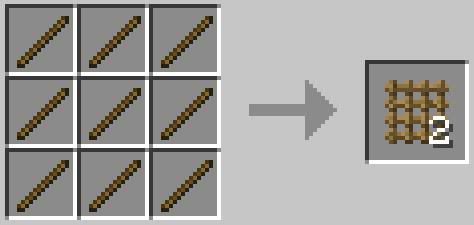 Place the trellis down and then use the grape seeds on it to plant the base of a grape vine. It must be on top of dirt or grass to be planted.
If there is water nearby and a trellis above to support it the grape vine will grow upwards, but it won't grow taller than 2 blocks.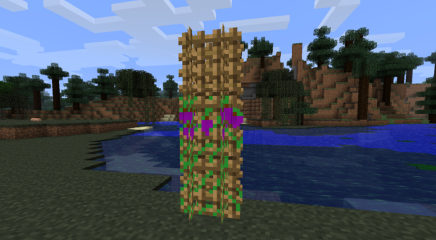 Harvesting the upper block will yield 3-7 bundles of grapes. Harvesting the base of the grape vine will yield a seed. When you harvest either it leaves the wooden trellis in its place still. Grapes heal one heart when eaten and can be crafted into seeds.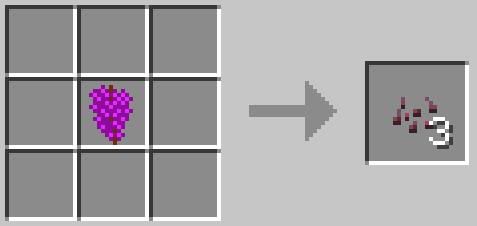 Before you can do anything with your grapes you need a barrel to ferment them in which you may already have from making beer.
Chuck some grapes and water into the barrel and leave it for a bit to ferment into a bucket of wine that looks suspiciously like blood.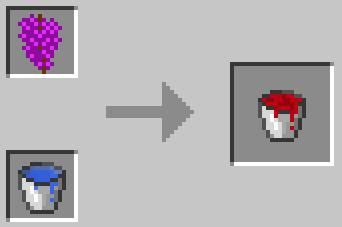 Since you are a classy gent you can't drink wine from a wooden mug, you'll need some wine glasses.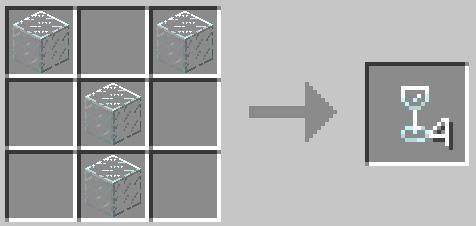 You have a bucket of wine and some wine glasses. I can't imagine what comes next...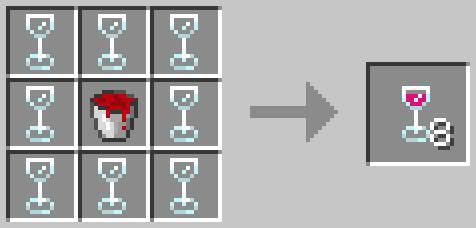 Wine heals 1 heart and gets you drunk faster than beer.
Downloads
Modloader is required!
To install simply place the downloaded file into the Mods folder within the .minecraft directory.
DO NOT EXTRACT THE DOWNLOADED FILES
[1.2.5] SSP v1.2_01 - Download
Changelog
v1.2_01
-Fixed "Iron Axe" bug - crafting an iron axe made either a full beer mug or a full glass of wine
-Drinking animation implemented on Beer
v1.2
-Implemented drinking animation
-Re-implemented "Smoothcam" effect; will replace with Nausea Potion's effect soon
v1.1
-Made edits to make this mod work with 1.2.5.
v1.0
-SMP support
-sleeping sobers (for real this time)
-sober faster
v0.95
-config file added again (but working this time!)
v0.94
-updated to 1.1
-config file removed
-sleeping sobers
v0.93
-added config file for all item and block IDs
v0.92
-fixed crashes including shiftclicking from barrel
v0.91
-fixed barley and bonemeal
v0.9
-added wine & associated blocks/items
-bonemeal works on barley/grape vines
-fixed texture of fully grown barley
-you can get drunk again
v0.81
-fixed crashing when breaking growing barley
-added achievement
v0.8
-updated for 1.0
v0.6
-removed drunk icon on screen (it was glitchy and poorly implemented)
-new smooth camera drunk effect
v0.6
-added drunk level
-added drunken tolerance for pain
-tweaked barrel recipe (requires iron)
Known Bugs
-none anymore!
Planned Features
-wine bottles - Wine glasses still usable, but wine bottles cost more to make and give more health back
-hard liquor - Being elaborated on, see below
-more input required for barrel - Barrels will still be used for making wine/beer, also more wine/beer at one time inside the barrel
-coffee
- Removed for personal preference, will add if enough users want it
-hazardous effects of drinking too, too much - Working on at the moment
-Alcohol Cabinet - Requested, it will be a custom "chest" only for alcohol. Working on textures.
-
New Alcohols: Rum, gin, vodka, scotch, red wine, white wine, whiskey
-Grapes grow overhead (Working on, it's kind of complicated but I'm seeing what I can do
-Thirst Mod compatibility
Suggestions are welcomed and appreciated, as I mentioned this is my first mod. Credit goes to Zrowny for the textures of the beer, mug and barrel. Credit to DELTA_1221 for the textures of the vines, grapes and wine glasses. Block IDs are 135-140 and item IDs are 2209-2219?. It does have a config file that allows you to change all item / block IDs.
COPYRIGHT & CREDITS:
Thank you to Stewiecraft for this mod. Now everyone can play it
!
Original Copyright:
This document is Copyright ?(2011) of Stewiecraft (hereafter referred to as "The Owner") and is the intellectual property of The Owner. Only Minecraftforum.net is able to host any of The Owner's material without the consent of The Owner. It may not be placed on any other web site or otherwise distributed publicly without advance written permission. (Electronic mail is acceptable as long as you wait for a response.) If you mirror this mod page or anything The Owner has made on any other site, The Owner may seek compensation for the damages through a lawsuit.
If anyone wants to see any code feel free to message me about it.
If you support this mod, hit the
!