TFCxAddict
Void Walker
Join Date:

3/19/2011

Posts:

1,797

Minecraft:

TFCxAddict

Member Details
BACKUP YOUR MINECRAFT BEFORE INSTALLATION; THE NEW UPDATE BRINGS SMALL BUGS
Today, theangrytomato (Cooper) and TFCxAddict, me (Eric), are here to release Mo' Drops!
Mo' Drops is a new Minecraft mod that lets you gain more XP and drops from mobs!
100 Downloads
200 Downloads
300 Downloads
Changelog
V1.0
Released Mo' Drops on 2/22/2012
V1.1
Screenshots
Before
After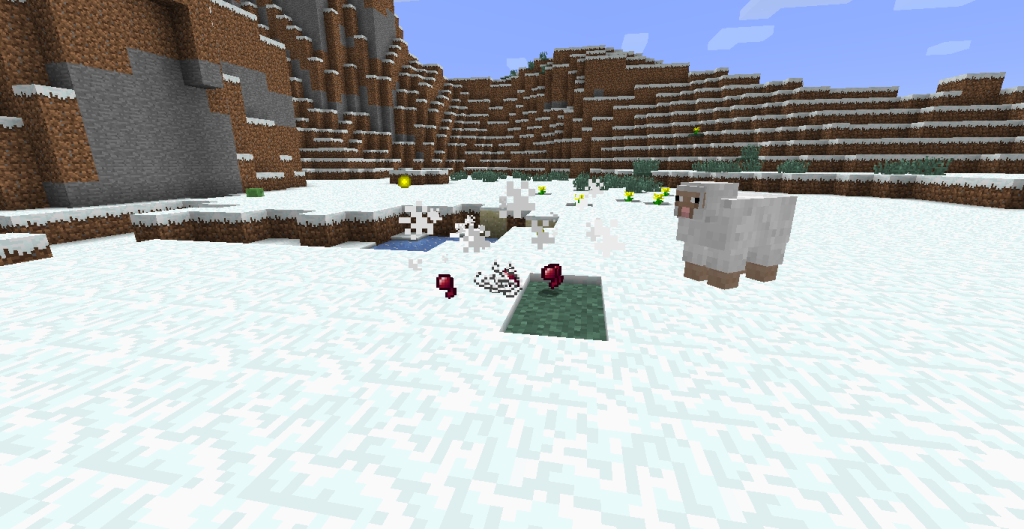 What Mobs Drop

Chicken - More Feathers, More XP
Cow - More Leather, More Beef, More XP
Mooshroom - More Mushrooms, More XP
Pig - More Pork, More XP
Sheep - More Wool (When Sheared), More XP
Squid - More Ink, More XP
Villager - Chance at Dropping Stone Sword and Iron Ingot, Added XP (Same as Animals)
Enderman - More Ender Pearls, More XP
Wolf - Drops Bones, More XP
Zombie Pigman - More Gold Nuggets, More Rotten Flesh, Chance at Dropping Pork, More XP
Blaze - More Blaze Rods, More XP
Creeper - Not Done Yet
Ghast - More Ghast Tears, More Gunpowder, More XP
Magma Cube - More Magma Cream, More XP
Silverfish - Drops Fish, More XP
Skeleton - More Bones, More Arrows, More XP
Slime - More Slime Balls, More XP
Spider - More String, More Spider Eyes, More XP
Zombie - Not Done Yet
Ender Dragon - No Changes to XP Yet
Giant - Secret Twist

Credits

Cooper (theangrytomato) - Ghast, Skeleton, Magma Cube, Blaze
Eric (TFCxAddict) - Chicken, Cow, Mooshroom, Pig, Sheep, Squid, Villager, Enderman, Wolf, Zombie Pigman, Silverfish, Slime, Spider, XP Changes for All Mobs/Animals

How to Install
1. Drag all files from the Mo' Drops folder into your minecraft.jar
2. Delete META-INF
3. Run the game, and have fun with Mo' Drops!
Downloads (Does not Require ModLoader)
(Download broken due to issues)
Mo' Drops V1.1
Copyright
TERMS AND CONDITIONS
0. USED TERMS
MOD - modification, plugin, a piece of software that interfaces with the Minecraft client to extend, add, change or remove original capabilities.
MOJANG - Mojang AB
OWNER - , Original author(s) of the MOD. Under the copyright terms accepted when purchasing Minecraft (
http://www.minecraft.net/copyright.jsp
) the OWNER has full rights over their MOD despite use of MOJANG code.
USER - End user of the mod, person installing the mod.
1. LIABILITY
THIS MOD IS PROVIDED 'AS IS' WITH NO WARRANTIES, IMPLIED OR OTHERWISE. THE OWNER OF THIS MOD TAKES NO RESPONSIBILITY FOR ANY DAMAGES INCURRED FROM THE USE OF THIS MOD. THIS MOD ALTERS FUNDAMENTAL PARTS OF THE MINECRAFT GAME, PARTS OF MINECRAFT MAY NOT WORK WITH THIS MOD INSTALLED. ALL DAMAGES CAUSED FROM THE USE OR MISUSE OF THIS MOD FALL ON THE USER.
2. USE
Use of this MOD to be installed, manually or automatically, is given to the USER without restriction.
3. REDISTRIBUTION
This MOD may only be distributed where uploaded, mirrored, or otherwise linked to by the OWNER solely. All mirrors of this mod must have advance written permission from the OWNER. ANY attempts to make money off of this MOD (selling, selling modified versions, adfly, sharecash, etc.) are STRICTLY FORBIDDEN, and the OWNER may claim damages or take other action to rectify the situation.
4. DERIVATIVE WORKS/MODIFICATION
This mod is provided freely and may be decompiled and modified for private use, either with a decompiler or a bytecode editor. Public distribution of modified versions of this MOD require advance written permission of the OWNER and may be subject to certain terms.