dark_messiah
Diamond Miner
Join Date:

6/27/2010

Posts:

719

Location:

Latvia

Minecraft:

Dark Messiah

Member Details
Guys I'm back after years of silence! Me and my buddy are making mods from scratch, for 1.9
Hold onto your pickaxes!

THIS POST IS UNDER RECONSTRUCTION!
Mods are outdated and currently re-written!
Btw, do you like the new post?

Please check all of these, then before downloading please thumbs up my post!
Windows:

Download Minecraft Forge Universal, recommended build.
Open up %appdata%, if you don't know how to do this, start>run, then type in %appdata%
Open folder .minecraft Go inside folder named bin Inside bin theres file called minecraft.jar so back that up.
Then open minecraft.jar and delete folder named META-INF Open forge archive and press ctrl+A then drag all files inside minecraft.jar
Finally close the minecraft.jar Then browse to .minecraft/mods folder.

Drag and drop DarkMessiahMods.zip into mods folder.
Youre done! If any errors or black screen follow steps again. Or check mod installing guide.

There is Config file, located in Minecraft/Config , if you have ID conflicts simply backup the configand change IDs


Macintosh:

1) Go to Applications>Utilities and open terminal.
2) Type in the following, line by line:cd ~mkdir mctmpcd mctmpjar xf ~/Library/Application\ Support/minecraft/bin/minecraft.jar 3)Outside of terminal, copy all the files and folders into the mctmp directory.
4) Back inside terminal, type in the following:rm META-INF/MOJANG_C.*jar uf ~/Library/Application\ Support/minecraft/bin/minecraft.jar ./cd ..rm -rf mctmp5) Run Minecraft, enjoy!



John the Survivor Mod
He attacks monsters such as creepers, spiders and skeletons.
He also likes to kill pigs and chickens for fun.John usually spawn in groups of 2 to 5.
He will only spawn on EASY difficulty or above.
If you attack John, he and his group will attack you.
John drops cooked porkchop, map and an iron sword.They drop XP orbs too, they also damage 2.5 heartsThey will spawn in 3 biomes which are jungle, plains and swampland.
It takes 20 or so hits with your hand to kill John,3 to 4 hits with diamond sword, 1 hit with the obsidian sword.
Picture of John:
Heres image of comparing vanilla armors and tools vs mod tools and armors.
mod tools tab might not be same as ingame for armors! Needs more testing/editing.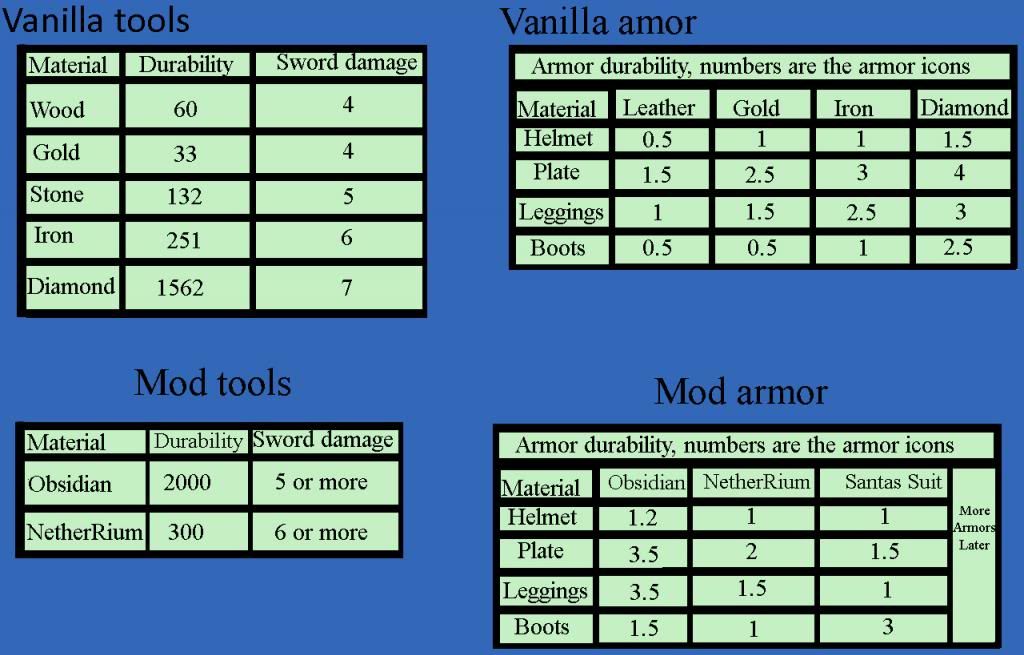 Obsidian Rod - its like stick but made from obsidian ingots, the rod will have use in my next mod.Obsidian Tools are now enchantable!

They can be more powerful now.Crafting Recipes are same as Vanilla tool recipes, Sword, Shovel, Pickaxe, Axe, Hoe.Sword takes 1 to 3 hits to kill mobs!
Pickaxe's mining speed is extremly fast.Shovel and Axe are fast aswel, shovel speed might be same as enchanted diamon shovel.

Tools are more durable then diamond tools!

Use the Obsidian Ingot to craft all of the tools!
The Multi Tool
This tool combines 3 obsidian tools , which are Pickaxe , Shovel and Axe.
Its simple to craft this tool.You just put the tools in following order in the crafting table
.A - Pickaxe , B - Shovel , C - Axe, ABC really simple to make the tool.
Its really fast and works like normal tools but combined , so you dont need to switch or carry around your tools.

Note: All 3 tools must be new, not used, if they have been damaged you won't be able to craft MultiTool!
You can now put obsidian block inside furnace and get 2 fragments.
You have to craft 4 shards to get 2 ingots.
Recipe is easy, X means shard , you just put 4 shards in anyway inside crafting table.

XXXX
Obsidian Armor is more durable then Diamond armor.

The Armor can be enchanted just like normal armor and the crafting recipe is same like all other armors.I will try to improve the armor in sometime future!
Extra Achievements. [Currently not working!]
Achievements Mod -Obsidian mod Achievements! They require making Nether Portal then you can get the achievements.

NetherRium achievements coming soon! Aswel as bugfixes.
Extra Foods Mod
Cooked Zombie flesh -The recipe is really simple! You just cook it like any normal food you would cook.
Cookable zombie flesh!
Fills
and gives 5 seconds of health regeneration.
Strawberry Mod!
Fixed bug with bonemeal not working properly!
This mod adds tasty and sweet strawberries to your world.They grow in wild and are called Wild Strawberrys, but once you break them.
You get 2 seedbags and then You just have to make farm and plant down the seeds.Rest is well known!
They can be grow by bonemeal to their READY stage, then you just harvest them and replant the seedsand enjoy the berries.
Strawberry fills
. Heres the image of Stawberry Mod.
NetherRium Mod
New block, NetherRium Block takes 9 gems to craft.

To get gems back simply place 1 or more blocksin crafting and recieve your gems.

New ore which is NetherRium Ore, can be found in the Nether and is only mineable by Diamond Pickaxe, Obsidian Pickaxe and NetherRium Pickaxe.

New tools!

NetherRium tools are litle better then iron but nothing too fancy.

The sword has ability to set mobs on fire when hit.

The ore has glowing light ,but can't be used as light source in dark rooms.

Armor isn't anything fancy either NetherRium tools and armor can be enchanted.

The recipe requires Obsidian rods and NetherRium gems for tools.

And NetherRium Gems for armor.
Ever wanted to dress up like santa? In minecraft?
Now you can with the santas suit mod!
Its not meant to be as armor, but will protect you little bit!
Crafted with coal and leather armor parts.
Few changes will be in 3.1 mod update!
Crafting of suit is simple!









More mods coming soon!
Be sure to subscribe to this thread or the TeamIgnition youtube channel to be alerted when the update comes out.





Please click
, it helps alot!
Mods version 3.1
(CURRENT)
working on 1.4.7 properly!
Fixed NPC not doing damage, and not holding sword.Thats pretty much all, this was npc fix update
Mods version 3.0!
Update for 1.4.6!
NPC now finally working properly and spawning!
New christmas surpise! Craft with coal and leather armor.
8 coal and leather armor required.
Recipe: X stands for coal, A stands for leather armor part, helmet, chestplate, pants, boots.
XXX
XAX
XXX
Also some bugfixes!
Thats all for this update!
Thx to Wuppy29 for helping me with NPC mod.
Mods version 2.0
Finally updates for 1.3.2 minecraft

Only few mods arent working. I will release 2.1 version as soon as I can.
Mods Version 1.8
New Mod! John The NPC, He hates monsters as much as you do, and if you attack him he will
fight with you.
New texture for NetherRium Gem.
Mods version 1.7.7 ( tiny fixes)
Fixed bug with strawberry mod not letting bonemeal work on trees.
Thats all for this tiny bug fix.
Mods version 1.7.6 (small update)
New block - NetherRium Block , takes 9 NetherRium gems to craft( recipe same as for diamond block)
When placing 1 NetherRium block in crafting inventory, you get 9 gems back.
Mods version 1.7.5
New mod- Strawberry Mod.
Strawberries grow in wild and must be broken to get seeds, on breaking they drop 2 seeds.
Seeds can be placed on farmland and they will grow into full strawberry.
When harvesting fully grow strawberry they drop berries and seeds.
Placed seed can be grown to full plant using bonemeal.
Cooked zombie flesh now gives regeneration of 5 seconds instead of instant health.
Removed NetherRium ore crafting recipe which was left by accident.
You have to delete Dark Messiahs Mods folder in GUI, so the cooked flesh texture works.
Mods version 1.7.0
New mods! NetherRium, this mod adds lots of awesome things to old boring nether.
1st is new ore, which isn't rare and it isnt super duper like diamond.
2nd is new gem, NetherRium Gem which is used in crafting.
3rd thing is obsidian rod, which I mentioned in obsidian tools update, the rod has use in NetherRium mod.
4rth is new Armor and Toolset, Crafting is fairly simple just like all tools and armor, but theres 1 new thing
for the tools, You must now use OBSIDIAN ROD instead of stick to create tools.
You get the gem and combine it with obsidian rod and make the tools.
Tools are little better then iron ,but theyre nothing super, 1 super thing I did add is burning mobs,
and that is for NetherRium sword, when You hit mob with the sword they get instantly on fire.
Thats pretty much all for the new mod.
Mods Version 1.6.0
New Mod! Cookable Zombie Flesh.
Now you will have use for the flesh and not only its eatable , you get 15 seconds instant health.
Achievements for Obsidian Tools mod, open up achievements and take a look.
Obsidian Rod its like stick but made out of obsidian ingots, the rod will have an use in my Nether mod.
Mods Version 1.5.1
New Tool! Obsidian Multi Tool
This tool has 3 functions which are
Axe , Pickaxe and Shovel.
Its really fast and well same durability as normal Obsidian tool.
Crafting Recipe is easy, I will name 3 tools with following letters
A - pickaxe , B - Shovel , C - Axe
Its easy you just put ABC in crafting and you get multi tool.
Mods Version 1.5
New Mod! Obsidian Armor
Obsidian Armor is a bit better then diamond armor, meaning more durable.
Obsidian Armor can be enchanted.
All my mods now use Modloader and McFORGE
Obsidian armor textures done by DarkHurricane_
Mods version 1.4.0
Obsidian Tools can now be finally enchanted!
New crafting recipes!
Puting 1 obsidian block into crafting table gives you 9 obsidian ingots
puting 9 ingots give you 1 obsidian block
Mods version 1.3.0
Updated Obsidian Tools for 1.2.5
New Textures thanks to DarkHurricane_
Mods Version 1.2.0
Removed Colorable Lapis Block mod because MCP accidently deleted one .java file
and it did screw up entire mod.
Updated Obsidian Tools mod to 1.2
Mods version 1.1_01 (small update)
Changed crafting recipe for obsidian ingot
Changed crafting recipe for obsidian
It takes 4 obsidian ingots to make 6 obsidian blocks
It takes 4 obsidian blocks to make 2 ingots, 8 blocks give you 4 ingots
Mod Obsidian Tools updates 1.1
Fixed Pickaxe not mining iron ore
Made so you get 4 Obsidian back not just 1 when crafting 4 Ingots
New mod Colorable Lapis Lazuli Blocks 1.0
14 colors for lapis! you can now make your house epic.
End of Changelog Minecraft 1.4.7




1.Your suggestions!

2.Food

3.NPC

4. Updates!!
!Here is a list of SUGGESTED ideas which seem to be nice and maybe even made into mod!
the real dkboy61 Posted 31 March 2012 - 01:37 PM

list of ideas:obsidan rails(explotion proof)
obsidian furnace (used to make obsidian bars if you make them smeltable(can also smelt other things)(explotion proof)obsidian door(like iron door but explotion proof)
obsidian button(explotion proof)
obsidian trapdoor(can only be opened with levers and other redstone powers(explotion proof))
obsidian chest(explotion proof(crafted the same way as a furnace but with a wood chest inside))
obsidan workbench(explotion proof)


Dark Messiahs Minecraft Mods v3.1
All links Adf.ly so I can earn some moneys

Downloads for 1.4.7 Minecraft version
Please give me Vote up, and leave a comment

Thanks!!
Dark Messiahs Minecraft Mods v 3.1
Currently no download link for texturepacks are provided, because they wont simply work.
Once 1.5 is out, they will work nicely with the new texture format! Please be patiente!
You can now download 32x32 Obsidian tools and armor textures, made by DarkHurricane_
Just open up Obsidian Mods 32x32 pack and drag the GUI folder over your normal GUI folder located in Minecraft.jar
This 32x32 version is for those who have 32x32 texture packs.Also new pack is out, Doku styled obsidian tools!I hope you like it

Mods required to run my mods!
Forge is now required to run my mods aswel.
Go to FORGE DOWNLOAD link to get latest RECOMMENDED forge download, and checkou the forum link to find more about forge and downloads, don't download anything else then main forge download recommended .
Forge Download, includes MODLOADER
Download Recommended build, and it should say UNIVERSAL so download that one.
Click here for old version mod downloads!

Click on Spoiler to see videos!
Cool review by xYoungGamer
[media]
https://www.youtube.com
/watch?v=m_340Sp84Sc[/media]
Super awewesome review by Scmowns2!
[media][/media
]
Not bad review by alex56541
[media][/media]
Great review by JaghapStudios
[media][/media]
by xXLakoonXx
[media][/media]
Awesome video by SCMowns2! Thx man
[media][/media]
Support me

[url=http://www.minecraftforum.net/topic/1043277-124-dark-messiahs-minecraft-mods-v120/][img]http://i.imgur.com/hWyCL.png[/img][/url]
Heres second banner made by DarkHurricane_ , so thanks man!



[url=http://www.minecraftforum.net/topic/1043277-124-dark-messiahs-minecraft-mods-v120/][img]http://i.imgur.com/vXUOQ.png[/img][/url]
Just copy paste the code into your signature! Thanks for supporting me




Adf.ly:
If you hate adf.ly, feel free to throw $5 in the donate button and put your email address in the comments, and I'll mail you a direct link whenever I update a mod.

Otherwise I think you'll find that 5 seconds of your time isn't that much

I have spent many hours before school, and after school working on these mods, including almost every hour of 9 weeks of holidays.

I loved every bit but if you'd like to show your appreciation for my effort and time spent creating these mods. Please donate. If you'd like a little note like sponsored by... or want me to prioritise a certain feature you are more then welcome to include a short message with your donation.



Dark Messiahs Minecraft Mods by Dark Messiah is licensed under the