Koadmaster
Curse Premium
Lapis Lazuli Collector
Join Date:

1/2/2012

Posts:

1,087

Minecraft:

KoditheMaster

Member Details
Mods currently discontinued, however, it you want one updated, just ask, and I will try to get it updated.
These are my mods that I have made to turn less useful Items/Blocks into something useful, and none of them edit a single base file (
except MLProp
, no longer edits MLProp
) Also: there is a link to download some mods at once as you can see below.
A word about the config files: all they do is allow for you to change the IDs of your items and/or blocks so that my mods will be compatible with all (or at least most) other mods.
NOTE:
If you use any of these mods, please take the time to tell me what you think about the mod that you got, or at least give this page a rep, The mods MAY be buggy, so if you find a bug, please post it on this topic.
Changes:
Updated to 1.4.7, one note: the code still says that is is for 1.4.6 but it isn't, I just forgot to change some text, but it will not effect the mods in any way. New mod! Unbreaking anvil mod
it is at the bottom
The Mods:
Pumpkin Pie mod:
Have you ever started growing pumpkins and then found out that they were next to worthless?
well this is the answer: turn them into pie! The recipe is as follows:
That makes two raw pie that restores 3 hunger or you can cook it and it will restore 5 hunger. you can get this mod here:
http://adf.ly/HCZVc
Chicken Casserole mod:
This has come so that you can turn more somewhat useless items (eggs and/or seeds) into casserole, the recipe:

This makes Three raw chicken casseroles (you get the bucket back) each of which restores 2 and 1/2 hunger, or you can cook them and they will restore 3 hunger, You can get this mod here:
http://adf.ly/HCZbG
Oatmeal mod:
This also has come to turn seeds into food, the recipe: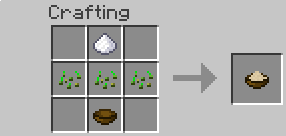 That will make an oatmeal that will restore 2 hunger (and give you the bowl back) you can get this mod here:
http://adf.ly/HCZnH
Flint roofing mod:
This has come so that you can turn flint into some of the coolest looking roof out there, the recipes:
The stairs: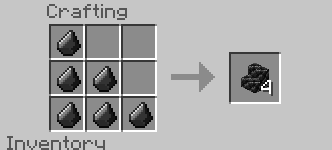 The half steps: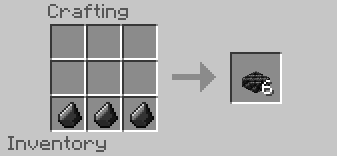 The block: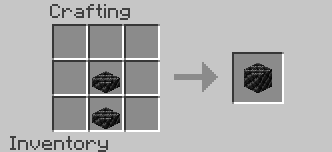 Flint roofing can now be placed upside down!
Also: do you think that I should add something to this mod to make flint easier to aquire?
You can get this mod here:
http://adf.ly/HCZS9
Some pictures: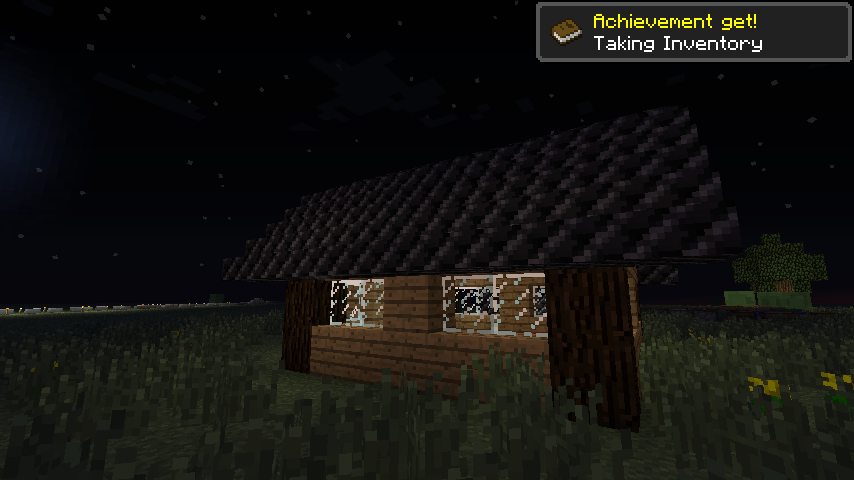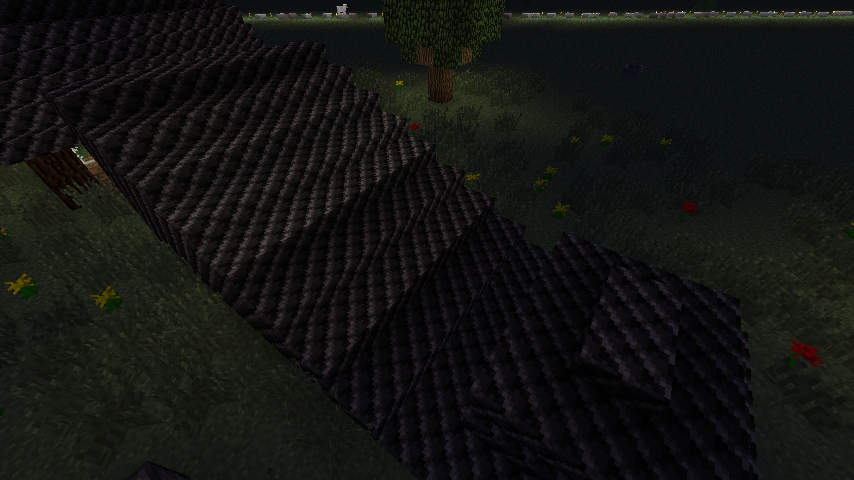 Healing Block mod:
This mod has come so that all of you can have a excellent use for lots of lapis, the recipe: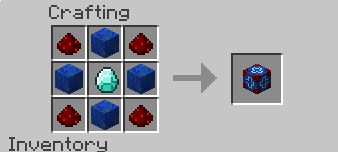 This will make a block that, when placed (and if you have less then full heath) and then walked into will give you the potion effect of regeneration (for about two seconds, and when it runs out you can just get it again) You can get this mod here:
http://adf.ly/HCZjU
Resist Fire Block:
This mod is a branch off or the healing block, it doesn't really give a use for any junk (except maybe redstone) the recipe: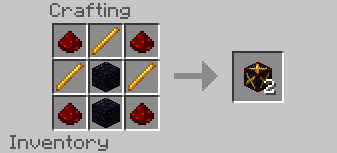 It makes two blocks that, when walked on will give you the effect of Resist Fire, it can be used to enable you to walk though your lava moat, kill blazes easier, and some other things that don't come to mind at the moment. you can get this mod here:
http://adf.ly/HCZg5
Composter mod:
This is a mod that turns rotting flesh and/or poisonous potatos and "organic material" into fertilizer, first, you need the composter: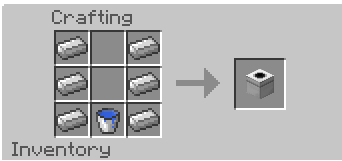 Note: you will get the bucket back (which is as it should be)
then you put rotting flesh or poisonous potato into the top slot with "organic material" in the bottom: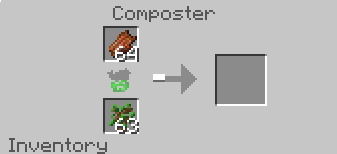 It will then act like a furnace and 'compost' the items into fertilizer:
this fertilizer will behave like bonemeal, and will grow things, You can get this mod here:
http://adf.ly/HCZOQ
there are many items that can be used for the "organic material" but I will let you figure them out
I will note, it takes two "organic material" and one rotting flesh or poisonous potato to get one fertilizer, and it takes a LONG time to compost, so don't wait for it.
Nether Bricks mod:
This mod has come to make Netherrack and Soul sand into something useful, but it really just makes a way to get Nether bricks in a semi-unlimited way, all the mod does is add a recipe:
(you get all the buckets back) you can get this mod here:
http://adf.ly/HCZr5
Or you can get all of the mods above this in one mod here:
http://adf.ly/HCZIR
Stone Chest mod (Alpha 2):
This mod is for all the junk that I don't have a mod to get rid of
as it provides storage for all of it.
This is a not quite finished mod, it should work as a double chest, however, it is only one block (saves on space), you craft it like this:
and it looks like this:
Now, the reason this isn't finished yet is because I can't get a few things to work properly... They are: The block will now place toward you, but if you place a different one to face a different direction it will make all the stone chests face that direction, the chest has no opening or closing sound, And the Gui is missing the text that Guis have, I plan to fix both of these as soon as I can, but it may be a while.
But if you want to you can test it out for me, and use it, as it should work right.
You can get the 2nd Alpha for this mod here:
http://adf.ly/HtKDd
Idea and textures by luckymou.
Unbreaking Anvil mod:
Note: This mod edits a base class, but does not require modloader.
This mod is unrelated to all of my other mods, all it does is edits one base class; the base class that tells the anvil to damage itself when you use it, I was sick of spending that much iron to use it, so I made this mod, it makes it impossible for the anvil block to take damage (I think, it is hard to test, but after 30-40 tries it still hadn't taken damage).
I am about 98% sure that this works without any bugs.
I then thought that other people might like to use a mod like this, so you can download it here:
http://adf.ly/HHxls
Installation:
Download the mod.
Extract the contents of the zip.
Open the minecraft.jar with a program like 7-zip (what I use).
Back up the so.class (so that you can uninstall easily).
Move the modified so.class into the jar.
Make sure meta-inf is gone.
Run minecraft normally.
Any feedback would be appreciated
Also, I am planing on making more mods like these, so if you have an idea about how to make some junk useful, feel free to post it (I would appreciate it if you tell me the material to use AND what to make it into.)-Thank You-
Note: I learned to mod with XTremity's, dapenguin321's and TechGuy543's moding tutorials (That are awesome!) Also I would like to thank Areli_Eshardu and dirtdevourer for the textures.
Old versions

Minecraft 1.4.6








Plans for future mods.
1. Pumpkin juice. May make, but I might not.
2. Lapis insta-mine tool(s?). probably will not make this, but I might, Possibility: combine with diamonds for more duration?
3. Lapis XP item. Will make sometime, I think I know how I could do it, but I am unsure of how much XP it should give
4. Buried treasure mod. (I might just make this in my pirate mod that I am planing to make in the future)
5. Cactus golem mod, will get to at some point, my have some nice AI
6. Double chest mod, will try to make after I update to 1.4
7. Open for suggestions
Instructions:
1. Get modloader.
Here
2. Install modloader.
3. Download mod/mods you want.
4. Move downloaded zip files into the mods folder in .minecraft.
5. Play with new mod.
6. Like new mod.
7. Come back to this page and show your appreciation
If you would like to support this mod you can use this in your signature (it looks like mine). Banner by CannonFoddr:
[url=http://www.minecraftforum.net/topic/1009297-125-koadmasters-mods-modloader/][img]http://farm8.staticflickr.com/7265/7007283328_16ac4a525c.jpg[/img][/url] 
or just leave a post showing your support, it really does inspire me to make more mods.
Spotlights:

This is a mod spotlight video on the pumpkin pie mod, by noclue4u

This is a mod spotlight video on the chicken cassarole mod, by WantBeef007

Copyright/Disclaimer:
This document is Copyright ©(2012) and is the intellectual property of the author. Only Minecraftforum.net is able to host any of my material without my(Koadmaster) consent. It may not be placed on any web site or otherwise distributed publicly without advance written permission. If you mirror this mod page or anything I've(Koadmaster) made on any other site, I(Koadmaster) may express my angst at you in the form of a lawsuit.

Copyright Exceptions For Youtube Video Makers
If you want to make videos for youtube using my mod you have my permission to do so, and you also have my permission to monetize those videos through youtube (of course I dont own minecraft, just the mod). If you do make any videos please send me a link or post it here because I would really like to see them!!

I can not guarantee that this mod will not cause lag and/or will not crash your Minecraft. I can not guarantee that this mod will not break your worlds. It is always recommended to always backup your Minecraft files before installing/updating mods. By downloading and/or installing this mod you have agreed that have read the OP (Original Post) and that any damages to your Minecraft and/or Computer are not the responsibility of Koadmaster, or anyone else that has posted on this Forum. If you do experience a crash on Minecraft, I will assist you to the best of my abilities IF you provide me with a Crash Report.