cpw
Curse Premium
Zombie Killer
Join Date:

1/2/2011

Posts:

207

Member Details
IronChests 5.0, formerly an IC2 addon mod, now completely IC2 independent.
Requires MinecraftForge 7.7 (build 565) or better.
OPTIFINE USERS update to the latest version of optifine for a fix.
AVAILABLE NOW: 5.2 updating to minecraft 1.5 and using the new "version independent" build mechanism. It should work for future minecraft versions, without needing a change (unless something drastic happens).
SMP news: This mod is a universal mod now. It will run on BOTH CLIENT AND SERVER. The SAME package. Yes, you read that right. It will also work for LAN play, as long as the other LAN players also have the IronChest mod installed.
Yes, that's right, cats sit on your Iron Chests. Just for your pleasure and amusement, of course
Iron Chests are tough enough to still work when a cat is sitting on it. Maybe it'll eject the cat. Who knows?
Recent changes:
1. Update to minecraft 1.5, version independent build.
2. Obsidian chests. Upgrade diamond chests to obsidian chests. Totally explosion proof!
3. Changed to use the internal ItemRenderer. Should be a lot more reliable now. Also, you get 3d stacks with "fancy" graphics on.
4. Fix up some graphical derpiness. Should work better.
Update: I highly recommend Vattic's official faithful 32x texture pack over my poorly recoloured version. Grab it from his texture pack thread here:
http://www.minecraft...et/topic/72747-
(It's missing the new upgrader textures is all)
Bukkit for MCPC 1.2.5 is available and I believe there is an MCPC bukkit port for 1.4.x as well.
This mod is now officially open source, licensed under the GPL version 3. Feel free to fork and have fun with it. I welcome pull requests of a useful nature.
Modpackers: yes, I allow both this and compact solars into modpacks, and being open source I really can't stop you. But I would appreciate a courtesy ping saying that you're including me somewhere. Thanks!
Source code :
https://github.com/cpw/ironchest
NOTE: A big apology to Vattic, author of
faithful texture pack
. I failed to credit his original work in the faithful texture pack graphics for this mod, stupidly I believed it was originally by PieceMaker, though PieceMaker has subsequently contributed the lovely icons for upgraders and had supplied me with the original link to the faithful textures through his
faithful for IC2
post. Again, my apologies all around for any confusion, purely my fault.
Florastar done a lovely little mod spotlight. Thanks!
And now, neceros has done a great mod spotlight too. Thank you as well!
Finally, the mod Let's Play king himself has done a nice little mod spotlight too. Thanks Direwolf20!
Here's some screenshots of the crystal chests for you to enjoy as well:
This one shows you can see up to eight stacks. The number of microblocks visible is related to the amount of that item in the chest. (1 per 1/2 stack).
Here's a special mode: if you fill a chest with a single item, you'll get a slightly zoomed view so you can see what's inside very clearly. Great for big sorting machine rooms. Signs are so old hat
This is what a sorting system with my crystal chests could look like.
To make a crystal chest, surround a diamond chest with glass- or use a crystal chest upgrader (glass surrounding obsidian).
New item for this mod: a chest upgrader. Constructed similarly to the chests themselves, except with a single ingot of the source type surrounded by the standard recipe for the target chest. For example: the iron->gold upgrader is 8 gold surrounding a single iron ingot. The chests will upgrade, in place, and the new storage will become available to use. No more fussing around with destroying chests to upgrade them!
Many thanks to PieceMaker for the lovely new icons for chest upgraders!
Recently updated the faithful texture pack with thanks to PieceMaker again for the 32x icons there
Changelog:

v5.2 Update to 1.5 and version independent.
v5.1 Some network tweaks
v5.0 Added obsidian chests.
v4.5 Update for MC 1.4.6, change to the vanilla item renderer code. Much more efficient and gives all vanilla item rendering capabilities.
v4.4 Update for MC 1.4.5 (no actual changes, 4.3 works fine on 1.4.5 as well)
v4.3 Update for MC 1.4.4
v4.1 Update for minecraft 1.4
v4.0.3 Fix some graphical glitches in the client.
v4.0 Update to 1.3.2, added in cats sitting on chests.
v3.8 Reduce the size of the hitbox to match the actual appearance of the chest.
v3.7.2 Fix upgrading vanilla chests in certain circumstances.
v3.7 Fix recipes, tweak and fix graphical optimization. Allow gfx optimization to be disabled if it causes errors.
v3.6 Add in the vanilla chest upgrader.
v3.5 (unreleased) fixed 4096 block support. Graphical optimization.
v3.4 Update for forge 3.2.4+, FML client side and mcmod info.
v3.3.1 Update for forge recommended build 3.0.1.75. Works well again.
v3.3 Update for forge 3.0 and MC 1.2.5. Works well with the latest forge system.
v3.2 Update for forge 2.0 and MC 1.2.4. Remove last vestiges of MLMP- now uses forge GUI handling. No more GUI ID conflicts.
v3.1 Update for forge 1.4
v3.0 Update to MC 1.2.3
v2.5 Crystal chest works in SMP now. Fixed a couple of other SMP bugs (chests not updating with upgrader items for example).
v2.4 Add in a crystal chest. See the contents of your chests without opening them!
v2.3a Fix up texture path issue so texture packs work for items and blocks.
v2.3 New icons for the upgrader items. Thanks Piecemaker! New upgrader: Copper to Iron. Equivalent Exchange EMC support! If you have equivalent exchange installed, you will be able to put all the chests (not the upgraders, just the chests) into your transmutation table or AMR and get a whole pile of EMC back. It's how I've decided to support Equivalent Exchange alchemical chests: you can transmute a diamond chest into about 4 alchemical chests (I know, EE is ridiculously cheap!).
v2.2 Item for upgrading chests in-place!
v2.1a SMP fixup for forge dictionary problems
v2.1 Added SMP support!!
v2.0.1 Add hook method so that a new Inventory Tweaks can work with this version. Change pushed to InvTweaks author to support this.
v2.0 Initial release, copper and silver chests added to original version.

Thanks:
Firstly, many thanks to Lishid who originally gave birth to this mod. I have simply taken his work and am continuing it (with his permission) in his absence. It should be noted that the code is rewritten from scratch, because I wanted to
Secondly, many thanks to PieceMaker from the Industrial craft forums, who for a long time maintained the 32x faithful texture pack for designing the beautifully simple icons for the chest upgraders. Thanks PieceMaker!
Pretty simple recipes: generally surround one of the lower tiered chests with your preferred material and get a higher tiered chest.
Crystal chests are glass around a diamond chest, obsidian chests are obsidian around a diamond chest.
Information:
7 possible chests: Copper (5 x 9 = 45 slots), Iron (6 x 9 = 54 slots (a double chest)), Silver (8 x 9 = 72 slots), Gold (9 x 9 = 81 slots), Diamond (12 x 9 = 108 slots- bigger than an EE Alchemical chest) are the basic chests. Crystal and Obsidian chests are specialty chests based on the diamond chest. Crystal chests render some of their content visible, Obsidian chests are completely explosion proof.
It uses 1 block ID for all this goodness. If Copper ingots or Silver ingots aren't available in your world those chests are just skipped (you can NEI them if you want though).
The upgrader items are similarly constructed to the chests themselves: surround the lower tier ingot (iron, gold, copper, silver) with the material of the higher tier item you wish to upgrade to and get an item that allows for in-place upgrade of chests. The items are single use, and work immediately on the right kind of chest, so be careful where you click!
Enjoy.
Recipe images in this post with much thanks to Silentspy!
http://www.minecraft...0#entry19099396
Downloads:
All recent downloads. v5.0 and v5.1 are for MC1.4.7, v4.4 is for 1.4.5, v4.3 is for 1.4.4/5, v4.2 is for 1.4.2 and v4.1 is for 1.4.0.
General purpose links. Usually, will be for the latest minecraft version (1.5 at the moment).
Latest build builds every time we update forge, the recommended build is one I'm probably actually using day to day. The differences are probably minimal.
Get your version independent ( MC 1.5 and on ) here:
Latest build
Recommended build
Older downloads
These are hosted at mediafire and may or may not be available depending on how mediafire is feeling about me today, sorry.
Texture packs:
Faithful texture pack:
Mediafire download
- much of this was based on the excellent original work of Vattic for the old IronChests mod, as well as fine contributions for the lovely new items in 32x by PieceMaker!
Sphax texture pack:
http://www.eclipse-p....php?f=19&t=386
- many thanks guys for the new texture pack it looks lovely!
Older versions of the client (in case you need to connect to an older server or have to use an older forge version):
Supports both SSP and SMP play. Bukkit plugin compatible with MCPortCentral MLMP now available!
Pictures: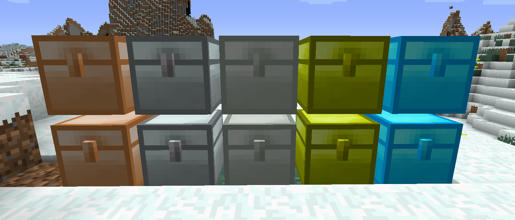 This one shows you can see up to eight stacks. The number of microblocks visible is related to the amount of that item in the chest. (1 per 1/2 stack).
Here's a special mode: if you fill a chest with a single item, you'll get a slightly zoomed view so you can see what's inside very clearly. Great for big sorting machine rooms. Signs are so old hat
Credits:
Original faithful 32x textures for the texture pack by Vattic:
http://www.minecraft...et/topic/72747-
New item sprites by PieceMaker.
Original idea by Lishid, thanks for letting me take over.
Last edited by
cpw
: Mar 9, 2013
A cool banner was here, but it has been removed