DrakusFett

Carpenter
Join Date:

8/14/2011

Posts:

56

Minecraft:

DrakusFett

Member Details

This mod makes Gold Much Stronger(lasts longer). Instead of 32 uses it now has 750 uses.
Download 1.2.5:
Click Here
This mod allows you to craft Chainmail using gunpowder.

This mod adds 2 new arrow crafting recipes. First one instead of flint use Iron ingots(32 Arrows). Second one use a diamond instead of flint(64 arrows). and Of course you can still use the default flint.

This Mod Pack Holds all of the above mods.(That are of the same version)
Download 1.2.5 :
Click Here
Music Disk is a 1.8.1 Mod.
This mod add's all the disks from 1.0 to 1.8 dungeons.
This Texture Pack Makes GUI Clear. This is your Inventory, Crafting tables, Furnaces, Dispensers and so on!
I am all ways open to suggestion on how to improve on my mods.
These are my first released ones so please go easy on me haha.
None of my mods need Modloader. But In future some will.
All My mods are SMP compatible.(Just remember everyone that plays need the client versions too)
If you run my mods on a server you have to run with nogui
Example
@echo off "%ProgramFiles(x86)%\Java\jre6\bin\java.exe" -Xms1500M -Xmx1500M -jar minecraft_server.jar nogui pause
Mods Updated to 1.2.5. MCP was out before the update with pre-release woot!
Install Just extract from .zip file and drag and drop into your jar file.(Make sure to delete Meta-inf(unless it's server))
Videos

By MrVirusVenom/xN4Kx


Banner Support me?

[url=http://www.minecraftforum.net/topic/723342-181-drakuss-modstextures/][IMG]http://i940.photobucket.com/albums/ad241/DrakusFett/Banner.png[/IMG][/url]
Just Copy and paste into sig

This mod make Creepers Peaceful during the day like a spider.
Sorry but I am having trouble with updating this mod. Hope I can get it up soon.
This mod adds Throwing Daggers. Known Bugs Name doesn't show and SMP the thrown dagger doesn't show. Please report any others. (Comes with Arrow Mod also)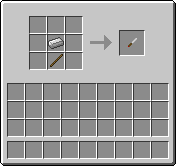 This mod makes Magma Cubes Drop Magma Cream. Since 1.1 update Magma Cubes now drop magma cream. Mod will not be updated