piplupalx
Coal Miner
Join Date:

4/25/2011

Posts:

132

Minecraft:

Spartan009

Member Details
Notice: I am disorganized   so you may have to put items in a few different places to get it to work 
Notice 2: This mod requires modloader

I have remade this mod using modloader.
Poll stuff:
THERE IS YOUR COOKIE
CATS
TO THE GUY WHO CLICK ON VIDEOS ARE BAD. LOOK UNDER YOUR BED TONIGHT!
I know I can't spell....
(based on the poll results)
CAN SOMEONE MAKE MORE VIDEOS PLEASE?
The only videos are the two below and two Polish videos XD
Get your materials back!
This is the recycle mod that aims to give your materials back.
OK here's the scenario:
You just moved to the desert but you didn't have enough materials to finish your home. There's a big, gaping, creeper-welcoming hole. You don't have enough wood to make a sword and the nearest tree is a mile away. The sun is setting. You have a bed. You think "Hmmmm.... Maybe I can break this bed down."
And now can thanks to the recycle mod! Place your item in the middle of the 3x3 grid to get the most precious material back...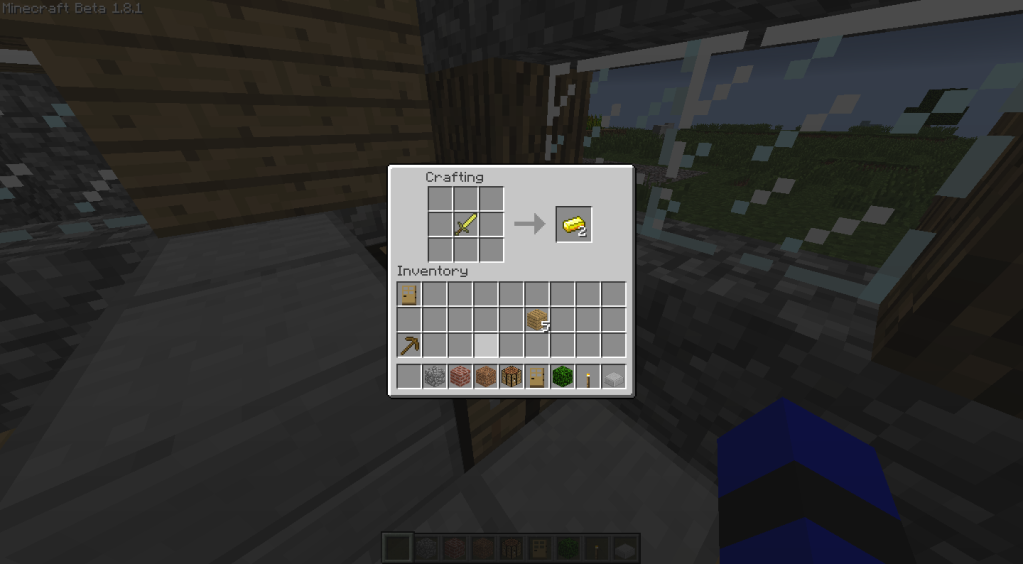 And place it to the side to get the secondary materials back!
Introduces scrap! if you have a damaged tool you can get scrap from it!
If you have enough scrap you can get another tool!
Or a new one of the same type!
This works with every tool and even rails! The recipes are the same but replace iron, diamond, gold ect with the scrap!
Gallery:
Coming Soon!
Videos:
Thanks Mischakr!
Thanks XAtomicGames
Thanks LulzCop
Changelog:
1.0.0 DONE. DONE. DDDDDDOOOOOOOONNNNNNNEEEEE!!!!!!!! May change texture for scrap. Also it is now modloader again

0.8.1a Updated version and made non-modloader. Check the top

0.8a: The Biggie:
Added everything for recycle. (There are exceptions)
If you were to put leather for recycle you would get a cow spawn egg!!!

0.4a:
Added both doors for recycle,
Added bucket for recycle,
Added lever for recycle,
Added button for recycle,
Added both pressure plates for recycle,
Added wooden planks for recycle,
Added chest for recycle,

0.3a:
Added torch for recycle,
Added furnace for recycle,
Added stone for recycle (Get cobble),
Added glass for recycle (Get sand),
Added boat for recycle,
Added Minecart for recycle,
Added piston for recycle,


0.2a:
Added all armor for recycling,
Added Crafting Table for recycling
Exclusions:
These items are excluded to prevent infinite items:
1. The number you get was over 16 pieces
2. Damaged tools
3. The number of items needed was not divisible by the amount you get.
e.g If three glass made three glass panes then one glass pane would recycle to one glass.
e.g one blaze rod = 2 blaze powder. There is no way I could stop infinite blaze rods/powder
4.The gold and iron used in rail track will be in 0.9a as scrap (Just like damaged items)
5. Silverfish don't drop anything/don't have an item related to them so you can't get their spawn egg.
6. Wool colours.
7. Dye.
Download (FULL VERSION 1.2.5):
http://www.mediafire...3j5d5mv944riby3
Download: (1.2.5 0.8.1a): http://www.mediafire.com/?l2fvn0b464n58i5
Download: (1.1.0 0.8a): http://www.mediafire.com/download.php?fpv6ckcu1nkdffr
Download: (1.0.0 0.4a): http://www.mediafire.com/download.php?2xikxt5dbq7wki7
Download: (1.8.1 0.3a): http://www.mediafire.com/?d4e94k3kj7h3aob
Download: (1.8.1 0.2a): http://www.mediafire.com/?zi87gbc6da70mts
Download: (1.8.1 0.1a): http://www.mediafire.com/?9t6l5ybi8tnv95e
Installation instructions:
Follow every other mod installation instructions! And then copy the .pngs to the gui folder
Want to play on a cool skyblock server?
Download Information:
I will update this once a week
1st version: 17 Downloads (Used to be 12... Why are people still downloading this????)
2nd version: 27 Downloads
3rd version: 34 Downloads
4th version: 110 Downloads
5th version: 36 Downloads
6th version: 69 Downloads
7th version: 572 Downloads
Total: 865 Downloads
WE ARE NEARLY AT 1000 DOWNLOADS!!!!!!! wOOt. Continue being awesome guys!
DOWNLOAD IT MOAR!!!!!!!!
This document is Copyright ©(Piplupalx) and is the intellectual
property of the author. Only Minecraftforum.net and mcmodcenter.net is able to host any of my material without my,(Piplupalx), consent. It may not be placed on any web site or otherwise distributed
publicly without advance written permission. If you mirror this mod page or anything I've,(Piplupalx), made on any other site, I,(Piplupalx), may express my angst at you in the form of a lawsuit. *cough* Trotter32 *cough*
Recycler mod! Made a pickaxe too many? No material for a sword and night is coming? Get you bally materials back from useless objects to make others! Click this link!
Recycler mod!