Trixie
Tree Puncher
Join Date:

10/13/2011

Posts:

36

Member Details
(Yes, I know it sounds funny)
Basically, the mod is where you mine, and practically upgrade your tools using the items you get from mining...There's about 90 items so far(It isn't even close to what I have left to add! But it's still ready to play! Many more items are to come!)!
This is my first actual mod. The video below tells you ALL you need to know about it! Turn annotations on.)
Honest feedback, along with bug finds, is appreciated!
Anyways, here's the video!
(Clicky Clicky)
CONTENTS

THIS SECTION CONTAINS ALL THAT COMES WITH THE MOD
Click on the spoilers below for all the info you need to know!
PICTURES OF ALL THE CURRENT IN-GAME ITEMS-More is to come!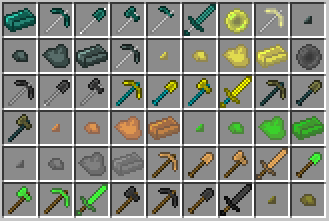 Here's how to obtain said items...
~~~~THE ENDER TIER~~~~
The Ender Items, the first feature.
I believe it is self-explanatory which one is which :tongue.gif:
The unique one is the hoe, though. It turns dirt into grass, but only have about 12% of the normal uses.
ENDER: 440 uses, faster than iron, same damage as iron.
Enchanted Pickaxe; Ender Shards.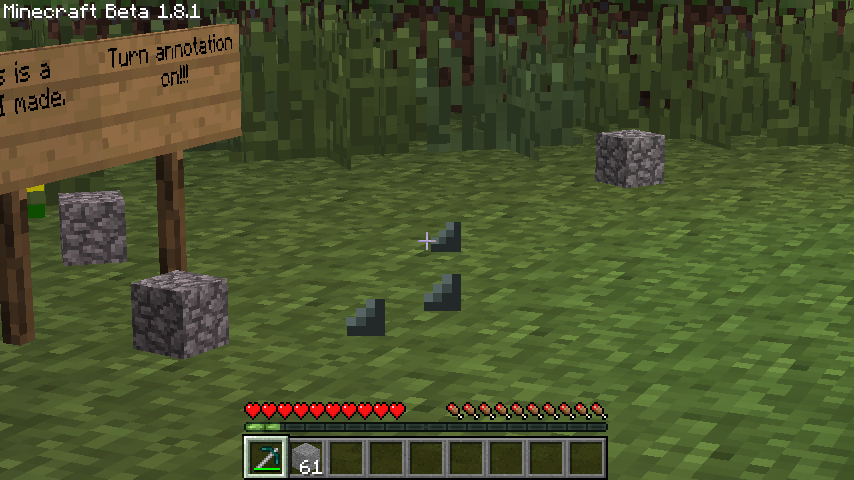 As shown in the picture above, there are these shard things. These are called Ender Shards. You get them by destroying blocks with the Ender Pickaxe. ONLY, and ALWAYS with the Ender Pickaxe.
The picture show above holds 6 recipes.
First Picture: 9 Ender Shards making one Ender Piece.
Second Picture: 9 Ender Pieces making 1 Ender Artifact
Third Picture: 4 Ender Artifacts making one Lost Ender Ingot.
Fourth Picture: A pickaxe being made- Though by the LOST Ender ingots-Not normal ones! No use, yet, though.
Fifth Picture: An Enchanted Orb being made!
Sixth Picture: An Enchanted Pickaxe being made by 8 Enchanted orbs and 1 Lost Ender Pickaxe. This enables the Lost Ender Pickaxe, making it ready for use!
ENCHANTED ENDER: 985 uses, faster than diamond by a little bit, same damage as iron. Can mine Obsidian.
Sacred tools; Enchanted Shards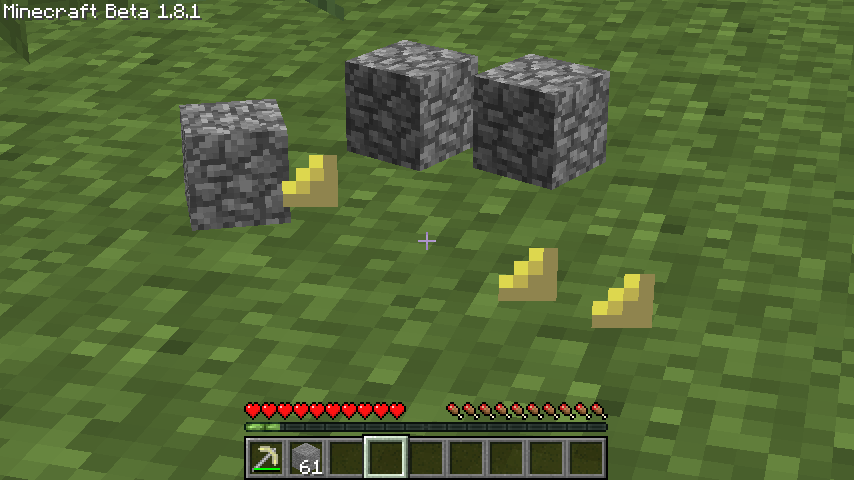 THIS IS THE LAST INDIVIDUAL IN-GAME SHARD PICTURE I WILL SHOW YOU! That means, You should be able to identify them in further recipes.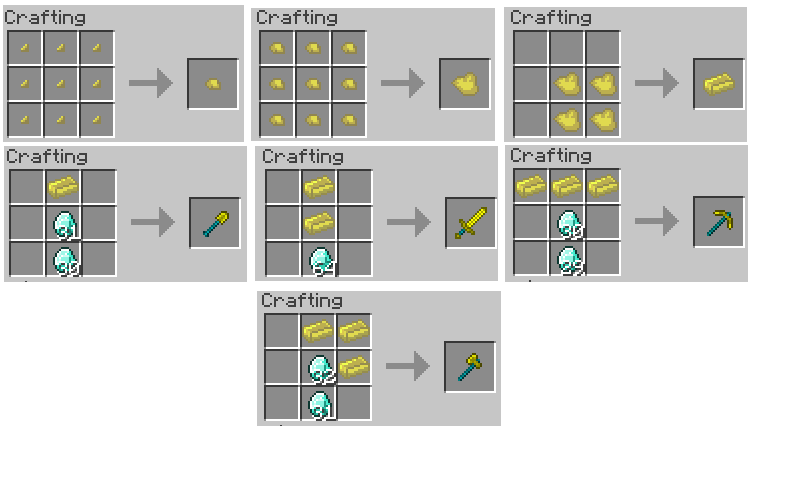 The Shards being made into pieces, then into artifacts, then to ingots, then to tools.
You may notice the handle is diamond.
SACRED: 2265 uses, faster than diamond, 7.5 hearts of damage.
Dulled Items
The above image shows something...Unfamiliar. This is a Dulling Orb! It allows you to "Dull" an item. Now, what's the point of dulling an item? Well, it cuts the uses to about 40%, but it gives you bonus/double items, depending what 'tier' of items you are using. So far, I've only added Dulled Sacred and Dulled Ender. More *Will* be added!
DULLED ENDER: 207 uses, same speed, no damage. Double dirt and sand from shovels, wood from axes, and Cobblestone and iron from pickaxes.
SOULLESS(Dulled Sacred): 843 uses, tiny bit slower than sacred. Gets double wood and planks from axes, destroying leaves *Always* gets you a sapling. Double dirt, sand and Slow Sand from shovels. Mining diamond gets you a few extra iron, and double from mining coal, cobblestone, and iron!
~~~~DEFAULT TIERS~~~~

WOODEN, STONE, IRON, GOLD
The Wooden tiers(The starting item in this tier is wooden)
Recipes!
Anyways, in the first picture, you see 9 shards making a piece. The Wooden pickaxe to the very left represents that you need a wooden pickaxe to get these types of shards- Bronze.
The rest is self-explanatory(if you read the other spoilers first).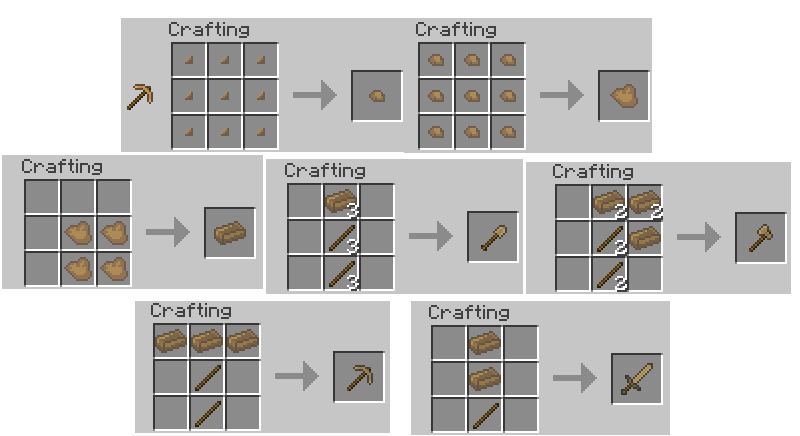 As said with the previous picture, the pickaxe in the first picture, to the very left, represents you mien with that pick to get the types of shards. the pickaxe shown is Bronze, the shards being Dusty. The rest is making tools normally...
NOTE: If you see more than 1 item in a slot, I was doing it to save time. You only need 3 ingots for an axe and pickaxe, 1 for spade, etc.
TRAITS:
BRONZE: 202 uses, same speed as stone, same damage as stone, can mine up to iron.
DUSTY: Very similar traits to iron, except has more uses-312 total.
The Stone Tiers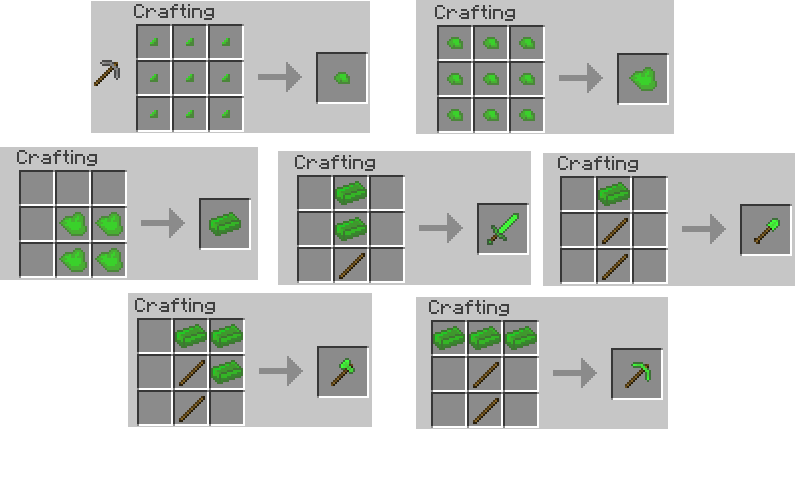 Mostly self-explanatory. In the first picture, the Stone pickaxe represents that you need to mine with it in order to get these Green-"Unusual" shards.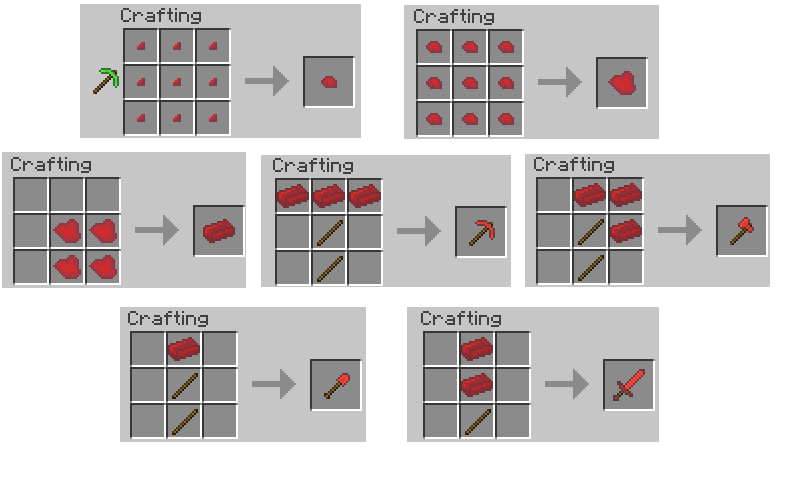 Same thing for this picture. The green Pickaxe in the first picture means you have to mine with it to get these red-"Strange" shards. The rest, as with the before picture, is the normal process of shards, ingots, and tools.
TRAITS:
UNUSUAL: 264 uses, same damage as iron, similar speed to iron.
STRANGE: Same traits as iron, except slightly faster, and more uses. 384 uses total.
The Iron Tiers
As shown in the picture above, there are recipes. The first one has 9 shards making one piece, and there is an Iron Pickaxe next to it. This shows that you need to mine with the Iron pickaxe to obtain these shards- Worn-Down Steel.
In the first picture, you also see 9 shards making a piece, with a pickaxe next to it. This is the Worn-Down steel pickaxe, and these Very light-gray shards are Cobalt shards. The rest of the pictures is the recipes after you obtain your shards.
TRAITS:
STEEL: 371 uses, a bit faster than iron, same damage, can mine anything but obsidian and bedrock.
COBALT: Same traits as diamond, except slightly slower, and less uses. 491 uses.
NOTE: Any of these traits, along with all the other tools, are subject to change. Anything may change, so don't be surprised if I change them.
The Gold Tiers
Ah, the gold tier. The hardest of the original tiers, possibly harder than the Ender Tier. Anyways, the first picture shows a Gold Pickaxe and 9 Goldish-"Pyrite" shards making one piece. The pickaxe represents you need to mine with it to obtain the same shards shown in the picture.
Same thing with this picture. Pyrite pickaxe next to 9 blue-"Sapphire" shards making one piece. The pickaxe shows that you need to mine with it in order to obtain these shards. The rest is the normal recipes after getting these shards.
TRAITS:
PYRITE: 153 uses, same speed as gold, can mine up to iron ore, same damage as stone.
SAPPHIRE: Same speed as gold. Can mine up to diamond ore. 256 uses, same damage as iron.
NOTE: ANY of these item's traits may change at any time, such as, but not limited to, the number of uses and what ores it can mine.
That's all the contents of the mod for now, I will add more stuff later on. And yes, it is supposed to be a little difficult to obtain each tier. It's no fun when you can get half the items in 5 minutes *Fairly*. As with some other mods, this is best played on Survival mode; played fairly.
New NPCS
I'll just put them all in this here spoiler.
First, let me say they only spawn in Darkness. I made them spawn in light only so I could get pics.
Coal Mob. 140 hearts, seems like a lot. Does little damage, less than a zombie. Drops up to ~32 coal.
Iron mob. Same health, same damage, less common, but still rather common. Drops up to ~15 iron.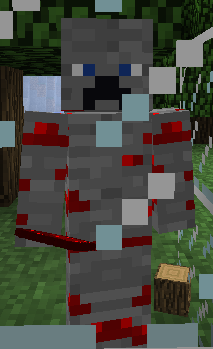 Redstone mob. Little more health than the others, drops up to a stack of redstone.
Gold. Has less health than the others, about ~80 hearts. Drops up to ~20 gold.
Diamond. Very rare, maybe a 5% chance of spawning. ~340 hearts, ~damage to a zombie, but drops up to 20 diamonds!
Lapis. The rarest of em all, rare than diamond. Drops ink sacs, no one likes them. Little health.
~~~~~END OF CONTENTS~~~~~

DOWNLOAD AND INSTALLATION INSTRUCTIONS BELOW
DOWNLOAD AND INSTALLATION
(This is sort of important)
Download without the new mobs
With The New mobs
How to install:
(This is assuming you know how to get to your minecraft.jar. If you don't, search a tutorial)
1. Download and install
Risugami's Modloader
*FIRST*.
2.
Download
the mod. Inside you'll find a file holding pictures, and about 12 class files. Just drag it all into your minecraft.jar, and you're set!
Copyright

This document is Copyright ©2011 Zoltan and is the intellectual
property of the author. Only Minecraftforum.net and mcmodcenter.net is able to host any of my material without my(Trixie) consent. It may not be placed on any web site or otherwise distributed publicly without advance written permission. If you mirror this mod page or anything I've(Trixie) made on any other site, I(Trixie) may express my angst at you in the form of a lawsuit.
October 23 Update
Added 'Ore Monsters'.
For the download, look above.
If you have any questions, feedback, bug finds, ideas, suggestions to improve the lower quality of this mod or post, or anything really, feel free to reply!
Last edited by
Trixie
: Oct 23, 2011