Voragain
Carpenter
Join Date:

10/10/2011

Posts:

66

Member Details
Oh hai! Here's a little something I made for fun. It's called Advanced Maps.
It adds advanced maps to tha game.
YEAH YOU GOT THAT RIGHT.
I present to you the new AdvancedMap package.
Fully SMP compatible.
Running on ModLoader/MP and MCForge.
With a small addition of my own hook library - read on.
OH YEAH it is not fully SSP compatible, since I screwed part of my code over. I'll fix that pretty soon. Just wanted to put the SMP version out.
First the installation process :
CLIENT
1 - Install ModLoader (1.8.1), ModLoaderMp (1.8.1) and MCForge (1.1.1)
1 - Download the files.
2 - Move the CONTENT of VoraHooks.jar into your Minecraft.jar (See Notes at the very end of the post for explanations.)
3 - Move the Zipped client file into your mods folder. Dont have one yet? Run minecraft once, close it, there you go, you got a mod folder.
4 - Play and have some fun.
SERVER
1 - Install ModLoaderMp (SERVER version, 1.8.1) and MCForge (SERVER version, 1.1.1)
2 - Move the Zipped server file into you mods folder.
3 - Enjoy.
Downloads:
VoraHooks :
VoraHooks V1
Alpha 2
Client :
Client Alpha2-b
Server :
Server Alpha2-b
Oh, you're still there? Wondering WHAT is advanced maps? Well, here it is.
It all starts with a block ("Oh, a block? What is that?"). A cube if you prefer.
That cube is the Map Maker.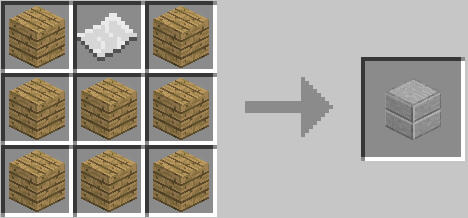 Then, and this won't be useful right now, there is also the new Map Frame. A frame. For pictures. But without pictures.
With MAPS. Or actually, without maps. But you can PUT maps in it. But not pictures. Sorry.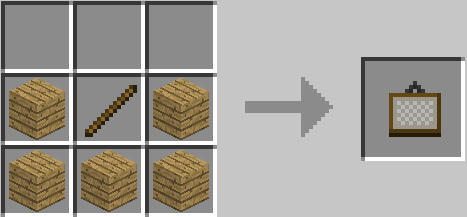 Place the cube/block somewhere, and gather some paper and ink. Makes sense now, doesnt it?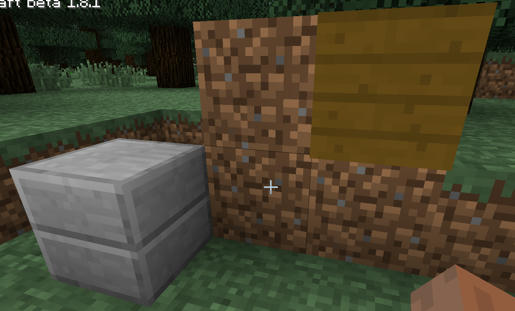 Then use the cube. Or the block. Or both, since they are one.
This opens up the Map Making interface. Ooooh, shiny! Actually, no. Gray, and not shiny. But stop crying.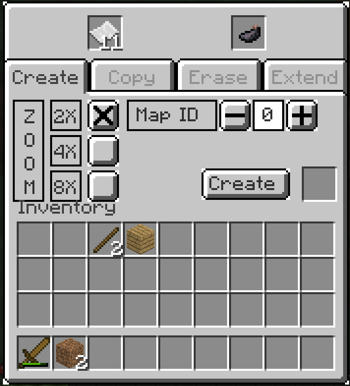 The opening page is the Map Creation workspace.
Here you can create maps.
Any map.
With any zoom.
Or close to.
Put some paper and ink in the workshop. Or cube.
Each new map uses up 5 paper pieces, and one unit of ink.
Those numbers will come back pretty often.
Now, if you click on the second workspace, you get to...
The Copy Map worskspace.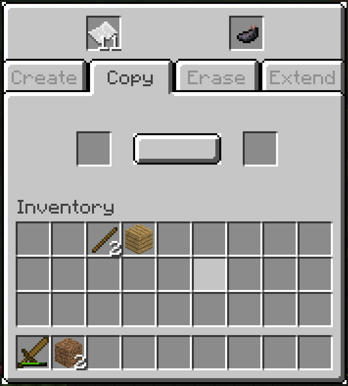 It... well... copy maps.
And mysteriously links them together.
What has been seen cannot be unseen...
Or can it?
It can. With the third workspace - the Erase Map workspace.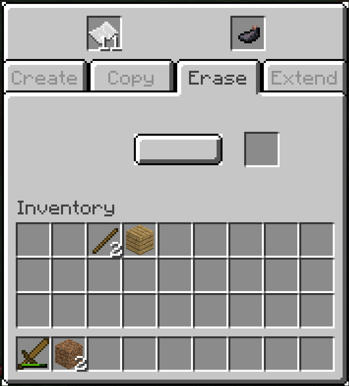 This one erases a functional map. Could be useful to someone.
It also only costs a single paper to use.
The last one is a bit trickier. And a lot more useful.
It's the Extend Map workspace.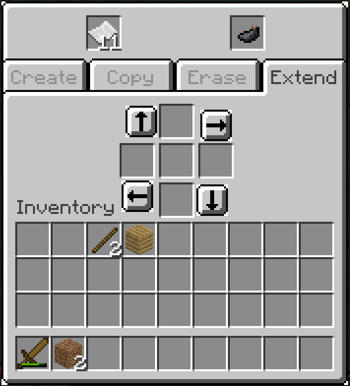 It extends maps.
Actually, I'm lying. It does not. Not even god can stretch paper.
What it does is create a map that is the extension of another map.
With the same zoom. With correct proportions.
Now, remember, I told you something about a Map Frame.
Look at me. I've got a map.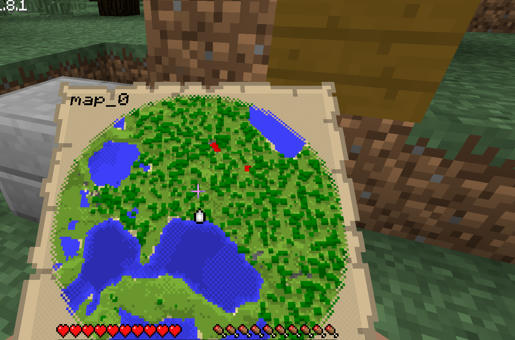 Look down. Back up.
The map is on the wall.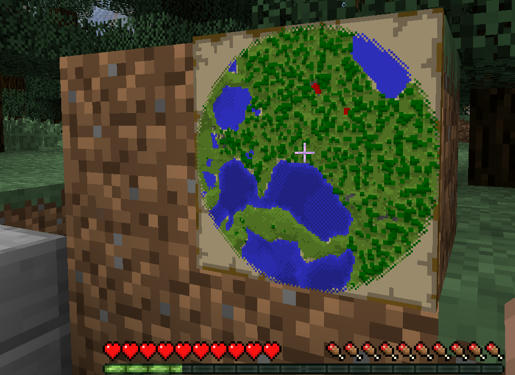 Look down again. Up again.
The map is on the ground.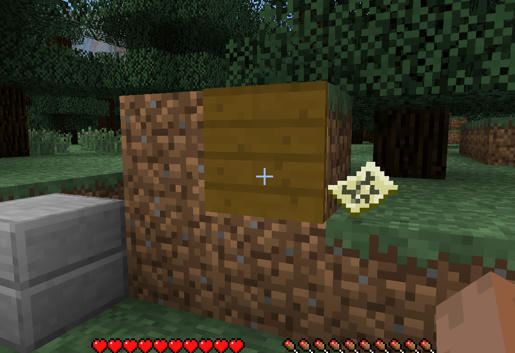 All this by merely right-clicking the frame.
Oh and the map has not changed. It's still the same map.
Now, you got to the end of this.
Wanna try this? Try it. Give me feedback. Ask me to port it to SMP. I might.
Or not.
Important thing is - is that of any interest to any of you?
Installation is simple - download the rar.
http://www.mediafire.com/file/6gaeswtw2lf9jtz/advancedmap.rar
Unrar it.
Move the content of the minecraft folder to your minecraft.jar.
Delete META-INF.
(Couple last things, on a more serious note : don't try to use normal maps, they are still in the game, but can't do any interesting stuff. I do believe ink can be any type of dye actually - give it a try. Also, if you use the extend map function, and copy them, and put frames on the walls - they actually fit tightly. You could do a whole world map on a single wall. Have fun. Or cry.)
By demand of the lady, who really wanted me to put this : here is what multi maps give once placed in frames.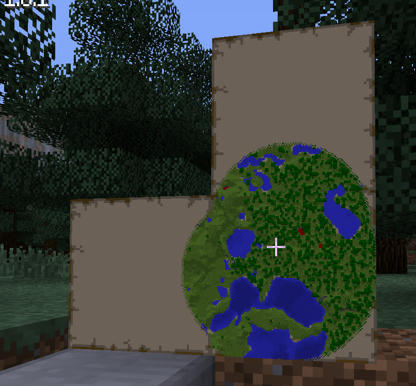 The same thing after a couple more minutes of exploration.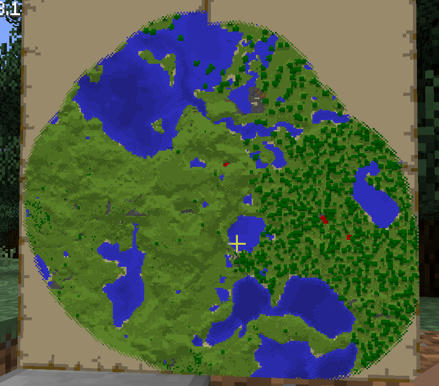 NOTES :
The VoraHooks library is a temporary solution to a lack of hooks in McForge. It has been built on top of it and as such is fully compatible.
THERE IS A CATCH THOUGH.
If you install anything else that modifies the ItemRenderer base class, you WILL screw it. And it WILL crash. Be warned.
(As of now, I do not know of any mod that actually do that - pm me if you got one, I'll add it to a list of Don't-mix mods.)