MCFUser583159
Tree Puncher
Location:

Washington

Join Date:

7/16/2011

Posts:

12

Minecraft:

Reggin_Nilbog

Member Details
[1.7.3]CRAFTABLE COBWEB! v1.0
This Mod I Made By Hand, It Allows You To Craft Cobweb In The Crafting Table.
All Of The Stuff Were Already In The Game, I Just Made A Decent Recipe.
Here Is The Proper Crafting Recipe: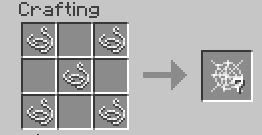 So I Hope You Enjoy Using Cobwebs, And Here Is How To Install The Mod:
To Install, Go To Your .minecraft Folder, And Open Up The Bin Folder Then Open Your minecraft.jar With Winrar, And Copy The hk.class File Into Your minecraft.jar, Be Sure To Delete The META-INF Folder First, Or You Will Get A Black Screen.
And Now That Its Installed, Have Fun Using Cobweb! :biggrin.gif:
Also, I Made This Mod For Fun, Cobweb Was Only Available Through INVedit In 1.7.3, So With This Mod You Now Have The Option To Get It Legitly! :laugh.gif:
Link To Download:
Download 1
"I am the hope of the universe. I am the answer to all living things that cry out for peace. I am protector of the innocent. I am the light in the darkness. I am truth. Ally to good! Nightmare to you!"
— as a Super Saiyan toward Frieza in "Explosion of Anger"