VinasCZ
Iron Miner
Location:

The Void

Join Date:

12/12/2010

Posts:

253

Minecraft:

vino007

Member Details

--==What is the mod about?==--
Have you ever got tired of carrying full inventory of useful but space-demanding material? What if there was a mod that would allow you to compress it? Suprise, suprise - there is one! Compressed blocks mod allows you to compress a great number of materials into more compact cubes, which take 9 or even 81 times less space! And if it's not enough, you can actually make items and armor from some of them! Now that's a bonus!
Math time:
full inventory (4*9 stacks) of:
cobblestone = 2 304 cobblestone
dense-cobblestone = 20 736 cobblestone
super-dense-cobblestone = 186 624 cobblestone!
So, why don't you take inventory full of super-compressed cobblestone, put on your dense-diamond armor, take your redstone tools and build yourself a city?
--==How does it look like?==--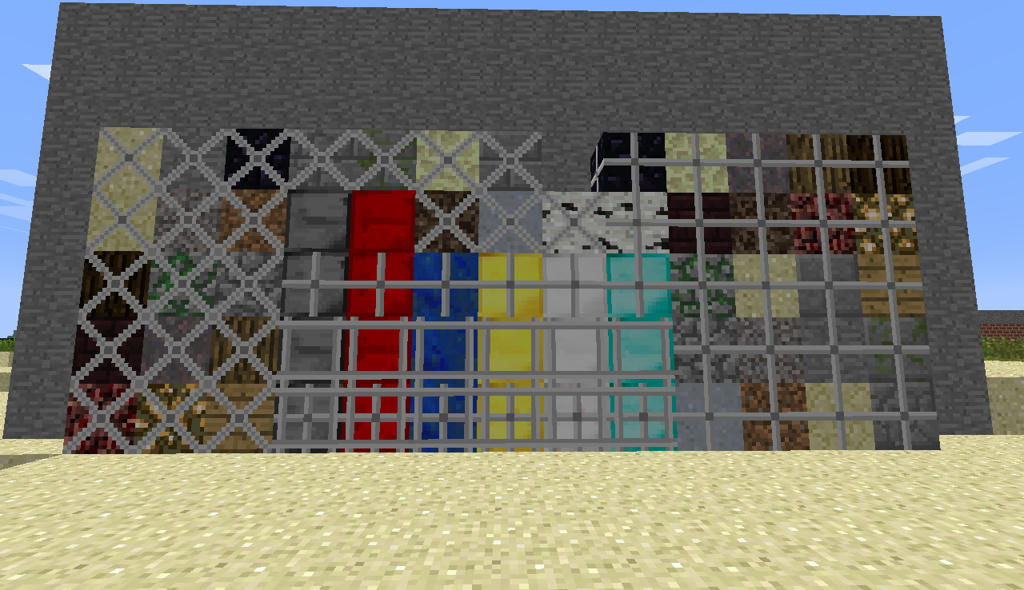 --==How does it work?==--
This mod enables you to compress:
coal, redstone, lapis-lazuli, iron, diamond, gold, clay, cobblestone, mossy cobblestone, dirt, gravel, sand, sandstone, stone, stonebrick, glowstone, netherrack, nether brick, soul sand, end stone, mycelium, wood, planks and obsidian!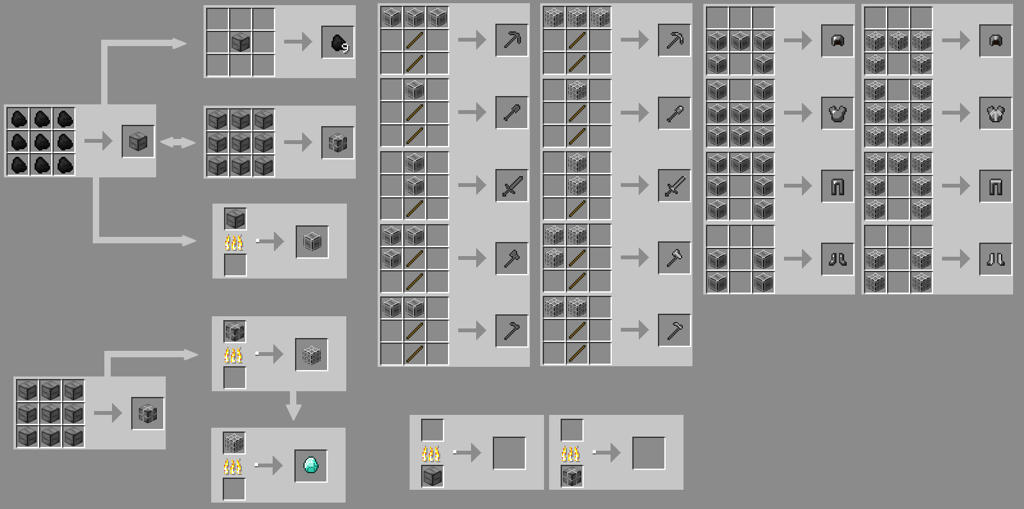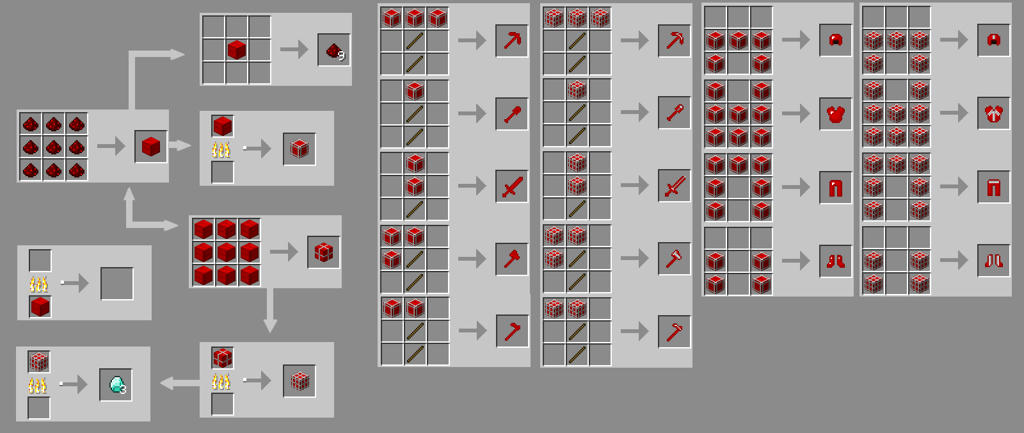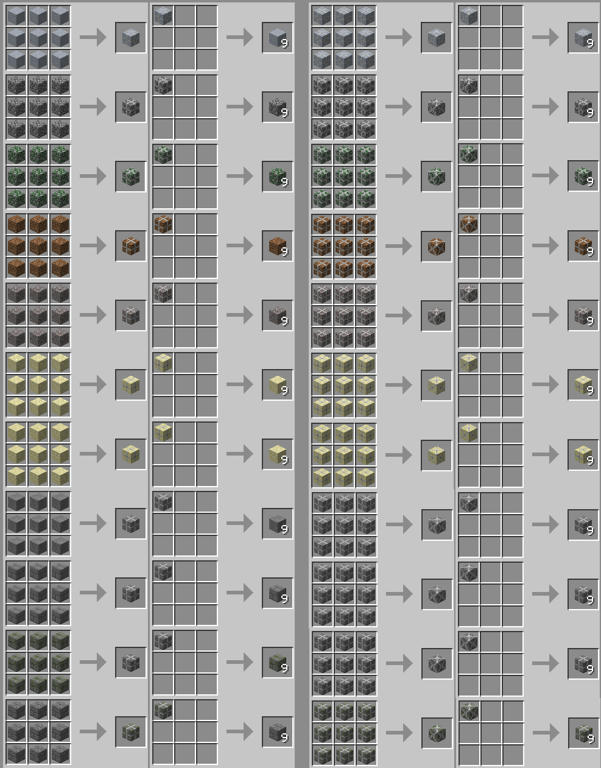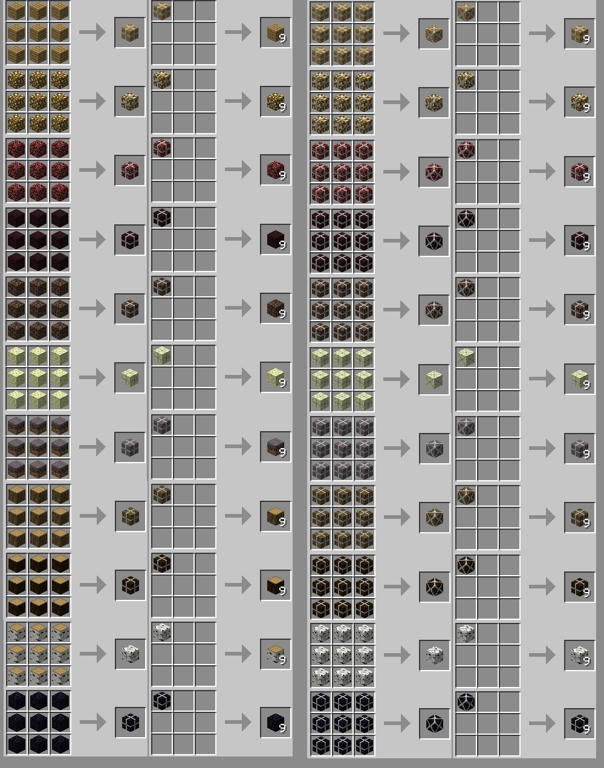 Items:
Coal items: 500 uses, strength 5, enchantment 5
Redstone items: 500 uses, strength 10, enchantment 12
Dense coal items: 1500 uses, strength 15, enchantment 15
Dense redstone items: 3000 uses, strength 30, enchantment 20
Lapis-lazuli items: 1500 uses, strength 8, enchantment 10
Dense lapis-lazuli items: 3000 uses, strength 32, enchantment 25
Iron tools 2: 1000 uses, strength 8, enchantment 15
Dense iron tools: 2500 uses, strength 60, enchantment 23
Gold tools 2: 300 uses, strength 15, enchantment 22
Dense gold tools: 2000 uses, strength 100, enchantment 30
Diamond tools 2: 3000 uses, strength 70, enchantment 10
Dense diamond tools: 6000 uses, strength 90, enchantment 20
--==Videos==--

To make it clear enough, have some video by Witness (on version 2.1)


Another video by Jordan739 on v3.2:


--==Cool! How do I install it?==--
Compatibility:
Compressed Armor overwrites original files, so if you have another additional armor, it won't work!
Other part are fully independent and highly compatible
CLIENT installation:
1. Download
ModLoader
and
Forge API
2. Download CLIENT version of mod
3. Install ModLoader and Forge API (copy them into minecraft.jar)
4. Install Compressed Mod
4.1 If you are installing Compressed Blocks or Compressed Items, put zip files into "minecraftDirectory/mods"
4.2 If you are installing Compressed Armor, open zip file and drag cg.class into minecraft.jar and put the zip into "minecraftDirectory/mods"(otherwise the minecraft won't start!)
5. Now you are ready to go!
Server installation (v5.0):
1. Download
ModLoaderMP
for server and
Forge MP
2. Install ModLoaderMp and Forge MP by putting them inside minecraft_server.jar
3. Download SERVER side mod
4. Put desired parts of Compressed Blocks mod into minecraft_server.jar
5. Start the server!
Please keep in mind that server and client need to have same block IDs in config, otherwise the mod won't work properly on server!
--==Downloads==--
This mod is a result of many hours of a hard work, so if you want to show your appreciation, click on the "Adfly" download. Thank you for your support

Also, Adfly way is rewarded by direct link after 5 seconds, while mirror is the regular Mediafire.
v5.2 (Adf.ly links are leading to 404 site - will fix as soon as possible)
Compressed Blocks
Adf.ly
Mirror
Compressed Items
Adf.ly
Mirror
Compressed Armor
Adf.ly
Mirror
Older versions:
--== Textures ==--
It is also possible to use Alternative textures.
Textures for BDCraft were created by KingD707 and can be found
here.
Textures for Minecraft Enhanced Pack x128 were created by Matakor and can be found
here
.
--==Wait ... it is not working!==--
Consult bug list. If the bug is there, wait for the repairing release.
Then you need to check this:
1. Did you delete META-INF folder?
2. Have you installed ModLoader, ModLoaderMp and Forge API correctly?
3. Did you copy all files correctly?
4. Do you have any potencially incompatible mods?
If you still can't find out what's the problem, write in this topic and include output of this file (works only on windows):
Download here
And, please, don't cry like "omg, it's not working!". That is not helping me and users of this mod. Please develop clear message (the best thing is to include output of debug script) and then post it.
--==Plans==--
Dense potions!
Dense food
Dense blocks based on blocks by other mods (IC2, Forestry, etc.)
SMP version again
--==Banners==--
Made by VinasCZ

[url="http://www.minecraftforum.net/topic/487085-11compressed-blocks-v50-forge-sspsmp/"][img]http://www.mediafire.com/imgbnc.php/df47fd267e3be5bb8c20657ef22e11b7ed50aacc697262bd35b41ea9fb3bb2d86g.jpg[/img][/url]
Made by
Gtfo_Mailman
[url="http://www.minecraftforum.net/topic/487085-11compressed-blocks-v50-forge-sspsmp/"][IMG]http://i39.tinypic.com/25k08br.png[/IMG][/url]
--==Changelog==--
v5.2 - Current version for 1.2.5, no SMP yet :\
v5.1 - Release for 1.2.3, no SMP version due to problems
v5.0 - Many new blocks, items, armor + SMP version for 1.2.0
v4.1 - Forge API, fuel fixed, OP changed to suit the needs of v4.1 (instead of v3.2)
v4.0 - added gold, iron, lapis-lazuli and diamond items and blocks, config files
v3.1 - bug fix
v3.0 - compatibility with B1.8.1, mod now has separate download for block part and full mod with items
v2.2 - added weapon blocks and items + charcoal block
v2.1 - tweaked v2, fixed block data, uses, etc.
v2.0 - added dense redstone and coal block with possibility of smelting blocks into diamonds and using blocks as fuel
v1.0 - initial release, coal and redstone block, "testing" version
And please, be patient with me, this is my first mod!
--==Copyright==--
This document is Copyright ?2011 VinasCZ (or vino007 or mysteriousVinas) and is the intellectual property of the author. It may be not be reproduced under any circumstances except for personal, private use as long as it remains in its unaltered, unedited form. It may not be placed on any web site or otherwise distributed publicly without advance written permission. E-mail or forum PM can be used, but you need to wait for a reply. Use of this mod on any other website or as a part of any public display without given permission is strictly prohibited, and a violation of copyright. You are free to make and upload videos with this mod WHEN I will be noticed about it. Otherwise it is violation of copyright.
Last edited by
VinasCZ
: Aug 4, 2012