BIOpopcorn
Stone Miner
Join Date:

6/21/2011

Posts:

55

Minecraft:

BIOpopcorn

Member Details
Important stuff:
Reading is healthy. Do it.
1. This mod is not designed to work with other mods. We've edited a lot of files, even Minecraft.java. We in no way guarantee this will work with other mods.
2. This won't work very well with texture packs. You can replace the items.png with whatever pack you want and it'll work fine. If you're okay with out new blocks being awkward pink things, then use whatever texture pack you want, hell, edit our textures into that texture pack, and use that. Problem solved.
Woop, fixed that.
3.
This does not work with modloader
. We're sorry, we know how much you want it to work with modloader, but it doesn't at the moment. When it comes to a decision between making cool new stuff, or making it work with modloader, we choose content. We have someone working on making this work with modloader, so don't complain.
4. Post any bugs you find, unless we fixed them already, then you should update.
5. Want to ask me a question about some of the workings of our mod? Private message me and I might help you, maybe.
Change Log
Next update
More spells.
Better leveling system.
Tutorial-esque thing. Tells you the controls.
Other things we feel like making(perhaps some requests?)
1.31
Wizard towers
Fixed amulets
Craftable saddles, gold chains, and leather strips
New level up system w/ skill trees
More summoning related spells
More "harmful spells"
Vampires
Evil Wizards + towers
Enchanting
probably more
1.2
Updated to work with minecraft v1.7.3
Texture pack support(this took a while)
Lobsters now drop lobster tail.
Monster Levels (higher lvl monsters give more xp, are stronger)
Amulets
Lahsts now drop leather strips instead of leather
A preview of the new level up system.
Maneaters(those plant things) made less common.
1.1
Mana bar has been added.
Some spells now scale in power with staff level.
A few new spells.
portals
TP stone and spell
passive-aggressive lobsters.
man eating plants
lightning spirits
ice spirits
skeleton knights
flying cactus
(evil wizards and golems are made but not spawned in game ever)
4 new rings with recipes
4 new inventory slots!
Graveyards
forsaken lands
added gem mounts for ring recipies
Zombies drop apples!
a few balence tweaks, mummies buffed
exp gradient decreased
maps made backwards compatible(Always back up your maps!, there is not sufficent testing record to guarentee that your map won't be corrupted.)
What this mod does/how to use the new stuff
This adds a lot of stuff. New mobs, new ores, new biomes, new dungeons, rpg aspects, magic, portals, and new items.
To use magic, have a staff in your hand and right click. You can alternate between choosing items and spells with the tab button. R is the spell inventory button.
There are two different aspects to level up in, building and killing. Level up to get new spells. You get one spell for ever level, and a bonus spell for leveling up in both aspects.
Spell List
The number in parentheses is the level requirement.
Repair(0): Repairs the item to the right of the staff by four durability.
Freeze(1): Turns the target block of water to ice.
Harm(1): Deals one damage to the targeted entity.
Light(2): Creates a temporary block of light.
Ignite(2): Sets a target location on fire.
Time Travel(3): Moves the day 1/3 forward.
Heal(3): Heals you for half a heart.
Fireball(4): Shoots a fireball that explodes on contact with the ground.
Super Jump(4): Makes you jump higher. Fall damage still applies.
Super Speed(4): You move much faster. It acts a bit weird while flying.
Heal Other(5): Heals the target entity for half a heart.
Telekinesis(5): Places the block that is to the right of your staff where you are looking.
Fly(6): Allows you to fly! While under the effects of fly, selecting the fly spell will raise you up, while deselecting it will gently bring you down. You take no fall damage while flying.
Mine(6): Mines a single block from a distance.
Greater Freeze(7): Turns the target area of water into ice. AOE damage effect.
Greater Heal(7): Heals yourself for two hearts.
Temp Block(7): Creates a temporary indestructible block.
Combust(8): Ignite, but AOE.
Teleport(8): Teleports you to where you're looking.
Great Light(9): Creates a block of glowstone.
Strip Mine(9): Mines a layer of blocks.
Lightning(10): Bring down lightning on a location. Does lots of damage and can start fires.
Temp Pillar(10): Creates a temporary indestructible pillar.
Clone(11): Clones the targeted entity.
Greater Fireball(11): A much more powerful fireball.
Summoning Spells: There are spells to summon coal(3), grass(1), diamond(16), obsidian(15), pigs(2), creepers(10) and ghasts(12). Summoned mobs have their normal enemies.
Explosion(12): Causes an explosion where you are looking.
Temp Wall(12): Creates a temporary indestructible wall.
Polymorph(13): Turns the targeted entity into a sheep.
Shaft Mine(13): Mines a shaft of random size and depth.
Winter(13): Puts snow on the ground. AOE damage effect.
Create Pillar(14): Creates a pillar of the block that is to the right of your staff.
Greater Prison(14): Temporarily encases the targeted entity in an indestructible cage.
Create Line(15): Creates a line of the block that is to the right of your staff.
Explode Entity(15): Causes the targeted entity to explode.
Icebolt(16): Cold lightning hits the ground doing AOE damage, freezing water, placing snow, and dealing lightning damage. May cause fires.
Create Wall(17): Creates a wall of the block that is to the right of your staff.
Summoning Spells: There are spells to summon coal(3), grass(1), diamond(16), obsidian(15), pigs(2), creepers(10) and ghasts(12). Summoned mobs have their normal enemies.
and more!
Items
RPGs have treasure, so here's some treasure to make and find.(there's some tools too)
Tools/armor:
We thought obsidian needed more love, so now you can make obsidian tools and armor. They last a real long time, but aren't the most powerful. There's also cloth armor(made from wool) for the exceptionally poor and those who just really like the feel of wool(boots are part leather btw).
Gems:
Gems are truly, truly, truly outrageous, so we added some more. Jade is slightly less common than metal, and occurs at the same levels as it. Amethyst is as rare as diamond, and occurs around the same places. Painite is a gem that occurs every so often (about 1/100 times) when lava source is cooled by
water
. Good luck finding painite.
Staffs:
You need them for magic. The basic recipe for a staff is:
Better staffs have higher durability and more power, meaning you'll be able to cast more spells, that are better spells.
Rings:
You can wear two of them. You can guess what slots they use. Recipes:
This makes the ring of protection which adds some armor. The circle thing is a ringmount.
A jade ring gives you increased mana regen, the diamond gives you health regen, and the painite gives you increased spell power.
Amulets:
They work like rings but you can only have one and it goes in the top slot.
Recipe for gold chains(for amulets):
Recipe for leather strips(for amulets):
Teleporter stuff:
Teleporters look like nether gates, but made of more expensive materials.
The main block:
The assigner block:
Where the frame is the frame is the assigner block, and the creepers are the main blocks. The first line of the assigner is the name of the portal, the second is the destination. Alternatively, you could name a teleporter TP and give it no destination, and your TP stone would transport you to it. Start it like a normal portal(with fire).
Enchanting
Want magical swords and bows? Hell yea! To enchant things you'll need an enchanter:
To make the enchanting reagents:
Instead of jade, amethyst and painite can be used to make stronger enchanting reagents. Stronger enchanting reagents produce more powerful weapons(greater effects).
To enchant swords:
Only
metal
swords can be enchanted.
To enchant bows:
Mobs:
We added more mobs, because the game was too easy, and you need more things to kill. (no pics atm because I am lazy. If you want to send me some of our stuff to use in this, I will if they're good. Videos work too.)
Lobsters
Who doesn't love lobsters? I know you love lobsters, don't you. They drop lobster tails, which are very delicious after you cook them.
Lahst
Zombie pigmen and cows need love too. The proof of that is the lahst. Lahsts are zombie/cow/pigmen that fire exploding balls at you. If you see a group of like 4 of them, run, unless you are true baller extreme. They drop cooked pork, leather strips, and gunpowder.
Mummies
Deserts with pyramids. Mummies? Pshhh, maybe. They drop string and bones.
Elementals
They're flying cube thingies. Ice ones slow you. Lightning ones cause a lot of lightning. They drop TP stones and ringmounts.
Man eating plants
These green cubes of terror pull you in close, then viciously murder you. They say if you listen carefully you can hear the screams of those who it has eaten echoing from its very body. They can drop ringmounts.
Flying cacti
Ever think "why don't I see cacti fly?" Well they do, they're just shy. Also they are evil. Flying cacti spawn every so often above cacti when they grow. They drop cactus, go figure.
Mini-zombies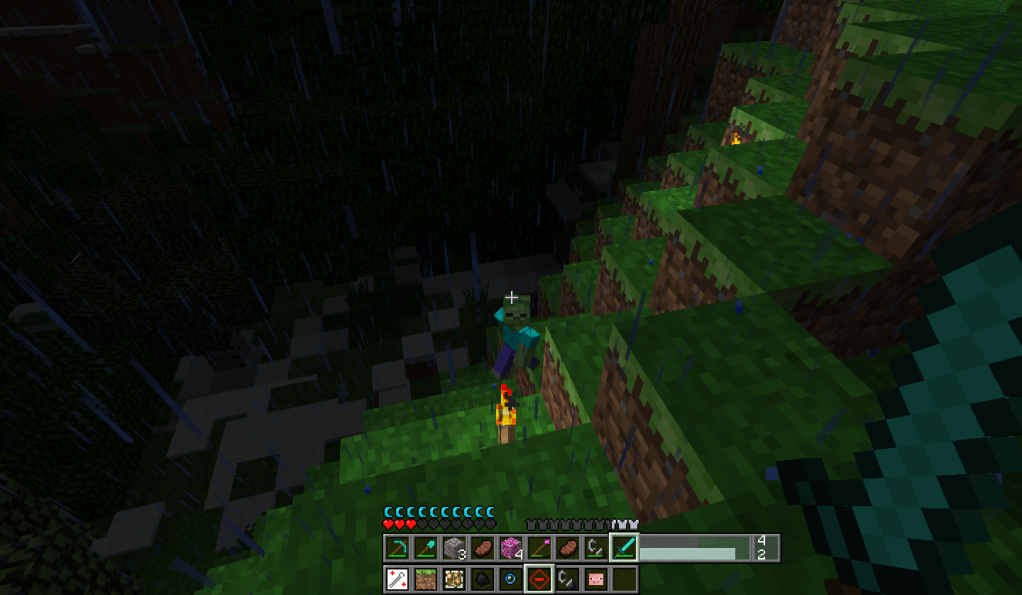 Some zombies got their hands on some jade. It made them smaller, faster, and teleport when hitting a person. Just another one of life's little mysteries. They drop jade.
Undead Knights
The skeleton army has knights too, they just got buried differently. Death knights spawn only in graveyards, and they're pretty good at killing stuff. Try and find some. They drop neat stuff.
Biomes/dungeons:
We wanted to feel special, so we added some biome stuff.
Pyramids:
They spawn in the desert, and have mummy spawners inside. Fun Fun. String String.
Castles:
They look cool. They got loot. They got monsters in em. Enough said.
Forsaken lands:
Evil thought the world was too nice, so it made some places not so nice. These lands are marked by random netherrack and they have double spawn rates. Super fun at night.
Graveyards:
Kinda spooky looking. They got death knights. They can be pretty much anywhere.
Towns:
Loot? Loot! They're nice places to stay, kinda rare though... and empty.
Files stuff
You can probably guess what to do with the files inside. It's a zip.
[color="#000FFF"]
v1.1 download
[/color]
NOW FIXED, YAYYYYY
[color="#000FFF"]
v1.2 download filesmelt
[/color]
[color="#000FFF"]
v1.2 download mediafire
[/color]
Server files
[/color]
[color="#000FFF"]
v1.32 download
[/color]
It's not modloader compatible. If you need help installing the mod I suggest asking youtube(neither of these are mine):
pc: Just go to
C:\Users\Your username\AppData\Roaming\.minecraft\bin
and edit the jar. You can do it
mac: [color="#0000FF"][/color]
The team:
BIOpopcorn
pi_max
jmao
Special thanks:
killboys - recipe pictures
Legal Stuff:
TERMS AND CONDITIONS
0. USED TERMS
MOD - modification, plugin, a piece of software that interfaces with the Minecraft client to extend, add, change or remove original capabilities.
MOJANG - Mojang AB
OWNER - , Original author(s) of the MOD. Under the copyright terms accepted when purchasing Minecraft (http://www.minecraft.net/copyright.jsp) the OWNER has full rights over their MOD despite use of MOJANG code.
USER - End user of the mod, person installing the mod.

1. LIABILITY
THIS MOD IS PROVIDED 'AS IS' WITH NO WARRANTIES, IMPLIED OR OTHERWISE. THE OWNER OF THIS MOD TAKES NO RESPONSIBILITY FOR ANY DAMAGES INCURRED FROM THE USE OF THIS MOD. THIS MOD ALTERS FUNDAMENTAL PARTS OF THE MINECRAFT GAME, PARTS OF MINECRAFT MAY NOT WORK WITH THIS MOD INSTALLED. ALL DAMAGES CAUSED FROM THE USE OR MISUSE OF THIS MOD FALL ON THE USER.

2. USE
Use of this MOD to be installed, manually or automatically, is given to the USER without restriction.

3. REDISTRIBUTION
This MOD may only be distributed where uploaded, mirrored, or otherwise linked to by the OWNER solely. All mirrors of this mod must have advance written permission from the OWNER. ANY attempts to make money off of this MOD (selling, selling modified versions, adfly, sharecash, etc.) are STRICTLY FORBIDDEN, and the OWNER may claim damages or take other action to rectify the situation.

4. DERIVATIVE WORKS/MODIFICATION
This mod is provided freely and may be decompiled and modified for private use, either with a decompiler or a bytecode editor. Public distribution of modified versions of this MOD require advance written permission of the OWNER and may be subject to certain terms.