WhiteScholar
Iron Miner
Join Date:

5/21/2011

Posts:

310

Minecraft:

DarkScholar

Member Details
Masterwork Plus+!
I started with just glass... but thats not all I want to do! So heres some more. As to not bee big and wordy I'll start with some pictures!
Make some Iron Rods! you will need these :biggrin.gif: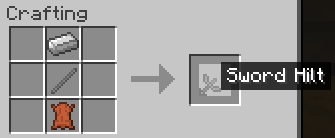 Make the Hilt of your new Sword! Nothing good comes from just hastily throwing stuff together, we're doing this like a PRO!
Awesome, It's time to forge the blade! Takes some quality workmanship this does!
Ok, carefull now, thats sharp. Once you've attached everything together your ready to use it!
Optionally, you can temper this bad boy and make it tougher and longer lasting!
The Glass is still here! Don't Worry!
I know I started with something completely different than last time, but the glass swords I made before made it into the mod. :biggrin.gif:
First! we need to smelt down some of this glass, carfull its hot!
Let's cool down those newly made ingots! Don't worry you won't lose your buckets!

Time to make a blade out of it! Look familiar yet!?
You remember the hilt right? well you need another one, so go make it so you can put that shiny glass sword together!

Of course you can temper the glass sword too!
Download! Beta 1.6.6
Have fun! Also, remember to install Risugami's modloader, or this wont work.

Masterwork Swords, have almost twice the durability of the normal iron sword, and when they are tempered they are as strong as diamonds and last almost as long! Glass Swords, are sharper than diamond, but incredibly fragile, they can cut down a mob right quick. But don't rely on these swords by themselves.

If you have any suggestions, don't be shy, speak up. Your words might make it into the mod. I also plan on adding new Achievements and a fancy new set of items beyond just weapons. :biggrin.gif: