kolt666
Tree Puncher
Join Date:

4/27/2011

Posts:

31

Member Details
New enhanced version and further updates here (by AtomicStryker):
http://www.minecraft...2#entry13665702
This is an updated version of d00dv4d3r's Ruins v6 mod!

I'm adjusting the code to make it work with new versions of minecraft. All credits goes to d00dv4d3r for the creation of this mod.
Basic info:
For those who don't know the mod, what it does, is spreading out buildings around the world, defined by user made templates (yes you can make your own, instructions included in the mod). You can change spawn density in the options file. All explained in the readme and on the original thread.
It also comes with a set of ruin templates made by d00dv4d3r.
The original thread can be found here:
http://www.minecraft...page__hl__ruins
You can find a lot more info and user made templates there.
Requirements:
Risugami's Modloader:
http://www.minecraft...s-mods-updates/
Known Bugs:
-There is a new option in v6 for templates that makes them unique (they only spawn once per world). This caused a crash last time I checked, so leave it unique=0 when creating or changing templates.
Downloads:
Ruins 1.2.3
http://www.mediafire...dc1aathu3tzxaf3
Old Versions:
Ruins 1.1
http://www.mediafire...bwlmp9xv5ekbvos
Ruins 1.0.0 v2
http://www.mediafire...bbalv7l16fdb4z8
Ruins 1.8
http://www.mediafire...8l1layru5m2rfab
Ruins 1.7 v2
http://www.mediafire...7abrdq7ym17gw4d
Ruins 1.6.6
http://www.mediafire...6dqnmq3m6yhcvdk
Change log:
1.2.3
Changed biomes yet again.. And adjusted height limit, hopefully.
1.1.0
Changed biomes again... Also mods folder doesn't seem to work so back to old ways, put everything into minecraft.jar
1.0.0 v2
I messed up something with the biome changes, now it is fixed.
1.0.0
Same as 1.8..
1.8
Changed the biome options to represent the ones in 1.8, ocean, sky, river, and extremehill are the new ones and I didn't put any templates in their folders, you may do so if you wish, but it may require some changes to the templates to work right, like use of preserve_water for ocean templates..
1.7 v2
Fixed ignored block ID list when looking for suitable place (now contains tall grass)
Pictures:
Thanks to Arrrg, showing some nice costume templates and possibilities:
(more on second page or here:
http://www.minecraft...craft-overhaul/
)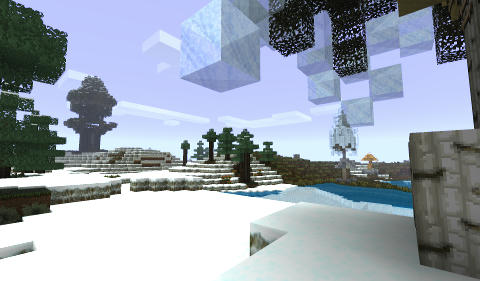 Some more from 1.0.0:
(Texture Pack used for these two:
Sphax PureBDCraft x128
)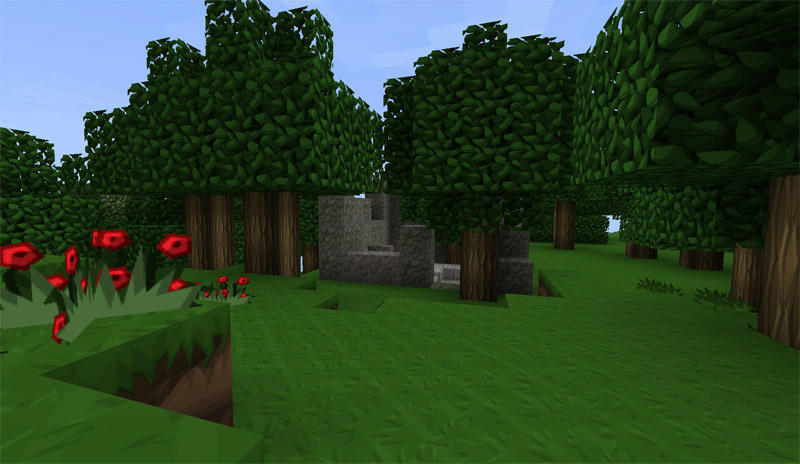 Schemtic converter for templates:
(I have never tried this converter, but still many ask about how to use it, so here thanks to dann494)
dann494, on 01 September 2011 - 01:19 PM, said:

Here's a short schematic converter tutorial (for converting MCEdit schematics into ruin templates)

1. Unzip the files in the schematic converter folder

2. Copy the schematics you want to convert, and paste them in the same directory (or make a sub folder)

3. Open test.bat with Notepad++ (doesn't work with normal notepad)

It should look like this

@echo off
java SchToTml blockhouse.schematic
pause

4. Rename blockhouse.schematic to the schematic you want to convert (example: test1.schematic)

4.1. If you made a sub folder for it, write the name of the sub folder\name of schematic (example: schematics\test2.schematic)

4.2. If you want to convert several schematics in the same execution, copy and paste the line, and rename

Example

@echo off
java SchToTml test1.schematic
java SchToTml schematics\test2.schematic
pause

5. Save test.bat (you can rename it, if you want to)

6. Run test.bat (or whatever you saved it as)

7. After the program has ended, the tml files should appear in the same folders as their schematic counterpart (example: test1 in the main folder, test2 in the schematics folder)
Last edited by
kolt666
: Mar 22, 2012