ali4z
Obsidian Miner
Join Date:

4/25/2011

Posts:

1,230

Minecraft:

ali4z

Member Details
Wireless Redstone v1.6.1 [1.4.7]
[July 4th, 2013]
This thread has been discontinued and replaced by a new thread, no further updates will be done to it including new releases.
The new thread is run by Eurymachus and the SlimeVoid team. It can be found HERE and it
is now where you can find updates, get support and generally discuss the mod.
This thread will be kept up for the sake of history and so we can all hopefully migrate over
gradually
to the new thread. Expect activity to decrease in this thread as time passes.
- ali4z
Description:
Wireless Redstone is a Minecraft modification that allows you to transmit and receive redstone signals without wires.
The mod has been in beta for 4 weeks prior to final release, this was done to guarantee as much quality as possible for the final product and to make sure the base mod has room for iteration and expantion.
What it does is send redstone states on selected frequencies over something called the "redstone ether".
The ether functions as a binding mechanism between the transmitters and receivers (called ether nodes). They are stored in different frequency "containers" where they can interact with eachother.
Several transmitters and receivers can sit on the same frequency, but the frequency broadcast state can only be 0 or 1, off or on (boolean), so if any of the transmitters sends 1, the frequency state will be 1. For it to be 0, all transmitters must be idle.
Basically; a transmitter on a frequency can send a state over it, which the receivers on said frequency can catch and act on.
A short use case demo including the power director addon:
Download:
Wireless Redstone Online Installer - Windows
Wireless Redstone Online Installer - Mac
Wireless Redstone Online Installer - Linux
1.6.1 for 1.4.7
SourceForge mirror
Older releases:
Prerequisites:
Installation:
Crafting Recipes:
Wireless Transmitter: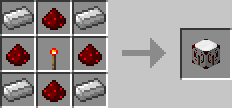 Wireless Receiver: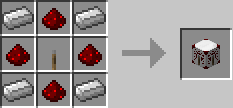 (middle one is a lever, in case the picture was a little diffuse)
Compatibility:
Known Bugs:
- Clocker unstable below clocking frequency 200
Reporting Bugs:
Supporting the mod
Addons:
Addon Dependency Graph:
Power Configurator:
Wireless Sniffer:
Wireless Remote:
Wireless Triangulator:
Wireless Clocker:
Client modules for SMP support:
Textures:
Wireless Redstone v1.6.1 Server [1.4.7][SMP]
Ever felt like showing off your awesome wireless redstone circuitry? I know I have... And now you can! With the Wireless Redstone server mod.
Download:
1.6.1 for 1.4.7 (Forge)
Older releases:
Prerequisites:
Installation:
Compatibility:
Addons:
Power Configurator:
Wireless Sniffer:
Wireless Remote:
Wireless Clocker:
Wireless Redstone Server - Bukkit Port
:
Changelog:
Credits
:
Programming and GUI layout: ali4z, Eurymachus
Bukkit porting: darkk6 (v1.5 for 1.1, 1.2.3)
Block textures: Misacorp(0.1->0.3), dann494(0.4->current)
Item textures: up-a-notch
Item texture, triangulator: dann494
GUI backgrounds/ticker logo: Dyz-69
YouTube guides: Jawdan
HD textures: Sade1212 and dann494
Mod banner: ijsung
German translation: The_BrainStone
Testers: advtech, Regelneef, Sedekus
Misc textures: 1nsid30utz, firefly_goat, CadenDonuts
Constructive feedback: Treesin, havenomercy3, Dr. Steel, jedimaster0, Jawdan, Thieme, Hurr2thedurr, Dyz-69, chicken_bones, bobbaganoosh, BrickedKeyboard, Zenu
FAQ:
https://sourceforge....Asked_Questions
TODO:
Legal References:
If you find bugs, have comments, suggestions, questions, critisism and/or what not. Feel more than welcome to post it in this thread or via PM, I will try to get back to it as soon as I am able.
Last edited by
ali4z
: Jul 4, 2013