Xie
Lapis Lazuli Collector
Join Date:

12/28/2010

Posts:

919

Minecraft:

MrXie

Xbox:

Xie X1E7

Member Details
All of my mods are now hosted in this thread, please visit it for the latest news and downloads :smile.gif:
---
Xie's Cooking Mod v1.4 for Minecraft Beta 1.6.5
(As far as I know, this mod is compatible with Minecraft Beta 1.6.6)
Download XieCooking 1.6.5v1.4 (Requires ModLoader)
You can also download all four of my mods in
one pack
.
And before you ask,
this mod does not support SMP
.
Latest News
(30th May 2011) Updated to Beta 1.6.5. Lemons are now just a flavouring ingredient and recipe ingredient for guacamole and lemonade, rather than a food item in and of themselves.
The Mod
As the name would suggest this mod attempts to expand on the game's cooking options, with more food items and cooking blocks, including campfires, stoves, soups, stews, stirfrys, pancakes and sammiches! Check out this demo vid by Xenoph that shows it in action.
Campfire
The campfire is an early game alternative to the furnace, used for basic cooking. The idea originally came from
LightWarriorK's post
. The campfire is constructed with four sticks in a square, so it can be constructed from your inventory about as soon as you've punched down a tree. It can cook any food a furnace can. Its also a cheap source of light if you're having trouble finding coal (and don't yet have any torches). The catch is it will burn itself out pretty quickly, so is only a temporary solution. There is a slightly upgraded version, the bonfire, that is crafted with four logs, which is of larger size, brightness and burns for longer. Both the campfire and bonfire can be fed more wood to keep them alight.
Stove
The stove is an upgraded version of the furnace, for more advanced food cooking. It can cook food a furnace can, but can also be used to make soups and stirfrys, using a "1x1xt" crafting technique. The stove has a cooking pot instead of an inventory slot, and ingredients are added to the pot, one at a time. One must wait until the pot changes colour, indicating the next ingredient may be added. Here are the current recipes for soups and fried meals:
Water... food ingredient... empty bowl => Weak Soup
Water... food ingredient... flavouring ingredient... empty bowl => Soup
Water... food ingredient... food ingredient... empty bowl => Soup
Water... food ingredient... food ingredient... flavouring ingredient... empty bowl => Stew

Oil... food ingredient... empty bowl => Fried Mess
Oil... food ingredient... flavouring ingredient... empty bowl => Fried Meal
Oil... food ingredient... food ingredient... empty bowl => Fried Meal
Oil... food ingredient... food ingredient... flavouring ingredient... empty bowl => Stirfry
From a design perspective, the idea behind these recipes is to condense a variety of miscellaneous low-heart-yield food items into homogeneous medium-heart-yield food items.
Not everything can be souped or fried, there's a list of items that can, to which items from other mods can be added. Current "flavouring items" are salt (see below) and yellow flower seeds (with Farming mod, I like to think they're mustard seeds :tongue.gif:).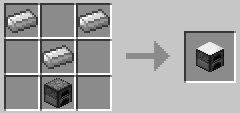 Sammiches
First of I'd like to thank Zenith for his
ftw sammich mod
, which was truly inspiring, and to everyone else who has done a similar thing. Sammiches in this mod are another form of generic recipe, similar to the soups and stirfrys, but from a workbench. The sammich recipe is a vertical stack of bread, ingredient, bread, and yields a stack of 3 sammiches. Tasty sammiches, the upgraded variety, require two ingredients and some kind of sauce (which goes in the middle, the two ingredients on the side). Again there's a list of sammich ingredients, and sauces that other mods can add items to.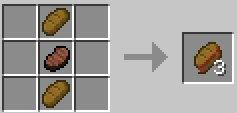 Sammich
Tasty Sammich
Presently items that count as sauces for purposes of making tasty sammiches includes: mayo, guacamole, avocado and tomato.
Oil and Mayo
Oil is made by stacking two seeds vertically on top of an empty wooden bowl, and is used on the stove and as an ingredient to mayonnaise. Mayonnaise is a sauce (used for making tasty sammiches), which requires a bowl of oil, an egg and lemon (from my Farming mod).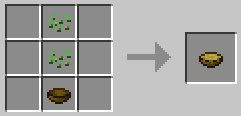 Oil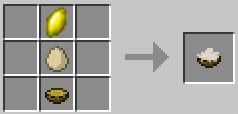 Mayonnaise
Fruit Salad
Another generic recipe, though so far it only has two ingredients: apple and watermelon pieces (requires my Farming mod), though as I discover more fruits they'll be added to the list. You stack two fruits atop a wooden bowl. Om nom nom.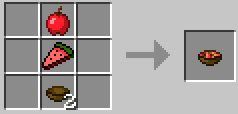 Salad
Salad is similar to fruit salad, but can be made from any two of the following: tomatoes, lettuce and avocado. At present the icon for salad is the same as that for fruit salad... :tongue.gif:
Pancakes
Pancakes are made using wheat, eggs, a bucket of milk and an empty bucket, which gives you a bucket of pancake batter. How full the bucket is depends on how many wheat and eggs you use. 1 of each gives you enough for half a bucket, 2 of each gives you 3/4 bucket and 3 or each gives you a full bucket. There's enough batter in a full bucket to make 8 pancakes. Pancakes are cooked on the stove, not in a furnace.
Salt
Salt you get from salt deposits, which should appear on sand blocks near water (alternatively you can set in the .ini file the option to till salt from sand instead, if you prefer the method from my old cooking mod). There is also an option in the .ini file to make salt spawn in the world naturally during gameplay. This is set to off by default, please use it with caution, as it will cause random sand blocks near water to turn into salt blocks, so if you have any sand-based constructions, they could be turned into salt... Admittedly you can turn them back into normal sand blocks by harvesting the salt, but I just wanted to make sure you warned :tongue.gif:
Jerky
This was my attempt to add a low-yield early-game prepared food. You combine salt and cow leather to make jerky. I think I got the idea from
velvokay
.
Cheese
If you're not using Nando's Dairy Mod (I suggest you check it out if you haven't already, you can build stairs of cheese... XD) you can cook cheese on the stove by adding a bucket of milk, waiting till it changes colour, and then adding a yellow flower, then let that cook until it changes colour again, then you can remove the cheese with a left click. This was an experiment in using the stove for more specific recipes.
Pixel Art
Big thank you to Thistle who helped me out with the cheese, fruit salad, jerky, mayo, pancakes, batter, salt and sammiches. Cheers mate! :smile.gif: (Note that my old images are still displayed in the recipes above, I'll update those... eventually :tongue.gif:)
The stove is still a bit boring, if anyone wants to make it more than just a furnace with an iron top, send something my way and if its usable I'll throw it in :happy.gif:
Compatability
I've already got cheese from Nando's Dairy Mod included as a sammich food ingredient. If there are food items from other mods you'd like to soup, fry or put in a sammich, let me know and I'll include them in the next revision. If you're a dev and you'd like to know how to do this at your mod's end I'd be happy to help.
cooking.ini
On first run this file will be created in the .minecraft/mods/Xie directory. In it you can disable (almost) anything you don't want in your game, for example if you want to do cheese Nando's way and not mine (you can't make steps with my cheese, lol). You can also edit the block IDs and item IDs, as well as the heart yield for all of the included foods - I'm not saying the defaults are at all balanced, I pretty much made them up... I'm counting on user feedback to get a better idea where they should sit. You can also download the default ini file
here
.
Default settings file copy-pasta:
# Xie Cooking 1.6.5v1.4 settings file

# Spawn chance for salt deposits / chance to till salt from sand
Settings.saltDepositSpawnChance=12
Settings.saltTillChance=0

# Enable/disable (true/false)
Enable.campfire=true
Enable.bonfire=true
Enable.stove=true
Enable.cheese=true
Enable.jerky=true
Enable.sammich=true
Enable.tastySammich=true
Enable.fruitSalad=true
Enable.salad=true
Enable.friedEgg=true
Enable.salt=true
Enable.pancake=true
Enable.oil=true
Enable.mayo=true
Enable.saltRespawn=false

# Food Healing, in half hearts
FoodYield.jerky=3
FoodYield.friedEgg=5
FoodYield.cheese=8
FoodYield.failFry=6
FoodYield.fry=8
FoodYield.stirfry=12
FoodYield.failSoup=6
FoodYield.soup=8
FoodYield.stew=12
FoodYield.pancake=6
FoodYield.sammich=8
FoodYield.tastySammich=10
FoodYield.fruitSalad=8
FoodYield.salad=6
FoodYield.mayo=6

# Spawn chances (higher number -> LOWER chance, think of it as a '1 in N chance')
SpawnChance.salt=10

# Block IDs
BlockID.campfire=120
BlockID.bonfire=121
BlockID.stoveIdle=122
BlockID.stoveActive=123
BlockID.saltDeposit=124

# Item IDs
ItemID.debugFood=310
ItemID.oil=311
ItemID.mayo=312
ItemID.pancakeBatter=313
ItemID.salt=314
ItemID.friedEgg=315
ItemID.cheese=316
ItemID.pancake=317
ItemID.jerky=318
ItemID.fruitSalad=319
ItemID.failSoup=320
ItemID.soup=321
ItemID.stew=322
ItemID.failFry=323
ItemID.fry=324
ItemID.stirfry=325
ItemID.sammich=326
ItemID.tastySammich=327
ItemID.salad=328
Change Log
1.0.0 Initial release, 3rd Feb 2011
1.0.1 Added compatibility with Dr Zhark's FarmCraft foods. Fixed idle stove glow. Fixed campfire burn time indicator. 7th Feb 2011
1.0.2 Added salt deposits. Left option for tilling salt from sand. 20th Feb 2011
1.0.3 Updated to Beta 1.3_01. Added salads. 1st March 2011
1.1 Updated to Beta 1.4_01. 15th April 2011
1.2 Fixed stove bug and generic recipes bug. Added option for respawning salt deposits. 19th April 2011
1.3 Updated to Beta 1.5_01. Made salads a shapeless recipe. 29th April 2011
News
(7th Feb 2011) I've fixed a few bugs including the campfire burn indicator lag and the stove glow when idle. I've also added compatibility for Dr Zhark's FarmCraft mod - the beef, chicken and mutton can now be cooked on the stove, and added to soups, stews, stirfrys and sammiches.
(10th Feb 2011) Added salt deposits that appear on beaches. Edit their spawn chance in the ini file. If you prefer the old method, I've left an option - set the "salt till chance" greater than 0. Remember higher number = lower chance. Should also be getting fewer brains now.
(14th Feb 2011) I'll be out of action for a few days while headed back home to Australia. I won't be able to provide support in this time, nor will I be doing any mod dev. Feel free to check out the pre-release version of [url=http://www.minecraftforum.net/viewtopic.php?f=25&t=162474]Farming[/url] v1.1 if you're interested. It adds some more fruits and vegetables to the game, including lettuce, tomatoes and avocados, so the next revision of my Cooking mod will have to include recipes for salads :wink.gif:
(2nd March 2011) So my other mods are now updated to Beta 1.3_01, but sadly I'm still having some difficulties with Cooking. It works fine in my own dev env, but that doesn't do the rest of you much good. I'll try to get it working in the next day or two. Thanks for being patient.
(3rd March 2011) Cooking is now compatible with Beta 1.3_01. It wasn't so hard once I got a little help from Risugami, thanks again :wink.gif: I've changed the mayonnaise recipe to use lemon instead of yellow flower seeds. I've also added salads, which are similar to fruit salads but made from salad things, like lettuce, tomato and avocado. This is technically a "garden salad", I may add things like cooked meat and apples to the salad list eventually... I had this really awesome salad the other day that had salmon and ham in it... I've also modified the soup and stew recipes to accept almost anything edible, so for those of you who think an avocado and cheese soup is a good idea, knock yourselves out! Also guacamole (from the farming mod) can be used instead of mayonnaise to make tasty sammiches.
(3rd April 2011) Update for v1.4 might be a little while, I'm currently recovering from having punctured a lung, so I'll admit that modding isn't at the top of my list of priorities right now :tongue.gif: Be sure though that I will get to it, hopefully within a week or two. Apologies for making you wait :wink.gif:
(17th April 2011) Fixed the "stove bug" that was causing the game to crash when you right-click on the stove and updated the download link. Please let me know if it still doesn't work :wink.gif:
(15th April 2011) Finally updated to Beta 1.4_01! Just in time for the weekend. Sorry to have kept everyone waiting, and yes I realise that Beta 1.5 is just around the corner, but I figured it was better to at least only be one update behind :wink.gif: As usual, let me know of any bugs you find!
(18th April 2011) Generic recipes are buggy, e.g. tasty sammiches, fruit salad etc... Most of these recipes aren't currently working. Sorry about that, will see about getting it fixed soon.
(20th April 2011) Beta 1.5 is out, wooo! Probably won't be able to update till after Easter, but I will get to it as soon as I can :wink.gif:
(19th April 2011) Recipes have been fixed, salads, fruit salads and tasty sammiches should now be working. I also added an option for salt deposits to spawn during the game. Salt blocks will now fall like sand, too. Please note, you'll need to update to [url=http://xie-mc-mods.googlecode.com/files/XieFarming1.4_01v1.2x.zip]Farming v1.2x[/url] for the recipe fix to kick in.
(29th April 2011) Updated to support Beta 1.5_01. Salads and fruit salads are now shapeless recipes, so they can be crafted from your inventory (i.e. don't require a workbench).
Last edited by
Xie
: Jul 15, 2011