VGFreak97
Redstone Miner
Join Date:

12/24/2010

Posts:

602

Member Details
With help from GuntherDW, Kindbdogz, Nicaetinismo, and AndyBrown!
Heya peeplz! I'm a bit of a modder myself, but I'm more of an artist. So basically, I ask my friends to help me in modding. Hope you like my mods!
The following mods are being updated. Bacon Blocks is currently the only updated one!
To help Support and Spread this Mod:
[code][url=http://www.minecraftforum.net/viewtopic.php?f=25&t=158776][img]http://iaza.com/work/110212C/iaza14248695402400.png[/img][/url][/code]
Copy and paste this into your siggy!
BaconTools V1.0
Requires RisuGami's ModLoader and JDDI's ToolUtils
http://dl.dropbox.com/u/15928277/ToolUtils_b1.2.zip Just_Don't_Do_It's Tool Utils
http://www.mediafire.com/?2asbj2aatk0e5p9 RisuGami's ModLoader
Well, basically, the mod is based off of Bacon being used as sticks in tool recipes, bacon being sticks (durr) and PorkChops being the ores. They have the same durability as wood for now I believe, but I hope to change that maybe.
Crafting Recipes
:
= Pork
= Bacon Slices
Bacon Slices:
[] [] []
[]
[] =
x4
[] [] []
Bacon Pickaxe:
[]
[]
[]
[]
Bacon Axe:
[]
[]
[]
[]
Bacon Hoe:
[]
[]
[]
[]
[]
Bacon Shovel:
[]
[]
[]
[]
[]
[]
Bacon Sword:
[]
[]
[]
[]
[]
[]
[code]Item IDs: 1690-1697[/code]
Pictures
:
Bacon in Inventory
Bacon Pickaxe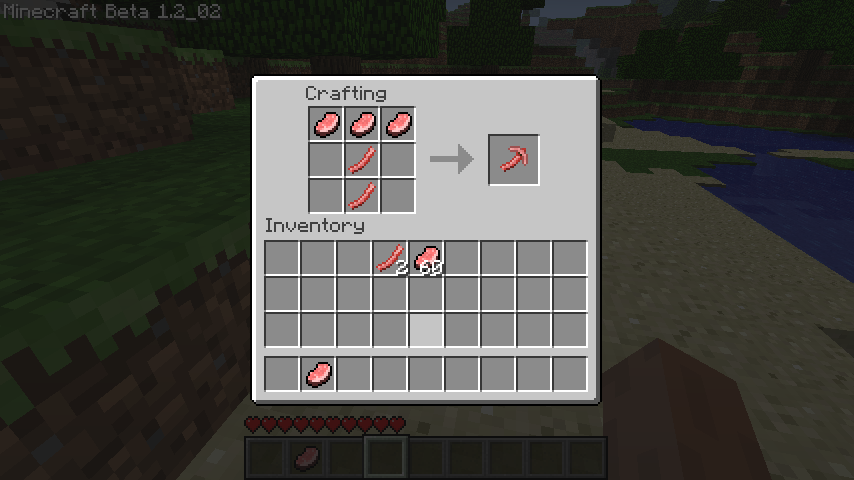 Bacon Axe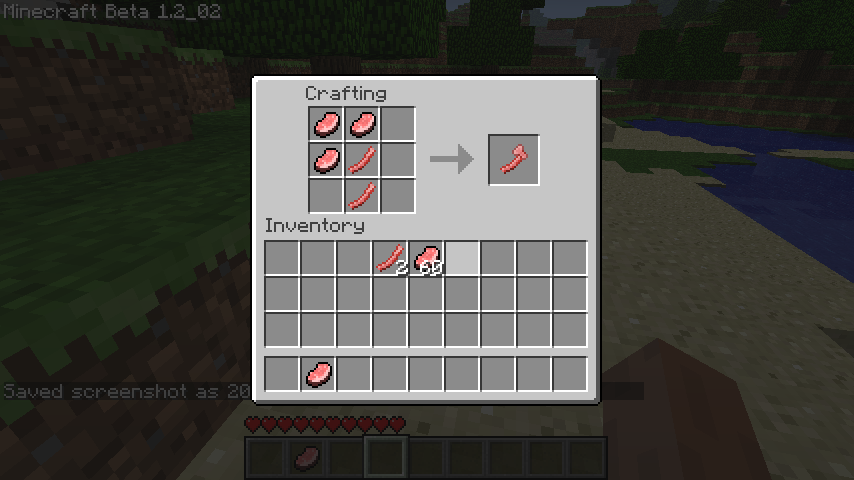 Bacon Sword
Bacon Hoe
Bacon Shovel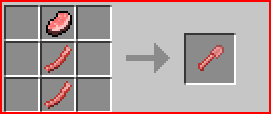 Download V1.0
:
Download
Download V2.0
:
Download
(rough version, back up you .jar!)
[code][b]Changelog[/b]: V1.0 BaconTools Released V2.0 With Bacon bows and arrows and everything's edible![/code]
This basically just changes the GUIs (meaning the Crafting Pop-up, Inventory, etc.) To a little fancier version. I used the original layout for the inventory to create the rest from BobOfTibia's inventory change
here
. I will most likely remove my download when he posts his finished version, and just link you to his if you want.
Installation Instructions
:
[code]1) Open up %appdata%, if you don't know how to do this, start>run, then type in %appdata% 2) Browse to .minecraft/bin 3) Open up minecraft.jar with WinRAR or 7zip. 4) Open the gui folder INSIDE of your .jar 5) Drag and drop the files from inside this folder in. 6) Run Minecraft![/code]
Download:
here
BaconBlocks V2.5
Requires RisuGami's ModLoader
Hello everyone! Kingbdogz made this mod originally, but stopped updating it. So I present to you and update. My new friend, GuntherDW was kind enough to update it for me! Now we have Bacon Blocks v2.5. It goes perfectly with my Bacon Tools mod. I'll update with some screenshots. Basically, you craft a bacon block like this I think :tongue.gif: Those of you that downloaded v2, re-download PLEASE. Nicaetinismo updated this for you, so be sure to thank him.
and maybe....
And finally, just for you Tanuki_Shiro, we have a .props file.
Changelog
[codev1.30: udated to Beta 1.2_02
v2: updated to Beta 1.3_01
v2.1: fixed purple block error
v2.5: Properties file now generates][/code]
Download Bacon Blocks v2:
Download