Mega_Builds_2016
Carpenter
Location:

A Minecraft Village

Join Date:

10/22/2016

Posts:

255

Member Details
I am creating a map which will house a medieval city. To the East is a large mountain range. to the north is a lake which connects to the ocean. The lake also features three waterfalls which come from a river connected to a lake in the mountains. To the North-West is a large raised platform of land which can be used to create a fortress on high ground that looks into the ocean, while the low lands can be used to create the rest of the city and farmhouses. To the south lies a jungle which can be useful to gather extra farm goods such as melons. I am using two mods to create this map:
The uncrafted mod: (Because I set the world's generation to not spawn structures so how else can I get dungeons?).
http://www.9minecraft.net/uncrafted-mod/
And my custom mod: (This mod just makes dirt and gravel craftable so I don't run out while making the map's roads:
http://www.mediafire.com/file/4fxqp1f1r16fl46/CraftDirtAndGravel.jar/file
Note that as of 8:22 AM 9/1/2018 I have not created any buildings on this map. I will add some soon.
Download the blank map:
http://www.mediafire.com/folder/87wrnbcl87pbd/Medieval_Island
Note: Mob Griefing and Do Fire Tick are both set to false.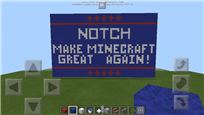 Finds a server that says "No PvP"
*Pushes AFK player off cliff*
Steals Player's Stuff
Admin Can't do anything cause I didn't hit him so "no actual PvP".