Mega_Builds_2016
Carpenter
Location:

A Minecraft Village

Join Date:

10/22/2016

Posts:

255

Member Details
I just need to know. I have tried looking for one but it seems ok for now. Just wanting to make sure.
PS: If I posted this in the wrong area then can staff please move it.
Thanks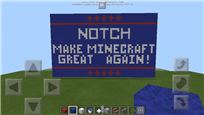 Finds a server that says "No PvP"
*Pushes AFK player off cliff*
Steals Player's Stuff
Admin Can't do anything cause I didn't hit him so "no actual PvP".