xUSMCxMARIN3x
Stone Miner
Join Date:

4/13/2013

Posts:

85

Member Details
Testificate Golf
Video out soon, some WIP pictures are up and out for you to see
The following maps main concept and purpose is not my own. I am borrowing, Ridgedog and the Voxel Box's "Testificate Golf" concept and gonna I will be putting together the courses. That brings me to another point, for the most part, the following map will not only be my ideas, maps, and courses. I want to ask you for ideas, and for your own built courses. I will go into depth on that below.
Parking lot (spawn)
An example course (Also my testing spot)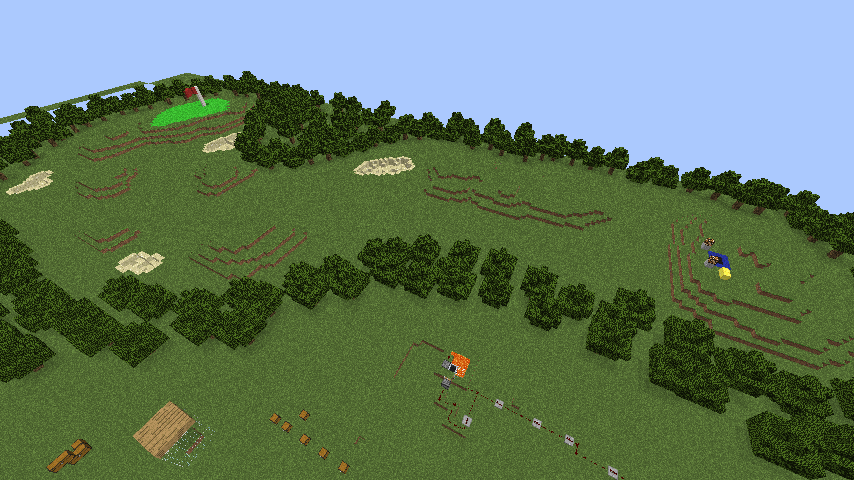 Golf Club Start. (Please don't hate on it, this is the first time of using this style of architecture and block scheme)
If you have not already seen the videos of the Yogcast playing Ridgedogs "Testificate Golf" the concept of the map is to use a knockback weapon and hit the Testificates across a region to a hole. Just like golf, well more like miniature golf. I always loved the idea of this map, and have played it many times. But I recently got the inspiration to make my very own after playing some real miniature golf. Although i could make my own, and take a long time to do it. Instead however, I want to ask YOU the minecraft community to help me make it. This idea was thought up when playing the map "The Dropper" it is also a community map, so i would love to do the same. Everyone knows how successful the dropper was and still is, and everyone loves to help make a map and get credit for it. Next topic will be talking more about that though.
To make this map however, I will need the help of the community. My idea for the map is that there will be a main Golf Club Hub where you can buy clubs, courses, and maybe just get a drink. So what I want is the help from the community to get ideas for the hub and maybe even some blueprints for it. Then I wish for your help with making courses and holes. What's the difference between a course and hole? By course, I mean the main terrain for the course (ex. Hills, Trees, Mountains, Lakes, ect.). Then there are holes, which will come afterward, the holes will be built on the on the courses. What I mean is, I will get community courses, and then the ones that are chosen, will be freely distributed for you to make your holes on them. Afterwards, I will be asking you for your favorite holes, as well as the courses like i said before. I will use mcedit and world edit to edit your holes and courses into one entire map.
[This is just a note for everyone, in a couple days I will start the project whether I get applications or not. Also, if you have ideas, but are unable to make them, or don't think you are a good builder, ask me and I will make it for you. I am a good builder, both terraforming and actual structure building. I will make what you ask for and personally pm you what it looks like and try to make it exactly what you imagine it to be.]
Course, Hole, and Hub application
Hub Application:
Creator: Your Name
Idea: Ex.

Blueprint, area, redstone contraption, ect
Basic Info: Basic info of the Hub idea/area. (Ex. Is it a bar, Bathroom, Club, ect.)
Size: Large, Medium, Small
Special Features: What makes it special?
Rating: 1-10 (Your own opinion, then I will give my own opinion)
Pictures: Duhhh
Download Link:
Course Application:
Creator: Your Name
Genre: Ex. Fantasy, Medieval, Desert/Egyptian, Steampunk, ect.
Size: Large, Medium, Small
Special Features: Wha

t makes it special other than just terrain (Ex. Houses ,Structures, ect.)
Rating: 1-10 (Your own opinion, then I will give my own as well.)
Pictures: Kinda obvious.
Download Link:
Hole Application:
Currently Closed till I get courses
My personal ideas will be put into the map, it is after all my idea, and i will be the one putting it together right?

Clubs: I will be making a series of custom buyable clubs. Such as putters, wedges, and drivers. You will start with one and as you play and get money, you can buy more from the golfers shop.

Hub: I want the hub to look a lot like a country club, formal and nice looking. Use of modern build tutorials will help make it. But when it comes to other parts of it, they can vary. I want random things for players to do for fun like an arcade, club, and more. But what there will be a shop, and when you enter the shop you can buy clubs and also courses. So parts of the hub will be cut off until the player buys the course.

Courses: I want these courses to vary, a lot. Some fantasy, some steampunk, some medieval, and maybe even a real life looking course. Here is a list of courses i would be interested in other people making.
. Fantasy Land, something like Alice and Wonderland
. Steampunk Flying City, like from Bioshock Infinite
. Egyptian
. Medieval, Castles and farms
. Real life looking course
. Jungle
. Maybe even a random course, with just random stuff, that may be for people who build just random holes

Holes: well this will come later on.

Will be done later in time
No firsties