WolfieMario
Curse Premium
Zombie Killer
Join Date:

11/5/2011

Posts:

198

Minecraft:

WolfieMario

Member Details
As many of you know, the upcoming 1.3 update will feature editable books (assuming we don't get a 1.2.6
). Here are some characteristics/limitations on the creation of books:
A book may have no more than 50 pages.
A single page of a book may have no more than 256 characters.
A single page of a book may have no more than 13 lines of text.
The title of a book can be no more than 16 characters.
The author of a book is the username of its creator, or "Player" if you're in offline mode. It cannot be changed.
You can paste text into books with Ctrl+V, unless there isn't enough room on the page for it.
A book can contain special characters, such as the section sign (§). These characters must either be on your keyboard, or pasted in. Alt-codes do not work.
Section sign formatting codes (e.g. "§f") work in books, allowing you to have colored or formatted text.
You can use special characters in the title of a book, if they exist on your keyboard. You cannot paste text/characters or use alt-codes when writing a title.
You can only edit the text on a page starting at the last character. This means, if you notice a typo at the top of the page, you must first backspace the whole page to fix it.
Pages cannot be removed or rearranged.
You cannot edit a book once it has been signed, and cannot give a name to an unsigned book. Unsigned books all show up as "Book and Quill" in the inventory, when you hover over them.
As of recent snapshots, you cannot begin a line with spaces/indentations, and cannot begin a new line without having text on the current line. This makes it difficult to separate paragraphs.
Now, you may well have known most of these things. If not, you've learned a thing or two
. Well, I'm going to tell you about how to hack books, breaking past most of these limitations.
I have spoiler'd most of this thread, so as to not look intimidatingly long. You only have to read as much as you want to, and learn only the things you want to know, so I figure spoiler-ing the stuff would be for the best.
Formatting Text
Before I start, however, I'd like to give some info about how to use section-sign formatting codes:
The section sign, §, is used in Minecraft to format text in chat, signs, the end credits, and now, even in books. To use a code, you type/paste §, followed by a number or letter which tells it what to do. The code will become invisible, and affect all text following it. These are all known format codes in Minecraft:
§k is used in the End Poem, when the supernatural beings say words not meant for your eyes. Using it ingame will make all characters except spaces flash randomly as many different characters. It is currently the only animated format code.
§l creates bold text. This may not work properly on foreign or special characters.
§m creates striked text.
§n creates underlined text.
§o creates italic text. This one doesn't feel too Minecraft-like, as the text's pixels no longer have straight edges.
§[0-f, hexadecimal] creates colored text. See Color codes.
§r resets any of the previous styles so text after it appears normally.
Thank the Minecraft wiki for the above list; I only added some additional notes.
Format codes can stack, if you use one after another. However, color codes must go first, because they cancel all formatting before coming into effect, similar to §r. So, for example, bold red flashing text would have the code §4§k§l before it.
You can copy any of these codes from here (or anywhere) and paste them right into a book to use them!
You can also just copy the section sign § on its own, and paste it in a book whenever you need it. You'll see your cursor turn white for a moment, with a flashing white 0/7 (it flips between 0 and 7) where you just typed. Typing any valid format command (0-9, a-f, k-o, or r) will make this disappear, and any text typed after it will take on the format.
Some technical info:
Note that if you have multiple lines, only the last format code used will carry over to your remaining lines. If you actually hit the Enter key to start a new line, no formats will carry over to your next line. Because of this, you may need to use a code more than once; just be mindful of that.

Also, due to a glitch, it's possible to overlap lines of text. For example, use the bold format code, and type a line such that, when you are on the last word, the game attempts to put the word on a new line. Now, when you type space, it will snap back to the previous line. But if you type two characters more, and then hit space, the word will still snap up... And your cursor will snap an extra line down. One case where this happens is "§lThis is an odd bug ", so you can copy/paste that to try it yourself. Then type a little more, and hit enter. When you hit enter, your cursor will overlap the last line of text, and you can type new text which overlaps the old text on that line. No practical use for this as far as I can see; just a little quirk.

---
Different Fonts
Now, unfortunately different fonts are not as easy as formatting text. Again, it's not an actual hack, just a trick.
In the image above, you see "fullwidth characters" as they appear in Minecraft. You can convert ordinary text into fullwidth text with a converter such as
this
, and copy and paste it into Minecraft. There may be a dotted box with some letters at the start sometimes - if this happens, paste the text in Notepad first, go to the start of the text, and try deleting the invisible character that's hiding there - copying into Minecraft should work as normal now.
Note that the amount of fullwidth characters which fit on a single line is tricky to predict. I tried making a title page with them, but it was very hard to center because I could only have a few spaces before a line before it tried to take up more than one line. This will likely be easier once the game allows us to move the typing cursor around (hopefully it does, some day).
Custom fonts are possible with texture packs, but you need MCPatcher for them to work properly. The file containing full-width characters is "glyph_FF.png", in the "font" folder of minecraft.jar:
Here is an example of what a custom font texturepack with MCPatcher may look like:
Technically, you could have any number of custom fonts using texture packs (or at least 222, at any rate
), but any font except the fullwidth font would be much harder to work with, unless of course you made your own converter program.
---
Indentation, Alignment, and Blank Lines
Since one of the snapshots (I forget which), you cannot indent or center text, or have blank lines, because the game ignores spaces and 'Enter's that you type on a line that otherwise has no text. This section offers a simple work-around, as a book can look ugly if there's no separation between paragraphs, and titles look nicer when centered.
The workaround is actually very simple, fortunately. Remember the formatting codes from above? The ones using the § sign? It turns out that, although formatting codes are invisible, they still tell Minecraft a line is not empty, and you can have spacing and newlines thanks to this.
I prefer the code "§r", because it only resets formatting (having no effect on unformatted text), but you can use whatever code you like. Whenever I want an indentation at the start of a paragraph, I insert "§r " (that's the format code, followed by 5 spaces - the forum may not display this correctly. You can use however many spaces you like, of course). Whenever I need a blank line, I simply put "§r" on the line, after which I can hit Enter and get a new line without any problems.
For example, the following text produces the page pictured below:
§r	A Comparison of
§r	§oThe Shining§0 and
§r 	§oEvent Horizon§0
§r
§r	 The science fiction horror film §oEvent Horizon§0 by Paul W.S. Anderson shares several similarities with Stanley Kubrick's §oThe Shining§0. They each incorporate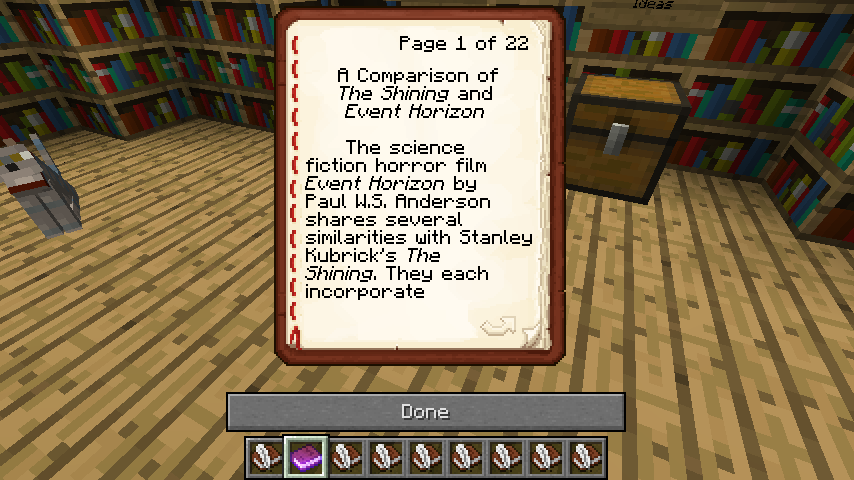 ---
How to actually hack books
Of course, none of that was "hacking" - it can all be done ingame, without editing your client. To hack books, you'd need a 3rd party tool, such as copyboy's
NBTedit
.
Now, why would you hack a book? To get past its limitations without the need for mods
All of the tricks I am posting here can be used for Adventure maps intended for vanilla Minecraft, so your players won't need any mods.
NBTedit isn't hard to use at all. Take the following steps when hacking any book (in singleplayer):
Have the book you wish to edit in your inventory. It can be a Book and Quill, or a signed book.


Exit your world. You do not need to exit Minecraft, just the world.


Start up NBTedit, click File -> Open, and find the level.dat of the world you were working in. Open this file.


In the main area of the NBTedit window, look inside the "data" entry. At the bottom of this, you will find a "Player" entry, if this is a singleplayer world. Within that, open the "Inventory" entry.


Entries in the inventory are unnamed, but you can still figure out what's what. Most normal items are packages listed as "4 entries". Books (editable or signed) and enchanted items are "5 entries".


To figure out what's a book you can edit, open up any "5 entries" you see. It should have an "id" of 386 for Book-and-Quill, or 387 for a signed book. The "tag" entry contains its data.


Edit the stuff inside the "tag" entry however you like. I explain the format in the next section, and also some specific hacks you can try.


Save your changes, and then go back into the world in Minecraft.
Note: if you want to make more changes after playing ingame a while, make sure you Save and Quit from the world again, and before making changes in NBTedit, File -> Reload. Again, File -> Save once you've made your changes. If you didn't Reload, your inventory/stats/etc. will get reverted to what they were the last time you made changes!
If the singleplayer instructions don't work for you, then follow the multiplayer server instructions below.
This is because of changes in the recent snapshots - however, as of 12w22a, the singleplayer instructions above work normally again.
For
multiplayer servers
, if you are the admin, you should open a player file and edit that instead. Player files are in the "players" directory of your server's world folder. When opened, the player file will contain an "Inventory" entry at the top level - from this point, you can continue from Step 5 above.
Note that the player should be logged out when you are editing their inventory!
The "tag" entry of a book has the following contents:
"pages", a list of Strings.

Any number of untitled String entries

"author", a String entry which only exists for signed books.
"title", a String entry which only exists for signed books.
Now, what does this all mean? What exactly can you hack?
Well, for starters, remember when I said a book cannot have any more than 50 pages? That's just because the game does not let you make more than 50
.
Books with more than 50 pages
If you select the "pages" entry, and click the New String button ("Tt"-like icon, in NBTedit's toolbar), or press Ctrl+8, it will add a new page to the book. As far as I know, there is no limit to the number of pages, and you can continue to edit them ingame:
They will still exist even after you sign the book.
Un-signing a book so you can edit it again
If you change a signed book's "id" from 387 to 386, it will become a Book-and-Quill again, and you can edit it freely ingame. Signing the book ingame will work again, as normal.
Rearranging/removing pages in a book
Select the page you wish to move or delete. You can move it with Edit -> Move Up or Edit -> Move Down, or Ctrl+Up or Ctrl+Down, to move the page to wherever you like. Pressing Delete on your keyboard deletes a page.
Watch out! NBTedit doesn't have an Undo function!
Editing a page of a book freely / Having more than 256 characters in a page / Having a page longer than 13 lines
You can double-click a page to edit it freely. This means you can move your cursor to any part of the text to edit it. You can also highlight and copy the text into a text editor, for convenience.
Note: NBTedit won't accept text with normal carriage returns in it - this means you can't type something like this:
"this is one line
and this is another"
Hitting Enter in NBTedit will finish editing a page, and copying multi-line text from somewhere else into NBTedit will not work either. Instead, you have to use the Line Feed character, U+000A. Where can you get this character, you ask? Well, I can't paste it here, but you can open up a page where you hit Enter in Minecraft, and then select that text in NBTedit. Copy that text into Notepad, and find the exact location you hit Enter - if you move your text cursor across this spot with the arrow keys, it will seem to stop on an invisible extra character. If you hold shift when you move the cursor (again, using the arrow keys) across this character, you can highlight it, and copy/paste it to wherever you like. That means you
can
have 'Enter's using NBTedit; it's just annoyingly tricky :/
Now, as the title of this section implied, you can also have more than 256 characters in a page, and more than 13 lines as well. Just edit a page in NBTedit as normal - you don't have to do anything special. It turns out that neither NBTedit nor the game care how much text you've crammed in a page!
Note: if you don't want text to flow off the page, avoid having more than 15 lines. To not have your text covered by the next/previous page buttons, avoid having more than 14 lines.
Have a book title with more than 16 characters / Have formatting and colors in your book's title
If you have a signed book, it will have a "title" tag you can edit. When you edit it, it turns out it can have as many characters as you like, even though the game normally limits you to 16. I don't know if there's any actual limit to the length of a title, but if you have enough characters it will be too long to fit on the screen. Editing like this, you can also make a book's title blank, which the game also normally does not let you do.
In addition, remember when I said a book's title can't have characters copied into it, and can't have format codes because the section sign won't go in (even if you have it on your keyboard)? Using NBTedit, you can actually paste whatever you want into a book's title, and the format codes will all work as they normally do!
Note, however, that your title
cannot
be multi-line, even if you go through the trouble I mentioned in the "Editing a page of a book freely" section. If you try, you'll just see a dotted box with "LF" in it, where the new line would have started.
Changing a book's author / Having formats in the author's name
Similar to the previous section, you can modify the "author" tag of a signed book, and your changes will show up in-game. The author's name does not even have to be a valid player name, and can contain special characters, be blank, or include formatting codes (so yes, your author can have a colored name, or even flashing random characters
). Similar to the title, your author can
not
be in multiple lines.
Duplicate an entire book
Old method in spoiler:
(Old method by me)
Select the "5 entries" package that represents the book you want to duplicate. Edit -> Copy. Now, select "Inventory", and Edit -> Paste. Finally, change the "Slot" tag to a different number. If there is a free inventory spot you have, and you know its slot number, change it to that. If not, simply choose a slot that contains an item you don't mind losing. 35 is the highest number you should attempt to put a book in, and 0 is the lowest.
EDIT: Club559 came up with a much better method for duplicating books! Change the "Count" value for the book you wish to duplicate. Change it to the number of books you want. Ingame, the book will now be a stack with that many books, and you can split with right-clicking as normal. Each copy will have the full contents of the book!
---
Hopefully you guys will find these tricks useful for your adventure maps - you can now make your books convincing by changing the author, make them seem special with colors even in the item's name, and perhaps even make them seem ominous with a title that continuously flashes random letters. You can also use these tricks to get past the game's limit of 50 pages per book, 256 characters per page, 16 characters per title, etc., and can correct mistakes you have made (rearranging pages, editing them in a text editor, un-signing them, etc.)
Note that, with modifying your game files using an external program, you run the risk of damaging your file. Proceed with caution; I take no responsibility for mistakes you make or damage you cause. I just want you all to know these cool things you can do; that does not mean you can hold me or copyboy (NBTedit's creator) responsible if things don't work out as planned.
Have a nice day, and happy editing!