S_p_Ace
Newly Spawned
Join Date:

11/30/2017

Posts:

2

Member Details
SkyLand Survival Challenge
Do you know Skyblock? This is a reinterpretation of it for the upcoming aquatic update!
There have always been a small kink in the original Skyblock that loosed up the experience for me. If you slip, very important items might get lost forever and if you spill water on your lava source, the game is basically over.
Not with this one! In SkyLand you'll never have to start from a fresh copy of the map. (and if for whatever reason you destroyed everything you can still respawn a starting island - more on this in the following section)
But this doesn't mean slipping with important items or spilling water on your lava has no penalty. Especially in the early game this still really hurts. But it's not the end of the world .. literally
The included datapack adds new recipes, advancements, mob-drops and fishing loot. Also some simple game mechanics realized with command functions.
If you just wand to use the datapack in your own world and don't want the starting island use this command to deactivate the prompt
/scoreboard players set first_load world_status 0
Set to 1 if you have to respawn the island. Beware, it will spawn wherever you are and delete what has been there!
See the spoiler for a list of all changes/additions. Be warned, this actually is a spoiler!
RECIPES

Crafting

4 clay balls [shapeless]
1 bone meal; 2 gunpowder; 1 gray dye


1 coal block [shaped]
9 charcoal


2 coal ore [shaped]
5 coal; 4 stone


1 coral [shaped]
4 coral plant of the same color


6 coral fan [shaped]
6 coral plant of the same color


4 coral plant [shaped]
4 bone meal; 1 dye of desired color


1 diamond [shapeless]
any diamond tool or armor peace


1 end portal frame [shaped]
3 end stone; 2 emerald; 1 ender chest


8 end stone [shaped]
8 dead coral (any variant); 1 ender pearl


4 iron ore [shaped]
5 stone; 4 iron ingot


2 lapis ore [shaped]
5 lapis lazuli; 4 stone


1 mycelium [shapeless]
1 gravel; 1 mushroom block (any variant); 1 bone meal


1 packed ice [shaped]
8 ice block


1 podzol [shapeless]
1 dirt; 2 spruce leaves


3 red sand [shapeless]
1 rose red; 3 sand


2 redstone ore [shaped]
5 redstone dust; 4 stone


2 soul sand [shapeless]

1 sand/ red sand; 1 bone meal; 1 rotten flesh; 1 gunpowder; 1 blaze powder; 1 fermented spider eye; 1 magma creme; 1 gold nugget; 1 coal

Smelting

iron nugget
iron bucket


lava bucket
stone - smelting time 24000 (20 minutes)!


sand
dirt


dead bush
any sapling

ADVANCEMENTS
Suggestions for further advancements are welcome


The first new advancement is located in the vanilla "story" tree and opens the skyland tree.
After you've got your first lava bucket you have to build a cobblestone generator.
It triggers when you get cobblestone standing directly at the generator. The orientation of the generator doesn't matter.


This is the skyland tree.


Root of skyland tree.
You get this advancement from achieving "Breaking Ground"



Triggers after breeding Villagers. (not tested - I'm not patient enough)


Hidden advancement.
Triggers by killing an iron golem


Triggers when you have a full stack of iron ingots



Grind 10.000 cobblestone from any (basic) cobble-gen. You have to actually mine it!


Triggers when you learn the recipe for dirt


Triggers when one of the following animals spawns in your world:
→ Cow, Pig, Sheep, Chicken, Horse, Donkey, Llama, Wolf, Ocelot


Triggers when you get netherrack



You get this by building a wither skeleton.
stack 2 blocks of coal above each other and manually place a carved pumpkin on top of them.

Get any sapling.
On the expert island your only way to get a sapling is to kill a creeper.
Oak saplings are the only ones that drop regardless of you personally killing them.


Hidden advancement.
Ever got hit by a tree? This is now an achievement.
Triggers if you stand on a Sapling the moment it grows.

LOOT
Only additions and changes to vanilla drops


Mobs

Blaze

0 - 8 glowstone dust
+ 0 - 4 with looting enchantment
Chance 15/16


Creeper

Oak Sapling
+ 0 - 4 with looting enchantment
Chance 1/16

when killed by player:
General Chance 0.025
looting multiplier 0.03


Spruce sapling
Chance 5/14

Birch sapling
Chance 5/14

Acacia sapling
Chance 2/14

Dark oak sapling
Chance 1/14

Jungle sapling
Chance 1/14


Guardian

equivalent to elder guardian (for sponges)

Husk

when killed by player:
general chance 0.03
looting multiplier 0.01


Cactus
Chance 1/5

Pumpkin Seeds
Chance 1/5

Melon Seeds
Chance 1/5


Witch

0-8 Redstone
+ 0-6 with looting enchantment
chance 1/6


when killed by player:
general chance 0.1
looting multiplier 0.01


1-3 of

1-2 Sugar Cane
+ 0-1 with looting enchantment
chance 2/4

1-2 Nether Wart
+ 0-1 with looting enchantment
chance 1/4

0-1 Cocoa Beans
+ 0-1 with looting enchantment
chance 1/4


Zombie

when killed by player:
general chance 0.04
looting multiplier 0.01


Pumpkin Seeds
chance 1/10

Melon Seeds
chance 1/10

Vine
chance 1/10

Red Mushroom
chance 2/10

Brown Mushroom
chance 2/10


Fishing
Chance for Treasure increased to 10/105 with quality 4 (see minecraft wiki)


Treasure

Lily Pad
chance 1/7

Kelp Top
chance 1/7

MECHANICS

Zombie Pigman will sometimes spawn Blazes when killed by Player.
Whiches sometimes spawn an Illager when killed by player
Grinding cobble at a cobble-gen gives 1 xp point per cobble
Mining Cobblestone that is not from a cobble gen can become gravel
You can build Wither Skeletons by putting a carved pumpkin ontop of two coal blocks
due to how the commands work this might not always work and sometimes it summons 2 skeletons

Curing a Zombie Villager that becomes a Nitwit will convert a Nitwit to a Hippie which sells plants
These additions aim to make virtually everything accessible in a void world.
How to update:
You don't have to start from 0 just because the pack was updated!
Locate the datapack in ".\saves\SkyLand x.x.x\datapacks\" and replace it with the new version
that you can find here
The Start:
You spawn on a single block of Bedrock high up in the Sky. There is nothing but you and something that asks you to choose a starting island
A small floating green island providing enough resources for you so you don't have act under pressure. The bed (that currently pops after spawning) provided is important because of the new Phantom-mob added in 1.13. It spawns if you didn't slept for 3 days and especially here in the sky it can easily knock you off your builds.

The bare but fair minimum of resources you need to get started.
It hosts a single block of grass (do not destroy unless you don't want grass. There is no way to get grass blocks other than using an item with silk touch!), two piles of wood and stone, and two cauldrons filled with water. That's all!

Your first task is to find a way to get a lava bucket. After that you'll have to learn how to make dirt. (on expert)
The Map:
To give you the possibility to farm guardians there is an area marked with sea lanterns where a monument has been.
The Nether has a bedrock ceiling but no floor. There are nether fortresses but no soul sand or nether warts. If you find chests their loot will generate if you open them.
The End has not been generated.
The datapack is multiplayer compatible.
But I won't recommend to play with more than 20 people on this map.
Biomes
This is an overview of the custom set biomes. one box (4 dots) equates to one chunk in the world. (may not be 100% accurate)
The Monument area and everything around the defined areas are the original biome(s) generated with the world.
(on the right of the jungle is a strip of Beach. Maybe turtles can spawn there)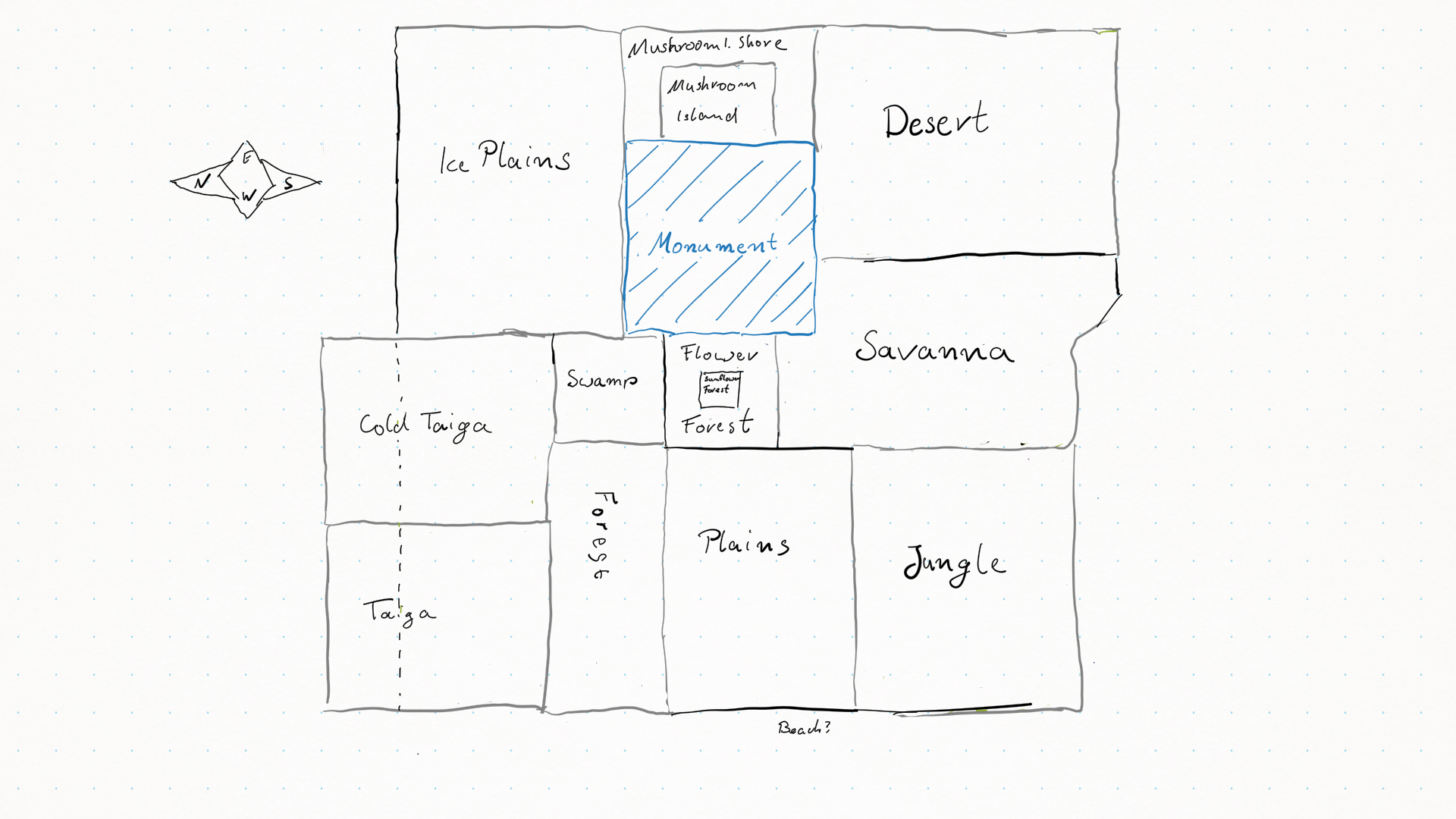 Last edited by
S_p_Ace
: Apr 9, 2018