3GreyLeaves
Coal Miner
Location:

Join Date:

4/21/2013

Posts:

107

Member Details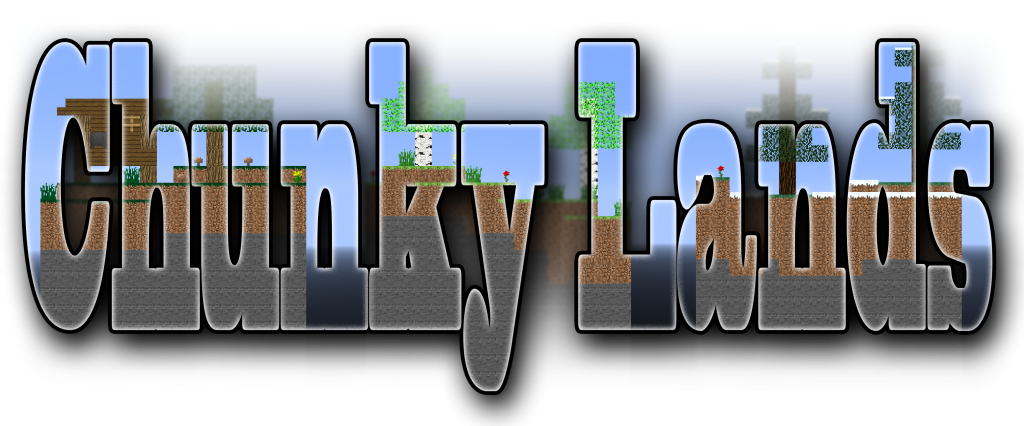 Pictures:
see what Chunky Lands is all about.
Hello Minecrafter. This is a Survival Map named Chunky Lands. You spawn on a 16 by 16 forest biome where you have to gather resources to expand and explore other chunks and biomes. There is a lot to do as it is possible to get every item, but some items are limited or very difficult to obtain. This is a great way to test your skill as it is possible to go to the
Nether
and also
The End.
Explore, prepare, and fight like you've never done before.
Click me to
Download
<----
Works with 1.6 & 1.7
Multiplay
er
Compatible:
Learn how to set up a server and play with your friends.
Work in Progress
If you are familiar with servers, this quick explanation will help.
____________
-After downloading Chunky Lands and the
server version
you want, start up the server until it finishes creating the world. Then turn it off.
*if you want a 1.6 server, skip this step*
- For 1.7, you first convert the world,
play it in single player at the version you want and it will convert for you,
so it matches the
server version
. Quit single player so it saves the world.
-Switch out the server
world folder
for the
Chunky Lands folder
and
rename
the folder as
world
.
-Google search your ip and anybody that is connected to your router can play with you.
____________
Goal:
Challenges to overcome and obtain (don't have to do, just suggestions)
Begginer:
- Make a suitable house (can be underground
- Destroy and loot 1 dungeon (should get a melon seed)
- Travel to 4 other islands
- Make a bed
- Obtain a good supply of food (can use animals or farm)
- Find 1 patch of diamonds (most patches are 4-5)
________________________________________________________________________
Intermediate:
- Tame a cat
- Ride a horse (or a pig, close enough)
- Make a 2nd house out of different material
- Destroy 3-5 dungeons (should find carrots and potatoes)
- Make a portal to the nether (doesn't matter where you make it)
- Make an enchanting table
- Travel to all main islands on earth (there are only 9 visible)
_________________________________________________________________________
Expert:
- Collect a blaze rod
- Travel to the 10th island (use ender pearl to find)
- Destroy all 7 dungeons and collect the goods (blaze and silver fish don't count)
- Bring a Mooshroom back to the 9 islands
__________________________________________________________________________
I'm so Pro:
- Enchant a bow with infinity (will find a book in a dungeon)
- Collect 11 ender eyes
- Travel to the End (bring lots of cobblestone)
- Destroy the Dragon (the dragon will not spawn right away. This should give you time to travel a bit and make a temp base)
Pointers and Tips:
A little help for your journey.

Finding Dungeon:

- There are a total of 7 spawners
- 1 under the forest, extreme hills, river, ocean, and desert. 2 under the mooshroom island.
- Easiest way to find a dungeon is to dig to the center of the island, make a spiral staircase down.
- It is best to keep the skeleton spawner alive so you can grind and get lots of bone meal.
- The 4 dungeons on the corners have a type of dimand armor. Find them all and you will have a full set.
- Every dungeon has an ender pearl. U can save them up if you want to go to the End, or use them for crafting.


Getting Ores:

- If you build 3-5 blocks away from the island, you will be able to look down and see ores on the sides.
- There are 2 diamond ores that are booby trapped. So be careful.
- When finding diamonds, best to dig around 7y-10y

Animals:

- Animals are specific to different areas. It is best to breed the animals before killing them.
- If you've been playing for a while, Animals will spawn in naturally (but it's random)
- When bringing animals over bridges, best to have the bridge at least 3 wide.
- When moving animals, only move 2 of them and leave the rest behind. That way if something bad happens, you still have the others to breed and try again. (I actually had to do this once)

Other:

- When making a bridge to the blazes, best to cover it from all sides so the blazes don't knock you off
- Best to make your bridges using slabs. If you can't put a torch on it, mobs can spawn on it.
- Don't kill the chickens right away. Try to capture all 5 of them and breed them for your first food supply.
Video:
Fly around and see Chunky Lands in it's full glory.
[youtube]CRHk-b7zia4[/youtube]
Creations:
If you guys make any cool things on Chunky Lands, post them and I'll add them here.
Here is an 18 hour Time-Lapse video of recreating the land between 4 chunks.
[youtube]3CQkOllObAA[/youtube]
Let's Play:
If you guys decided to do a Let's Play of Chunky Lands, post a link to you're playlist. I'll check them out and possibly share them.
Chunky Lands in the (Alpha) state. [/youtube]
Last thing I'd like to say is thank you for taking time out of your day for me. I put a lot of work into this and I hope it goes somewhere.
Also, if you find any bugs or something that doesn't seem right, try to be as specific as possible and let me know. I wouldn't be surprised if i missed something
Suits look out for everyone.
Youtube Channel