ZeBests
Full Stack
Join Date:

8/26/2012

Posts:

79

Minecraft:

Ze_Zebs

Member Details
Hey Guys,
This isn't a map originated by me. I have seen alot of SkyBlock PvP maps, and also there's the original Skyblock survival map. I've found a good SkyblockPvP map and my friends and I enjoy it alot. Unfortunately, the map creator stopped updating the map long time ago and there was alot of flaws. So here I'm going to show you the new version of Skyblock PvP!
This is a general overview of the area where most of the things happen (well, as in PvP. Not as in redstone&Stuff). Not so different than the original post from this position. The gameplay (which you can change) is to break the opponents bed (to remove their spawn point) and kill them, and be the last one to stand on the islands.

So
let's put this island as an example. The wood under the island is an indicator, indicating which island it is. This allows other teams to know who's island that is (I already tried signs. It doesn't work). The island behind is...the 'Arrow Island', I guess. The chest contains gravels, feathers and melon seeds. No one takes the time to grow the melons, so gravels and feathers are the only thing useful there. Behind is the 'Portal Island', and I'll get to that later
This
ball of sand contains valuables. It contains a chest in it's heart and ores around it. It's also where fight happens, as this is also used for distraction.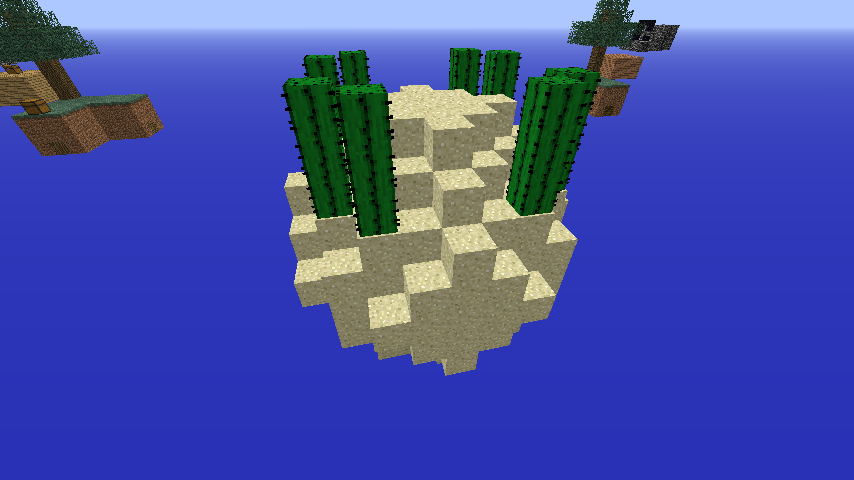 Once
you enter the Nether, the game basically ends here. It requires you to throw a Redstone Block in, to enter the Nether. I won't tell you what is inside the chest; it's a secret. But don't worry, this is balanced out so that it wouldn't be that much OP (Nether used to contain a chest with an OP diamond sword). Currently it's a pig spawner instead of a blaze spawner; it'll change in the next update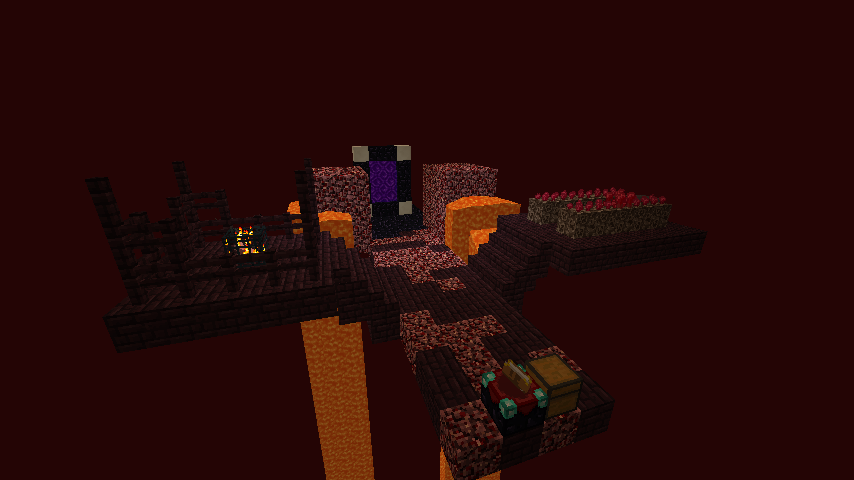 Lastly
, this is the spawn. It looks good and it works good too. Currently there's nothing to do but to press the start button, but I'm going to work on the island to have mini-games while waiting for others to die.
RULES

1. Don't change your gamemode to creative unless you are a spectator or the admin. Don't change the gamemode to 2, because the game only allows survival mode to teleport to the spawn.
2. Don't use a 3rd party tool to spawn or have an advantage you shouldn't have unless the players agree to.
3. Spectators or anyone who is not part of the game should not disturb the players gameplay (don't even stay 5 blocks close to them. I'm serious, this actually becomes a problem.)
4. Insert your own personal rule here
5. and here too!

VIDEO
(there isn't any from other players :/)
I would like to hear and see your 'epic' PvP battle!
NOW FINALLY: DOWNLOAD(DIRECT) Works on 1.5.2+
(Removed downloads for Initial Release&Version 2 since the maps broken)
Version 1
-
http://bit.ly/SkyPvPv1
CHANGELOG
Version 1
- Fixed the Automated Starting System (A.S.S. <-lol)
- Sped up the teleportation
- Reliable countdown
- Clears inventory more reliably
- Pressure plates for spectating
- Invisibility, milk bucket and teleportation to the Middle Island
- Pressure plate to "Refill" Hunger and Health
- Fixed the Portal Island (Hoppers weren't filled at all!)

Initial Release and Version 2 (which is later than Version 1, used to be the version after 'Initial Release) is removed because they were broken and unplayable.
Q.What is the
actual
and
specific
changes taken place between the old version and this one?
A.Here's the list:
- Leaves now disappear by themselves.
- Chest is on top of the island instead of it being inside of the island.
- Different type of Wood placed on the bottom of every Island indicating the Island.
- Actual & epic spawn.
- Automatic game starting system added.
- Replaced the sandstone with sand in the Middle Island.
- Middle Island contains some Silverfish blocks.
- Portal Island requires a Redstone Block rather than a Redstone Torch.
- Removed ice in Portal Island.
- Nether is more balanced (BottleOEnchanting is useful now!).
- Added bed in every chests.
- Changed the biome (except the spawn) to Taiga (used to have different types of biomes mixed together)
I'm still planning to add some more stuff, but at the same time balancing out the gameplay. And that's hard :|
Last edited by
ZeBests
: May 18, 2013