Linkruler
Curse Premium

Stuck at Home
Join Date:

2/20/2013

Posts:

493

Minecraft:

linkruler

Member Details
Do you enjoy playing adventure maps? Do you enjoy going back to the good old days of 8-bit gaming? If yes to one or both of these questions, this map will surely be the

for you!
Details:
8-bit Adventure is, you guessed it, an adventure map that shows you 8-bit sprites and themes levels after them. These games include the classic Super Mario Bros, The Legend of Zelda, Kid Icarus, and the not-so-8-bit games such as Cave Story and Sonic the Hedgehog. One of these levels even themes a minecraft makeover of level 1-1 of the original Super Mario Bros. !
Trailer:
Story:
You start off in your entertainment room of your house. You have just finished setting up your new giant TV you bought from a garage sale and hooked it up to your game console with your five favorite retro games pre-loaded in. You boot up your TV with game controller in hand, but to what happens next you need to play the map to discover...
Extra Info:
This new ZIP folder comes with one save in it. There are four (technically five) endings in total to find. Make sure to explore everywhere to find the hidden currency throughout the map so you can complete the gallery and gain access to the bonus ending. Don't forget that you cannot find all of the endings in one playthrough, so you will need to reload the map multiple times to find all of the endings. The map also comes with a resource pack that is required for play (otherwise the map looks terrible). This is located inside of the save folder, so make sure to grab it before you begin playing!
Endings to achieve:
Normal ending: Simply beat the first section of the map. You don't really require much to get done.
Bonus ending: Completing the gallery will allow you to find this. Storywise, it impacts the story in a larger manner. You need to find everything in the map, and some might not be found the first time you play. Not to mention there are two different variants of it to find!
Special ending: This ending is a secret! You can easily find it eventually, though.
Secret ending: It's a secret! I can't tell you.
Can you complete all four endings?
Achievements:

Ok, so I have decided to add in some achievements for the heck of it. Check the spoiler to see how many you have earned:
Cliffhanger:

Complete the bonus ending on either difficulty
Piece of Cake:

Complete the secret ending
Heated Success:

Complete the special ending
Standard Expectations:

Complete the normal ending
Gardener:

Find both seed types
Penny Pincher:

Find all of the rupees
It's so Shiny!:

Find all triforce shards
Behemoth Demolished:

Defeat the wither
Exterminator:

Defeat the code dragon
Collector:

Complete the gallery
Made in Japan:

Buy all five game cartridges
Commemoration:

Find the Hall of Commemoration
Hardcore Gamer:

Finish the bonus ending on hard mode
Coming Back for More:

Complete all of the achievements
Reply with how many achievements you got to see how you are against others!
Downloads:
Original
V2
V3
Former Version (1.5.2)
Former Version (1.6.4)(does not work with 1.7)
All-New Version! (Must be played in the latest snapshot!)

( Be aware I have been unable to test the map in multiplayer, so it may be buggy/unstable in SMP. You have been warned!)
Texture Pack (also is bundled in with the 1.5.2 download)
Resource Pack with animations (also is bundled with the latest download)
Resource Pack without animations (also is bundled with the latest version)
This most recent version may come with a few bugs that I am unaware of. If you find any please let me know
!
Installation:
To install 8-bit adventure for use into minecraft, you will need to download the ZIP folder. When you open the ZIP, there will be a folder called 8-bit. This is the save folder. Before dropping it into your saves folder of the .minecraft, please open it and locate the resource packs.

There will be two resource packs. Make sure to drop both of them into the resource packs folder of the .minecraft. Then you may drop the save into the saves folder. Don't forget to play in 14w21b (newer ones break it)!
Rules:
There are rules written in a book in the beginning chest, but if you play on a server, make sure command blocks will work, difficulty is either easy or normal (your choice) and the game mode is set to adventure. Please enjoy and tell me if there's anything that should be fixed or tweaked. Are you planning on making an LP of this? Post your video and I might put it into the OP. Make sure to give your opinion by replying. Don't be shy, please reply! Be sure to take into consideration that I try to reply to posts that involve suggestions or feedback on the map.
Update:
Wow, have I really hit 1,000 downloads? I really feel glad you guys are enjoying the map so much! I'm glad to see my hard work hasn't gone to waste! Impeccably, I just finished a new update for the map! This update fixes quite a few bugs (still unsure how well multiplayer works). Not just this, but I also have added replayability to the map! You no longer need to reload the map if you want to find the remaining rupees and triforce shards, but you can now re-enter your TV to emulate the first 5 levels! This should make it a lot easier for people to access the bonus ending, which inputs even more nostalgia, considering there are 5 remakes to see! Check them out and make sure to let me know what you think

Screenshots:
Original-V3: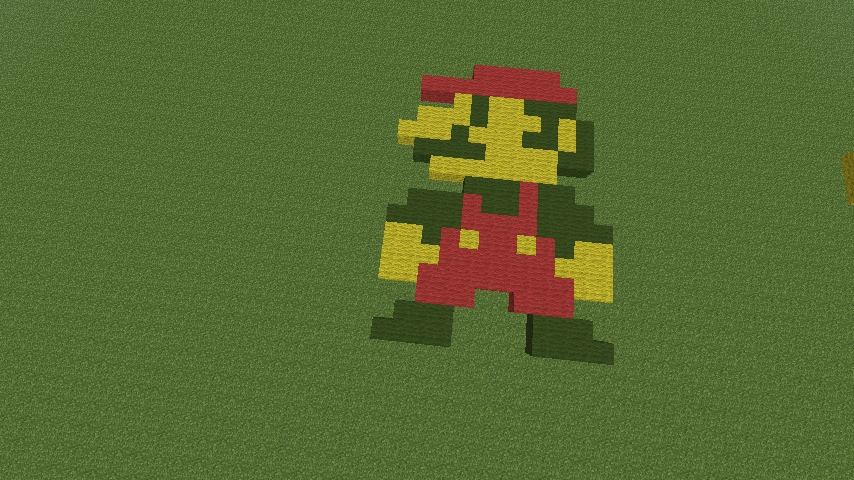 1.5.2-Latest:
Videos:
Older versions:
CthulhuToo's:
Note that this was played in an earlier version of 1.5.2 and I have since fixed a couple of bugs.
His youtube channel:
Click Me!
Wvlfy's:
Tiger's:
His channel:
Here
Linkruler's:
I made an LP of the classic version of 8-bit Advenuture!
Here's my channel!
Current version:
There currently aren't any of the most recent version! Tiger's LP is the closest to the current version right now!
Dev Comm Coming Soon!