Slagr
Zombie Killer
Join Date:

10/20/2011

Posts:

240

Member Details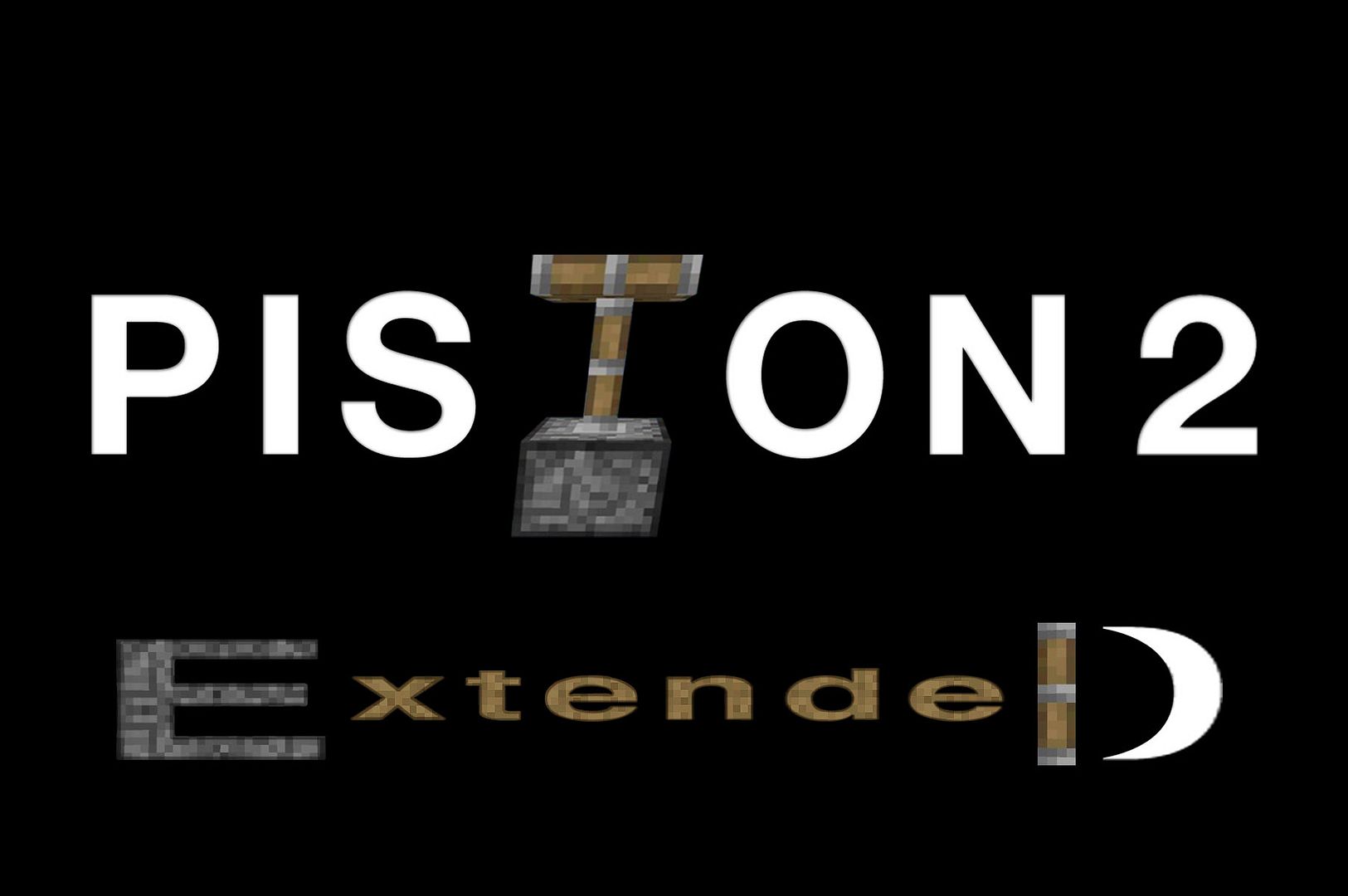 Thanks to Starfuzion for the logo.
Grab your fishing rod and prepare to revisit the Portal-inspired environments of PISTON.
In this sequel to the well-received puzzle map, you'll once again find yourself in a battle of wits against some of the most diabolically clever puzzles ever designed for Minecraft. By using only a fishing rod, hoe, and an assortment of levers and pressure plates, you'll traverse perplexing arrangements of pistons which will leave you amazed after every level.
This map, like its prequel, was designed under a unique restriction:
Every level is completely resettable. If and when you finish the map, you can simply ride the mine cart back to start and play it all over again.
Additionally, the map was designed to challenge the player to think outside the box; therefore the rules are minimal:
The only rule is to break only what you place.*
*
An exception to this rule exists due to changes introduced by 1.3. In moving floor levels, activating a pressure plate or lever on the floor while the floor is "down" will cause the powered block to jump up and stick. Before 1.3, the block would jump up and then go back down. Since the map was made primarily in 1.2.5 and adapted to 1.3, please do not exploit this functionality. There are some levels where this feature is used and required, but never when the entire floor moves. The only fix possible for this issue is to change the entire floor in the affected rooms to gravel, which would look awful. For the sake of keeping the puzzles fun, please abide this request.
As with the previous installment, challenge levels are hidden somewhere in the facility. Find the hidden signs to locate this elusive room and become the true master of PISTON 2. Remember, the rules are minimal. If you
can
do something,
do it.
That's the only way to achieve this goal!
Play on Peaceful.
The level breakdown is:
•7 levels without rod or hoe (1-7)
•10 levels with just rod (R1-R10)
•4 levels with rod and hoe where the hoe is required (H1-H4)
•10 levels with rod and hoe where hoe is optional (R11-R20) (for an added challenge, try these without using the hoe)
•5 challenge levels
Download:
http://adf.ly/DlEfm
Screenshots: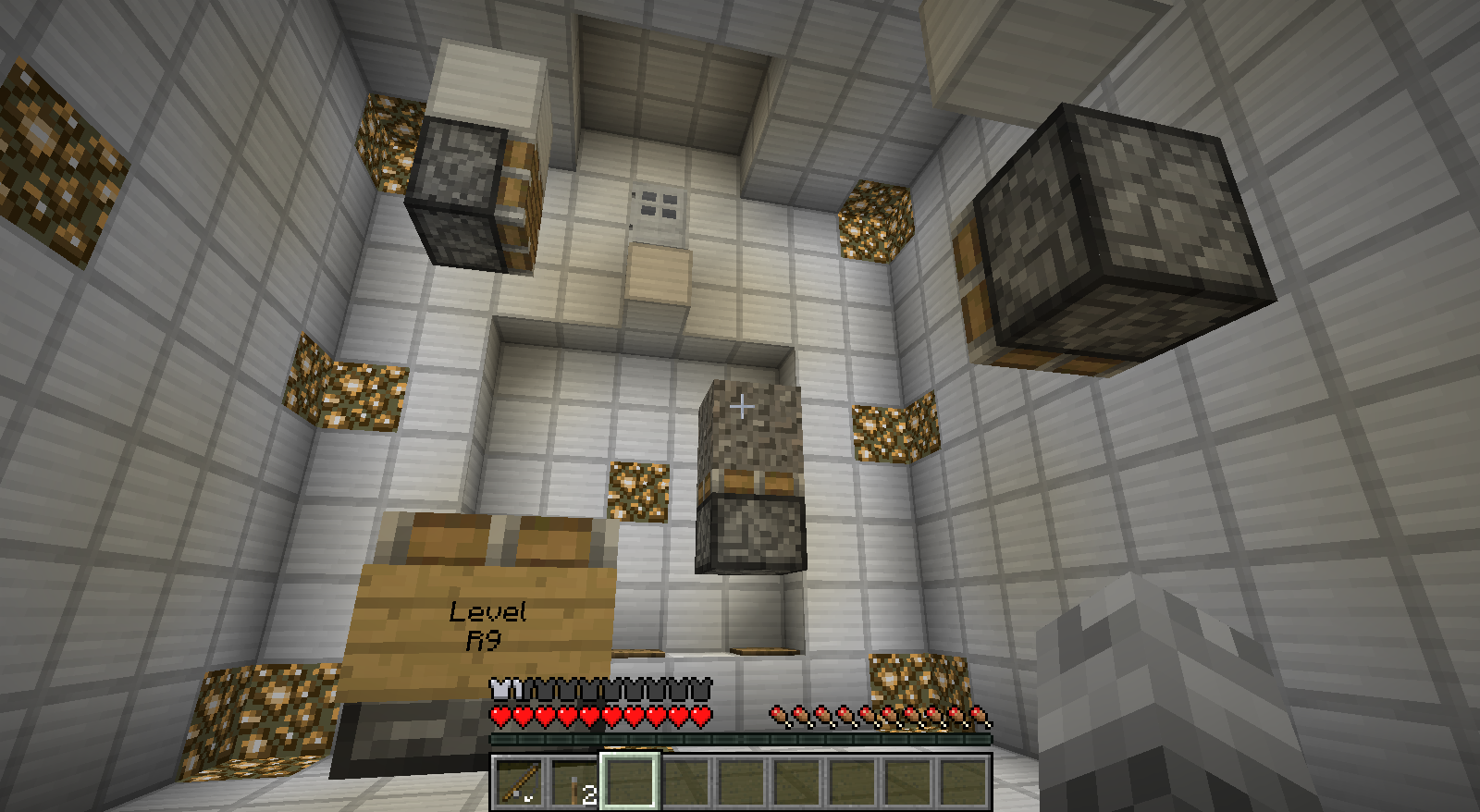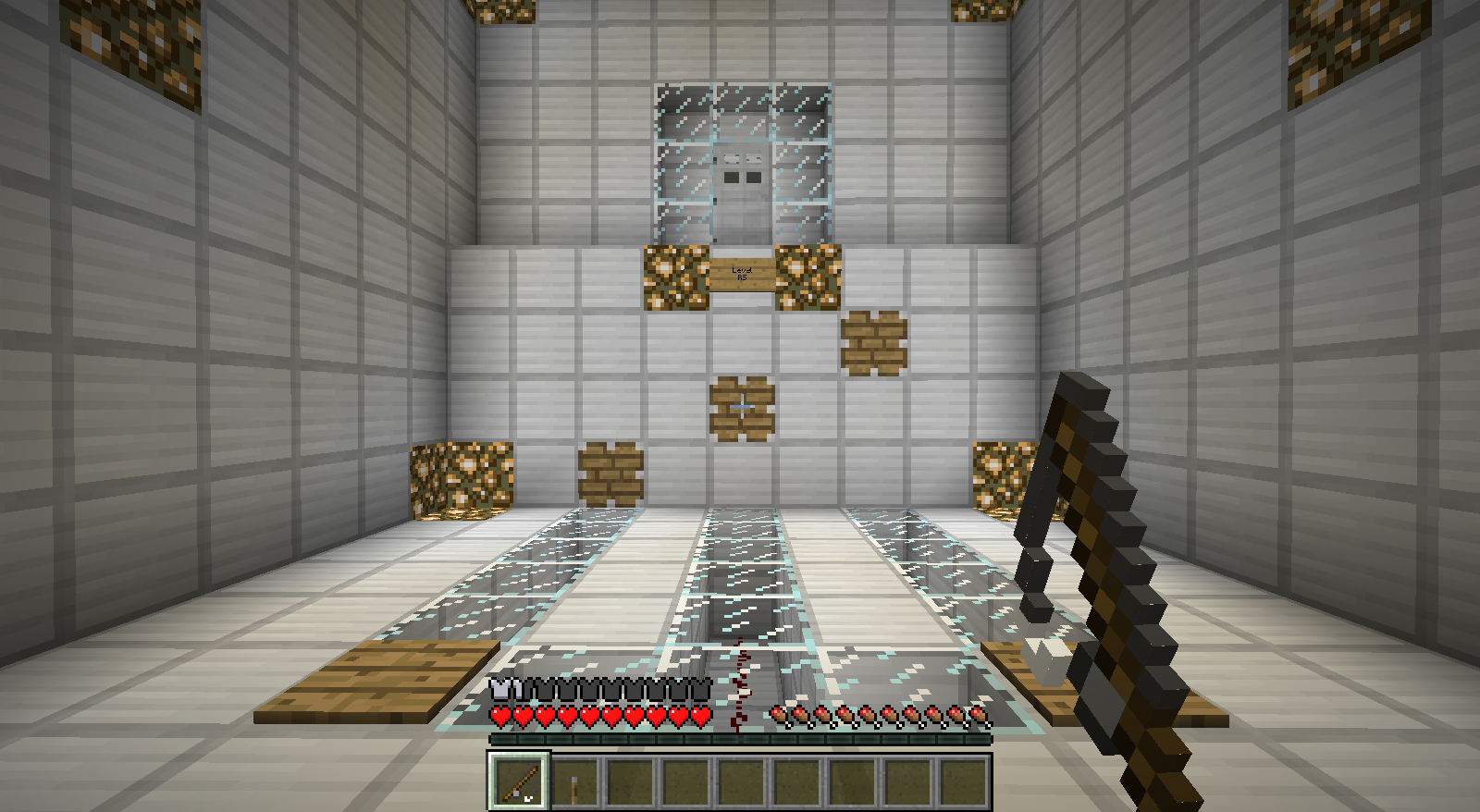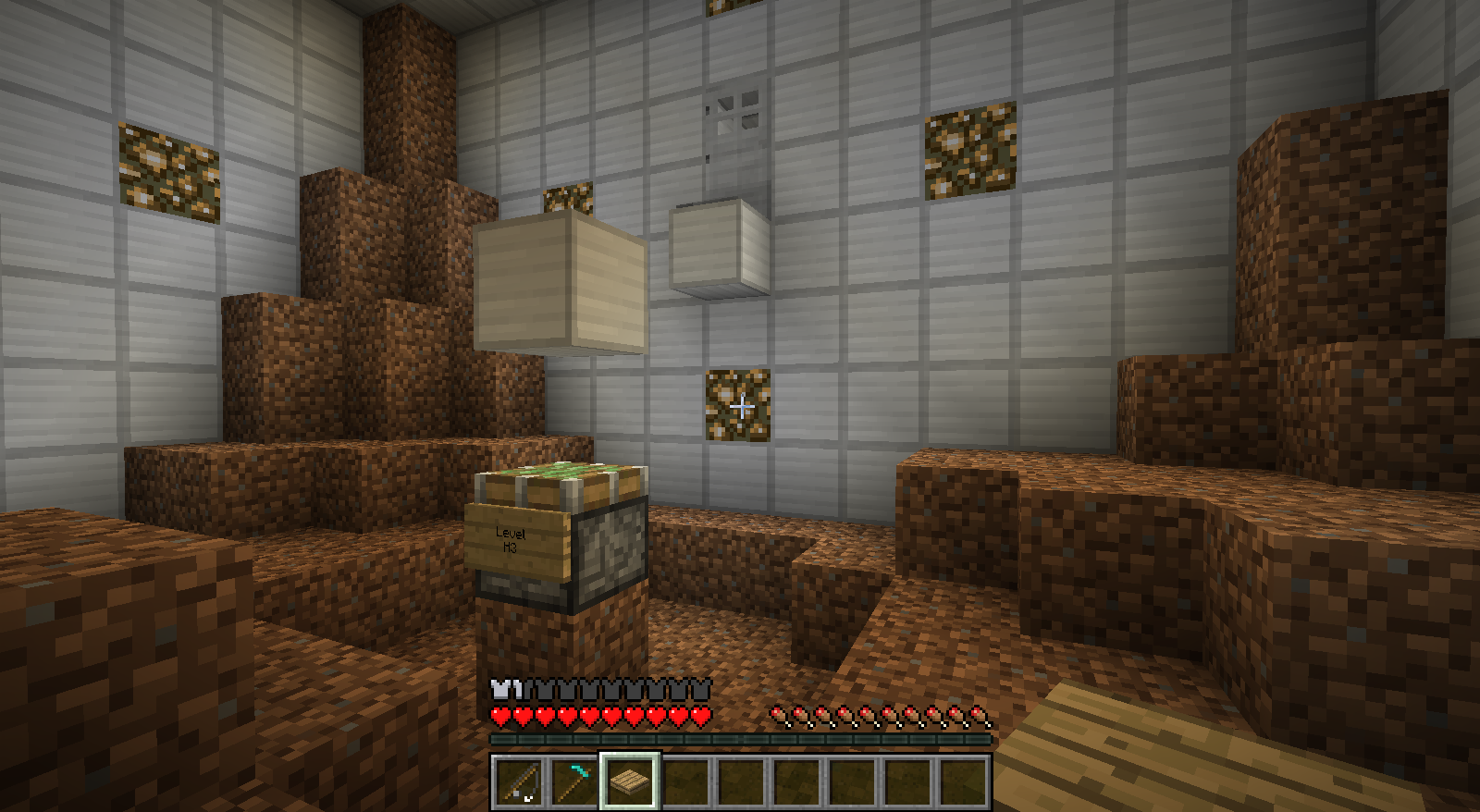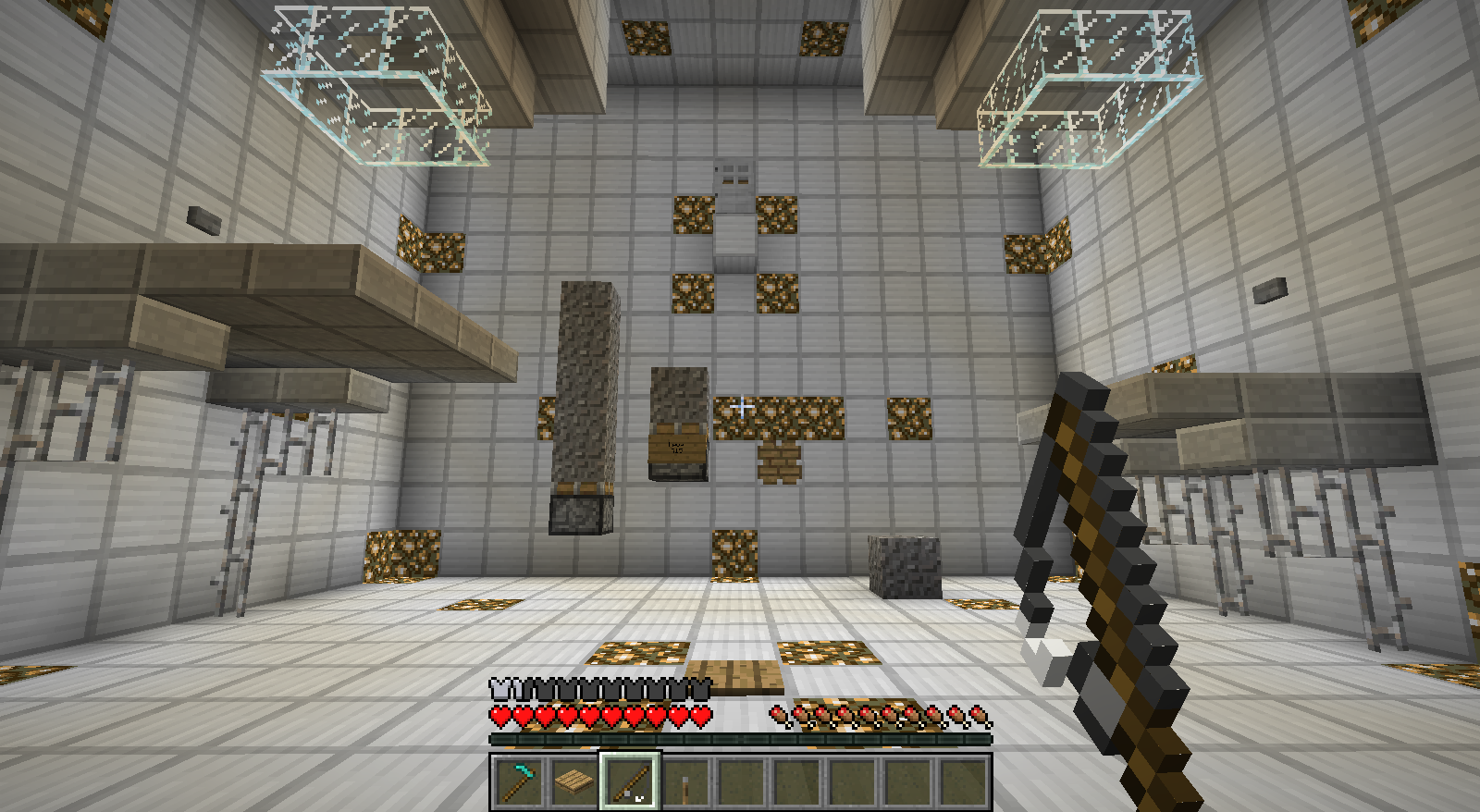 Sample Puzzle Video:
PISTON 1:
http://www.minecraft...760-puz-piston/
Note on the fishing rod (IMPORTANT):

As with the previous installment, the fishing rod is utilized very heavily in this map. Many players had trouble wielding its might, so I'll try to provide a few tips to make it easier to handle and make you hit the pressure plate (nearly) every time!

•Skip the bobber whenever you can.
This makes it behave more "item-like," making it more likely to press plates.
It only works within a certain fall-range (around 7 blocks or so).
When skipping off pistons straight-downward with the pad one block below, jump first, then skip.
You can skip off the sides of blocks too.

•If you need to press a pad with no skip option:
If you can stand on the pad, stay on one corner and throw at the center. The bobber should stick every time. Straight-down will never work. Always have a slight angle.
If you can't stand on the pad, throw from at least 3 blocks away on the same level as the pad.
If neither of these, pick a corner to throw at and keep trying. If you fail three times, move your character, not cursor. This will make targeting more precise. Continue until it works.

•Some bobber-throws are designed to be impossible from certain places. If the throw seems unreasonable, it probably is.
Reevaluate your solution and find a way that allows you to make the throw.

Note on BUD systems (IMPORTANT):
This map uses the BUD quirk of pistons very heavily. The tutorial rooms give a brief overview of the structure of such systems, but you'll be responsible for constructing such designs in some later levels of the map. If you need any resources beyond the tutorial room, Youtube has a wide selection of videos on BUDs. You absolutely must understand how to make them, because a huge amount of the map utilizes them.
Keep in mind that a "block update" for this map consists of a change in a one-block area adjacent to a piston which is set up for a BUD. This can be (and is) blocks moving into or out of this space, or blocks changing within the space (dirt->farmland).
Praise for PISTON 1:
Really really liked this map, one of the best i've played in ages. So many new unique concepts. The half slab button thing is genius. Could become a sweet thing for making secret doors or hiding other items. Overall 10/10 not many maps makers can come up with half the stuff you did. And yours was based along pistons making it even more of a constraint for puzzle making.
Awesome man! This must be featured in the yogscast

But im stuck at level 3.. But i wont give up!

its an akfwrsome map..Congrats..
I can already tell there's some innovative puzzles in this map just from the pictures. I'll try it out, looks really cool.
I like this map, Well done! I have to be a smart people to complete this >w<.

Fantastic'o.
[...] an amazing map. Never seen those puzzles before.
i got a feeling that this is going to be big! congrats on the cool map
hard short and good
[profanity="[profanity="­"]"]ing amazing!!!!!!!!! such an amazing idea and very well executed. [...] diamonds for you
excellent map, puzzle are hard, n i learned a thing or to

thanks for the upload!

EDIT: finished it a little while ago, ik where the challenge rooms are i just dont know how to get to them xD
Last edited by
Slagr
: Feb 14, 2013