Briinkx
Stone Miner
Join Date:

7/11/2011

Posts:

83

Minecraft:

noel100

Xbox:

Briinkx

Member Details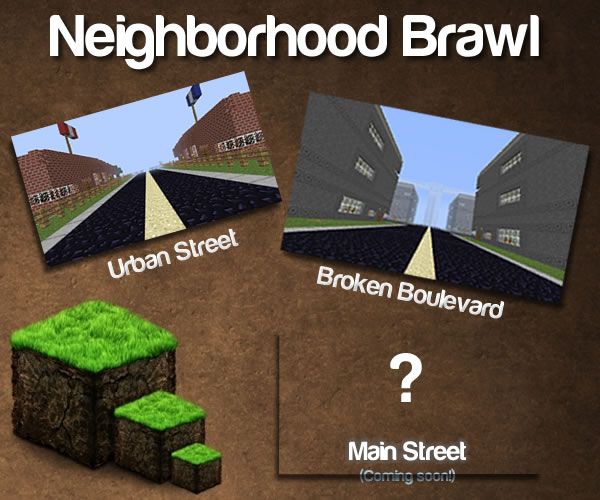 Broken Boulevard is now released! Grab a few friends and try out the new map!
Contents
Post 1:
Welcome to
Neighborhood Brawl
, my first and latest series to be featured on the Minecraft Forums. This series not only has different maps, but varying game modes to boot! There are three standard game types for each map: Free For All (1v1v1v1), Alliance (2v2), and Singled Out (1v1). There will also be a special game type for Main Street called Apocalypse, which can hold up to 24 players!

Each map has a spectator lobby for non-competing or dead players to view the game in. This area nearly encircles the map for maximum viewing pleasure. There is also an Admin/Host Private Section for said host to start the game, and give access to the branched viewing halls. Each map bears it's own size, which means they each need a certain amount of time to explore. After the Admin/Host places players in their starting cells, the Admin/Host will launch the game. This will start the Countdown Timer, and the cells will raise, allowing for the game to begin.
It is up to the players to find creative and innovative ways to win the game. They are to make the best of their supplies and discoveries, and leave no stone unturned. Be careful though, as time flies quicker than you think! This series certainly allows for fun and exciting gameplay, and is exceptionally enjoyable to observe.
*Please note, these maps take time. I just wanted you fellows to experience and enjoy the first maps while I'm finishing the others.

Isn't that awesome?
There are three different maps, and each map has their respective size:
Urban Street - Close quarters combat with a limited time of 15 minutes. Things will get hectic from the very start of the game.
Broken Boulevard - A medium sized map that leaves players with options between long range and close quarter engagements. The game lasts for 30 minutes, so expect the enemy to have a plan. *This map holds a few special easter eggs, including 7 Hidden Chests and names of some of the most awesome Minecrafting YouTubers!
Main Street - This is the largest map in the Neighborhood Brawl series, and lasts for 50 minutes. This map tends to those that like to plan out special tricks and traps to take out the enemy. Explore the map quickly, or you may find yourself with a sword in your back.
There are also four different game modes:
Free For All - A game of wits in which you must be the last man standing.
Alliance - A team based game that pairs of teams of 2. Whichever team is alive in the end wins the match.
Singled Out - In this one on one game, you simply have to focus on one enemy.
Apocalypse - This mode is only playable on the Main Street map. This will pit up to 24 players against each other in a frenzied race to the finish. However, expect some company along the way.
BROKEN BOULEVARD
Alliance
Singled Out
MAIN STREET
Free For All
Alliance
Singled Out
Apocalypse
* Maps with links are finished. If it does NOT have a link, it is currently in progress. Please give me time, but I just wanted you fellows to be able to enjoy the first maps in the meantime.

** Like this map? Check out The Walls by Zealock! Let him know I sent ya!
Last edited by
Briinkx
: Jul 16, 2012