rsmalec
Curse Premium
Portal Expert
Join Date:

2/9/2011

Posts:

5,395

Member Details

LOST CTM
v1.2.5d

A custom "complete the monument" map for Minecraft, based on the Lost TV show
A re-adaptation of the epic adventure map from Prof_Snape and iKonaKona
Inspired by Vechs
Objective
Find the Monument and 18 Dharma Capsules containing special blocks, hidden across the island, in landmarks from the TV show. Place all 18 blocks on the Monument at the Heart of the Island to complete the map
Back story
After the events of the adventure map and TV show, the new caretakers of the island lived an unspecified number of years. When it was time to move on, they devised a new test to find a caretaker worthy of protecting the island's unique powers. This is your test.
Rules
You
CAN
break/place/craft any block or item!
Play on any difficulty (Normal or Hard suggested)
Do not craft the Monument Blocks, they are all accessible in chests
Do not go beyond the ocean boundary (Note: there are 2 encounters off-island, but near to shore)
Do not enter the Nether
Download and Installation
DOWNLOAD LINK:
http://www.mediafire.com/download.php?2sjghghwr2dxu36
(127mb)
Unzip the "Lost CTM" folder into your .minecraft/saves folder
There are no required texture packs, mods, or external notes
Background and Notes
The original map was designed as an adventure by Prof_Snape and iKonaKona in June, 2011
CTM adaptation was performed with permission by rsmalec in July, 2012
Care was taken NOT to change the shape of terrain, landmarks, or structures during adaptation
Some interiors and exteriors had blocks changed for progression (e.g. Iron and diamond blocks were replaced) or visual purposes (e.g. added vines and new wood textures)
All of the original ores were left in the map, mining is encouraged
Chest contents were revised to be minimalistic
Additional inspiration came from Vechs, originator of the CTM concept
rsmalec estimates this to be a low-to-medium difficulty map, with approximately 9 to 18 hours play time
Also included in this .zip file: The original adventure notes from Prof_Snape and iKonaKona
Also included in this .zip file: Two map images that you can use if you are struggling to find landmarks
Also included in this .zip file: A variety of LOST-inspired skins that were distributed with the original adventure map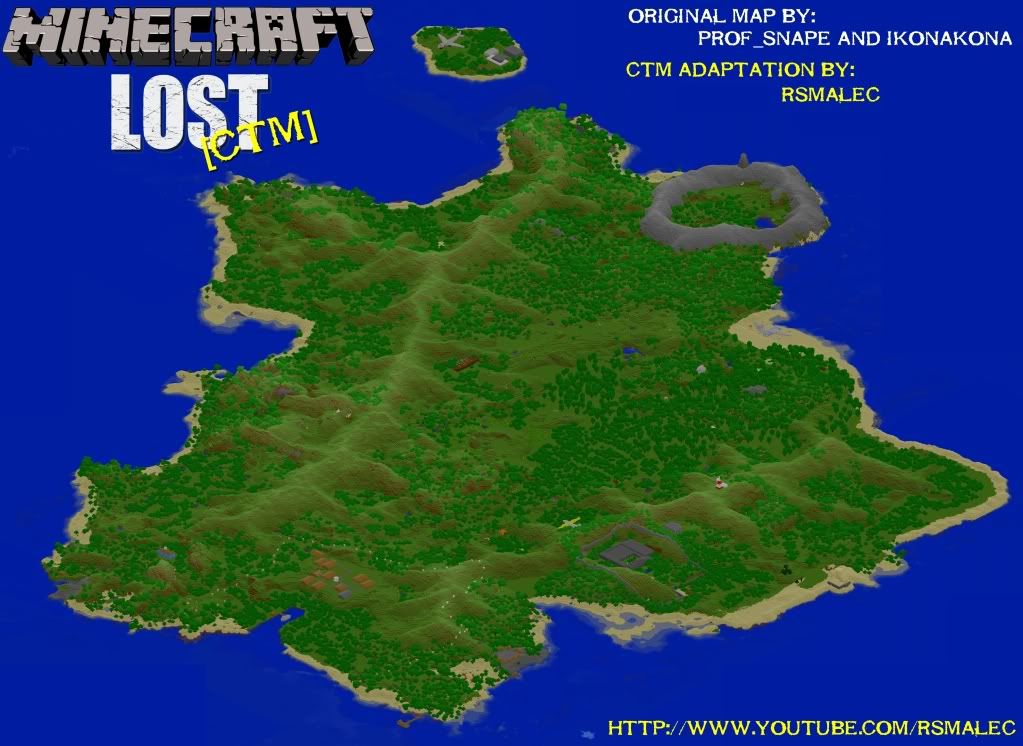 Let's Plays!

Thanks so much for sharing these!
Aurimasak Crontab9 Vladimyr
Changes pending for the 1.3 release
Add visual detail Hurley's VW
Change cockpit from clay to double slabs, to match fuselage
Replace brown mushroom with emerald block
Replace all natural diamond ore with ??
Replace 50% of natural iron ore
Remove 1 diamond from Nikki/Paulo grave
Add 'stand blocks' under beach traps
Special Thanks
Behind the Scenes Video and Teaser Trailers
Teaser 01:
Teaser 02:
Behind the Scenes:
Please leave map feedback and share your LP videos here!
Enjoy!
rsmalec, July 2011
http://www.youtube.com/rsmalec
[represent]
Last edited by
rsmalec
: Sep 1, 2012