rsmalec
Curse Premium
Portal Expert
Join Date:

2/9/2011

Posts:

5,395

Member Details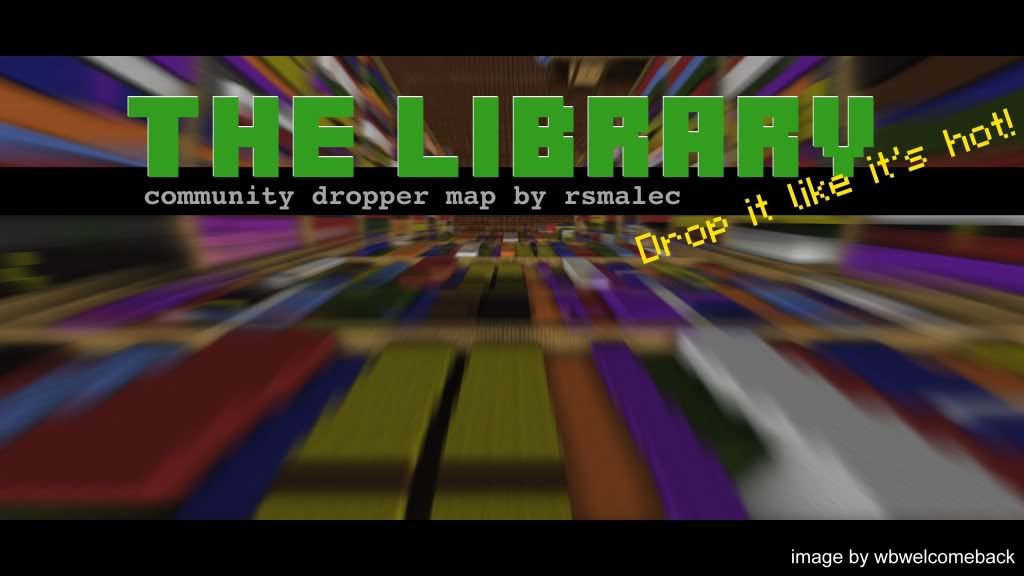 Download the map!
v1.4.5 - http://www.curse.com/worlds/minecraft/the-library-a-community-dropper
Change Log for 1.4.5
allowCommands = true (you can change your game type to creative if you are having issues surviving drops)
commandBlockOutput = false
doMobSpawning = false (you can play on ANY difficulty you like)
keepInventory = true (your potions will stay with you when you die)
mobGriefing = false (just in case!)
Replaced minecart elevators and nether portals with teleportation command blocks
Added potion machines at the top of each drop
Added spawn point reset at the top of each drop
Added levers at the top of each block that can be used to hold open the dropper mechanism if you are experiencing lag.
Overview
45 challengers submitted 1 "drop" as part of my challenge
4 additional drops were created by myself and the Map Makers After Hours Podcast Stream (MMAHPS)
All 49 drops were sequenced by me, into a large collaboration map
Bigre contributed a special drop to make a total of 50!
CREATIVE MODE ALERT!
There are 2-3 drops that included portal blocks as decoration or fall-through special effects. As of Minecraft 1.4, if you are in creative mode and you touch a portal block, you will be instantly teleported to the Nether (no chance to avoid).
If you accidentally enter the nether before signs tell you to go through a portal, use the /kill command to get back to your last save point.
Playthru Videos
Original contest announcement
Scoring
There were a total of 45 valid entries that received scoring in this challenge. The total score for each entry was a maximum of 15 points.

The winning drop scored a total of 12 points; Kinglau3
The second place drop scored a total of 11 points; Reecer6
Seven drops were tied for third place at 10 points.

Again, THANK YOU to everyone who entered. Regardles of numeric scoring, every drop was AMAZING and tells a story about the author!
Check out the YouTube channels of some of the competitors! (in alphabetical order)
================================
Inspiration for this challenge came from:
[represent]
Last edited by
rsmalec
: Dec 21, 2013