Stormesswan
Iron Miner
Join Date:

8/20/2011

Posts:

251

Member Details
[b]
This is the old map thread - please visit Current Map Page for the new map!
[/b]

[b]
[color=#000000]♠ Kerblah's TWISTED LOGIC Series ♠[/color]
[/b]
Ever get tired of the same minecraft custom maps? Are you looking for something different?
Then you're in the right place! After playing numerous custom maps and watching the direction of forum activity, I decided that I wanted to create something different - maps that would present a challenge to any minecraft skill level in different ways. Whether it be traversing across vast landscapes, conserving scarce resources, or fighting mobs, map elements will be difficult and require careful thinking.
The main objective of my maps is to find the flower field, along with completing listed and hidden challenges. Although my maps have a CTM element, there is much more to discover and experience, such as secrets and puzzles, that cannot be fully explained in this introduction.
[b]If you like exploring unique environments, thinking critically, and being fully pulled into minecraft, you will really enjoy these maps.[/b] There is so much to do in these maps and things to discover. They were a pleasure to make and test, and I'm sure that you will enjoy the experience!
[b]
Kerblah's TWISTED LOGIC Rules
[/b]
1. Play on easy, normal, or hard. Never on peaceful.
2. Using Mods or x-ray texture packs to gain an advantage is cheating. Mods that don't drastically change gameplay are ok
3. Play on survival mode, not creative.
Other than that, anything is allowed! Do whatever you can to stay alive and complete the challenges! The maps are easier with more people, so it is multiplayer accessible.
[b]Recommendations:[/b]
[spoiler] The TWISTED LOGIC SERIES is intended to be played on far rendering and moody lighting. However, any other setting would work as well but I recommend playing on at least normal rendering to avoid fog. In terms of Minecraft version, anything above 1.8.1 will work (although to complete all the challenges you will need 1.9.3+). But don't let that stop you from playing the maps before the game is released
[/spoiler]
[b]How to download and install:[/b]
[spoiler]Windows
1) Click on the the download link above. It will take you to a mediafire page, and click Start Download.
2) Unzip (or extract) the folder using WinRar or 7zip, or any type of programme that can do that.
3) Press start, and type in the search box %appdata%. Then click On Roaming.
XP - Click Run, and then type in %appdata%. Then click on Roaming.
4) Go into the folder .minecraft
5) Go into Saves.
6) Copy and paste the unzipped folder from where it was into the saves folder!
7) Play!
Mac
1) Click on the download link above. It will take you to a mediafire page, and click Start Download.
2) Your download will be on .zip format. Double click on the .zip to automatically change it into a zip folder.
3) Go into Finder and go into your User (in the sidebar, your name next to a house). Go into Library; Application Support; minecraft; saves.
3b) If updated to LION, click on Go at the top on your desktop and then go down to 'Go to folder'. Type out this code to find the Minecraft folder. ~/Library/Application Support/minecraft
4) Paste your world into the saves.
5) Play![/spoiler]
[b]
Frequently Asked Questions:
[/b]
[spoiler][b]Q: What does the tag [HYB] mean exactly?[/b]
[b]A:[/b] It is short for hybrid! Although my maps may look like they are CTM based, they incorporate plenty of [SURV], [ADV], and [PUZ] elements. Plus you may find some features and secrets of your own if you give it a try...
[b]Q: I'm having trouble downloading the map. What should I do?[/b]
[b]A:[/b] If you haven't already, check the section above. It lists the steps from both PC and mac. If those steps don't seem to help, send me a pm and I would be glad to help!
[b]Q: Hey, I want to play your maps but I haven't updated my minecraft version to 1.9.3. Am I still able to play them in 1.8.1?[/b]
[b]A:[/b] Yes! Both versions will work on these maps. However, if you want to complete all of the challenges (mostly find all 11 music discs), I recommend updating minecraft to 1.9.3. This concern will be erased in less than a month, when the full version of the game is released.
[b]Q: I found an empty chest on one of your maps! Are you trying to pull a fast one on me?
[b][b]A:[/b] No no, haha - The "empty" chest you may have found are filled with the new music discs and unless you updated to 1.9.3+, the chests will appear as empty.
More to come! [/spoiler]
[b]
Current List of Maps:
[/b]
[b]
TWISTED LOGIC #01 - Moon
Difficulty: Normal, Open-World
TWISTED LOGIC #02 - The Bridge
Difficulty: Hard, Open-World[/b]
[b]
TWISTED LOGIC #01 - Moon [2,100+ DLs]
[/b]
Current Version: 1.1
Download:
[color=#0000FF]Download Moon v1.1[/color]
Trailer:
Moon is a dark, spacious map that is unlike any map you've ever played. Moon will push you to unbelievable heights traversing from planet to planet. And don't worry about finishing too early, there's much more to the map than just the first universe...
[b]Click the Spoiler Button for pictures, videos, reviews, and more![/b]
[spoiler][b]
Pictures:
[/b]
[b]
Version History:
[/b]
[spoiler]1.0b to 1.1b: fixed two mistakes by the bridge
1.1b to 1.1b: added items to help make an initial temporary shelter
1.1b to 1.2b: added two caution signs and increased size of bridge room
1.2b to 1.3b: fixed one chest location and balanced mob placements. Added three signs
1.3b to 1.4b: added a fun surprise to those who tried to outsmart the map =D, fixed re-spawn
1.4b to 1.5b: fix two minor gameplay bugs
___________________________________________________________________________________
1.5b to 1.0: Redesigned several areas, balanced gameplay further
1.0 to 1.1: Added challenge signs and path line[/spoiler]
[b]
Listed Challenges:
[/b]
[spoiler]1. Find the Moon
2. Find the note room and place all 11 music discs
3. Craft an Iron, Gold, and Diamond Block
4. Build a space station with at least 4 windows
5. Find a way into the core of the lava star
6. Bake a cake =D
7. Plant a forest on the surface of the halo
8. Craft a snow golem
9. Find the hidden soul sand
10. Find the flower field
[b]
Bonus Challenges:
[/b]
[spoiler]- You will need to find them![/spoiler]
[b]
Mastery Challenges:
[/b]
1. Find the cactus
2. Turn the lava star into a water star[/spoiler]
[b]
Videos:
[/b]
[spoiler]Trailer
Gameplay [JustaFleshW0und]
Gameplay 1 [Kerblah]
Gameplay 2 [Kerblah]
[/spoiler]
[b]
Reviews!
[/b]
[spoiler][color=#008000]
[color=#000000]SlakternSIAM[/color] - 10/10
Your map is a perfect survival map. It's hard, challenging and fun. It's something different from all the other survival maps, which usually is an island. After exploring a few planets, harvesting lot's of items, I managed to get shot by a skeleton which sent me down to die. When I respawned I was sad it had come to an end, but because of this epic map, I dug away the netherrock and found my way to freedom! There is really nothing bad to say about this map.
You have truly invested many hours in making this! Those hours are very, very well spent. You have created a map with such detail and precision it's insane. This map never got boring after 2h ish that I spent on it, and I'm for sure going to play this a lot more. You have taken inspiration from other maps, and made something legendary.
Altogether you have created something legendary, which is a MUST play for everyone that are into survival maps! This is way more epic than the skyblock survial, no kidding!
I award your map «Moon» with a rating of 10/10!
Please let me know if you release any other maps![/color]
[color=#008000]
[color=#000000]_Oxymoron_[/color] - 9
This map was very challenging and took a very long time to review because i wanted to complete as much of it as i can so i can give an accurate review. This map was very hard very challenging(like i said before) but also very fun. i would even go as far as saying this could compete with vechs on the super hostile series. i enjoyed every minute playing it even when i would die by stupid skeletons...there was so much to do in this map and because of that it kept me very entertained. Kerblahhh obviously put a lot of time and effort into making this map and it was well worth it. i finished this map with completing 9 of the main challenges and a few of the bonus challenges and 1 mastery challenge. i gave this map a 9 and here is why
Survival - 9 perfect map for survival. it was challenging, fun, keeps you busy, and gives you the opportunity to do whatever you want in this dark universe.
challenges - 8 this map gives you 13 challenges to do from the forum and even more as bonus challenges in the map, which i think is a great concept. also all challenges are due-able, and not hard to do so you dont have to break your back to do a certain challenge.
difficulty - 10 even at the very beginning where you go to your first tree there are skeleton spawners just waiting to you to arrive. and it just gets harder from there. loved the fact it was not to easy to survive.
traps - 9 very good and well executed traps. some i didn't expect and some i should have expected but stepped into it anyways.
[color=#000000]
Relinquo_Spes
- 93%[/color]
Opening Thought:
..... ..... ..... .... *Picks jaw up off floor* ... It looks pretty.
Again this is a very nice looking game that will provide alot of fun. HOWEVER it is, at its heart, a very hard map and it is very focused on it's CTM nature so if you don't like that sort of thing then this probably won't be for you.[/color]
[color=#000000]
Eshan
- 6/5!!!!!
[/color]
whats good: well you just broke the scores! this is one of the most amazing maps ever thanks thanks thanks!!! this may even be better than my map
the detail and building is amazing. the whole feel of the map, exploring planets, looking for secrets and just that!!! i only played a bit because i have alot to do but from what i played this is a map ill happily try over and over again!
what needs to be improved: nothing, a perfect map (the skeletons are annoying tho)[/color][/spoiler][/spoiler]
TWISTED LOGIC #02 - The Bridge [1,500+ DLs]
Current Version: 1.0
Download:
Download The Bridge v1.1
Trailer:
The Bridge is a huge, multiple world environment filled with challenges, monsters, and secrets. Although there is complete freedom to explore the map and its terrain, things may not be as they initially appear
[b]
Pictures:
[/b]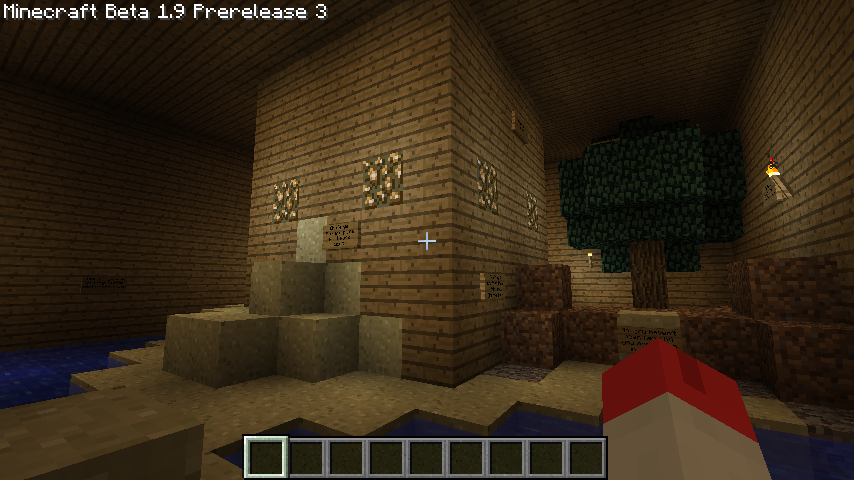 Version History
1.0b to 1.1b: Fixed sign and removed air pocket mob spawn
1.1b to 1.2b: Mass Conversion of Iron Block to Mossy to give ironore more value and make map harder.
1.2b/1.21b to 1.22b: Fixed the redstone monstrosity that resulted from editing between multiple versions.
1.22b to 1.3b: 50 fixes, most minor: Changes to balance gameplay and mood!
[/spoiler]