Rahz
Redstone Miner
Join Date:

3/23/2011

Posts:

628

Member Details


:Indigo:-------- ASTEROID 5251: A MEDIEVAL SPACE EPIC --------



"It's freaking fantastic. Has to be the best adventure map I've ever seen. EVER. The place is massive! The storyline is captivating! And it's insanely beautiful!" - Kyle_Crafty
...

Trailer provided by
TheATgames
Asteroid 5251 is an adventure/survival/quest/puzzle/story map. You must use your mining and crafting skills as well as scavenge from chests. As you survive through epic settings, the tale unfolds via a browser based storyline. You must use written as well as visual clues to make your way through the map. Some quests and puzzles will confront your path. Some are optional.
Asteroid 5251 uses a unique gameplay someone recently called surventure mode. No mods or special textures are necessary. The player is free to mine the map for resources, build things, etc. but must refrain from breaking "man-made" constructs, or otherwise placing or breaking blocks to access new areas. With the exception of the beginning area, no blocks need to be placed or broken to progress through to the end of the map.
--
For Minecraft 1.73
No mods needed or suggested.
--
For Minecraft 1.81 and 1.0.0
SUGGESTED MOD: Void Fog Remover:
http://dl.dropbox.com/u/34534935/other.html
Play this map as it was ment to be played, without void fog. Using this mod will clear up some of the navigation issues players have experienced.
SUGGESTED MOD (1.81 only): Endermen Don't Pick Up Blocks Mod:
http://www.minecraftforum.net/topic/631622-19pre5181-endermen-dont-pick-up-blocks-mod-singleplayer-multiplayer/
People have had issues in 1.8 with endermen removing parts of the rail system, use this mod to fix that.
--
Don't want to play the adventure, but would like to try the puzzles? Try the
Puzzles of Asteroid 5251
--
ASTEROID 5251 MAP DOWNLOAD:
http://www.mediafire.com/?zw4apz2cng39x5g
(Version 4 - fixes a navigation issue on the final minecart ride)
(Version 3 - fixes problems with two puzzles)
(Version 2 - fixes the problem with mobs on the minecart tracks)
This download contains a readme.txt file with instructions on how to install and use the map. Game rules and storylines can be accessed using the Asteroid 5251.htm file. The map was designed for single-player but would be very appropriate for multi-play as well. It is highly suggest that the map be played at least on easy difficulty.
If you enjoyed this map, any donations for it's development are appreciated



------ How it begins ------



For over 50 years the Taracon corporation has followed and harvested ore from the Mezzanine meteor field. Your followed your fathers line of work, identifying the richest asteroids and dragging them out of the field for safe harvest. Even with advanced guidance systems, flying an XD23-tug into the field is dangerous work, but it makes for an early retirement for those who survive. You were on a routine flight when you noticed a strange signal comming from an asteroid with the ID 5251A-32. Impossible you thought. It seemed to be a distress signal, but nothing could live in this field, and what's more it had to have a massive power source. Signals dont travel well in the field and this signal was almost 3 clips in.
Your first mistake was deciding to check it out. With no means of communication in the field, it's best to stay within the charted lane in case something malfunctions. They can find you then. Your second mistake was to spend a few to many moments gawking at the sheer size of 5251, and failing to engage the auto-nav. When a ship is hit, there usually aren't any survivors. When the field gets stirred up, navigation becomes a nightmare. Lucky for you, the crunching sound of an asteroid impact lurched the ship straight towards 5251. Of course, you thought this was the end, but it turns out it was the beginning of an adventure.
...
...
Caverns within the asteroid.
Signs of life.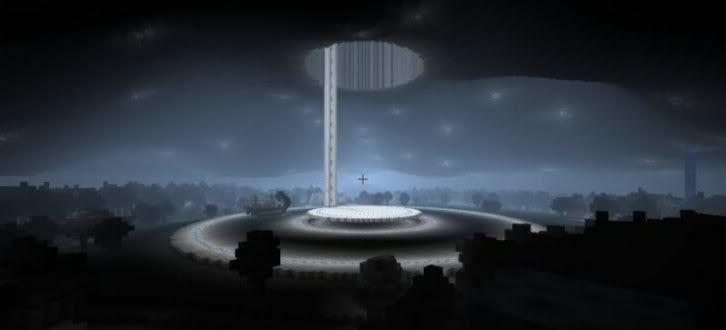 Arachnophobia?
Pipes?
Playthroughs!



---------------------



Thanks to the programmers of the following softwares:
Minecraft
MCedit
World Painter
NBtoolkit
MCdungeon
Thanks to the beta testers:
----
tashage
The guys from Creepers Den: montegro, Kyle_Crafty, Angrydevil216, and orga145
Thanks to CreepSheep for map ideas.



---------------------



Last edited by
Rahz
: Jan 20, 2012