rsmalec
Curse Premium
Portal Expert
Join Date:

2/9/2011

Posts:

5,395

Member Details
Mars Mission is now updated for Minecraft 1.5.1!!!
1.5.1 Changelog:
mobSpawning false = Play on ANY difficulty!!
keepInventory option at spawn (off by default)
Eternal night
Beds at checkpoints replaced with /spawnpoint command blocks
Ender Chests added at checkpoints
Introduced spawners on Mars
Updates some textures
Minor easter eggs added
Updated final room of the super secret challenge
Slight extension to the final dungeon
Replaced the final effect to eliminate lag (thanks to Faume)
Other, miscellaneous fixes
Mars Mission v1.5.1
A custom adventure map, by rsmalec
Youtube channel:
http://www.youtube.com/rsmalec
Follow me on Twitter: @rsmalec
WATCH THE TRAILER! (contains mild spoilers)

News archive
Spotlight Playthrough by The Shaft Podcast!
Easter Egg Mini Challenge!
Can you find all 74 "shout outs" to Minecraft community members?
Abbeyaltman
Albarel
Astragali
Barthuc
Bebopvox
Belboz
BlameTheController
Blitzscrank
CaptainSparklez
Carl
CDOP
Chick
ChimenySwift
ChronoBasher
CodeWarrior
Copeland
Daniel
DrZhark
ExtraFun
extremel
Fellonius
Fullerton
GizmoDude
Honeydew
HuskyMudKipz
Icepak00
iHasCupQuake
iKonaKona
IronManRD
Jeb
KodaichiZero
Krimnox
Leotekk
Lizzyhill
Lukeys
marglyph
MineKraphte
Minotaur93
Misconduct
Niea
Notch
Paiged6
PiperBunny
Pixelbits
PMin00
Prof_Snape
Puppery83
Risugami
Robertx32
rsmalec
SeaNanners
shroom_girl
Silvarana
Simo_415
Smenx
ssankoo
The_Forgotten
Utenan
WelshPixie
Wilson
Wyldwulf
Xephos
xxSlyFoxHoundxx
New in 1.01 - Kalchik
New in 1.01 - SVM
New in 1.01 - SteveyG101
New in 1.01 - DadsRFunny
New in 1.01 - Mac123
New in 1.9 - Jigarbov
Renamed in 1.9 - Criswell
New in 1.5.1 - Thadiwyn
New in 1.5.1 - jGazMom
New in 1.5.1 - Goodey
New in 1.5.1 - Faume
If you make a video, please consider adding a link to this forum post and then coming back here and add a link to your channel!
Background
The Earth is overpopulated, and natural resources are scarce. The Moon Colonies have been ravaged by war. Humanity looks to the stars as our last hope. YOU have been selected to pilot the first manned mission to the Red Planet. You will touch down in Victoria Crater, where an automated rover has detected a new form of power emanating from strange GREEN CRYSTALS.
The fate of the Earth depends on your ability to establish a base, harvest GREEN CRYSTALS, and to begin terraforming the surface before colonists arrive.
GOOD LUCK, Clone!
Features
Unique SciFi theme, intricately detailed environment
Custom Texture Pack (required)
2 Custom Skins
Unique approach to over 70 NPCs, each with roles and 'attitudes' toward the player
100% in-game signs, no external notes files
Main storyline takes you to the Moon and Mars
~365,000 square block playable area
6 major encounters, 4 minor encounters for extra loot
Green Power Crystals (Redstone Dust) are your score
Checkpoints with storage, fast transport, and/or sound effects
Download the map from Curse
!
PLEASE reply here with feedback and include this link in any youtube videos.
http://www.minecraftforum.net/topic/514791-marsmission
Rules and Guidelines
Use the MARS MISSION texture pack, included with the map download!! The game will be unrecognizable without it - NO PATCHER is needed.
Play on any difficulty!
DO NOT leave the map boundaries - there is no reason to explore beyond the artificial walls
PORTALS are "Out of Character" entrances to major encounters (think 'dungeons' or 'instances' in MMOs).
You CAN CRAFT, but do not craft; buttons, pressure plates, levers, or redstone torches.
You CAN recharge your laser pistol (bow) with energy bolts (arrows) looted from mobs and laser turrets (dispensers).
DO NOT BREAK or PLACE blocks, except as noted below.
GREEN CRYSTAL ORE (redstone ore) can be MINED for GREEN CRYSTALS (redstone).
You can ONLY PLACE flares/keys (redstone torches) on top of fenceposts. DO NOT BREAK, once placed.
You can BREAK and PLACE normal torches.
Alien SPAWNERS can be broken.
STANDING SIGNS are dialogue or "Out of Character" notes. They can be broken.
WALL SIGNS are computer screens and should not be broken.
Try not to break paintings from the walls (there are a lot of them).
DO NOT PLACE BEDS in the Nether!
GREEN CRYSTALS (redstone) will be your score (I believe you can get 200 - 215 depending on how many drop from mining redstone ore).
Screenshots
(expand spoiler tag)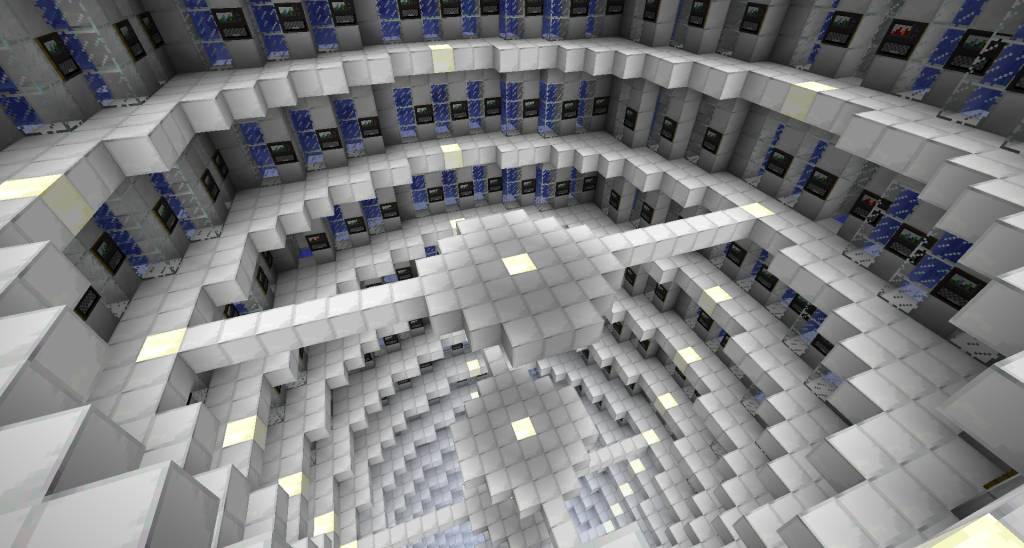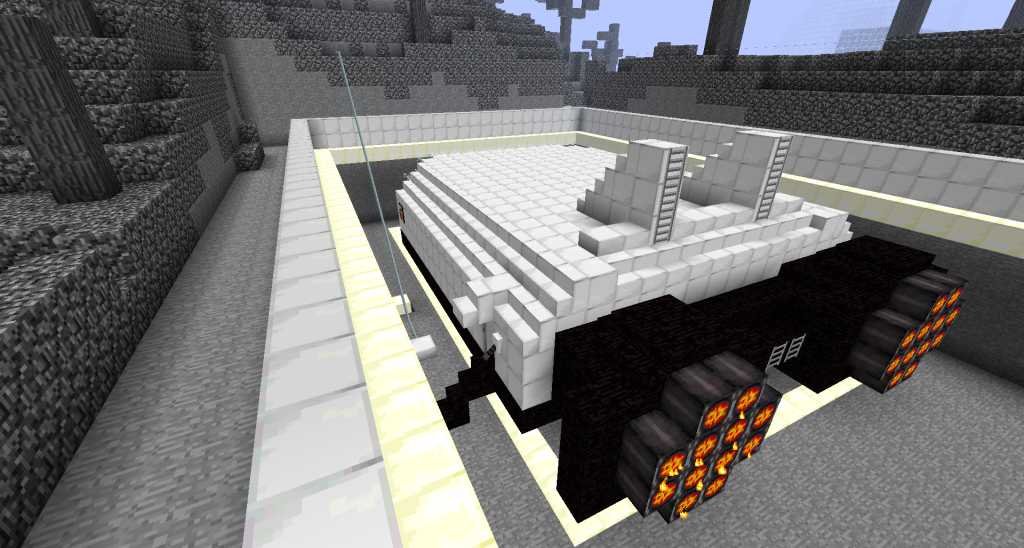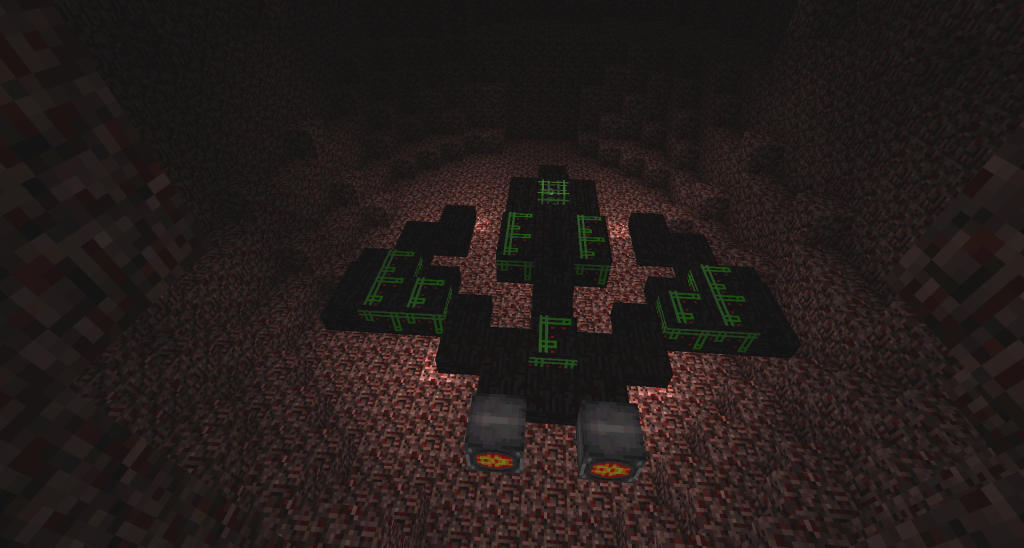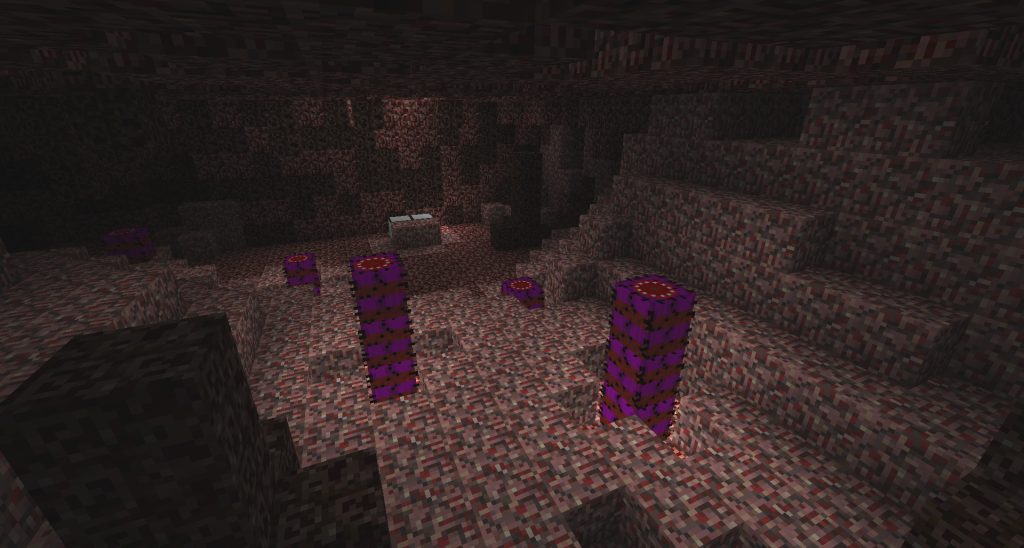 Credits
Special thanks to LUKEYS for an awesome idea regarding paintings.
Special thanks to ALPHA and BETA testers: CDOP, Fellonius The Wizard, Lukeys, Prof_Snape, The_Forgotten, Criswell
Single Player Commands
by Simo_45
MCEdit
by David Vierra
The following skins were modified;
Space Man Dave by acdc
Sectoid by nick dablin
Xenomorph by cerberus10
Images were borrowed/modified (with permission) from the following 16x texture packs;
This map is released under Creative Commons license: Attribution CC BY
http://creativecommo...icenses/by/3.0/
Some images from the texture pack were re-used/edited with permission from those authors.
-= If you enjoy my maps, tips, and ratings (click image in my signature); please consider donating so that I can keep improving. Donators will get advance copies of ALL my future maps, skins, texture packs, and mods.=-
[represent]
Last edited by
rsmalec
: Dec 21, 2013