bax399
Carpenter
Join Date:

11/5/2010

Posts:

46

Member Details
I got a bit bored yesterday and made this. A basic zombie survival for mainly 2-4 players. The redstone protects the zombie spawners just under the surface. There are small sand,clay and dirt deposits littered around the area. Made for playing on easy and you can use anything in the chest. The glowing redstone makes it very creepy. Water is only obtainable underground, so making a sucessful farm will be hard :Skeleton:.
Challenges:
Make a 2 story house with at least 10 glass
Make diamond,iron and gold blocks
Collect all the clay
Make a farm with atleast 8 growing wheat with cacti,mushrooms and reeds all growing also
Connect all the Safe areas (sand orbs) with zombie-free passages
Make a Hell gate
Tips:
There are only 2 blocks of grass inside the area when you first start so be VERY careful with dirt and grass
All of the dirt underground is gone so don't bother looking
When you first start off use the cobble to make a small wall around the sand
Use the Bone to create Bone meal and then spread the grass a bit to make some long grass and start a farm
Build above the redstone with floating houses ect
Rules:
No getting out of the bedrock walls
Play on at least easy or higher
No hacks or fly mods ect.
Screenies: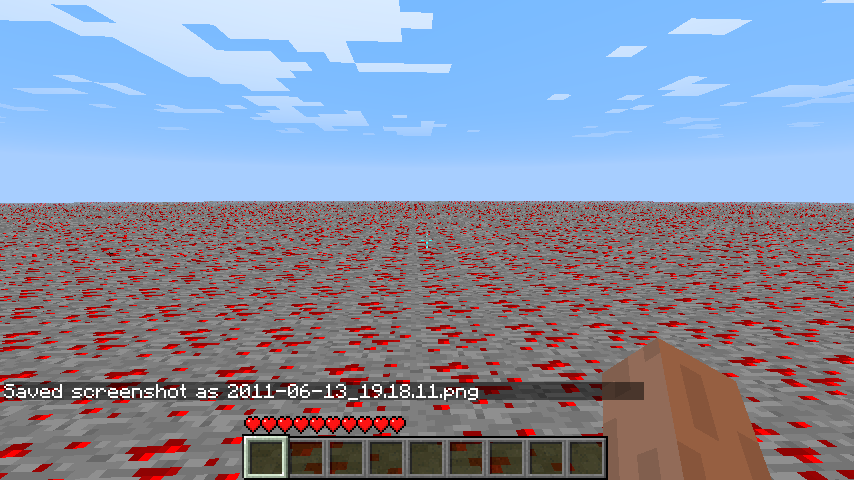 Download:
http://www.mediafire.com/?jwf5qnhrhhd1m5z
Have fun!
P.S get that tree offa the grass before the logs destory it!