quadrupedal_pink_equine
Lapis Lazuli Collector
Join Date:

10/6/2012

Posts:

963

Member Details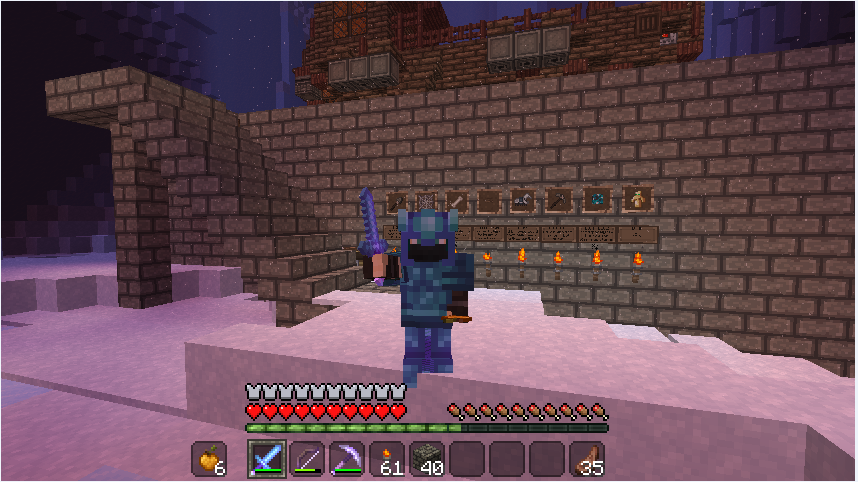 At last! With a grand total of 15 deaths, Iceolation is conquered!
One of the first things I did was see the hard difficulty and go "pssh, not gonna happen, I do super hostiles on Easy because I'm a filthy casual- aaaand you swapped it right back to hard. There's a difficulty lock, so going that extra mile just to troll is appreciated.
definitely a slow start and between dungeons, no nat spawns can make it feel very empty.
the diamonds were so well hidden they felt like an easter egg beneath that waterfall, I only bumped into them as I was pouring over the map trying to find the grey wool. Surprisingly unguarded.
A lot didn't seem to go anywhere. She kept talking about 50 KC so I thought something would happen, the more temperate Valgarde was brought up, she talked about "summoning potions and arrows", (edit: watched DevCom which explained most of it) and something about The Dark Lord? Though that book did lead me to bumping into the secret dungeon with the sword in it, which was definitely rough with those punch skeletons seemingly spawning everywhere ignoring light levels.
I liked how the feesh mines and zombies seemed impossible with my wimpy leather and stone equipment until I poked around elsewhere (the other direction) and found blast resistance and other supplies. 5 minecart chests of supplies and an iron armor skeleton grinder later, I came back with a vengeance!
That grey wool was VERY well hidden. I guess it was good that I didn't find it until the very end, even after the bonus dungeon, because it was tough as balls. o_O More of the bonus dungeon's completely hidden, light-immune punch skeleton spawners whittled me down as I tried to keep myself from freezing to death from the frequent water segments. I finally see on the horizon the grey wool box, blinded by joy I charge it, only to get mowed down by vexes with sharpness swords from the evokers. By some miracle I made it back the way I came without getting lost again, got my stuff, and tunneled around the evokers.
I noticed the removal of elements of Inferno Mines such as most of the OP minecrafter-themed items and the random loot chests. In all honesty that just made me massively over-hoard and almost never use the OP rewards out of fear of losing them, that "too good to use" trope.
Overall a very different Super Hostile experience due to the spawner-only mobs and temperature mechanic, but don't make the same mistake I did of underestimating it!