Telerus
Lapis Lazuli Collector
Join Date:

4/27/2011

Posts:

1,061

Member Details
Scions of Fate
Welcome to Scions of Fate: A mature vanilla minecraft server.
Have you ever spent hours on these forums searching for a way to play with adults your own age (18+) ?
Well than we're the right place for you! Scions of Fate has been established, up and running for over two months! This says a lot for a server, as most servers posted are up for a few days maybe weeks, however this one has been up and running with the most creative adults I've ever seen for over 2 months!
The ideology of this server is to provide a comfortable zone for adults to play minecraft on a vanilla style server with minimal plugins that do not interfere or add onto the original game created by notch. This server is up and coming and I project this server to be one of thee premier vanilla minecraft servers, exclusively for adults only. Very exciting stuff indeed!
The fallowing are a few screen shots of some of the greatest creations we have on our server!
This is one of the greatest sand castle creations, built by a player on our server named ROXunreal.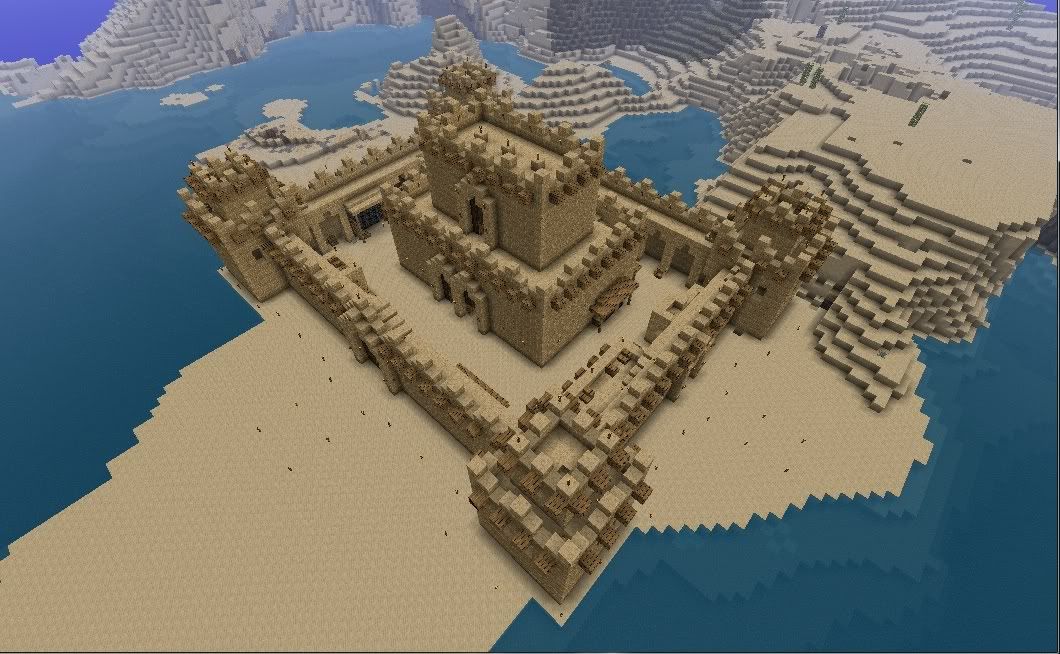 A snowball fight between some of the players on the server =)!!
An up and coming pyramid!!
I have left out the best for those who wish to join the server!
Great concept, great creations, great players, How do I join ? Easy!
Please fill out the application below here, or either on our forum located at
http://scionsoffate.freeforums.org
! I will review the applications as soon as possible and get back to everyone who has applied.
----------------
Application
IGN:
Age:
Reason to join:
Ever been banned ( this will not disqualify you)
What can you bring to the server, if accepted?
Any screen shots you have of your own private creations or multiplayer creations:
----------------
FAQ
---------
(Q)This server has been up for 2 months but a new server thread, what's this all about?
(A)I've decided to re-create our forum thread, because the old was getting crowded had something near 800 replies and 8000 views.
(Q)Is this server really vanilla or does it have a ton of plugins and does the admin spawn a bunch of items or play favorites?
(A)This server is indeed vanilla, it does have an anti-creeper plugin that doesn't damage blocks, but does damage the player, We do this because it keeps the land clean, also one other plugin that affects players is Lockette, this allows players to keep chests and doors locked, private and secure. There are no favorites on this server, every single player that typically joins and plays is my favorite, I treat everyone with respect and gratitude this is a mature server after all.
(Q) What does a mature vanilla server mean to you?
(A) A mature vanilla server is a server based on the original concepts and designs of notch, with out the addition of mods such as aether, every player must survive on their own or in a team, while completing any task they can imagine there are no restrictions outside of courtesy boundaries, not to affect other players creations!
Mature also means, 18 year or older players only, which allows for a much more sophisticated playing environment and much more adult talk with out worry about younger players reading what adults talk about this keeps children from reading or learning something their parents do not want them to see or learn.
(Q) What version is this server.
(A) This server is 1.8.1 and will continue to update as long as the updates come in.
(Q) I'm really liking this server, and I would like to contribute a donation to keep it up and running, but how can I do this, and are there any special perks for donating?
(A)Thank you for taking interest in keeping this server up and running, any donations are always appreciated, You can email me at
[email protected]
there I can send you a link straight to a donation on my paypal at which time you can pick a few options to donate, I keep all money on the paypal for 30 days, this will stop any fraud and or cancellations which could cost me in the end, As far as perks, there are currently no perks as this is a vanilla server, though I've been thinking for some time, as a monthly gift package to those who do donate, It will not be something that can imbalance the game where other players feel it's unfair, but ideas are being thrown around and are in the works to provide something, other than helping keep the server up and running.
(Q) A lot of servers are hosted at home, and some on professional servers, which is it for this server?
(A) We use
http://www.minecraftserver.net
This company has an outstanding performance record, it has never been down, it updated to pre 1.8 release nearly instantly and was even up at 4 am when the official, and maintains it's rating as an officially supported minecraft server hosting.
Thank you for taking time to read this post, I hope you're interested in joining and I look forward to seeing you in game.