ccampincarl

Gold Miner
Join Date:

1/19/2011

Posts:

366

Member Details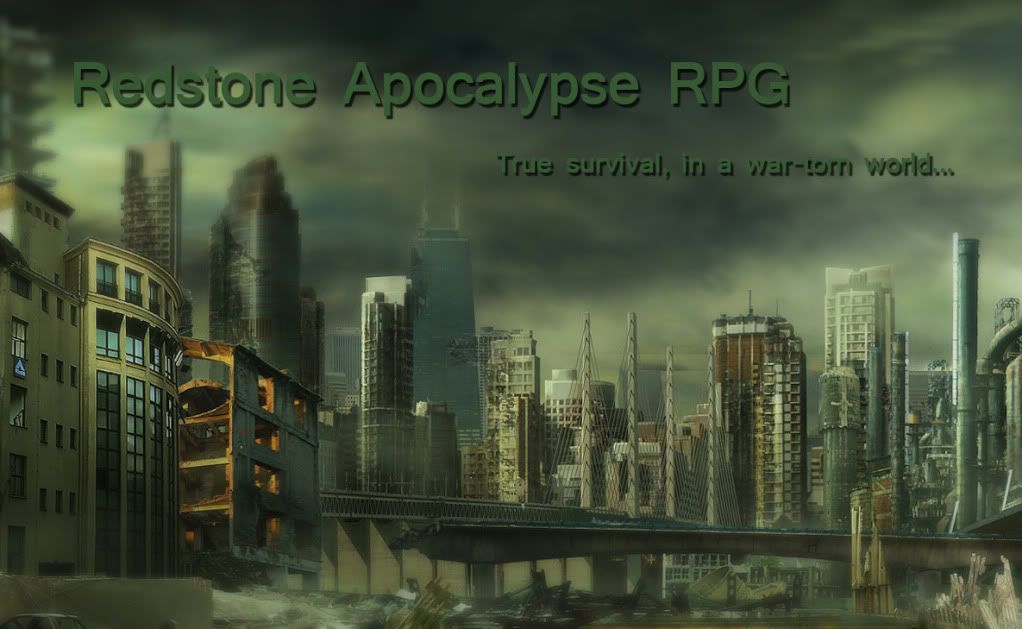 Picture by GROMkill
(Story by Xeloras)
`Nobody expected the first Redstone bomb, it came from underground, and shook the server to its core. It was the discovery that changed everything, redstone was no longer limited to simple tricks, allowing for simple musical jigs or letting doors open and close. It started to develop into an almost mystic item in the world of Minecraft. The bomb showed its potential was higher then originally intended, and because of this, there was almost a sort of cult following to redstone, figures would gather together and begin building with it, massive monoliths would be constructed underground, spiralling trails of sparkling red dust would lead in unorthodox methods through seemingly endless chambers dug in the cities below. What looked like buildings were just pieces in a redstone circut board, which would span miles and appear overnight in servers. Whoever had a knowledge of this side of redstone, was deadly.
`It wasn't long before regular server-goers got suspicious, starting to dig deep underground on the search for mysterious channels, massive searchces would go underway. Some administrators would decompile the maps to check for any form of danger, any hint of a circut board, only to be reassured by the map that none existed. But once all was said and done, once the server was back up, things quickly went askew. Lagspikes would hit instantly, and after digging through two block's worth of soil, players would find themselves falling into a gigantic redstone circut. A moment later, the server would crash, and never come back online.
`Events like this were sparse and rare in origin, most servers remaining stable, and the events regarded as a myth on the level of Herobrine. The threat wasn't taken seriously for months, and continued to hardly be taken seriously until the redstone strike occured.
`In one fowl swoop, hundreds of servers went offline, all of which reported a redstone circut a moment prior to their decomissioning. Minecraft went to hell, all servers going off the net, spare for one.
One miner managed to fall down into the redstone circut before it was fired off, and managed to displace one single, solitary block. A second later, the server restarted as oppopsed to being removed, but everything in-server was wiped, and distorted upon return.
Creatures became much more common, and redstone was abundant, a corruption left from what had almost destroyed the server. But, its state was too interesting for people to ignore, and it became the basis of their society.
`A few weeks later, cities were built, large walls to block out the creatures, and vast mines to find more redstone to feed their obsession. Some more brilliant minds managed to devise AIs out of redstone circuts, sophisticated robots who could function like any other being, but were loyal to their dying breath, it also spawned cultists and junkies. People who either tried preforming arcane rituals with redstone, seeking for results from a greater power, or to find those powers that belonged to the Redstone users who had destroyed those servers so long ago, and the junkies, who would inject themselves with redstone powder, seeking to inbind themselves with whatever had made it so great.
`The overexposure to redstone had horrible effects on some of the people, altering them in a variety of ways. For some, it would just give strange trait changes, some people waking up to find themselves a completely different person. While others mutated horribly beyond human recognition with their obsession, becoming ghoulish beings, their skin wrinkled like paper, and their eyes turning a pale red due to their overexposure.
And now, this single server rebuilds, a manuscript waiting to be finished by those who inhabit it. What happens next is decided by you, will you attempt to turn to the ways of redstone? And seek whatever potential it might have held for those before it? Or will you attempt to abolish it completely? Or perhaps, maybe you will focus on expansion, and allow those who want to play with red sand do as they please.

It's your turn...

For Maximum Apocalyptic Feel Click
Here
.
Cities/Towns:
Ochanti
Jobs (These are preferences, you don't have to be dedicated to just that job. Some jobs are hard to get into, probably because others took the spot.):
:unsure.gif: Wastelander - Undecided
:ph34r.gif: Scavenger - Look through old (and noticeably) abandoned buildings

Lumberjack - Cut wood for a living

Miner - Mine for a living

Redstone Engineer - Engineer Redstone Creations
Hired Hand - Ranges from Soldier to Guard, you kill people when told.

Construction Worker - In charge of projects others just don't want to do

Hunter - Hunt Mobs and collect the things they drop, sell them

Farmer - Grow Crops, Supply Towns...for a price

Cultist - Praise the mighty Red Stone
Deputy - Help the Sheriff Manage the town he protects

Sheriff - In charge of a town's protection
Bounty Hunter - Hunt the people who committed crimes in certain towns
Mayor - In Charge of a Town

Messenger - Carry important messages from town to town (Due to the LocalChat being enabled)

Cook - Cook cook-able products and sell them

Store Keeper - Own a store that sells the things you want to sell.

Guild Manager - Be in charge of a club dedicated to 1 expertise
Application:
(In a reply, Not PM...one job for each selection.)
IGN:
Job:
Plugin Commands:
Three modes: public, private and world
Shout message config (prefix, color and CAPS)
/shoutw or /shw command to shout to the current world
/sh alias for /shout
Chest Protection:
/cpublic -> Viewable for everyone, and they can take stuff out, but cant steal the chest itself.
/cpassword <password> -> Make a passworded chest/furnace/crafting table
/cprivate -> Make the Chest/Furnace/Crafting Table only open to you
/cunlock <password> -> Unlock your chest/furnace/crafting table
/cinfo -> Help
/cremove -> Remove Protection (If you want to change em around)
Currency
Iron Bars

Server Information/Status
IP: 69.197.191.111:25565
Server Status:
Key:


Online (Zombie)

Offline

On Fire

Dead

Shut Down for Construction

Hungover

Suicidal
[] Spacing Out
Rules:
-No PvPing in the Spawn area, only in unpopulated, town-less areas. If you fail to understand the point of this rule, you're probably banned.
-You Can Occasionally Rob People, if it seems constant, you will be banned.
-New Life Rule (Yes it was taken straight out of DarkRP in Gmod) that means New Life Rule, when you're spawned you ignore whoever killed you, you can still go back and see if your stuff is lying around etc etc.
-Have Common Sense
-No Griefing
-No Stealing
-No Effing Around With people's shiii
-Please don't walk onto people's property without permission.
-Anything regarding lava (Or in our server: Radioactive Waste) should not be being used.
-When you are caught by a deputy/bounty hunter (If you had a warrant out for your arrest). "RPly" you are taken back to the jail. "In the server" You comply with walking back to the jail, or you get your ass ported.
- Skins that are Irrelevant to the RPG are not allowed...remember this is a survivor theme.
RP Rules:
OOC- Out of character. Using shout counts as that. Never reveal or talk about things through OOC that is related to IC.
Example: "Hey dude, where are you?" (That information should be revealed through IC)
IC- In Character. Used through regular non-shout chat. Talk about anything you want regarding the story. Please use proper grammar, although it isn't required...it's a plus if you ever want to have any respect in the server.
Actions- Using the command /me.
Example: "/me picks up a glass off the table and throws it at the wall"
Modding/scripts/hacks will get you banned.
This server is run majorly on donations, much appreciated if you
donate.