Sacheverell
Retired Staff
Silver Voicemin
Join Date:

12/9/2010

Posts:

2,222

Minecraft:

Sacheverell

Member Details
Threadless Contest Winners - Minecraft Apparel for the Discerning Builder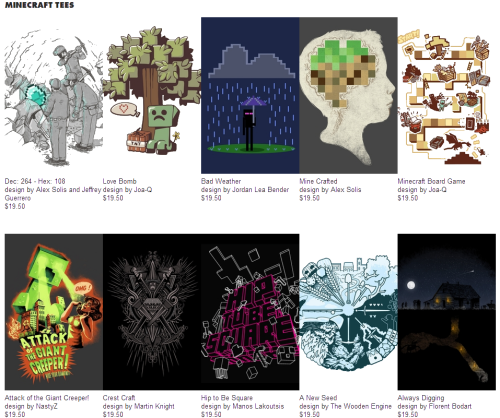 So many awesome shirts!
Shortly before Minecon, there was a contest going on for Minecrafters to design the most awesome Threadless T-shirts they could come up with. Now, we have the pleasure of checking out the winners of this awesome contest! The winning designs (shown above) are now available at the Threadless store, for your wearing pleasure. Be sure to check them out, pick your favorite, and get yourself some awesome Minecraft apparel today!
________________
Minecraft Reality - Placing Buildings IRL
Building awesome things is a classic staple of Minecraft, I'm sure we can all agree. Spending anywhere from hours to months creating the perfect building, model, city, even sculptures - then showing it off to friends - is an integral part of the game, in many ways. Still, what if showing off your creations in-game just isn't enough? What if you want to see what your epic spiral tower would look like next to your house? What if you could put that scale-model car you spent weeks building in your real-life driveway? As it turns out, you're not the only one wondering that!
Now if we could just drive it away too...
The folks behind the ingenious
Minecraft Reality App
have given us an amazing app that will place Minecraft-created objects in the real world! This isn't just a snapshot of your creation, but an actual model, transposed into the world in real time! You can walk around the model with your phone or iPad, and see it from any angle you would be able to view it from normally. You can scale it, adjust its position, and much more!
This app is available for the iOS right now, and can be yours for a mere $1.99. So, what are you waiting for?
Pick up the Minecraft Reality App now
, and start showing off your awesome creations in real-life, right now!