DrifterWolf

Iron Miner
Location:

Middletown

Join Date:

8/7/2012

Posts:

273

Xbox:

Quan7um Drifter

Member Details
(This thread was originally posted in two parts the thread
http://www.minecraftforum.net/topic/1419765-if-you-could-add-any-new-mob-exclusively-for-the-xbox-what-would-it-be/
but was moved here so that the ideas can be expanded, refined, and commented upon on their own. Also, please bear with me as it may take me a bit to get all of the editing done right! *Mods, let me know if i need to break this list up into individual mobs each in a separate thread, or if it's ok to leave it as is*)
Know what? I think we may just need a few new familiar monsters to fight! I also know that a lot of people wanna see more mythical monsters in their games, so without further ado I give you a list of;
20 Mythical Monster Mobs for Minecraft!
El Chupacabra
This first one comes right out of the gate with a twist to keep things interesting. The legends go that late at night farmers and ranchers in Latin America and the southwestern United States will either wake up to the terrible sounds of their livestock fighting off an attacker or, if the sounds fail to rouse them, they head out in the morning only to find one or more of their animals mutilated, and or drained of all blood! They were just the latest victim of El Chupacabra!
Now how do we fit this crature into Minecraft? Simple, we all know breeding is coming soon, right? At the moment we really don't have a monster that specifically targets our livestock. leaving them, by and large, safe within their little pens (or, they will be without this suggestion, anyway). With El Chupacabra in play defending the homestead becomes a bit more of a challenge as they will be forcing us to risk life and limb to defend our animals and our precious food supply.
Ladies and Gentlemen, I submit for your approval. . . El Chupacabra!
Mind you that's an older, artist's concept of the mythical creature and not really what they say it looks like. They say it really looks like just another dog or coyote with mange, but where's the fun in that!? Lets use the older, creepier version to knock that puppy back up to monster status. Here's another image
These little buggers would only be about as tall as a sheep with powerful back legs that allow them to jump 3 blocks high to get over low fences. If the pen proves too high I'd suggest they be given an ability similar to Zombies allowing them to break down fences, doors and gates to get to their prey! If an El Chupabra spawns, he's not leaving unless he kills or is killed! They'd come with about the same health as a Zombie, possibly less if they spawn in packs of 2 or 3. (not sure if they're supposed to spawn in packs or not, but allowing them too would make defending the homestead a lot more interesting!) When attacked they will turn hostile towards the player and strike back dealing as much damage as a Zombie with each hit!
When killed they drop a few random pieces of raw animal meat (0-3) and 0-1 pieces of animal hide (Wool, Leather, and Feathers) to represent some of the animals that had fallen victim to their wrath until the faithful day the creature messed with the wrong person!
Bigfoot, Yeti, Sasquatch, Skunk Ape or The Abominable Snowman
(depending on where they spawn!)
This creature is said to inhabit dense, remote wilderness areas all across the globe. They come in a wide variety of colors, each adapted to their habitat, and are known to be reclusive, but willing to attack in order to drive interlopers away from their dens by throwing large rocks at would be attackers. They are known for wood knocking and letting out loud screaming howls to communicate with each other from across long distances. They are also known to leave behind large footprints in the mud and snow as a sign of their presence in the area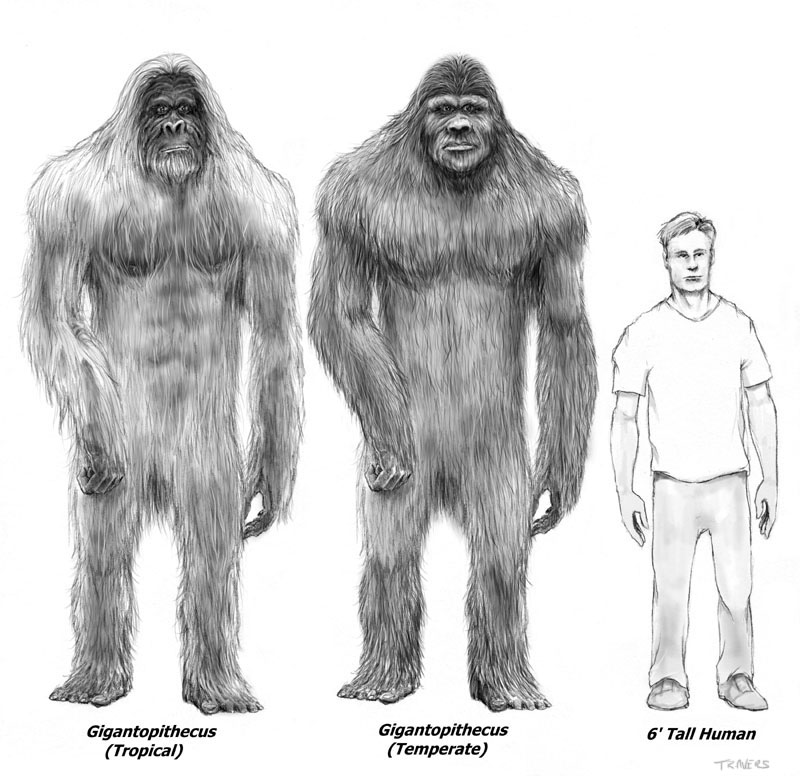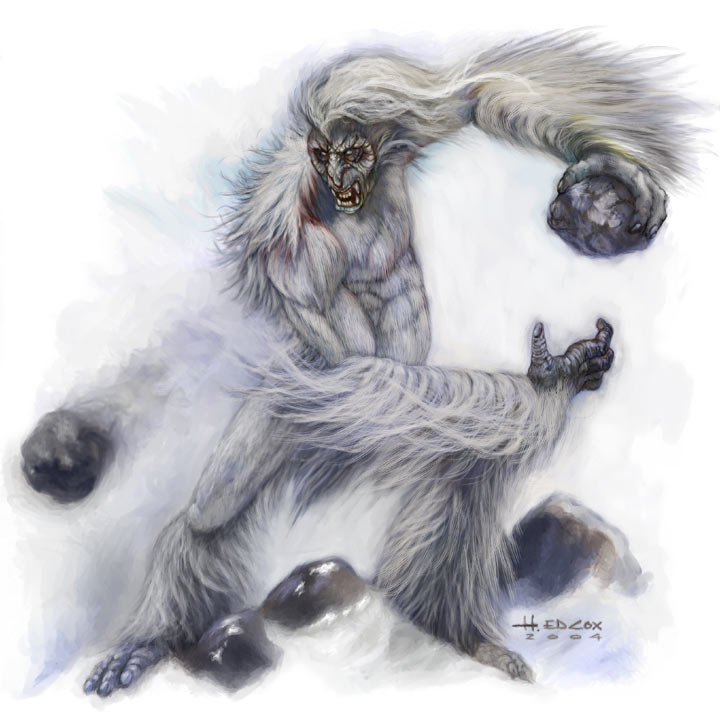 So how does this fabled wanderer of the woods fit into our beloved game? Actually, pretty easy! They'll spawn in Forest, Swamp and Tundra/Taiga biomes as a neutral mob until the player gets too close (about 6 blocks away!) They will then turn and walk backwards away from the player lobbing stones kind of like how a skeleton fires arrows. They have no real intentions of killing the player and will prefer to flee, but will kill them if they don't leave them alone. The Bigfoot will also use their powerful arms to attack by pressing their fists together and swinging both limbs down like a hammer dealing a significant bit of damage with each blow if they are within melee range. They'd normally spawn solo, but with breeding could be seen with a rare mate or even a baby in tow. Dealing damage to one or getting to close to one's baby will turn all of them in the area hostile causing them to switch from fleeing to chasing! These creatures would stand about 3 blocks high and be roughly humanoid in appearance with thick limbs and a coat of colored fur (Brown and Black for forest dwellers, Brown and red for swamp denizens, and white and gray for Yeti roaming in the Tundra/Taiga)
If killed they'd drop piles of Fur (1-3) which can be crafted at a work bench into Leather for use in armoring or even sold to villagers for Emeralds. they may even drop the odd building material (0-2 Wood Block, Sticks, Stone Blocks, Leaf Blocks, (Snow Blocks and Snowballs, if applicable)).
If left alone they could even begin to build very primitive mounded hut-like structures out of random bits of natural materials (the ones listed in their drop list) and may even begin breeding on their own, slowly building a small village of the creatures as each baby matures and builds it's own hut on the protected family grounds. They are social and will never fight each other, but may work together to build their small settlement or to defend it from intruders.
They have twice the health of a player and deal 3/4's as much damage as a skeleton's arrows with their rocks and as much as a wolf's bite with their fists.
Lake Monster
(Loch Ness Monster, Champ, Ogopogo - Plesiosaur)
Most people have heard of the legends of lake monsters, giant serpentine creatures that rise from the depths to terrorize and even kill sailors and fishermen (or in the case of Nessy pops up for a quick photo shoot before going back to hiding from naturalists and marine biologists trying to study her)! Many people each year claim to have sighted these creatures in large bodies of water world wide! They are believed to feed on large fish and make their homes in underwater cave systems. Some believe that they are Plesiosaurs who were cut off from the seas as the ice age froze much of the world's oceans and choked off escape routes back to the open ocean, yet still after millions of years these predators have soldiered on breeding and surviving to this very day!
So, how do we add them to the fun of Minecraft? Stop me if you've heard this one before, but it goes something like this; Many people have stated that the waters of Minecraft are just too safe. Well they won't be with these guys around! They'll spawn either solo or in a small pod of 2-3 adults and possibly a baby. Adults' bodies will he roughly 3 blocks wide, 4 blocks long, and 2 blocks high with the center 2 blocks raised to 3 high to look like a hump a stubby tail could also be added for flair if so desired. Their four flippers will each be roughly diamond shaped and about as thick as a Pressure Plate, maybe twice as thick if that looks too odd. Their long necks will be 4-5 blocks long with a large toothy head on top. While they are called Lake Monsters they will be capable of spawning in any body of water at least 5 blocks deep and 5 blocks wide, which they will defend to the death capable of attacking anyone even fishing in the shores so long as their back flippers never leave the water.
If killed they would drop fish(2-5), maybe even a boat or pieces used to craft a boat (either a single whole boat or the same pieces you get when you destroy one yourself!)
They have twice as much health as the player and deal 1.5x as much damage as a wolf's bite with their own bite!
Pegasus
(Somewhere a Brony just squealed!)
With everyone clamoring for a horse that they can breed and ride, I'd like to propose a 1-up option to that, the Pegasus! These are beautiful winged horses capable of carrying a rider even in flight. They look just like any other horse aside from their bright white coloration. . . oh, and those large feathered wings. This creature is common in Greek mythology where it actually served as the god of Horses (Horses would also be awesome to have added, btw. Full support from me to all of those suggesting it!)
In the game these would be rare spawns indeed, they would normally only ever spawn in white coloration, but it'd be nice to have other colors possible through breeding or even just as possible spawns if that's a bit too much work in the programming department. (Possibly with normal horses to get black, brown, or even grey Pegasi). They would be able to be mounted with a saddle and flown for a short duration using similar controls to flying in creative mode. the height of their tails would indicate health and their heads would indicate hunger (Exhausted Pegasi would almost be dragging their heads on the ground, one with low health would really look to be near death). Flying and sprinting would deplete hunger leaving them unable to use those abilities until fed with wheat. A Pegasus' run speed would be 1.5x that of a normal player with a sprint speed of x3 and a fly speed of x5, flying would also deplete hunger twice as fast as sprinting!
They could be tamed similarly to wolves, but would flee if you get too close. Once you are close to the Pegasus it will turn to face you. if you don't stop approaching it will fly away, however you can still lure it to you by tossing out wheat for it. Feed it between 3 and 5 peices of wheat and the Pegasus will begin to trust you and allow you to approach and place a saddle on it to ride in, or follow you like to a Wolf. They will also fight for you, ramming and stomping on any enemies a Wolf will fight.
If you kill a Pegasus it will drop 2-3 feathers and 0-2 leather. Attacking a Pegasus will cause it and (in the very rare case that another spawns nearby) all other Pegasi in the area to turn hostile and attack! They have 1.5x as much health as a wolf, and deal twice as much damage (to make up for the fact that they don't have a pack to back them up)
Werewolf
(A possibility for way later down the road when MC360 catches up to the PC's 1.4 patch and Zombie Villagers are added)
These creatures are man by day and wolf by the light of the full moon, transformed by a disease known as Lycanthropy. They often feed on livestock and even other people. Some, if not all, Werewolves however, are often unaware of their condition and go about their normal lives unaware of the havoc they wreak during the night! A Werewolf can infect those they bite with their Lycanthropic disease turning a whole city into Werewolves from within one bite at a time!
In the game they would be normal Villagers, who at night transform into a Werewolf and attack the player or other Villagers until they are put down or cured of their disease! A Werewolf would look a look like the Villager they were by day only with a Wolf's head replacing their normal head sprite (when attacking they'd have their hands unfolded as well, possibly needing a recoloration of those to match the head), and a Wolf's tail added to their posteriors. They are spawned very rarely whenever a new Villager is created, however only begin transforming into a Werewolf upon reaching adulthood.
They can infect other Villagers if the Villager survives a bite and can get to safety. Players cannot contract Lycanthropy (as it'd be pretty unbalancing if the player had the Werewolf's abilities, and who wants to lose control of their character for the whole night
every
night if the game's AI were to take control, anyway? Best to leave them as a creature you simply have to fight or cure!) A Werewolf cannot open doors, but will attempt to bash them down the way a Zombie does. They can be cured of this infection by the same method a Zombie Villager can be cured, A Polden Apple, Splash Potion of Weakness, or a good old fashioned sword to the head (though, this method permanently kills the Villager. Iron Golems will defend the village against Werewolves, but not attack the infected by day. While not transformed the Infected Villager goes about his normal routine and can even be traded with. Werewolves and Zombies will fight each other if a Zombie hoard attacks a village infested with Werewolves
When transformed Werewolves have twice the health of the player and deal twice the damage of a Wolf with it's bite (ramming the player) or 1.5x as much damage as a Zombie with each swipe from its claws, and will sprint to a target, but can only do so once every minute and move slightly slower than a normal Villager when not sprinting (To give them a chance to get infected and escape only to transform the following night. A lumbering animation could be used to give the impression that this movement is awkward to the newly transformed Werewolf and not something naturally evolved for speed.)
When Killed a Werewolf drops Fur like a Bigfoot, or rarely an Emerald, or maybe even one of the items they had been offering as a trade before they transformed.
Phoenix
Cultures all across the globe tell stories of a giant flaming bird who tears across the skies seeking prey. In some cultures the Phoenix is a symbol of the cycle of life, death, and rebirth. It is said that when a Phoenix dies a new one rises from its ashes. To some it is a terrible omen and a warning of dire things to come! To others the sight of a majestic Phoenix is a sign of good luck, that things are going to get better.
How would this creature fit into Minecraft? Since Phoenixes never die there should only be 1-3 alive in the world.They'd be the bane of farmers as they would need to feed on large prey, Cows and Mooshrooms, to survive and will think nothing of diving into a pen to steal domestic cattle! The only thing that would guarantee Cattle safety would be keeping them in barns as a Phoenix only attacks things within it's line of sight!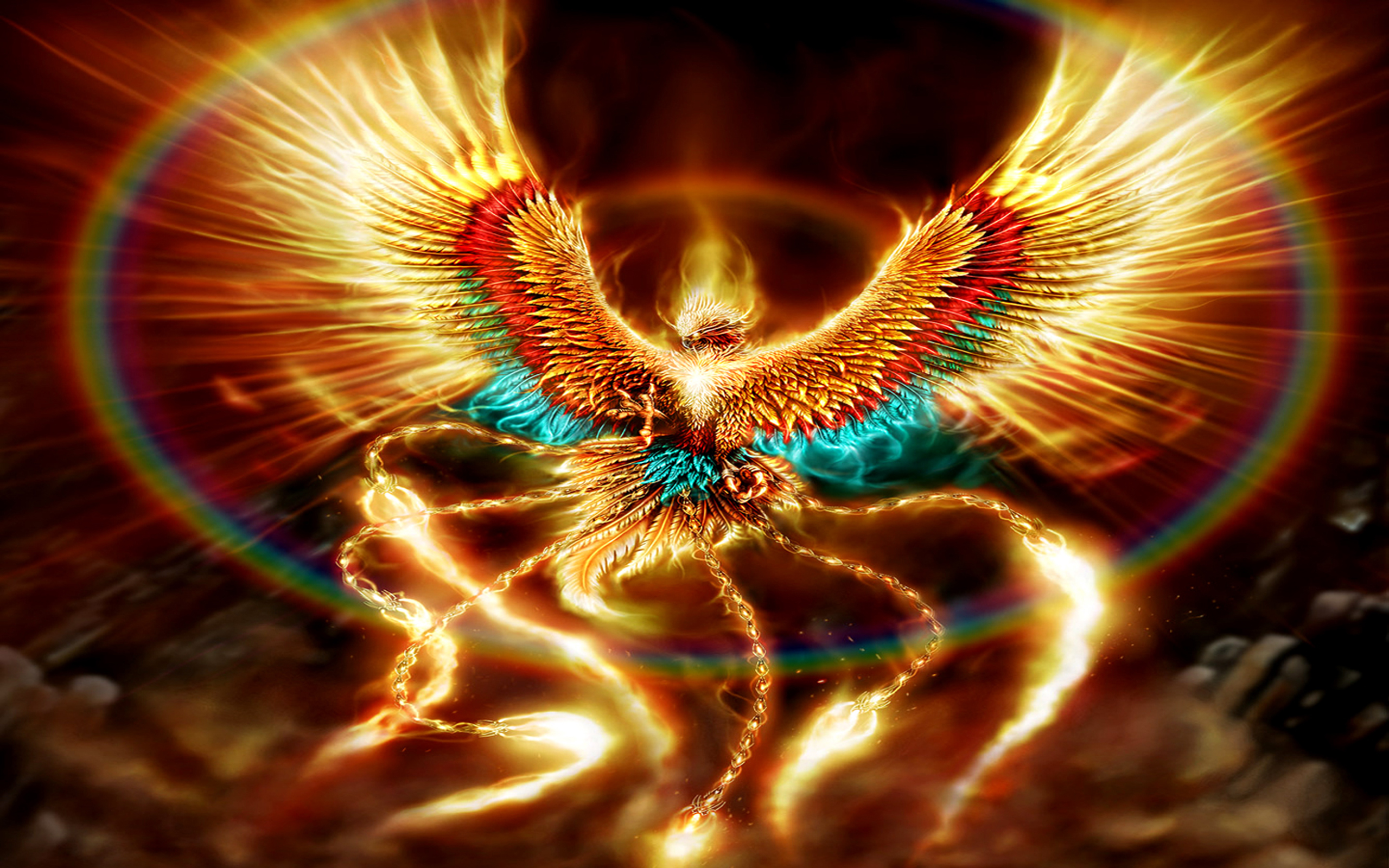 Phoenixes themselves would have a wingspan of 3 blocks each and a thin body only 1-2 blocks wide maybe 5-6 blocks long ending in a long feathered tail. Their bodies would have a feathered texture with flames covering much of the long feathers on their wings and tails. They'd have rather small heads ending in a long sharp beak! They'd have half as much health as a Ghast and deal as much damage as a Skeleton's arrow with strikes from their wings and talons. They'd also cause anything they touch to catch fire adding another element to fighting them. Normally they would be neutral to everything but their prey, but will turn hostile if attacked.
When killed they'd drop their ashes and an egg which would soon after self immolate and hatch into a baby Phoenix, who would then flee until it grows up and begins hunting anew. The ashes would be flame proof, but you'd have to wait until the fires from the egg die down before moving in to retrieve them. The ashes could have a number of uses. They could become a new ingredient for a new type of potion, or could be used in a furnace as fuel lasting twice as long as a bucket of Lava. Phoenixes cannot be tamed, nor bred lest they lead to the extinction of all bovine kind!
Giants
High up in the most treacherous of mountains lives a group of wandering nomads of enormous size and strength. These are the Giants, a race of humanoids who've managed to survive in a world of monsters and Magic by their sheer grit! These monsters seldom travel in groups and tend to build only bonfires needed to warm them throughout the night.  They are also known to uproot trees to use as rudimentary clubs!
In game they'd be 4-5x larger than players and would wear only a loincloth. They'd have lots of chest, leg, and arm hair and sport long wiry hair with a matching beard! They would wander around Mountain biomes holding a long tree with most of the leaf blocks pulled off. They'd spawn near a bonfire made of similar trees stacked together and set ablaze. They hunt anything with meat the size of a pig or greater including players, but will only attack Skeletons if provoked.
In combat each swing from their tree club would deal as much damage as a Diamond sword and they'd have 5x the health of a player, but they'd be half as fast and have a long swing animation. When killed they'd drop 4-5 leather, wood blocks, and/or animal meats! They'd spawn only 1-2 for every campfire. for fun they could go out and replenish wood for their fires from nearby trees as the fires burn down, but only if the system can handle that.
Their bonfires would be a cobblestone ring with wood blocks piled up in it to resemble logs resting against each other.
Lich / Necromancer
Outcast from society for dabbling in dark magics it was men like these who started the whole zombie apocalypse in the first place. They won't be satisfied until all living things fall under their control and bow to them as kings!
In the game they'd spawn in tall dark tower structures surrounded by Zombie and Skeleton minions. Players would have to fight their way through the trap filled tower to finally take on this new challenge. Alternately these mobs could be very rare spawns that wander into villages late at night and begin summoning minions to wreak havoc from within!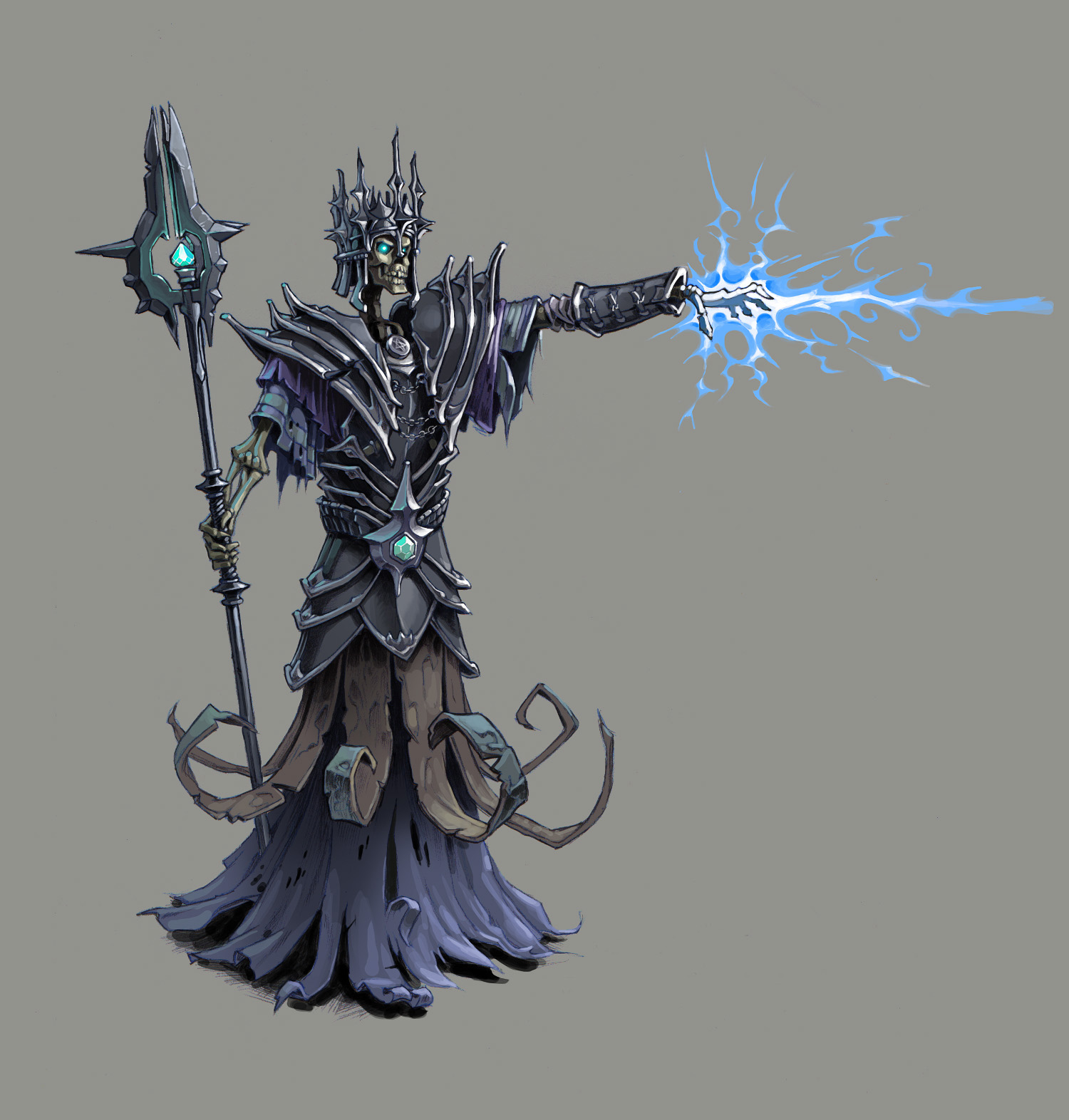 Depending on which way you go with this the Lich or Necromancer would have 2x the health of the player and be able to launch a weak 1-2 heart damage shadow spell. The real danger comes from the fact that these guys are walking mob spawners who create Zombie and Skeleton mobs randomly every few seconds.
If you go with the Lich route when they die they drop their phylactery, an item that unless destroyed will cause them to respawn in 1-3 days, along with their loot. If they are just Necromancers they simply die and drop 2-3 Rotten Flesh Bones and Enchanted Tools.
If you go with the Tower approach the phylactery will be hidden somewhere in the tower where it must be found and then destroyed to finally kill the Lich! Destroying the phylactery should be relatively tough either requiring lava or a tool with a special enchantment like Bane of Undead IV or something.
Banshee
Banshees are typically women who died a particularly violent death. unable to come to grips with their fate they grow to resent the living an return as vengeful spirits seeking revenge on any and all who cross their paths. They appear as ghostly floating female figures wrapped in a long, flowing, gauzy dress. Their wailing cries echo into the night from deep within the forests.
In our forests Banshees would float around waiting for a player to get to close before giving chase and using their wailing cry as a sonic attack. They could also be given long claws and a swipe attack similar to a Zombie's.
They'd have relatively low health at 3/4's that of a player but make up for it in speed. their wail would deal as much as a zombie's arrow, and their claws, if given them, would deal as much as a zombie strike. When killed they'd drop a random piece of enchanted armor or some alchemy ingredients.
Cockatrice
This small creature is like an unholy cross between a rooster and a lizard! They have the power to turn a man into stone and are even said to be able to kill with just a stare! There are many superstitions surrounding these foul creatures, but one thing is for sure. the sound of roosters crowing is lethal to a cockatrice!
In game they'd randomly spawn either in swamps very rarely whenever a chicken may spawn, or an egg is thrown into the water, or very rarely when an egg is tossed onto the ground or chickens are bred. They'd be aggressive right out the gate and move in to peck players to death. Their pecks would have a chance to slow down players as they slowly turn them to stone.
A Cockatrice would only have twice the health of a chicken and deal 1-2 damage per peck, though they'd be able to do so rapidly. Each peck would reduce the players movement and swinging speed until finally reducing them both to nothing. Rather than turn to stone they'd be left helpless until the monster finishes the job! If they kill the monster the speed reduction will slowly fade over time. When killed they'd drop feathers, chicken meat, or eggs
For an added effect they could cause a player's skin to slowly fade into greyscale as the pecks stack up to cause them to appear to be slowly turning to stone!
Gargoyle
These creatures appear to be winged bat-like humanoid statues of Gothic monsters painstakingly crafted and placed onto a building to ward off evil spirits. In truth they are monsters themselves who stalk the rooftops waiting for unsuspecting prey to pass below! They have the ability to stay perfectly still helping to blend into stone surfaces and allowing them to pass of as sculpture rather then the creatures they really are.
In game they'd act very much as described above. They'd come alive at night taking on a brownish grey color with glowing green eyes and fly into a village perching on the roof of a building and waiting for something to pass nearby before swooping down to attack. They wouldn't be too picky about prey attacking anything including skeletons that pass too close. By the light of dawn they'd turn to stone (but would retain their polished, now dim, emerald eyes giving them away to a cautious observer) and become immobile unable to attack or defend themselves but gaining the resilience of stone.
Gargoyles would have as much health as a creeper and deal 1.5 times as much damage as a zombie with their claws. When turned to stone they would no longer take damage as normal from swords (or gain 4x their normal health pool if programming that turns out to be trickier than it first seems), and can only be destroyed using a Diamond Pickax having all the hardness of Obsidian. They'd stand 3 blocks high, but destroying any one block would kill the creature. When killed they'd drop 2-3 of the different forms of Stone Brick, and possibly emeralds if they are in the game by then.
Gryphon
This creature, apart from being impossible to find a correct spelling of it's name (seriously, there's like 8 accepted spellings for it!), are well known for inspiring those who see it with their cunning and bravery. They have the head and wings of an eagle and a lion's body with an eagle's front talons.. They are said to be noble creatures who mate for life, and having once mated will never do so again with another partner even if their mate were to die. Their natural enemies are Horses, which they will attack on sight! Their claws are said to have healing properties! They are also supposed to protect great treasures
In the game they'd indeed protect a great treasure and would build a nest near a treasure chest high in the mountains that they'd defend with their lives. Gryphons would be usually spotted either solo or in pairs, sometimes with a hatchling as they'd breed on their own if both are present in a single nest. When the baby matures it will leave the nest to find either an unmated Gryphon or an abandoned nest to move into and defend. The number of Gryphons in a world would never exceed the number of nests, unless the player destroys the nests before killing the Gryphons. They'd hunt either Horses if they are added to the game, Pegasi from my last suggestion, or Cows if the other two are never added.
They could be tamed but it'd be difficult requiring luring the creature away from the nest with raw beef
Tamed Gryphons could then be saddled and ridden similar to how Pegasi could. They would be able to be flown for a short duration using similar controls to flying in creative mode. the height of their tails would indicate health and their heads would indicate hunger. Flying and sprinting would deplete hunger leaving them unable to use those abilities until fed with meat. A Gryphon's run speed would be 1.5x that of a normal player with a sprint speed of x3 and a fly speed of x5, flying would also deplete hunger twice as fast as sprinting! They'd have 3x the health of a cow and deal 1.5x the damage of a Zombie with each swipe of their talons and as much as a Wolf's bite with each peck from their beaks When killed a Gyphon would drop 4-5 Eggs, Feathers, and Raw Chicken, or at least you'll tell the person you serve it to that it's just chicken!
Kappa
(Näkki or Kelpie)
Ok, so this one's a bit less known, but comes to us from Japanese folklore and shares similarities with the Finnish Näkki and the Scottish Kelpie, though this suggestion focuses more on the Japanese Kappa. They are said to make their homes in freshwater rivers and ponds, be child sized aquatic humanoids with blue, green or yellowy scaled skin, large beaks, webbed fingers and toes, and sometimes wear a turtle shell on their backs. They also have an indent in the tops of their heads that is filled with water when they walk on land that is said to be the source of their power. However Kappa are obsessed with being polite and will bow if you do, thus spilling their water and leaving themselves powerless.
They are however known for pranks and trickery, as well as the more serious crimes of drowning people and livestock, especially Horses (Did I mention that I'd love to see Horses added to the game yet? Lol). They are expert wrestlers making it nearly impossible to break free once one has dragged a person underwater. They are also said to be very fond of eating children and are used in folklore to keep children from playing in ponds and rivers for fear of being eaten by a Kappa
Kappa are said to be cautious of human society but can be befriended if given gifts. They love Eggplants, Buckwheat Noodles, Fermented Soybeans, and Winter Squash. Their favorite gift is Cucumber, though! Once befriended they are said to be very knowledgeable in farming, medicine, and fishing, and may give back gifts in return.
In the game they'd be neutral mobs who would hide until drawn out by a gift of fish, wheat, or if they are implemented, (as I'd also love to see more vegetables we can grow as seen in this post
http://www.minecraftforum.net/topic/1423807-minecraft-xbox-360-edition-exclusives-request-thread-updated-again/page__st__540#entry19592080
) Cucumbers! If trading has been implemented this could unlock the ability to trade with the Kappa, exchanging Cucumbers (Or another item) for fish, potions, and various seeds. The kappa may also begin following you to give you the occasional gift!
However if attacked they will not hesitate to defend themselves and will attempt to drag you into their pond and hold you there until one of the two of you die! If pulling mechanisms prove difficult to manage they could just attack with their feet and hands! If the pulling mechanism is implemented they'd drag mobs twice as fast as water, pulling them to the deepest spot of water within 10-15 squares of themselves. If killed they's drop 1-3 Fish, Seeds, or Potion ingredients.
Dryad
Dryad are said to be nymphs or spirits who defend the forests from those who would do them harm! They are often depicted as beautiful female figures made of wood and vegetation who live within a tree that serves as the source of their lives. If the tree is killed so are they. So they will defend their territories to the death! Dryads are said to be shy and will try to avoid human contact if at all possible. Dryads are said to be able to walk through trees and shrubs as if they weren't even there and know all of the secret places of the forests they call their homes. They are also said to be able to call upon the aid of those who dwell in the forests to also help defend their realms
In the game these lovely ladies of the wood would lie in wait within a tree or, possibly during sunny conditions, leave the tree to walk nearby. They will be neutral until attacked themselves or see a person chopping wood in their sacred forest! When angered they will very quickly rush the offender and will also turn any wolves nearby hostile to help defend them. They will never leave the forest biome chasing a fleeing person all the way to the border before returning to their tree, her wolves may continue their pursuit if they so wish!
Good lord, it is hard to find a PG friendly picture of a Dryad!
(Mods, please let me know if these are too racy for the site so I can change them if need be.)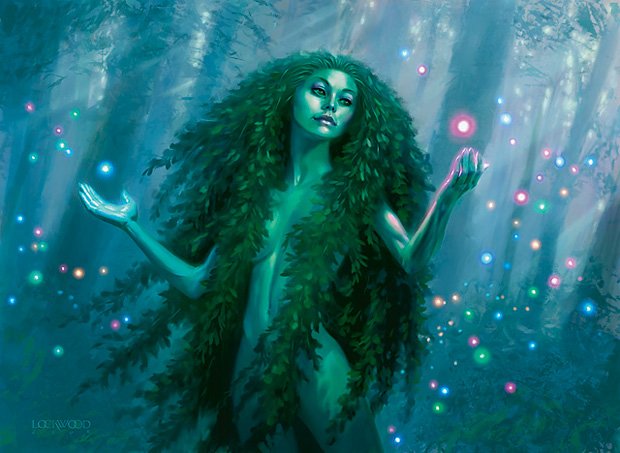 Dryads would only have about as much health as a Zombie and deal melee damage the same way at the same strength. Additionally they could fling poisoned thorns that deal half a heart of damage and causes the player to become poisoned similarly to a cave spider bite or eating zombie flesh! They'll have 1.5x the health of a zombie. Destroying every wood block in the tree tied to her spawn will instantly deal enough damage to kill the Dryad attached to it. When killed they'd drop 2-3 Wood Blocks, Sticks, and Saplings
Troll
These pitiful creatures surf the internet looking for ways to aggravate and annoy others! Oh, sorry wrong Troll. THESE trolls are large, rocky creatures who make their homes in hills and mountains eating the rocks that they sometimes call their homes. They are slow moving and generally docile, but have been known to attack people to drive them our of their territories when agitated. They are said to be active at night, but slow to the point of petrification in direct sunlight. Little is known how these large rocks gained life or how, or even if they breed, but it is known that some Trolls can grow to massive proportions beginning to resemble the mountains they've consumed!
In the game these creatures would roam Mountains, Hills and Caves eating any exposed rock and cutting tunnels for themselves to wait out the day in. They would appear to be obese humanoids made of cut cobblestone about 5x the size of a person. They'd be Neutral, attacking only to drive off another attacker, with the exception of their now mortal enemies, Creepers (and possibly Giants), who they'd attempt to kill on sight! They'd be sluggish even in pitch black, but would slow and petrify similar to a person being attacked by a Cockatrice if exposed to daylight and unable to flee. Trolls cannot digest any blocks other than raw stone and will leave any other blocks alone. They would breed by consuming enough rock to fill their stomachs then dividing into two Trolls. When petrified they would still return to life to defend themselves if a player with a pickaxe attempts to mine them accidentally!
Trolls would have about as much health as a Ghast and attack by slamming enemies with their massive hands dealing 10 hearts of damage to an unarmored player. Unlike Gargoyle's their health totals and resilience would not change in sunlight, only their speed. When killed they'd drop 5-6 Cobblestone, Redstone, Lapis Lazuli, or if implemented, emeralds.
Asp Turtle
, Island Turtle, or Aspidochelone
These huge creatures are often mistaken for islands when they are in fact either giant whales or Sea turtles so large that land has begin to develop on their backs. They are said to be a danger to sailors who may come a shore to resupply then be drug under as the creature submerges itself and begins to swim away. Little is known of these creatures as they are very, very rare and of the few people have encountered one even fewer knew it was anything more than an island! They feed on entire schools of fish and squid using a sweet smell to attract them. They are said to be outstandingly patient lying in wait in one spot for so long that an ecosystem complete with dirt, sand, trees and even animals can develop and grow on their shells until they submerge again!
In the game they would be giant turtles with islands growing on their backs! They would lie in wait until disturbed by a player mining into their shells, before diving to swim away, destroying everything growing on their backs! When they finally come to a rest they'll sprout more dirt and sand, and eventually plants native to that biome at a rapid pace until the whole shell is covered in a new biome. They'll stay there until disturbed again before moving on to a new location and starting the cycle anew. They'll only spawn in ocean biomes and will borrow traits from a nearby biome when they move. They always keep their heads, flippers and tails hidden in their shells until it is time to move!
These creatures would have massive health pools and may even be functionally unkillable. They prefer to flee rather than fight but if forced into combat would be able to deal as much damage as a supercharged creeper explosion with a bite or a slap from it's flippers or tail! If somehow killed, which would probably require trapping it by building a rock pen to prevent it from submerging and fleeing and then pouring lava into it's shell, or setting off a chain of dynamite explosions under its shell, it drops Some kind of rare loot. Maybe a turtle egg that can be hatched into a new Asp Turtle, or Diamonds could drop. It'd definitely have to be something substantial for as much work as would have to into tracking down and killing a beast like this!
Tommy Knocker
These small gnome like creatures prefer to remain invisible and reside deep inside of caves. They are said to be mischievous sometimes knocking on the cave walls to lead miners to hidden treasures and other times leading them to danger! Some argue that the knocking is intended to be a warning but is also misinterpreted as the same knock as the one indicating treasure! Rest assured if you hear them knocking something is close by so keep your eyes peeled!
In game they'd also be invisible, or mostly invisible and would knock on walls to indicate where the player needs to dig to find Important materials like iron, gold, emeralds, and diamonds. They'd also knock, possibly slightly more rapidly, to indicate that a monster is nearby unwittingly leading miners into a fight. They themselves are neutral but will defend themselves if struck by swinging their own little pickaxes!
They'd have about as much health as the players and deal as much damage as a player using an iron pickaxe with each swing of theirs! When killed they drop 1-3 Iron Ingots, Coal, Gold Ingots, and possibly an Iron Pickaxe
Merfolk
(Mermaids and Mermen)
Couldn't have a list of mythological creatures without Merfolk, our aquatic cousins showing up! These people are have the upper bodies of a Human and the lower body of a Fish! They build complex societies under the seas and are known to come ashore to trade with fishing villages. Some however are more sinister and enjoy luring people to a watery grave! They are said to build castles out of rock and coral and use coral and fish bones as weapons usually in the forms of spears and swords. They are accomplished alchemists and healers, but rarely tolerate the presence of humans in their cities.
In the game they'd live in underwater villages that spawn on flat stretches of ocean floors with buildings made primarily of Sandstone, Mossy Cobblestone, Mossy Stone Bricks, Sponge, and Pink and White wool to represent coral unless an actual coral block is ever implemented. They'd be about 3 blocks long with an exaggerated tail and carry coral spears or swords. Mermaids would have long flowing hair, and Mermen would have larger upper bodies, and thick beards! They may leave the water but cannot travel more than 10-15 blocks inland! They'd be neutral until a player enters their village in which case the mermen would turn hostile and chase the interloper away by tossing spears at them and slashing at them with scimitars
Mermen will stay in the village to defend it as Mermaids leave the village to fish and gather other supplies. When mermaids come ashore to trade their party will always consist of one Mermaid, who will do any actual trading, and two armed Mermen escorts to keep her safe.
Mermaid
Merman
Merfolk City
Scimitar (For those unfamiliar with the weapon)
Merfolk would have the same health as a player, twice the swim speed, and deal as much damage as a bow being fired with their thrown Spears, and as much damage as an Iron Sword with each slash of their Scimitars. Mermaids will attempt to flee into buildings and all Mermen in the village will turn hostile to drive off attackers. When killed the drop 1-2 Fish and Potion Ingredients.
Basilisk
These six legged crocodilian creatures are very very poisonous and are said to be able to kill people with just a stare. They are said to cause all plants nearby to wither and die and are said to be weak to the scent of a weasel. Some accounts also give them a Cockatrice's ability to petrify with a stare. They grow to be as long as a crocodile, but are much much more ill tempered.
In the game they'd live in swamps and always be hostile. They'll be capable of poisoning with a bite, but we'll wont have any petrification or death glare abilities! Instead they'll more or less just be large poisonous crocodiles to populate a currently unpopulated biome! And to add a bit of danger to exploring what should rightfully be a dangerous biome! They will always spawn solo as they are very antisocial creatures only seeking another to mate! They'll be one block wide and 3 blocks long sporting 6 stubby legs and clawed feet. They will also be hostile to any livestock, Spiders, and Zombies.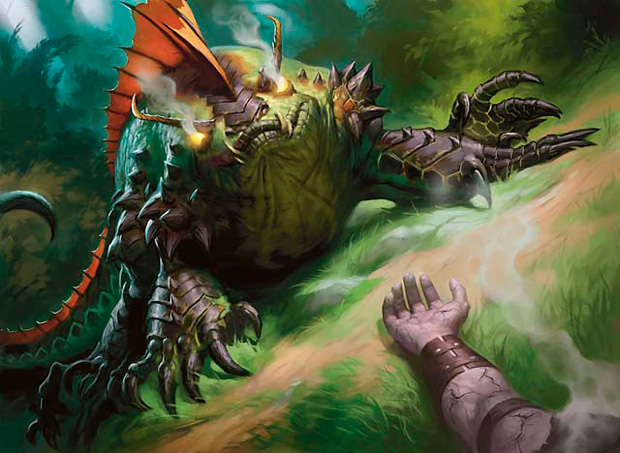 They'll have twice the health of a wolf and deal as much damage with their bite as a wolf does, but also carry a poison similar to a Cave Spiders. When killed they'll drop 1-3 Fish, Raw Chicken, or Raw Beef as they never stop feeding and hunting!
Will'o'Wisp
The last new Mythical Mob on our list is the enigmatic Will'o'Wisp! These creatures are actually luminescent balls of swamp gas caused by the decay of the materials commonly found under the muck. In folklore these small dancing balls of light lure unsuspecting travelers off of safe paths and either into danger or towards a hidden treasure. The lights themselves can be nearly any size, shape, and color but only seem to appear at night.
In the game they'd be represented by small orbs of trailing pastel lights usually in groups of 8-12 that lightly bob up and down slowly luring the player to the center of the swamp. There could be a chest related to their spawn, or they could lead back towards a waiting Basilisk, or nothing at all! Either way their slow lilting flight patterns and gentle waxing and waning glow may prove too much to resist and cause players to chase them. A few neat uses could be given to Will'o'Wisps, though. There could be a jar craftable by making a U shape out of seven panes of glass that could then be used to trap one so it could be used as a light source to make a nice enchanted looking hall!
Here's where they get interesting. When attacked they'll all turn hostile! That's right these are actually neutral creatures! They'll be very weak as individuals having just enough health to survive swing and a half from a Stone Sword and only being able to deal half a heart of damage, but there's a 1-10 chance that an attack will also light their target on fire! With up to 12 of them all swarming very rapidly even an armored player may find themselves in trouble in short order. What's the pay off of hunting blobs of light? They drop 1-2 Glowstone Dust when killed. Knocking out a whole swarm may reward you with enough dust to make a block or two of Glowstone without having to worry about running out of the Glowstone deposits in the Nether!
There we have it 20 Mythical Mobs for your consideration to be added into Minecraft! As always I love feedback so let me know what you guys think and if there's something that should be added or dropped to make these real contenders for inclusion!
Hey, that transferred over pretty well! Some of my picture links are dead, but I can always fix those later!