einshelmdweiyll
Out of the Water
Join Date:

4/24/2013

Posts:

9

Member Details
There are not many mansions built in survival mode. Is it because it's very time consuming? Anyway, I decided to try it for myself. And I thought I'd share. I'm the architect of this house but I've had some help from a few friends (mostly gathering resources). However, I'm open to ideas/suggestions.
We've determined to set the standard difficulty to HARD. Why? Because we want a challenge! And also the risks are fun!
Keep in mind it's not complete, this is just our progress thus far.
(Updates to come from time to time...)
(in order of contribution)
einshelmdweiyll........................ Main Builder/Architect, Stone collector.
xAn9el x Dustx..........................Helped with gathering many resources. (Special Thanks!)
Kitten Just.................................Lumberjack (many thanks)
, dirt/sand/sandstone collector.
Ebjosr.......................................Helped with clearing terrain.
Fearboot699............................Spruce wood Lumberjack.
xy45 fg 2...................................Collected much Oak wood.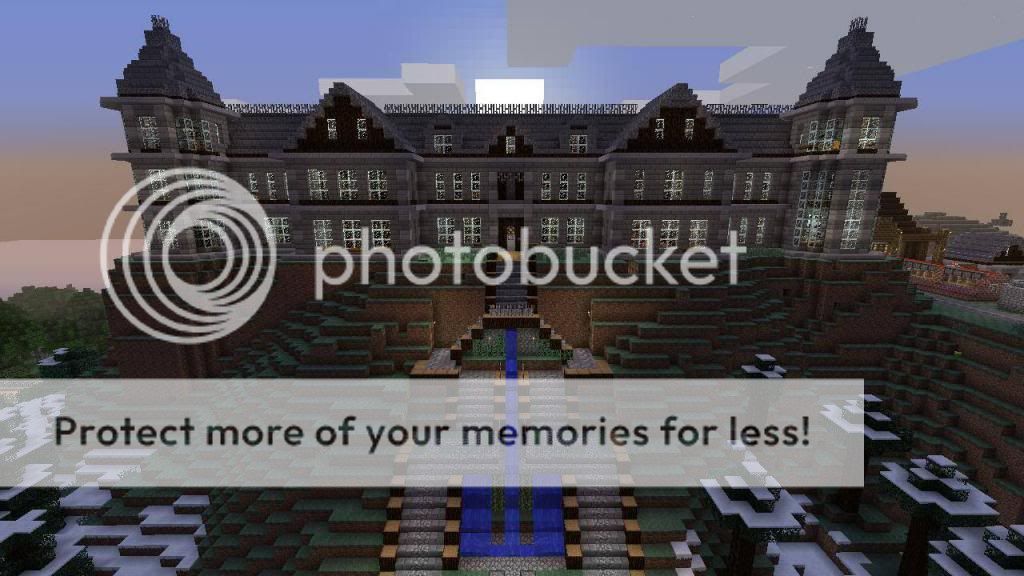 The front entrance. The house sits upon a tall hilltop.
Exterior:
The right side of the mansion. This view shows the melon patch, automatic wheat havester, and sheep/wool farm (built by: Kitten Just).
Behind the house and inbetween the bedroom wings. This is a small courtyard with a gazebo. You can also see the double balconies.
A bridge leads up to the leftside entrance.
Interior:
The first room as you step though the front door threshold.
Storage for all our resources. We keep everything organized here in respective rooms: Main Building Blocks, Hostile Mob room, Vegetation, Wool room, Minerals, Redstone Mechanisms, and alas, the Armory.
There are 8 bedrooms in total: four on first floor and four on second floor. Upper story bedrooms have an attic loft and an extra small room that can easily be converted into a bathroom or other room. Depends on user preference.
First floor bedrooms are fairly larger in comparison to the higher bedrooms and also come complete with a small closet and personal basement.
1
st
Floor Br.
1
st
Floor Br. personal basement.
2
nd
Floor Br.
2
nd
Floor Br. attic loft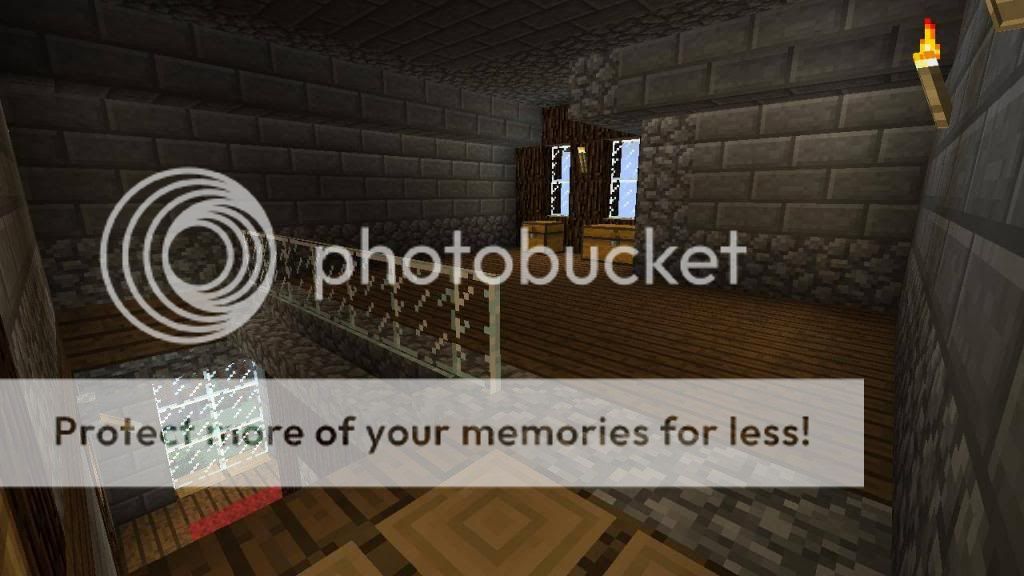 Standing in main hall. The entrance to the kitchen is on the right and the steel door leads out to the sheep farm.
1
st
Floor Br. hallway
2
nd
Floor Br. hallway
And here are some other solo builds...
The Slaughter Shoppe
This is the Slaughter Shoppe, a butcher's home/slaughterhouse. It is located far away in the corner of the map on an island we like to call "Beefy Island". Inside the build are assorted rooms: the shoppe, butcher's bedroom, and the room where the slaughter is conducted. Steak, porkchop, and chicken are produced here with moderate efficiency and can be traded for goods.
Farmer's Plantation
(WIP)
Sadly, it's unfinished. But I thought I'd share anyway.