BloodyPhoenix
Stuck at Home
Join Date:

11/27/2012

Posts:

5,739

Location:

Planet Earth

Minecraft:

GoatsWithRakes

Xbox:

GoatsWithRakes

PSN:

GoatsWithRakes

Member Details
(I am fully aware I could have put this elsewhere, but I figured I'd keep this interesting find for the people who check this quiet section of the forums.)
A good while back I found an interesting method of finding a lot more Spider Jockeys than one usually would.
Who cares?
Not many, to be honest, but it does have great bragging rights when you have 15 as opposed to your friends' 2.
Of course the original was built before experience existed in our game, but now this makes a much less boring and more explosive- and ore-proof way to gain XP than standing in a dungeon/spawner or beating up pretty rocks...both of which I personally hate.
Enough beating around the bush, you're probably wondering how to make a device that spawns Spider Jockeys.
Well, you can't, but what I found increases the odds of finding one to about 1 per night--That's a lot compared to regular hunting,even on Flatlands.
Instructions and such:
What's needed:
--Hours.
--5,000+ of any building block (except gravity-based ones).
--Mutiple Diamond tools (Min. 1 Unbreaking III)
--50-64 ladders
--Bucket of water (optional, but it may be needed once)
--A weapon (Bane of Arthropods IV-V sword preferred)
What to do:
1.) Find a preferred place to build. It doesn't matter what the terrain shape or height is, but directly around your house and at Y=64 is best.
2.) Fill your inventory with the collected materials, and almost nothing else. The more space you have, the better.
3.) Pick a spot and pillar straight up to Y=128 (Maximum building height).
4.) From here, expand this 1x1 platform out in all directions. It doesn't need to be a square, but that is the most functional.
5.) You'll probably want to make this at least 70x70 minimum.
6.) To get down, either dive into deep water or use a water bucket to create a one-way waterfall down. (Place the water and then remove it.)
7.) Use the ladders on the pillar to climb back up. You may choose to make pillars beside it to prevent falling.
8.) Happy Spider hunting!
Pros and cons:
Pros:
--This is great experience. Once developed and with a good weapon, you can reach level 30 in only 2 nights!
--With an average of 1 Jockey per night

(my record's 4. O-o),

you will have some good bragging rights to others.
--You can finally use all of that Cobblestone and/or Smooth Stone you've had sitting around.
--The platform looks intimidating from the underside.
--Those who hate the day now have a 24/7 night-time area on the surface!
--You will never need White Wool or Spider Eyes EVER AGAIN.
Cons:
--This takes a deal of time and gets repetitous.
--You may fall to your death if not careful.
--There will be a massive [block-colour-here] box on your map. However, this will make your home the centre of attention.
--If not balanced by hunting other mobs elsewhere, you will have a massive amount of Spiders on your leaderboards as opposed to everything else. This will make you look like someone who stood in a spider Dungeon all day. That...doesn't look too good to others.
--The area below the platform will be dark enough to summon mobs during all times, and will need to be lit up if you do not want a 24/7 night. However, after a lot of hunting, I had 25,000 Zombies, Creepers, and Skeletons, and only 8,000 Spiders, meaning Spiders seem to naturally generate less.
Statistics:

--Days to level 30 - 2~3
--Spiders per night - 70~100
--Jockeys per night - 0~2
--String per night - 70~125
--Eyes per night - 30~50
--Thanks I'll get - Little

The finished product: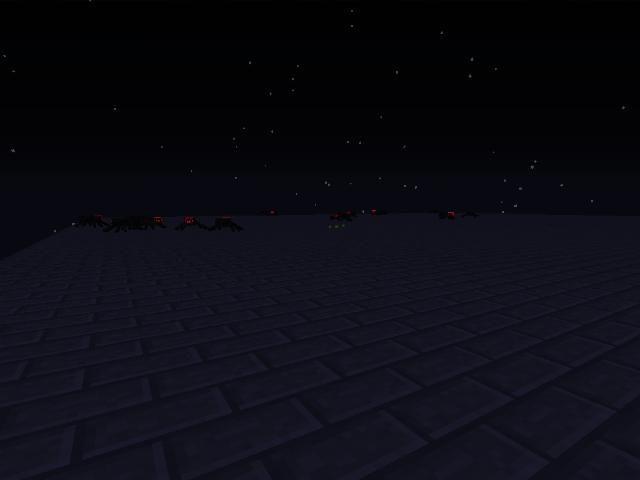 I will probably add another picture or two when I get home if I remember. ¬.¬
--I am not responsible for any gravity- or arachnid-based deaths you receive.--
Well, the forums aren't dying, and neither is my map series on Java.
Check this thread for details or click this link to join the maps' Discord server.