DaltonPlaysMinecraft
Redstone Miner
Join Date:

8/26/2012

Posts:

594

Member Details
Current Game Update: 7/10/13
Read Update in the "Progress" Section!
________________________________________________________________________________
Introduction
Hell's Demise is an epic mob survival arena, consisting of up to 20 playable rounds to beat! Fight wave after wave of mobs, including 4 "mob rounds" that introduce a new mob into play into the rounds afterwards! You won't be able to accomplish this with your starter items, use shops to upgrade gear, weapons, and to buy food and potions! This map is amazing, and i'm not just saying that because I made it! I spend hours tweaking / adding to this map to make it the best it possibly can be! You won't see another mob arena like it here on the Xbox Edition! Can you survive all 20 rounds?

x 7
Round 2
x 7
Round 3
x 7
x 3
Round 4
x 7
x 7
Round 5 - Mob Round - Introducing, Spider [Unlocks Shops]
x 7
x 10

x1
Round 6
x 14
x 10

x1
Round 7
x 14
x 10

x2
Round 8
x 21
x 10

x2
Round 9
x 21
x13

x2
Round 10 - Mob Round - Introducing, Magma Cube
Round 11
Round 12
Round 13
Round 14
Round 15- Mob Round - Introducing, Poison Spider
Round 16
Round 17
Round 18
Round 19
Round 20- Mob Round - Introducing, Blaze [FINAL WAVE]
Points, Lifes, Difficulties & Shop System
Points, Lifes, Difficulties & Shop System
Points(sand) are gained every round. A normal round reward is 1 point, and a mob round (every 5th round) rewards 5 points. However, if you choose multiplayer you will get your normal points multiplied by how many players you picked. (Ex. 2Players = x2 Points, 3Players = x3 Points, etc.)
-Shop System
There are 3 shop sections inside the arena, beat round 5 to unlock the shops!
1.) Armory Shops (Armour)
2.) Weaponry Shops (Swords, Bows)
3.) Life Shops (Potions, Food)
Each shop provides its own upgrades and supplies for specific prices, the better the item the more points it will cost. The boss shop consists of very good items, so make sure to save up (even know you get 20 points after round 20)
-Lifes
In early version of this map you had one life in every game mode but easy, but as of the latest update easy only consists of one life also! Once you die thats it, make sure to use strategy and use your points wisely, or this won't be an easy fight for you!
-Difficulties
There are currently three difficulties, Easy, Hard, and the newest difficulty, Hardcore.
Easy:
Get unlimited Lives until Round 10
Rounds are normal difficulty
Get Bonus Food (steak)
Hard:
Get 1 Life
Rounds are normal difficulty
​Hardcore:
HD Pictures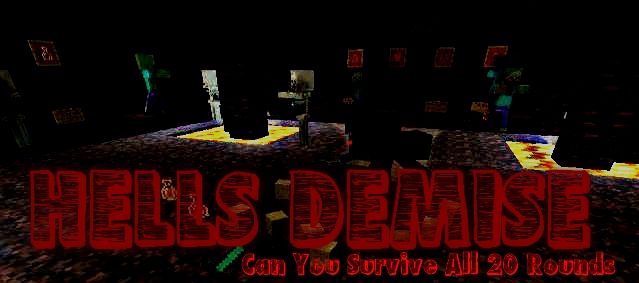 Pictures (6/1/13):
This is just an image of everything in the map, the top is the spawn/settings rooms and the bottom is the actual arena. You get to the arena via teleporter
Heres a picture of the teleporter you go in... this is in the room after you get your gear
...and this is at the top of the arena, its hard to see but that purple area, that is the roof of the arena, the first teleporter takes you here and drops you into the arena. Once you start wave 1 the first teleporter vanishes un-allowing you to "respawn" in the arena!
Here you can see the teleporter is no longer there, this is because I started wave 1 and it vanishes unallowing respawn like I said above
Here a picture of the settings, the left is where you pick your difficulty and on the right you pick your players. In this image I have "Easy" difficulty on with 2 players
Here is the redstone behind the settings...
Here is a picture of inside the arena... nothing really changed in there
and the redstone outside... (btw the glowstone helps reduce lag, if you were wondering)
Now just some in-game pictures!
Pictures (5/5/13):
Pictures (unknown date):
Just another picture of inside the arena:
Here are the armory shops:
Life Shops:
Some Redstone that basically works the game:
I added a stop on the "next wave" button so it can only be clicked every 10 seconds:
Just an overview of the spawn (top) and arena (bottom) in one picture:
Heres the rules room at spawn, rules are incomplete:
Here is where you choose your difficulty (located in rules room):
Here is where you choose players:
Here is the redstone behind the player and difficulty chooser (incomplete):
Gameplay
Hey guys, in this video OverlookeDEnT plays Hell's Demise! I made a few updates after this playthrough, which you can read in the map progress section below. This gameplay is kind of funny considering I didn't tell OverlookeDEnT that the sand was the points system, and when he did find out he tried to throw the block in instead of placing them
In the new update I added a sign that explains how to use the shop system correctly. Also you can see when they play on easy they can't respawn, I have changed this so on easy you can respawn until round 10! Thanks again OverlookeDEnT! If you want to find out how to play the map you can message me!
0%

[
||||||||||||||||||||||||||||||||||||||||||||||||||||||||||||||||||||||||||||||||||||||||||||||||||||||||||||||
]

100%
Updates:
7/10/13 - 100%
Today is a good day, Hell's Demise is finished. My first mob arena, i've been working on this on and off for the past few months.. I could have finished it a lot sooner but I had some other things in the way. This maps been through alot, from map freezes to even more map freezes. Hope you guys enjoyed the journey as much as I did!
Map was played by OverLookeDEnT, the first person to ever play the mob other than me and my friends!
Added a sign inside the arena explaining to place the sand in the shops in order to buy items, not to throw the sand (Thanks OverLookeDEnT!)
Fixed some other signs
Redid easy mode, now easy mode provides unlimited lives until round 10, then you're on your own again!
Added my watermark so nobody can steal the map
Added OverLookeDEnT to my list of people I thank in the map
Added a little easter egg in the game lobby, doing this will give you an item that will help you out in the arena!
Fixed other minor things
Did several simulations in the arena, everything seems to be working good!
6/16/13 - 98%
Re-Did "Hardcore" Mode because it was impossible to beat. Instead of harder rounds, you get normal rounds but you don't have access to use the shops, making you have to use the starting gear
Wired hardcore mode into the arena
Wired easy mode into the arena
Before you had to wait to round 5 to use the armour shops.. kind of pointless so I removed that
Easy mode now gives golden apples every round
Re-Did map ending
I will now be testing the map for bugs... release soon!
6/01/13 - 95%
Picture update, was suppose to be yesterday but I fell asleep
5/31/13 - 95%
Getting certain people I know to do a beta test!
Picture Update! (coming later today)
Created an in-game thumbnail for the map! (the picture beside the world name when loading up the map) It went from this to this!
Recreated everything that got lost in the 5/14/13 map freeze!
Added glowstone around redstone to reduce lag
Update Bugs: The Hardcore game mode is a little screwed up, still unfixed from last update - Bug with round one of the game, starts on round two for some reason
5/30/13 - 95%
Wired the whole "Settings" selection, including all the difficulties, and multiplayer settings.
Wired the "Settings" selection to interact how the game is played (wired to arena)
Wired a "Confirm Settings" check that checks that you have selected options before letting you continue to arena
Added a portal that takes you to the arena
When you start the first round, the portal will vanish un-allowing players to re-enter the arena
Easy now only has 1 life just like Hard and Hardcore, however on Easy mode you get bonus food items to help you out
Reduced lag in some parts of the wiring
The game is now playable without going into creative mode! woohoo!
Removed Herobrine
Update Bugs: Noticed that when playing on "Hardcore" sometimes it would skip a round and/or deploy the wrong mobs
5/14/13 - The Map Freeze - 88%
On 5/14/13 I was doing my days update and the map stopped loading up correctly. This is NOT 4J's fault but my own. Luckily, a few days ago I backed up the save. However I did a ton in the time between the backup and the freeze. I spent all yesterday trying to fix my save by clearing the saves accounts, inventories etc. but nothing worked. It looks as if i'm going to just start from the backup and re-do most things. I lost probably around 5% of work... I hope to make this up soon.
5/13/13 - 93%
Added the portal in the spawn lobby that takes you down into the arena
Removed "Boss Round" and replaced it with a ending room that teleports you back into the spawn area
5/12/13 - 90%
Finished the "pick number of players" feature. The more players, the more points you get per round!
Removed the "boss round" and made round 20 the new "boss round"
Fixed some bugs
5/5/13 - 88%
4/27/13 - 88%
Fixed 4/19/13 Bug
Picture Update! Check the "Picture" section to see the new pictures!
4/19/13 - 88%
Finished the last shop, the food shop. All shops are complete
Finished round 20, the final wave
Lighted up areas to reduce lag/mob spawn rate outside arena
Got rid of unneeded blocks outside of the arena and around the arena
Put a stop on the next round button to prevent spam clicking... must wait around 10 seconds to click it again to activate next round
Lowered the food count in each food dispenser to 5, so 10 free steaks in total for the fight!
Update Bugs: There is a rare chance for the redstone to bug and lock up causing all the rounds to activate
4/18/13 - 82%
Added two Food buttons i the arena, these give you free steak for hunger (might remove in future)
Fixed 4/17/13 Point Bug where some rounds would give more sand than it should
Fixed an issue where 3 extra skeletons were spawning on round 4
Relocated the difficulty selected to the info room at spawn
Added a # of players selected... More players = More points every round for everybody
Re-did the weapon shop, instead of buying different swords you just upgrade the same 1
Starting/Buyable items no longer degrade
Finished another shop, the weapon shop now 2/3 shops are complete (still need food shop)
Made the Boss Shops look better, added display frames but didn't do redstone yet
Updated thread with rounds 10-19 and added info on hardcore/updated old info on difficulties
Worked a bit on boss round arena, still need work
4/17/13 - 80%
Added up to round 19, still need to do round 20 and boss round... thread will be updated soon
Worked a bit on the boss round
Added a "Hardcore" mode where double the mobs come every 2 rounds
Created a signature for the map
Update Bugs: Some rounds seem to give 4 points instead of just 1
- All Previous Updates Are Not Recorded -
I had an old support signature that I removed because I found it pointless that nobody used it, however since the removal I saw 1-2 people around the forums with the old one in their signature! I decided just to bring it back to have it incase anybody wants to show their support! Click the link below to be taken to a page where you can get the Hell's Demise support signature! No download required!
Preview of the Signature:
Hi Guys, today i'd just like to say thank you. Each and every one of you that viewed this thread, whether you left a comment or a vote or not, it helped me out on creating this map. Without the support I gained through you guys comments saying "Good Job" and "Looks Good" I probably wouldn't even be close to finishing this. I started this map a while ago but gave up on it... after starting it up again and posting this thread I always wanted to work on it to try to impress you guys. Much more to come in the future if you are interested in what I do, you can also subscribe to my channel where I will be uploading videos of my maps
here
. I made a wall in the map with each and every one of you that replied to the thread that said either your gamertag, or if you didn't provide a gamertag on your profile your forum name. The map is pretty much done, just getting somebody to record it then it will be playable for you guys... thats about it, bye.
So What do you guys think so far? This map is only in early stages but I plan to be done with it soon as I am having a fun time making it! Suggestions, ideas, etc. are welcome! Also, if you are looking forward to the map click that rep button!
Mods: if for any reason this thread is breaking any rules (which I don't think it is) please before locking it inform me. I will be happy to remove whatever is causing the issue!