GrimSkellington
Redstone Miner
Join Date:

12/14/2010

Posts:

548

Member Details
[center]Minecraft Biospheres
And
Minecraft Let's Play Adrift[/center]
[center]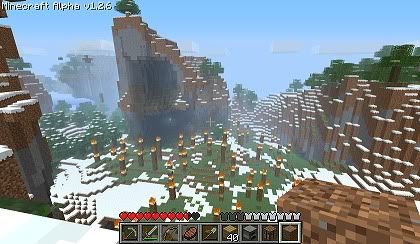 [/center]
3 Reasons you should watch my Let's Play:
-Experience- With over 100 episodes of practice I have gotten much better with commentating
-Variety- None of my Minecraft Let's Play are of the standard variety. My current LP is of a challenge map. I can skip most the starting tedium and get right to the meat of the series
-Endorsement/suggestions- With a quickly growing viewer base I am catering to the (good) suggestions of my viewers. While I won't make a giant golden dong for you, I will give actual consideration to any ideas given to me that would compliment my existing builds.
[center]Playing with Biospheres[/center]
A mod by Risugami, Biospheres replaces the level generator with a new modified one that builds everything in spheres and encases it in glass. Having found a pumpkin early in my traveling, I have decided to make it my inanimate friend and begin construction on the Alpha Sphere.
(1)
(2)
(3)
(4)
(5)
(6)
(7)
(8)
[center]
Hardcore Ineptitude
[/center]
Having seen the true extent of my ability to kill myself on accident, I've decided that the Ironman (Hardcore) challenge would be perfect for me! Or at least so misguided that it may be seen as humorous.
(1)
(2)
(3)
(4)
(5)
[center]
Minecraft Let's Play Adrift!
Because I can't seem to do regular Let's Plays like everyone else, this is a Let's Play of challenge map called "Adrift" by TheWova. It strands me out in a boxed in area in the middle of the ocean and forces me to survive with the absolute minimum. Coupled with a list of optional challenges (And how could I turn such lovely things down?) I will have to play carefully to ensure I don't die.
Unlike with my other series, I plan to actually try to build and make something for myself here on my boat. Whether I decide to tear the whole thing down for my uses or ever expand on it until it is a mutated shell of its former self has yet to be decided.
Minecraft Adrift Topic
Episodes:
(1)
(2)
(3)
(4)
(5)
(6)
(7)
(8)
(9)
(10)
(11)
(12)
(13)
(14)
(15)
(16)
(17)
(18)
(19)
(20)
(21)
(22)
(23)
(24)
(25)
(MOVIE)
(26)
(27)
(28)
(29)
(30)
(31)
(32)
(33)
(34)
(Bonus)
(35)
(36)
(37)
(38)
(39)
(40)
------------------------------------------------------------------------------------------------------------------------
Minecraft Travels!
[center]I have noticed that most Minecraft let's plays focus more on the building and less on the traveling to see the great formation of the random generator. I have decided to create my own Let's Play where I will travel the world of Minecraft World 4 in search of...great land?...spiritual inspiration?...something. What Something is will likely change, but it is the journey that counts, right?[/center]
[center]The more you subscribe or comment, the more I'm motivated to work, so please do both! I also love constructive criticism, but it does need to be constructive. Blind insults don't help me and will get you blocked.[/center]
Pictures from the journey
[center]Life 1:
(1):
(2):
Life 2:
(3):
(4):
(5):
Bonus Video:
Life 3:
(6)
(7)
--- BETA ---
(8)
Life 4:
(9)
(10)
(11)
(12)
(13)
(14)
Life 5:
(15)
(16)
(17)
Time Lapse Video of Building a Mansion on the spawn island.
[/center]
Time Lapse - How to Build a Village
Building a Harbor and Lighthouse
-----
[center]
Let's Play ZombieCraft
[/center]
[center][/center]
GrimSkellington's Let's Plays
Multiple Minecraft LPs featuring ever growing boats, Pumpkin Buddy, Biospheres, Dungeon raids and a whole lot of deaths!