Lakuspakus
Out of the Water
Location:

Hosle

Join Date:

7/6/2013

Posts:

8

Member Details
Look at this picture and guess what I´m going to talk about. I´ll bet you wont guess it.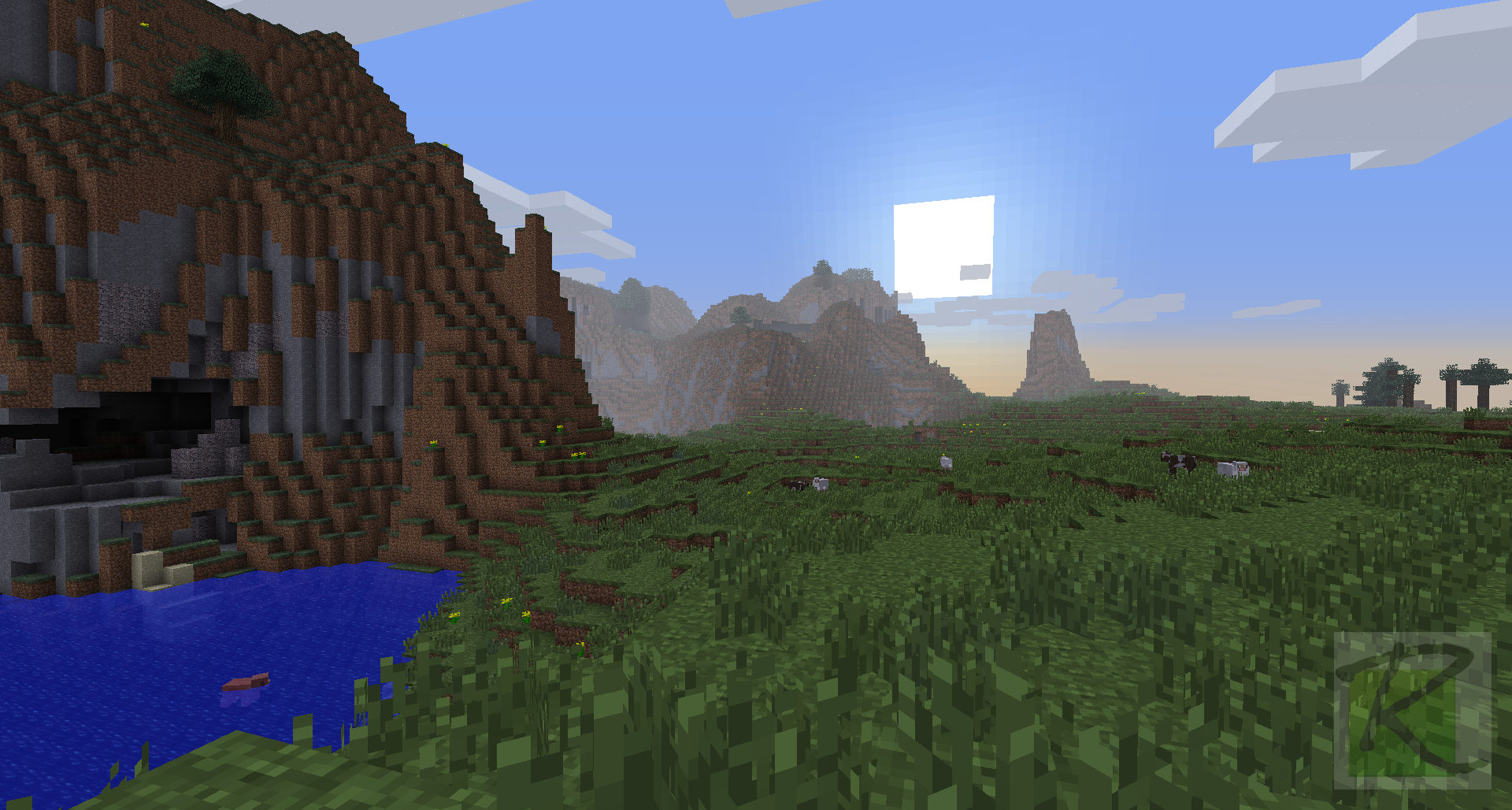 Yes, it looks glorious. Yes, there is a drowning pig. Yes, there is some random logo. And yes, you´ve probably seen this scene a thousand times. But have you ever really noticed how abruptly the landscape rises? Of course this is just fine most of the time and I wont speak for anyone else than myself, but I´m getting a bit tired of it. And before anyone says I do, no, I don´t want every mountain to have a gentle slope to the top I can wander up on. I´m just using this as an example of how flat and abrupt the Minecraft world really is and that I feel it needs more varied elevation.
Think about it. Rivers? Always flat. Always. They never go downhill and they´re almost always sunk into the landscape because of their need to ble flat. Most biomes? Flat with some bumps here and there. The bumps? You got it, they`re pretty often flat on top as well. And they rise pretty abruptly from the surrounding flatness. Mountains? I don´t have any problems with them per se, but they are more like craggy hills than mountains. They rise up from the flatness as fast as they can, don´t really go high enough to be a mountain and fall back down.
A plains biome next to a mountain should IMO not just be flat and crash into the steep side of a almost verticall mountain wall. The plains should form a slope, steeper and steeper the closer it gets to the mountain, resulting in natural looking mountains. And they should be mountains, not just hills. Make them taller. Make them ease into the surrounding landscape, creating natural looking mountains, hills, forests and biome transitions. Raise the entire landscape of the world. We got 256 blocks of vertical space and its barely used. Plains with rolling hills, tall broad mountains that rise gradually 180 blocks out of the surrounding landscape, highlands in those mountains, rivers flowing downhill from them, the mountains transtioning into a forest biome which continues the gradual descent and before plains and a beach transtitions the river into the ocean. Hopefully, you now know what I´m talking about. The Minecraft world reminds me of a flat miniature wargaming terrain-table with modular components rather than a
By all means, I think the current flat plains crashing into extreme hills looks cool and would like to keep them. I´m just tired of always being on roughly the same height all the time and the flatness of it all. The potential in the 256-block height limit is enormous as plugins like TerrainControl and BiomesXL have shown us. Just reach out and use it, Mojang! I dont want or need crazy worldtypes like the new amplified one, just one that utilizes whats available . But of course still with the wierdness of Minecraft. The craziness is a part of the soul of this game. The spiked ice plains biome btw? Fantastic. Easily my new favourite. A shame its so rare. The more people can find places like that, the more can enjoy them.
Look at this! Other terrain generators have been doing this for a long time. TerrainControl is the one I have experimented with the most and the results are stunning and fantastically imaginative. And it can do it just like vanilla, with procedural generation! These are some examples of generation that utilize the height limit and gradual transtions to make a real impression.
Sorry for the wall of text. English is not my first language and i tend to write too much once I get going
Anyway, here´s to hoping the Mojangsters have been fiddling with plugins like TerrainControl and seen the potential just lying there. With proper managing of elevation, biomes everywhere would be uniquie due to them responding to the elevation of the biomes around it. Its a shame we have to use custom terraingenerators when the game could do it fine by itself.