SabbyKat
Retired Staff
Ghast Hunter
Join Date:

10/15/2010

Posts:

2,658

Minecraft:

SabbyKat

Member Details
et's clear this up, shall we?
----> 1.8 MINECRAFT UPDATE HAS BEEN RELEASED! <----
Well darn! We're a sticky thread now! Within this thread you will find nearly all known information about 1.8 and its released content, as well as the smaller details about each that are known, or at least have solid evidence to back them up!
If I am missing any information, PLEASE post what, and I will add/fix it up right away
PLEASE NOTE: a mark with a '*' beside it is newly learned, and updated information I am updating as I get solid evidence.
GorgeousTaylor was here. :3
~~~~~~~~~~~~~~~~~~~~~~~~~~~~~~~~~~~~~~~~~~~~~~~~~~~~~~~~~~~~~~~~~~~~~~~~~
RUMORS AND THE TRUTH
My World is Gonna Be Lost in 1.8!
- Incorrect! With Notch's clarification, ALL features of 1.8 can exist, in newly generated chunks in old worlds. Understand though... the terrain changes may cause new chunks to generate in RADICALLY different ways then your current generated land. A flat plains beside new chunks may run into a 128 tall wall of stone from a mountain biome, making for a hideous sight. But everything from 1.8, should work in prior maps... for now.
Seeds
- Yes, your old 404 seed and such, WILL NOT GENERATE THE SAME WORLD EVER AGAIN AFTER 1.8! No, there's no way to fix it. No, Notch is not making a program for you to do so. The new terrain will generate in a manner totally alien to the current seeds, so it would be impossible to mimic it, as such terrain simply cannot exist in that shape again.
- Custom Seeds and the ability to enter them are confirmed for 1.8! They are under the 'more world options' button! So don't panic about not being able to enter custom seeds at all!
Adventure Mode
- 1.8 is part of the adventure UPDATE, not mode. The adventure update seeks to add adventure-like additions to survival, which reward/encourage exploration and challenges.
- The Adventure MODE is a POSSIBLE addition in the future, which will turn minecraft into a kind of blocky-RPG, and may add such features as potions, classes, alchemy, limited-ability-to-break blocks, keys and traps, and such things exclusive to Adventure MODE.
- 1.8 IS THE ADVENTURE UPDATE TO SURVIVAL MODE.
Endermen and Diamonds
- These were a TEMPORARY item for PAX (the game event Notch and Jeb were at), since they did not know what Endermen were going to drop.
* - ENDERMEN NOW DROP ENDER PEARLS.
~~~~~~~~~~~~~~~~~~~~~~~~~~~~~~~~~~~~~~~~~~~~~~~~~~~~~~~~~~~~~~~~~~~~~~~~~
TECHNICAL ADDITIONS
The Fog Toggle Key (IS BACK)
* - The fog toggle key WAS removed in the original pre-release, BUT HAS BEEN RE-INSTATED in the second pre-release and full version. The render distance options are still available.
Lighting
- The lighting engine has received a complete, total overhaul in 1.8. Not only is it now MUCH more efficient, it looks much better. It gives off a gradual fuzzy glow that tapers off in the distance, rather than block-by-block.
- Night time lighting is MUCH easier on the eyes, and prettier. While torch light is reddish, moon light is blue.
- Lighting now does not need to 'update' each time a block changes, making for transitions from night and day smooth and instant, no stuttering or jumping.
- Torches DO NOT provide light when held, and lanterns HAVE NOT been added in 1.8.
S.M.P.
- SMP will now keep a list of servers you have joined, if they are connectable, how many players are on them, and what your ping is to them!
* - Keep in mind that you must manually add servers to this list.
- Vanilla SMP now has a Player List of online players! It is accessed by pressing the tab key, and it also displays each player's connection strength.
Game Settings
- There is now a field of view slider which lets you see more around you. The slider goes from 'Regular' to 'Quake Pro'.
- A brightness slider has been added. You can use it to adjust the brightness in game. Allows those with darker monitors to see in darkness without messing with their monitor's brightness settings. The setting extremes are 'Moody' at the lowest end or 'Bright' at the highest.
- There is a 'More World Options' button when creating a world, that allows you to input Custom Seeds, and toggle naturally-generated structures.
Finding Your Seed
- When pressing F3, you can now see the seed number of the world you're on.
Logging In
* - Mojang has an updated logo, with their "orange square" to the left of their name.
- A new background is displayed on the title screen, portraying a world slowly revolving.
Texture Packs
- Selecting an 'invalid' Texture Pack will no longer cause black screens, but revert to the default texture pack. Source
~~~~~~~~~~~~~~~~~~~~~~~~~~~~~~~~~~~~~~~~~~~~~~~~~~~~~~~~~~~~~~~~~~~~~~~~~
CREATIVE MODE
When creating a world, you have the option to make it "Survival" or "Creative". After you choose, there is no way to change your world's mode, unless you alter the game files. Creative mode is specifically for building, and has no challenge. It is only limited by your imagination.
The Creative Player
- In Creative mode, your player is completely invulnerable. No health bar, no hunger bar. Mobs still spawn, can be damaged, and provide drops, but cannot hurt you.
- Your inventory has been replaced by the Creative selection screen. Here, almost every single block and item is available for your choosing, in infinite quantities. This includes many blocks that are unobtainable in Survival mode, such as bedrock.
* - If you pick up an item in Creative mode, and it cannot go into your hotbar, you can still access it by activating a crafting table, where your inventory functions as normal.
- Any block can be instantly mined, no matter what tool you are using, if any. These blocks do not provide drops, as all of them are accessible from your selection screen.
- Flying is available in this mode. To activate, simply double-tap your jump key (it can actually be harder than it seems). Once your flying, use the shift key to descend. This can be used to easily navigate landscapes in Creative mode.
Creativity in S.M.P.
- In S.M.P., any OP can access Creative mode with a simple command. This command is "/gamemode [username] 1", where the 1 is replaced by a zero if you wish to access Survival mode again. When OPs are using Creative mode, the world functions as normal for the other players.
~~~~~~~~~~~~~~~~~~~~~~~~~~~~~~~~~~~~~~~~~~~~~~~~~~~~~~~~~~~~~~~~~~~~~~~~~
TERRAIN AND BIOME CHANGES AND ADDITIONS
Terrain generation arguably receivedlargest update in 1.8, with an ungodly addition of changes, new content, and improvements.
The Biomes
- The biome code has been completely revamped, and is now "fractal-based". Each biome is now absolutely GARGANTUAN in comparison to their previous versions, and are MUCH more distinct. This means that exploration is necessary to discover new terrain features. No longer will you stand at the edge of a mighty desert, and see the end of it on the other side.
- "Cross-over" between biomes is usually more refined, due to biome distinction. You shouldn't find grass mixed in a desert, or chunks of sand 20+ blocks from the edge of a desert, in blobs. However, the distinction of biomes means that there is a drastic border between two biomes, that is sometimes quite jarring.
* - In all, the seven biomes are: Deciduous forests, coniferous forests, plains, mountains, swamps, deserts and oceans.
* - Forest biomes are more dense than you would expect, and it is easier to become lost in them. The deciduous type is filled with normal trees and birch trees, while the coniferous type is exclusively filled with pine trees. Although it should snow in the latter biome, IT DOES NOT, and this is confirmed to be an accidental ommission. Snow should be re-instated in 1.9.
- Mountain biomes are a LOT more extreme than their previous equivalents. They have long ridges of enormous mountains, with deep valleys in between them, making for beautiful Minecraft vistas. Finding 'smooth' ground is usually very difficult. Conversely, it is very easy to take crippling fall damage.
- Swamps are one of the more curious biomes. Their trees grow a new type of foliage, vines! These can be harvested with shears, and spread along adjacent tiles. The darker areas underneath these trees, means that you can find more mushrooms in swamps. You will also encounter large, shallow pools of water, in which trees can be naturally generated.
- Ocean biomes are the biomes between 'continents'. They are MUCH larger than you would expect, and much deeper. It is possible to drown by diving to the bottom and attempting to reach the top again. Though, nothing else of note has been done for them, sadly.
* - Tiny islands can be found in the aforementioned ocean biomes. They are usually devoid of features, and can form archipelagos. Spawning on one provides an extra challenge.
Terrain Features
- Rivers have been added. They do not generate with a current, and are mostly at 64 height. Many times, they will separate biomes, and will eventually lead to the ocean. These rivers make for nice landmarks, as they are very long and extensive.
- Ravines have been added as well, and they are the river's deadly cousin. Tearing through the land, they can be relatively wide. very long and EXTREMELY deep, easily killing hapless players with fall damage.
* - Ravines are usually crawling with other perils, such as lava flows, strong water currents and swarms of hostile mobs. They can even generate underneath the surface, and these ravines are pitch black, making for terrifying experiences.
* - Tall grass is treated differently than it was before. It is no longer "offset" from the tile grid, and fits within each tile perfectly. Reception has been mixed. It should also be noted that tall grass CAN NOW BE SHEARED AND OBTAINED as an item.
* - Reeds can now grow on sand. This allows for more reeds on the map, and easier reed farming. For those who are unfamiliar with "reeds", I mean sugar cane.
* - Water has been provided with a new particle effect. It is tiny and easy to miss, but seems to be an improvement.
Structures
- "NPC" villages are relatively uncommon structures that can appear on the surface of any biome, but they require flat land. Although they are devoid of NPCs in 1.8, they will eventually provide a home for whatever NPCs we receive in future updates.
* - The villages are made up of houses, farms, watchtowers, a smithy and a community well. Common materials include: Wood, wooden planks, cobblestone, gravel, glass panes, fences, trapdoors, wooden doors, wooden stairs, wooden pressure plates, stone slabs and torches. The farms are irrigated and grow wheat, while the smithy has a lava forge surrounded by iron bars.
- Abandoned mineshafts. Ancient mines, littered with wooden beams and torches at specific intervals. They function as labyrinthine mazes, in which players can easily become lost. Many times, they are intersected by ravines, adding to their peril.
* - Along the floor of these mineshafts are minecart rails, that can be looted. And if you explore far enough, you can discover dungeon chests! New loot includes: Coal, gold ingots, lapis lazuli, iron picks, diamond gems and watermelon seeds!
- A special variant of spider is located in abandoned mineshafts. They are called Cave Spiders, and they can poison the player (more information is available in the "mobs" section). Their mob spawners are surrounded by natural cobwebs, which can be sheared or attacked for string.
- Strongholds. They can be described as souped-up dungeons, made up of the new "stone brick" block. Not quite as confusing as the abandoned mineshafts, but they still take a while to navigate, and can still be intersected by ravines. ONLY THREE ARE GENERATED PER MAP, and they can only be generated 500 blocks away from your spawn point, or more.
* - Stronghold rooms can be very distinctive. Some of them are made up of wooden planks, ladders and fences. Others are obstructed by iron bars and iron doors, the latter of which can be operated with buttons. Finally, libraries can be found, including a plethora of bookcases, and chests that contain paper and books.
* - Strongholds have some loot, a lot of which is shared by abandoned mineshafts, but legitimate red apples can only be found in strongholds. As was intended, they can be crafted into golden apples.
* - Keep in mind that the notorious silverfish may be unique to strongholds. See the "mobs" section for more information.
World Limitations
* - As aforementioned, snow is absent from 1.8, unless you load a previous world with snow in it. This will be fixed in 1.9.
* - The cloud layer is higher than it once was, now taking place at the uppermost point of the Y-axis. This prevents clouds from intersecting with structures.
* - At the map's bottom layer, a black fog has been implemented, obstructing the player's vision. For this reason, it is not advised for the player to spend time here unless they are prepared. Similarly, the Void is now black instead of blue, and has been provided with a new particle effect.
* - The Far Lands seem to have been replaced by a vast ocean. This goes against Notch's previous statements, so it may be an accidental ommission, or the Far Lands may simply be "farther out" than they were before.
~~~~~~~~~~~~~~~~~~~~~~~~~~~~~~~~~~~~~~~~~~~~~~~~~~~~~~~~~~~~~~~~~~~~~~~~~
THE SURVIVAL ASPECT
(Hunger, Stackable Food, Animals, Farming)
The Hunger Bar
- The hunger bar is an entirely new method of restoring health! Instead of directly restoring your health, food items serve to fill your hunger bar. A full hunger bar can allow for automatic health regeneration. This means that you can no longer spam porkchops to insta-heal, and that strategic retreats and resource management are more necessary than ever.
- If you are worried about the hunger bar, remember that almost all food is NOW STACKABLE to 64, and that there is more food than ever, nearly double the amount as before. This is explained in detail further along.
- Where your armor bar used to be, the hunger bar is now located (the armor bar is now above the health bar). Here, the hunger bar appears as ten drumsticks, which gradually deplete. At nine or more drumsticks, your hearts will regenerate themselves, at a rate of one half-heart per second.
* - Your hunger bar CANNOT deplete while you are idling, and depletes FOUR TIMES as fast when you are sprinting. When your hunger bar is empty, you cannot sprint at all. Sprinting is explained in the "combat" section.
* - When your hunger bar is empty, you will actually LOSE hearts at a gradual rate. The extent of this is decided by difficulty. On easy, your hearts will deplete to five. On normal, they will deplete to one half-heat. On hard, you can actually be killed by starvation, posing a whole new danger. The hunger bar cannot harm you on peaceful.
Animal Persistence
* - Although it was not mentioned in the patch notes, animals do not seem to be de-spawning or re-spawning as they did before. Animals have been reported to be inordinately common or extremely scarce, suggesting that they solely spawn with the chunk, and that different results cannot be offset by re-spawn rates.
* - The lack of reliable re-spawning encourages farming and exploration. Thankfully, there are more farming options and food types than ever, but a lack of animals can pose a problem for finite maps.
* - The lack of reliable de-spawning has certain benefits. Animals can be kept in reserve for when you absolutely need meat, saddles are no longer wasted on pigs that will just de-spawn, and most importantly, chicken farming is more efficient than ever. Unfortunately, sheep do not yet regrow their wool, so shorn sheep can stick around for ages, while remaining relatively useless.
* - To chicken farm, you must trap chickens and collect eggs from them. An egg has a chance of spawning a chicken, and with more chickens come more eggs, meaning exponential chicken growth. Therefore, chicken meat is the only reliably renewable meat in the game, besides fish.
Food and Eating
- All food is NOW STACKABLE to 64, with the exception of mushroom stew. This means that food will not take up your entire inventory, and can easily be carried on the fly.
- Eating food requires you to hold down the right-click button, until the food is gone and hunger is restored. The animation consists of food particles flying everywhere as the food is brought to your face. Walking is brought to a crawl while you are eating.
* - The new food types and values. Melon slices, raw fish, raw chicken, apples and cookies heal for one (1) hunger. Raw porkchops and raw beef heal for one and a half (1.5) hunger. Rotten flesh heals for two (2) hunger. Bread and cooked fish heal for two and a half (2.5) hunger. Roast chicken heals for three (3) hunger. Mushroom stew, cooked porkchops and steak heal for four (4) hunger. Golden apples heal for five (5) hunger.
* - There are new status effects attached to some food items. Rotten flesh is the new zombie drop, as zombies NO LONGER drop feathers. When rotten flesh is eaten, your hunger bar becomes green and depletes more rapidly than normal. This can also happen if you consume too much raw chicken. If you eat a golden apple, you will receive one half-heart of health regen even when your hunger bar is NOT full. This allows for a whole heart of health regen when your hunger bar IS full.
MOAR Farming
* - Watermelons are a new source of food that can be farmed. Melon seeds are ONLY acquired in abandoned mineshaft chests. When planted on farmland, a stem is grown. If mature, the stem can ALWAYS grow a fruit on any adjacent farmland tile, and nine adjacent farmland tiles are required for maximum efficiency.
* - Destroying a watermelon affords up to five melon slices. Each melon slice can restore one (1) hunger, OR can be crafted into more melon seeds. Stems can also be destroyed for more seeds, but this is less efficient, as a mature stem can afford an INFINITE NUMBER OF WATERMELONS.
* - Bone meal works on watermelon stems, but WILL NOT automatically afford a fruit. Instead, the stem will mature to the point where it CAN grow a fruit.
* - Mushrooms will still spread, but CANNOTspread INFINITELY. Thankfully, there is a new method of mushroom farming! When bone meal is applied to any mushroom on dirt or grass, a GIANT MUSHROOM is grown of the same color. Destroying the giant mushroom's "cap blocks" has a relatively low chance of dropping more mushrooms of the same color.
*- The above method is an excellent way to stock up on stew, but mushroom stew CANNOT BE STACKED like other foods. If you eat mushroom stew, you will receive a bowl afterwards.
~~~~~~~~~~~~~~~~~~~~~~~~~~~~~~~~~~~~~~~~~~~~~~~~~~~~~~~~~~~~~~~~~~~~~~~~
COMBAT ADDITIONS
New Damage Values
(Damage Nerf, Critical Hits)
* - ALL PLAYER DAMAGE HAS BEEN NERFED! With any weapon, or lack thereof! The nerf is equal to one half-heart (0.5), so that unarmed damage only deals one half-heart now, as it did before Beta 1.5. This is especially noticeable while punching animals, and rewards alternate methods of combat.
* - Critical hits have been implemented, to reward... Hitting while falling down, I guess. If you hit anything while you are travelling downward, you will strike for +50% damage! This damage rounds up for heart value purposes, so if you crit while unarmed, you will deal a whole heart (keep the damage nerf in mind).
* - If you strike while you are jumping UP, you will NOT crit. Thus, it is easier to crit while falling from a height than falling from a jump. To make sure you've done it, look out for the "stars" animation.
* - Armor's buff no longer applies to certain types of damage, such as drowning and burning, but still works as normal in other scenarios.
Experience Orbs
- After every MANUAL KILL, you will receive a number of experience orbs. These colorful orbs go toward filling your experience bar, right above your hotbar. Once this bar is full, you will be rewarded with skill points. Currently, these skill points are not useful for anything, but they will be used to purchase skills in 1.9.
- If you die, you will drop ALL of your experience orbs, depleting your experience bar back to empty. This will have a much larger impact once skills are implemented. Another thing to remember is that, experience orbs only drop from MANUAL KILLS, so mob traps will not afford any.
Sprinting
- Sprinting is in! And it is RIGHTEOUS! To sprint, you must double-tap the forward movement key. This allows you to run at DOUBLE the speed of normal movement, which is very useful for anything from fast travel to mob evasion!
- If you jump while sprinting, you can surpass four blocks of space in front of you. This is especially useful while navigating extreme terrain, such as in mountain biomes or ravines. It will probably revolutionize parkour maps.
* - If you ATTACK while you are sprinting, you will knock any mob or player back by EIGHT BLOCKS. This amazing knockback can come in very handy if you are low on health and hunger, although it is harder to achieve than you may think, and can backfire.
- Sprinting has a few downsides. It depletes hunger FOUR TIMES as quickly as normal movement, and it does not allow for easy turning, only forward movement. So, it should not be used in ANY situation.
Blocking
* - Blocking has been implemented! It is activated by right-clicking, while you are wielding any sword. It prevents damage from being taken, but only blocks damage from the front, and prevents you from attacking as well.
* - It is a bit difficult to time your blocking when facing enemies that lack attack animations, such as zombies and spiders. However, skeletons' arrows can be deflected by blocking.
The Overhauled Bow and Arrow
- The bow has a much different dynamic than it used to, and is now MUCH more valuable. By holding down the right-click button, you can charge your arrow, allowing for three stages of charge. A charged arrow will travel farther and fly faster.
- The new arrow damage is decided by speed. The slowest arrow will only deal one heart of damage, but the fastest arrow will deal FIVE HEARTS of damage. Considering that faster arrows also travel farther, it is less wasteful for you to always charge your bow.
- When the bow is charged, it zooms in on the cursor. This allows for easy sniping of hostile mobs, but note that gravity is still a factor, although it can be superceded by speed.
* - Skeletons now have THE SAME BOW AS THE PLAYER. They will actually charge their bows with a visible animation, and their charged arrows are more accurate and have a longer range than before. Watch out!
~~~~~~~~~~~~~~~~~~~~~~~~~~~~~~~~~~~~~~~~~~~~~~~~~~~~~~~~~~~~~~~~~~~~~~~~~
NEW MOB INFORMATION
Enderman
- Endermen are a new mob that spawns as a passive entity, but will become aggressive if you place your cursor DIRECTLY over them. Otherwise, they won't attack the player.
* - They look fairly creepy (or adorable, depending on the player). Standing three blocks high with long, spindly limbs, they bear a resemblance to someone else we know. They are completely black, sans their purple eyes and purple smoke particles as of the current 1.8 build. Oddly, they emit zombie noises. This may be an oversight.
- As aforementioned, Endermen become aggressive when focused on. As long as your cursor is still on them, they will stand still, but if you look away, they attack. An aggressive Endermen deals two and a half (2.5) hearts on normal, just like a zombie. They seem to possess ten hearts like most mobs. Unlike other mobs, the Enderman can TELEPORT to reach their intended victim!
- Enderman teleportation has a fairly impressive range attached to it, so be careful. The distance is set, so they may have to teleport multiple times to reach you, but they WILL. They can actually teleport at point-blank range in order to navigate behind you or to the side.
* - When Endermen are NOT aggressive, they have an amusing gimmick. They use their disproportionately long arms to pick up the blocks around them, just like the player can. However, they do not seem to have an inventory, as they can only pick up and place one block at a time. To their benefit, they can pick up ANY block, even player-placed ones or ones that the player can't pick up.
- Endermen have a couple of weaknesses you can exploit. First of all, they are burned in the sunlight, just like zombies and skeletons. Second of all, they TAKE DAMAGE IN WATER. It is gradual, and does not seem to be on par with lava damage, but this includes ANY water, even rain. Third of all, wearing a pumpkin on your head will prevent your cursor from focusing on an Enderman, stopping it from becoming hostile.
* - The Enderman drop is completely unique. It is called an "Ender pearl", and its usage is unconfirmed.
Cave Spiders
- Cave Spiders look like regular spiders, but their dimensions are significantly smaller, they are blue in color, and they are only found in abandoned mineshafts.
- They inflict a poison status effect on the players they bite. Your hearts will turn yellow, and you will gradually lose health. This makes Cave Spiders a pain to deal with, and you should not combat them unless you are prepared. Keep in mind that poison damage CANNOT kill you if your hunger bar is full.
- Because their dimensions are smaller, Cave Spiders can navigate the cramped passages of abandoned mineshafts more easily than the player can. Their mob spawners are usually tucked away behind a barrier of natural cobwebs, that can be sheared or attacked for string. Cave Spiders themselves, also drop string. They do NOT drop poison of any kind.
Silverfish
- This mob's texture was discovered in the 1.7 files. It is present in the 1.8 version of the game, but is very small and uncommon.
* - Silverfish only seem to spawn in strongholds. This is because of their unique method of spawning. When a stone brick is broken, there is a chance that a silverfish will pop out, attacking the player. If a silverfish is engaged in combat, it can allow other silverfish in the area to escape from their blocks. This allows for exponential silverfish growth, until the player encounters an unbeatable wave of silverfish.
* - Silverfish have very low health and damage, so they must rely on their numbers to overwhelm the player. They do not drop anything, and possess spider noises.
* - It is extremely difficult to defeat silverfish in combat due to their exponential growth (as long as there are stone bricks in the area). Killing the original silverfish with lava, instead of attacking it, will prevent other silverfish from attacking you. Or you can just run away from it, at which point, the original silverfish will simply de-spawn.
Existing Mob Changes
- All animals will now RUN AWAY FROM THE PLAYER when struck. This makes it a bit more difficult to kill chickens and the like, and plays into the interaction between sheep and wolves.
* - In the "survival" section, you will find information on how animals have received a level of persistence. Look there if you wish to learn more. Keep in mind that this does NOT include squids.
- The pig model has changed somewhat. Their snouts are now three-dimensional, rather than flat. An aesthetic change with no functional purpose.
- Zombies now drop rotten flesh instead of feathers. This item restores two (2) hunger, but poisons the hunger bar, making deplete more quickly. Feathers can still be obtained from chickens.
- Cows and chickens now drop meat, just like pigs do. This meat can be cooked in a furnace, as expected. Raw chicken has a chance of poisoning the player's hunger bar if you eat too much of it, just like rotten flesh does.
~~~~~~~~~~~~~~~~~~~~~~~~~~~~~~~~~~~~~~~~~~~~~~~~~~~~~~~~~~~~~~~~~~~~~~~~~
NEW BLOCK INFORMATION
Building Materials
- Stone brick is a new block that can be found in strongholds. It can be crafted by the player, by placing four smoothstone blocks in a 2x2 grid. Stone brick more durable than cobblestone, and looks a bit better as a building material for structures.
* - Naturally-generated stone brick actually comes in three forms. The standard form, a "mossy" form, and a "cracked" form. The latter two cannot be crafted by the player.
* - Fence gates are similar to trapdoors, but they are placed vertically rather than laterally, allowing for perfect gates through fences! They are crafted with two vertical wooden planks, flanked on either side by two vertical sticks, in a 3x2 crafting grid. That's two wooden planks and four sticks in all.
* - Glass blocks can now be crafted into glass panes! These panes link together like fences, and make better windows than glass blocks. To craft sixteen (16) glass panes, you must place six glass blocks in a 3x2 crafting grid, as if you are crafting fences. Unlike glass blocks, glass panes are retrievable.
* - Iron bars are similar in concept to glass panes, and therefore fences, but they are crafted from six iron ingots, and are more durable. Like glass panes, you will receive sixteen (16) iron bars at a time.
- New slabs and staircases are available. Placing clay brick or stone brick in a slab or stair pattern will afford the new blocks. As you would expect, they are clay brick slabs, clay brick stairs, stone brick slabs and stone brick stairs.
Obtaining Foliage
- Vines are a new type of foliage that grows in swamp biomes. They hang from trees, and can spread for an infinite number of blocks downward. They can also spread to the other adjacent tiles, but only for a limited number of blocks.
- Vines can be harvested with shears, and placed anywhere. After that, they will spread as they do in the wild. They cannot be crafted by any means.
- As aforementioned, tall grass can now be obtained with shears, just like leaf blocks and the new vines. This allows for more aesthetic possibilities.
- Watermelons are a new block that can provide food for the player. They are explained in the previous section on "survival", in the farming category.
The Overhauled Chests
- Chests are now entities that can visibly open. This comes with an animation and a new sound effect, and it is visible even if another player is opening the chest. You cannot view the items inside the chest, or place items in the chest, unless you have its interface open.
- Chests can now face any direction by default. Before, they could only face west if placed by the player, on open ground. But now, they can face any compass rose direction in this scenario.
~~~~~~~~~~~~~~~~~~~~~~~~~~~~~~~~~~~~~~~~~~~~~~~~~~~~~~~~~~~~~~~~~~~~~~~~~
Images of 1.8 content!
New image of pigs - with a snout!
*
New image of ivy in action! This looks really neat! Damn Terraria rip off though... :tongue.gif:
*
Poor, yet viable screenshot for Giant Mushroom Forests! Also if you look at the 'tiny mushrooms' all over, it agrees to my speculation of mushroom blocks breaking into small mushrooms.
New Picture! Shows some of the new items, and points them out out (I rock with microsoft paint! :tongue.gif:). To clarify, that block in the top looks like bedrock, yet all the other blocks around it are ore-blocks over their ore... except that one.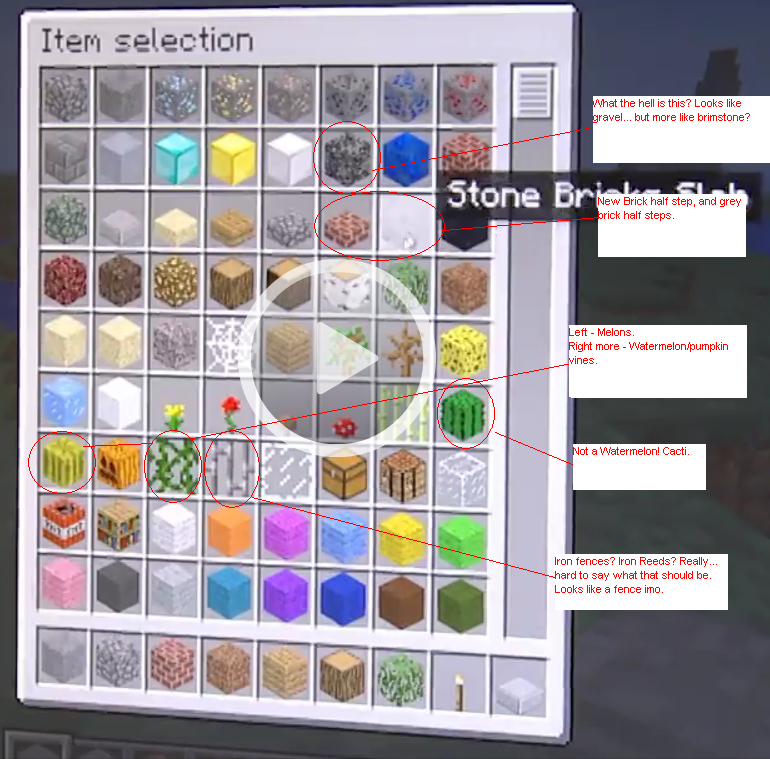 Gonna be lazy and Borrow from the Wiki first ,then hunt down stand alone images that aren't there after!
Underground Ravines - marvels of natural beauty in 1.8 :biggrin.gif:
A ravine going through a stronghold cutting it in two - Notice the odd 'vines (iron vines' top right, stairs top left, dead skeleton beside the zombie, doors, and other little... doodas).
It can be confirmed here strongholds ARE made of the new mystery brick block.
A picture of older 'NPC villages, Giant mushrooms which look like crap I hope they are improved, and in the bottom right, a surface ravine that has bugged out the sand!
The first released Image of 'the Endermans...'
An example of a Mountain Biome, River, and a Giant Mushroom randomly out of place... lol
Evidence showing Enderman don't attack with a pumpkin on, also showing 'Arrow sticking'(Woot!), and some basic NPC villages (though they look MUCH more advanced in the demo at PAX).
And that's it for pics for now! Sorry, gotta hunt more down. :tongue.gif:
~~~~~~~~~~~~~~~~~~~~~~~~~~~~~~~~~~~~~~~~~~~~~~~~~~~~~~~~~~~~~~~~~~~~~~~~~
Movies of 1.8 from PAX
New Video showing roof-stalking Enderman, ocean-born cities, and tons of other neat stuff! :biggrin.gif:
New footage of Abandoned Mineshafts and the 'Blue Spider'! :biggrin.gif:
A very CRYSTAL clear, in depth, very detailed examination of the 1.8 Demo and its content! It's so yummyyyy, I'm scanning over it for new information too :smile.gif:
Older video of 1.8 at PAX, quite blurry, but still interesting for a new POV.
Below is a new Video on Macbook playability of Minecraft, and maybe some hints for 1.8, gotta peek. :tongue.gif:
And I'll just put this here for now, and go look around for more common spam-questions, and update this! Please bump and add your own 'FAQ' points for addition! I know there is a sticky, but it's rather... inactive. And this isn't a discussion of up coming content, but common questions asked. :smile.gif:
~~~~~~~~~~~~~~~~~~~~~~~~~~~~~~~~~~~~~~~~~~~~~~~~~~~~~~~~~~~~~~~~~~~~~~~~~
Tips and tricks for 1.8

Moving structures from a 1.7 world, to a 1.8 world
Note: Mcedit will need to be updated to 1.8, so it may take a few days (even weeks) until it updates after 1.8 releases! I'll update here when it is up to date as well.
1. First, we need to acquire Mcedit
http://www.minecraft...th-mc-beta-173/here
.
2. Launch it, update it, blah blah.
3. Find your world (check what your world name is.
4. Now stop! Click options, and look at the controls for movement to not get confused. :tongue.gif:
5. open your world (maybe back it up in case)
6. fly up reallyyyy high over your city.
7. Click a point. Select another point opposite of it (like a square).
8. Use the new 'nudge' menu that appeared to modify the 'selection' up, down, left, or right, until the 'box' completely covers all parts of your city above and below ground (make sure of this!!)
9. when satisified, click 'export'. Name it. click ok. Bam. you have a copy of your city.
10. close Mcedit, launch minecraft, create a new world (when in 1.8).
11. Run around (use f3 to see your cords), try to run around in all directions at least 500 blocks out, to generate the land. Save world. close it.
12. Open new world, hover over new land, look at it, judge if you have enough land to be comfortable with placing your city in (mcedit cannot generate terrain). If it's too small, or you don't see a spot you like, repeat step 10 and 11. Install a 'speed/fly' hack to speed up exploration for this if you feel.
13. when you find a good spot, click 'import', select your file, and then click somewhere. A transparent 'version' of your city will appear.
14. Use nudge to adjust it so your 'land' is at well, at the proper height. You dont want your city's edges to be 5-6 higher then the land around it if possible.
15. Ensure everything looks nice and tidy, click 'import' below the Nudge menu.
16. Wait for lag and watch your city generate in it's new home! :biggrin.gif:
Hope this helps you, and others out there. :smile.gif: